Whether your resort has 7,000 acres or 100, a fleet of 30 snow grooming vehicles or just one, it takes a team to prepare and produce a quality snow surface. Big or small, everyone must work together for grooming efforts to be successful. 
Snow grooming has evolved dramatically since resort skiing's inception. The technology has progressed, of course—from 1950s weasels (military-style tracked troop carriers) and roller drums to the state-of-the-art machines we drive today. The employment landscape has changed, too. In the past, snow grooming positions only opened if someone died or retired. Career operators moved snow in winter and farmed dirt or construction materials in summer, developing their skills year-round. 
Now, resorts are often hiring personnel that have never operated a grooming machine before, because they can't find anyone else. 
So, how can resorts build a great grooming team? Hiring the right people and supporting that staff are keys to fostering a collaborative team with a positive attitude. And attitude is everything. 
THE RIGHT PEOPLE
Great grooming starts at the top. A resort operation is like a sports franchise. They are similar in structure: ownership group, general manager, manager, and players. In both instances, executive-level leadership defines the organization's attitude and culture. Positivity, inspiration, humility, courage, and passion are all fostered by this individual or these individuals. These qualities then trickle down the tree of command into the various departments, including slope maintenance and grooming.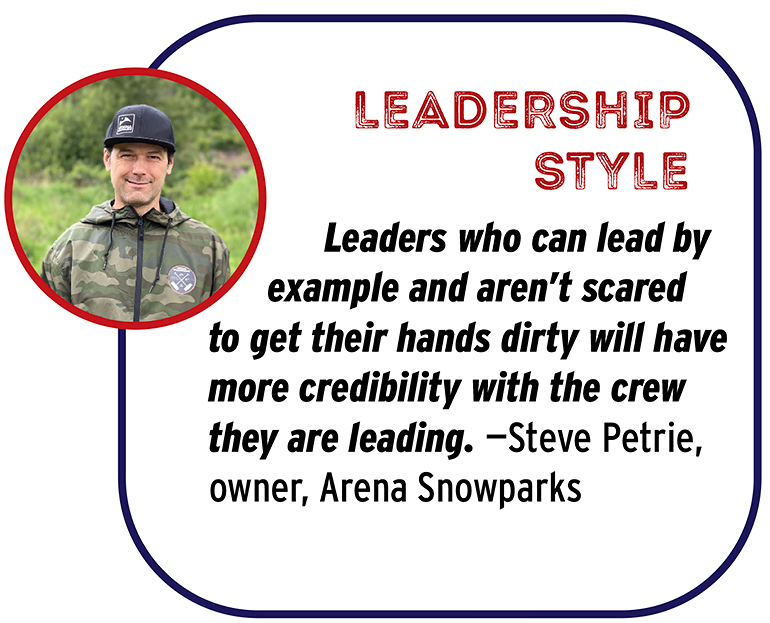 The grooming manager is the life blood of your grooming department. He or she has to become the coach, the mentor, and the leader of the department. Operationally, the grooming manager is responsible for the on-hill product, but he or she must recognize it is not a solo act. Often, this person was once part of the team. As the manager, it is now his or her turn to build the team. 
Grooming managers create plans in an environment where weather dictates the work schedule. They must be capable of constantly adjusting their schedule as storms, rain events, heat waves, and other weather factors alter the snow conditions. Weather dictates their life and work schedule. They often work late, work all night, come in early, and live in their machine, sacrificing their time and, sometimes, wellbeing for the resort. Quality grooming managers are hard to find, so recognize and reward their efforts. Give them extra paid time off, for example—they will have certainly earned it. 
Day or night manager? There are several thoughts on how to manage a grooming department. A manager that is there during the day is able to monitor how the product is being skied first-hand rather than relying on feedback. The other approach is to work directly in a machine as part of the night team. 
It is hard to manage a department from a machine on a regular basis, though. The grooming manager has additional commitments, such as representing the department at daily operations meetings or other staff meetings, all of which may steal him or her away from night grooming. So, the grooming manager has to balance these other responsibilities and machine operation. 
To make this balance work, managers should develop a communication plan with their team, especially if they are running two shifts so that each shift knows the night's goals. Frequent and effective communication is the key to any successful operation.
Recruiting operators starts internally. The ski area business model is built on seasonal help, and turnover from the winter season is difficult. Budgets don't always allow for year-round positions for entire teams, let alone anyone beyond a few key managers.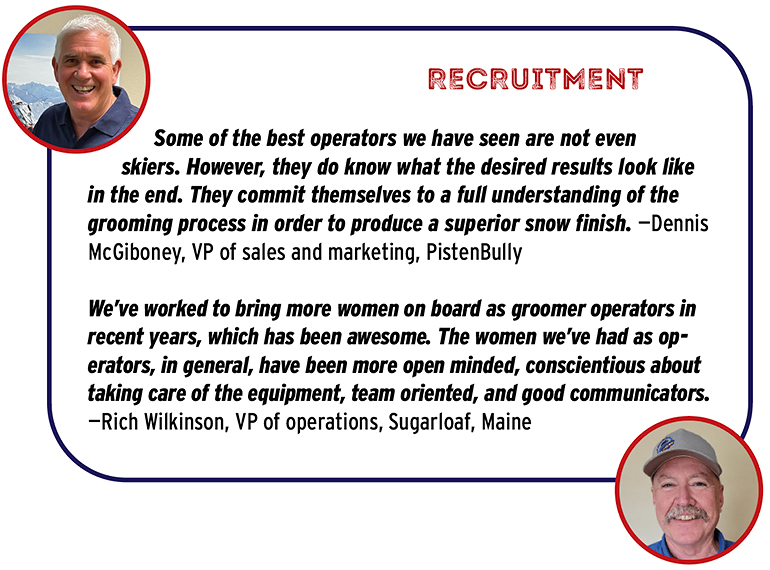 Don't make the mistake of waiting for a 10-year operator to fall into your lap. When searching for new groomers, look around the resort. Look for passion and attitude. Get to know all the personalities around the resort. You may find that the ideal candidate is currently in an entry-level position but is a great fit for your grooming team's dynamic. 
During interviews, get potential grooming candidates in their comfort zone. We work in an outdoor environment, so why try to get to know someone in an indoor environment? Give them a tour. Show them the grooming vehicles. Show them the shop. If you have summer operations, take them on a scenic chair ride. You will learn more about your candidates this way than you ever will in an office setting. 
Make candidates feel comfortable. Make them feel special. Make their interview count, but also set them up to tell others about how great the interview process was. 
Finding a terrain park builder can be equally as challenging as finding trail groomers. Recruiting from outside of the resort is one option, but promotion and growth from within has many pluses. Deep dive into your terrain park department. Look for that employee who stays late, exhibits passion for the park, and has an infectious positive attitude—grow your operator from there. 
Give your new terrain park operators all the tools they need for success; get them the same training opportunities you have given to your new fleet operators. Terrain park operators need to be efficient in moving and stacking snow. Give them practice opportunities to move snow, like pushing out snowmaking to build trails. Teach them snow management and how to keep up with the snowmaking guns. Cutter's Camp—a weeklong event hosted by SAM—is a great place for your freestyle terrain groomers to develop necessary skills and expertise.
So, you have your manager, your returning team, your new operators, and your terrain park operator—now, let's move some snow.
TURNING PARTS INTO A WHOLE
With employees at an all-time premium, replacing a new hire mid-season who left because of an uncomfortable work environment is a challenge no one has time for. Set the tone and create the culture from day one. No one is above any task.
More praising and less hazing. If the culture is to haze the new guy, your culture is probably in dire need of attention and your team is one mistake away from crumbling. Picking someone up as a team after he or she has made a mistake not only makes the team stronger, but strengthens the culture and creates a more positive work environment.

Encourage mentorship. Get the new hires in the seat for ride-alongs, and have them sit through push projects. Teach them snow management and explain why you are performing a certain task a certain way. The more training you can give them before the resort opens, the quicker they will pick up their new skill. Challenge seasoned veterans to work with and develop new operators. Coaching experienced staff to coach less knowledgeable operators will help them both grow and also strengthen the team.
Create a well-documented training program and protocol. When it comes to training new operators, recognize and utilize everyone's talents. Send a new operator with a veteran to build an unload ramp. Or have the new operator and the veteran build a run together. Expose new operators to every opportunity that is available. If they are always following the cat in front of them, the job will get boring and will become far less exciting than they had hoped. People want to be challenged.
Use technology to your advantage, too. Both PistenBully and Prinoth offer online training modules that explain how a cat functions, from the hydraulics to the tracks. These modules also give the dos and don'ts of operation and illustrate the capabilities of the machine. Online training is a sound investment for all operators, especially new ones. 
Recognize and incentivize the team. If you have never worked a graveyard shift, then you will never understand how difficult it is. Staying awake all night is a big adjustment for some and is often overlooked. It also makes it more difficult to fill grave-shift positions. Incentivizing your grave shift with additional compensation provides an opportunity to thank groomers for their hard work before the season even starts—and makes it easier to fill the shift. 

Grooming teams should be given recognition that is appropriate to their alternate schedule. For example, organize a department ride day once a month that is followed by a brunch. Pick a time that works for both shifts and invite the senior managers from other departments. Let them share and show their appreciation for a team that sacrifices their lifestyle for the enjoyment of others. This kind of recognition reinforces the gratitude the resort has for the grooming team.
Create year-round opportunity. Talented, dependable operators are becoming harder and harder to retain. There are only a limited number of year-round positions available, of course, but stability makes retention a lot easier. 
You can put operators' skills to use during the non-winter months. Many resorts have capital improvement projects, which are a good opportunity to engage an operator in crossover dirt projects. Summer grooming-vehicle repair and service is another pathway for season-to-season employment. Welding projects seem to be never ending at ski resorts. There are many trade schools that offer either summer or night welding classes—financing that education is a good way to invest in the right candidate.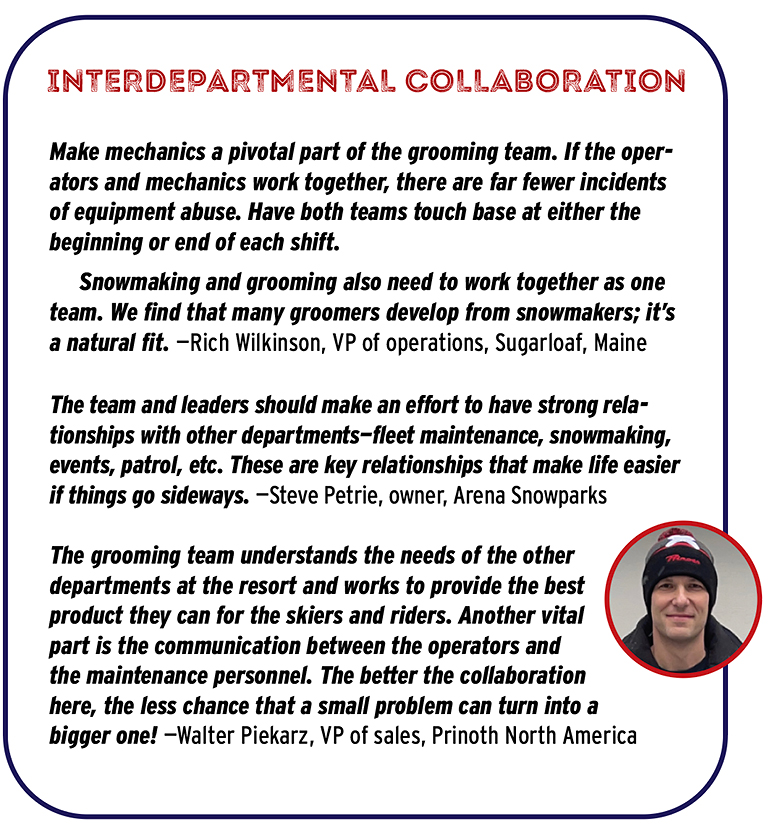 Investing time, energy, and resources into employees could solidify your resort's grooming department for years to come. Spend time with your team members and discuss their goals. Gauge their interest in sticking around; let them know there's a future on the team for them.
Succession plan. Individual goals change, greener grass grows, opportunities arise, and people move on. You can prepare for this eventuality by creating a succession plan. Managers should teach, coach, and pass on every bit of knowledge they can to their team members. The more well-rounded a team becomes, the easier the transition will be when one person moves on and a new person joins the crew. 
No matter what you are building, a strong foundation is required in order to support the weight you place upon it.