On July 1, 2020, just as dining establishments expanded takeout offerings amid the pandemic, the last phase of a Vermont law aimed at removing single-use plastics and food scraps from landfills took effect. Initially passed by Vermont's legislature in 2012, Act 148, or the Universal Recycling Law, limits the amount recyclables, yard debris, and food scraps that go to landfills. The law also prohibits retailers from providing plastic carryout bags, straws, beverage stirrers, and Styrofoam, with few exceptions. 
Vermont ski areas began sorting trash on site well ahead of the 2020 deadline, with multi-stream receptacles popping up in courtyards and cafeterias over the last decade. These bins are just one visible sign of the complex web of actions and purchasing decisions required to reduce a resort's environmental impact. 
To keep waste out of landfills, resort operators must carefully consider the lifecycles of food containers and product packaging. Vermont resorts offer several lessons on working toward zero-waste-to-landfill goals.
PURCHASING DECISIONS
For years, Sugarbush Resort has met the national average for landfill diversion rate (30 percent, according to EPA data), but it is now starting to exceed it. When Covid-19 prompted the resort to shift many of its food and beverage offerings to takeout, "we had to switch our containers from plastic to compostable versions," says communications manager John Bleh. "We [also] had to expand our composting program to include BPI [Biodegradable Products Institute] certified products to decrease our plastic consumption." 
Sugarbush will use those products even more going forward, says Bleh, "as guests are still using our online ordering system and taking their food to go."
Better for the bottom line. Naturally, these purchasing decisions impact the bottom line. "When we aggregate recycling costs (household, compost, scrap metal, electronic waste, rubber, and waste oil), recycling is cheaper than trash," says Margo Wade, Sugarbush director of planning and regulatory compliance. "But when you look at only household recycling, it is more expensive than trash—$201 for recycling and $144 for trash per ton. The cost per ton for compost is $157, so it actually may be more beneficial to increase our compostable container offerings" as opposed to recyclable ones. Which is precisely what Sugarbush is doing.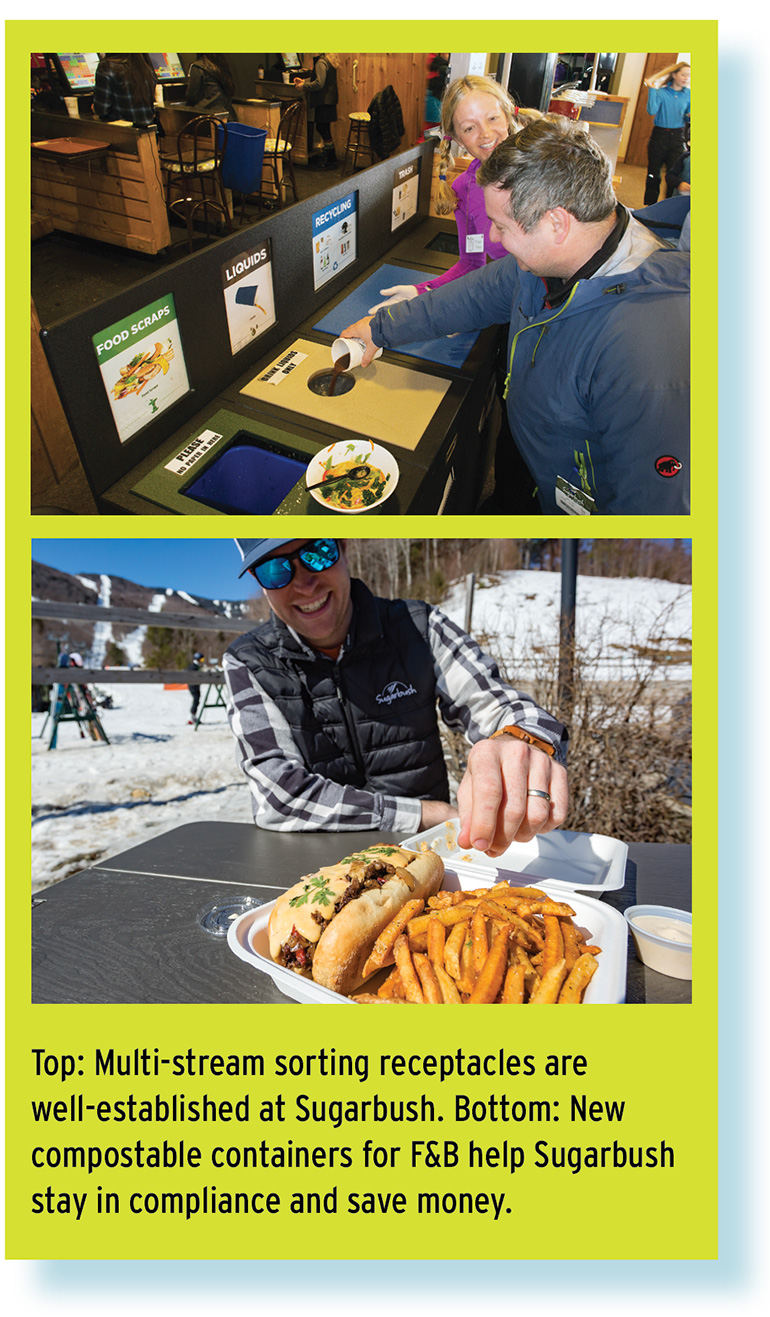 Reevaluate frequently. Calculations are a bit fluid in response to supply chain fluctuations, so decisions about whether to buy recyclables or compostables, should be reevaluated on a regular basis. At Sugarbush, this happens every year. 
"Compostable containers tend to be more expensive than recyclable containers," says Wade, but the costs for compostables are declining as more items and services enter the market. "Our primary supplier has expanded its offerings over the past few years, which has made it easier and more cost effective to purchase compostables. Plus, our compost hauler has expanded its capabilities to take compostable serving products. In the past we were only able to include food scraps in the compost stream."
MATERIALS MATTER
In Vermont, a growing industry of composting businesses now collects food scraps and organic materials. But there's still a big gap in the regional capacity to process containers made of sugarcane, corn, and coated fibers like cardboard and bamboo, which are not easy to compost. 
For example, Grow Compost, a Vermont-based composting and food scrap hauling operation, produces certified organic soil amendments by processing only "clean organics"—food waste with minimal paper or other fibrous materials mixed in. "Mixed organics"—food scraps with other materials like compostable containers mixed in—pose a particular problem for the operation. 
"The stark reality is that those products have no or little value in terms of nutrients by their nature, and also cause problems because they don't break down very well," says service manager Kyle Lanzit. "Even the most strictly certified of these products will only break down 80 percent in ideal conditions over nine months." The last 20 percent or more either goes through the composting process over and over again or, more typically, gets screened out in the finishing process and becomes garbage.
Regional processing capacity, then, becomes a significant factor in determining whether a resort's purchasing decisions are actually contributing to more sustainable waste diversion practices.
WHERE IT GOES
Several factors complicate the disposal of engineered compostable materials.
Processing limitations. In Vermont, the capacity for anaerobic processing—the method that does a better job of breaking down "mixed" materials—is limited. Increased demand from the biggest waste generators compounds those capacity limitations. 
Ski areas produce some of the highest volumes of waste of any of Lanzit's customers. In 2019, Grow hauled 958 tons of compost from its resort customers alone. While that number was down 50 to 75 percent in 2020 due to the pandemic, Lanzit estimates that each of the state's resorts still produced anywhere from 15 to 125 tons of compost.
They need facilities to handle that volume. Thankfully, for Vermont resorts, New England's largest anaerobic digester was recently erected on a Salisbury, Vt., dairy farm, adding more than 180 tons of daily processing capacity.
Hidden energy costs. It takes energy to sort, haul, and process containers and other compostables, so resorts should also consider energy costs in making their purchasing decisions. 
Breaking down mixed materials is intensive. "The materials are ground, combined with liquid to make a slurry, and transported to the [processing] facility, where methane gas is separated and sold as renewable energy, and solids are added as nutrients to the farmland," Lanzit says.
ON-SITE SORTING
While most waste diversion costs are subject to market value, resorts can control on-site sorting and its cost. Given the cost differences between trash, compost, and recycling, it benefits resorts to ensure only the right materials are going with each hauler. Cross-contamination can quickly undermine zero-waste-to-landfill goals as well—if materials from one stream become combined with another, the whole bin goes to the landfill. 
Stratton Mountain Resort, an early adopter of food waste composting (it was composting 18.4 tons of food scraps as early as 2016), found it is more effective to train staff to separate compostables than it is to rely on guests. 
"It's much easier to limit the chance of contamination and negative interactions with the waste hauler by limiting the interactions that customers have with the process," says sustainability manager Connor O'Sullivan. No amount of signage or coaching seems adequate to ensure rogue ketchup packets don't find a way into the compost or recycling containers, for example. "It's more efficient for us and cleaner for our system if we handle the sorting," says O'Sullivan. Employees handle all the kitchen and dining hall sorting.
COMPOUNDING THE ISSUE
Product packaging is an often-overlooked contributor to the waste stream. O'Sullivan collects and weighs all the plastic wrap from pallets delivered at Stratton before dropping it off at a local collection site managed by decking company Trex (which recycles thin plastic films, like shopping bags and plastic wrap, as raw material in its manufacturing process). On the Trex website, participants can track the quantity of plastic they have collected and diverted. O'Sullivan logged roughly 150 pounds of plastic wrap in seven months, but, "the volume is huge versus the weight," he notes.
Hard to recycle items. Along similar lines, POWDR is piloting TerraCycle's Zero Waste Box (cost: $86 and up, depending on box size and type of waste) at a new Killington Resort food truck. The aim is to capture and divert plastic bottles and food wrappers, often made from harder-to-recycle materials not typically accepted in recycling programs. Once filled, bins can be sent via pre-paid shipping label to TerraCycle's facility. There, items are separated and processed into raw materials that can be made into new products. 
While programs like this are promising, they have their limitations. The Zero Waste Box won't replace the zero-sort recycling underway at Killington. "We currently only have one TerraCycle unit on property, and it doesn't yet accommodate a lot of what goes into our recycling stream, like cans," explains special projects director Amy Laramie. 
THE TRASH TAKEAWAY
With so many options to consider, forging close, transparent relationships with a resort's suppliers and haulers—the service providers throughout the product lifecycle—is key to making educated purchasing and disposal decisions. It also builds partnership into a resort's waste diversion strategy. 
In Vermont, "we're actively building infrastructure from haulers to processing, and the law is meant to encourage waste generators to drive the direction this is all going to go," says Lanzit. "Decisions made at the corporate level and at the resort level are driving some of the largest things going on in the state in terms of infrastructure and flow of material. The industry is moving so rapidly." 
The time is ripe for resorts to work with governments, manufacturers, and processors to build a strong and scalable infrastructure and move the needle on waste reduction. Heat and pressure help break down discarded materials when applied to the waste stream; heat and pressure on government and industry can also be a catalyst for innovations that move resorts ever closer to achieving zero-waste goals.