WINDHAM MOUNTAIN, NY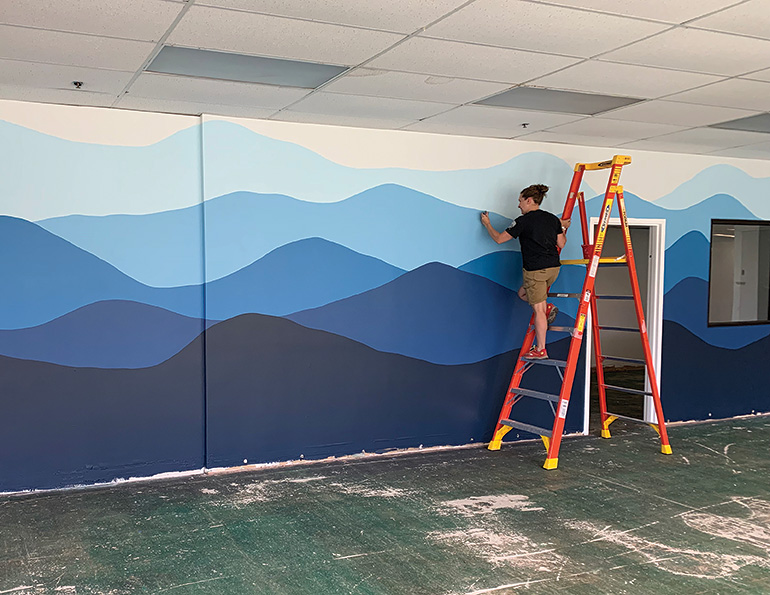 Windham Mountain is upgrading its snowmaking system and children's center. On-hill, 94 new fully-automatic HKD Impulse R5 snow guns and KLIK 8 Flow hydrants are being installed on three trails. To feed these new guns, 8,000 feet of steel pipe for water and air is being installed, as well as 20,000 feet of conduit. The automatic guns and hydrants will allow faster start-up and shut-down times, less snowmaking staff, and more efficient production and energy use. Mountain operations director Ted Davis says the work schedule has been stressed by an abundance of rain, while pervasive supply chain issues have delayed equipment production. 
A renovation of the 8000 sq. ft. Children's Learning Center aims to solve several drawbacks of the previous design: bottlenecks at check-in and in the rental shop, a too-small kitchen and a too-large childcare space, as well as dated décor and bulky built-in furniture. Windham director of snowsports Dan Hogan and his wife Jenni are taking on a bulk of the work, including design, with the help of a part-time laborer and the resort plumber. As of early August, old plywood lockers, flooring, and bathroom fixtures were removed, the kitchen area was fully gutted, and new hand-painted artwork was complete.
The remodeled kitchen will serve 600 kids per day. It will have warmers, a serving station, stainless steel counters, a refrigerator, a freezer, and a sink and dishwasher. Food will be prepared in the main cafeteria and delivered. The rental shop will move to the front of the space to complement a more open and flowing check-in. An indoor ski ramp and room for younger first-timers is being added. New flooring is being installed throughout. The bathroom will have updated plumbing, all new fixtures and sinks, and full-sized toilets rather than the old "tiny" ones. 
The project should be complete by October. The facility will reopen as "Base Camp," with lessons for kids ages 3-12 (previously 4-9). Childcare for ages 2-6 will be discontinued. 
VERMONT ADAPTIVE SKI AND SPORTS, VT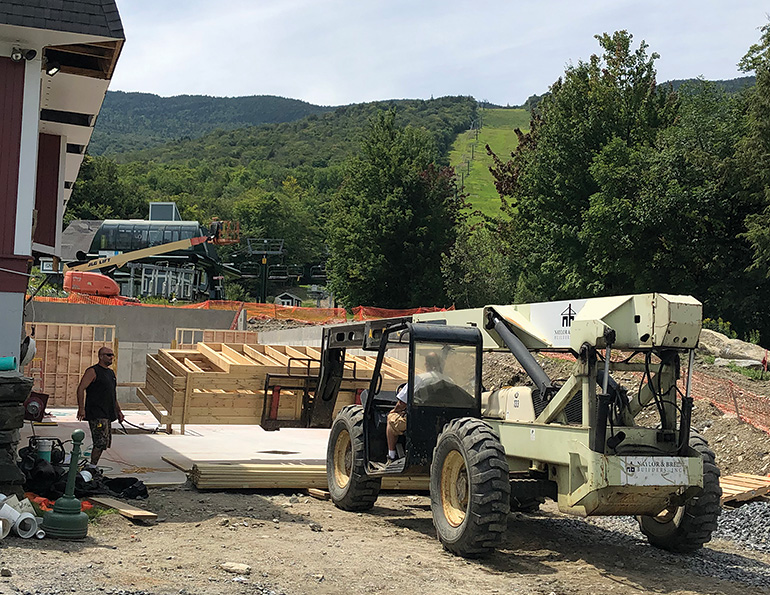 Since 1991, Vermont Adaptive Ski and Sports (VASS) has operated out of a 400 sq. ft. room in the Mt. Ellen base lodge at Sugarbush, and stored specialized equipment (such as sit skis) in a shed outside the building. That's all about to change. The non-profit is building a $2.5 million, 4,000 sq. ft., three-level wing to the lodge that will provide ample space for the program's 100 athletes, volunteers, staff, parents, and caregivers.
A new "access for all" elevator will connect the new facility with all three floors of the base lodge. "There is no division. The elevator will be a game changer," says VASS director of communications Kim Jackson. 
Site prep was relatively easy. A trailer connected to the lodge was removed, and excavation commenced in the spring. Kingsbury, a local general contractor, was already on site doing work for Sugarbush, so the resort coordinated efforts with the VASS project to maximize excavation time and use of equipment. The foundation, a 100' X 30' footprint, used more than 100 cubic yards of concrete. The "panelized" structure will be delivered in sections and assembled on site.
The 1,800 sq. ft. main level includes spaces for adaptive equipment maintenance and storage, participant cubbies, and more. The 1,300 sq. ft. upper level offers a dedicated quiet space for participants who have sensory needs. The lower level will provide more storage and house the building's physical plant. Special considerations throughout include calming paint colors, specialized lighting, benches, tables, seating, and ADA compliant needs such as larger doorways, the elevator, ADA restrooms, etc. The entire Mt. Ellen base lodge will now be ADA compliant, too.
The building aims to be net-zero as well. VASS plans to insulate it beyond code requirements, and to install efficient fixtures to reduce water use. Heat exchangers and solar panels are planned for the rooftop.
SNOW KING, WY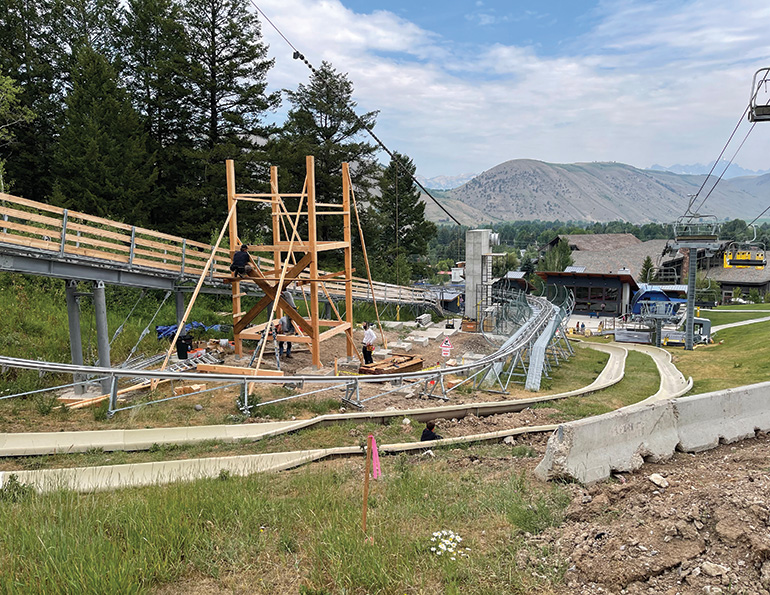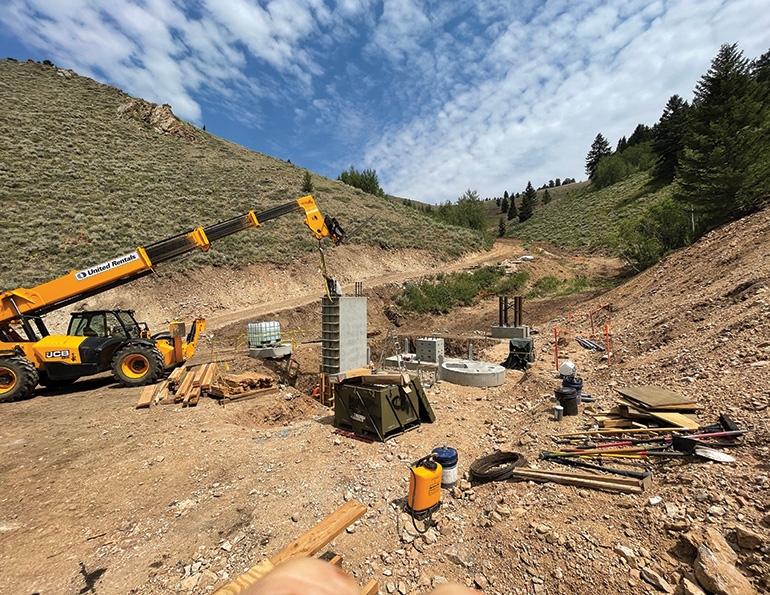 Major capital projects at Snow King—two new lifts, snowmaking infrastructure, a zip-line tour, new trails, and more—will enhance almost every aspect of the area's year-round operations.
A Leitner-Poma eight-passenger gondola is replacing the Summit lift, a 1981 CTEC double. To make room for the gondola, Snow King removed an old snowmaking pumphouse and moved the bottom terminal of the Cougar triple 250 feet uphill. Skytrac assisted with the Cougar work, which included modifying its towers to accommodate the new location, and upgrading the drive and hydraulic brake systems, gear box, and motor.
The new gondola will have 24 Sigma Diamond carriers, with the ability to increase to 49. Initial uphill capacity will be 1,000 pph, final will be 2,100 pph. Powered by a 700 hp top drive, the 3,863-foot-long gondola will take less than 5 minutes to climb 1,547 vertical feet; the old chair ride was 17 minutes. As of early August, concrete had been poured for the bottom station and first two towers. 
The gondola will provide ADA access to the summit of the mountain year-round, and be a safer, easier mode of transport for kids and beginners heading up to the new learning area being built at the top. Two new Sunkid conveyors—one 380 feet long, and a covered 480-footer—will serve the new learning area, which will offer a more progressive beginner experience at a mountain known for steep terrain. A new mile-long beginner trail/work road is also being built from the summit.
A new Skytrac fixed-grip quad will serve about 75 acres of new terrain ranging from beginner to expert on the previously undeveloped backside of the mountain. The top drive, 250 hp lift will have 66 carriers that will travel 500 fpm up the 2,487-foot slope and rise 738 vertical feet. Initial uphill capacity will be 1,200 pph. It's expected to be finished by October. Less than 10 acres were cleared for the lift line and ski runs on the backside. Much of the lumber will be chipped and used for revegetation; helicopters may remove excess lumber (loggers refused to drive log trucks down the mountain).
Snow King is making several upgrades to its snowmaking system. A new pumphouse at the base will house two new 600 hp Torrent pumps, tripling Snow King's water capacity to 2,600 gpm. A high-pressure line will carry water directly to the summit to serve new snowmaking on the backside, which includes eight new fully-automatic TechnoAlpin TT10 fans. The area is building 18 additional vaults to accommodate future tower guns and mobile guns and laying about 15,000 feet of new snowmaking pipe and conduit for electrical and communications.
Adding to Snow King's many summer attractions, Terra Nova LLC is building a new three-span ZipRider zip-line tour with a total length of 4,300 feet. The longest span will be 2,800 feet at a 36 percent grade. 
BIG SKY, MT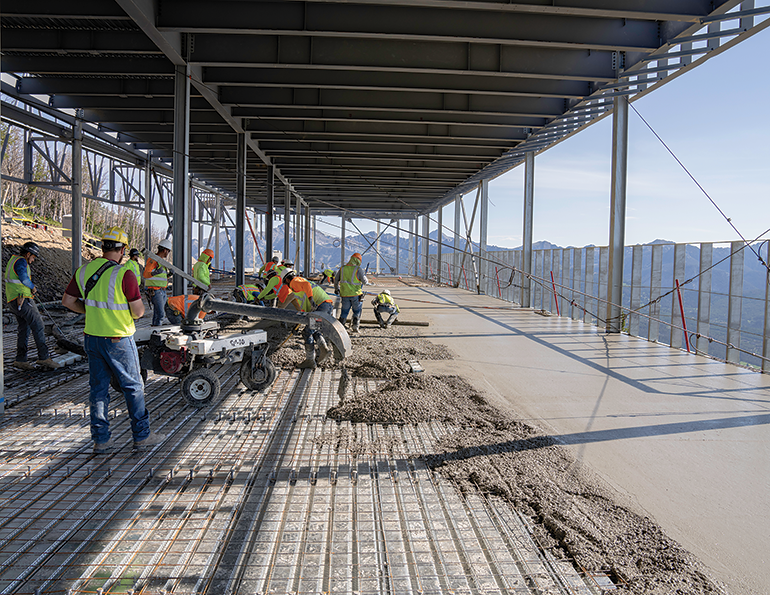 In spring 2020, Big Sky began replacement of the Swift Current 4, a 1996 high-speed quad, by pouring the foundations for the upper terminal and the chair storage barn for the Swift Current 6, a six-passenger Doppelmayr D-Line bubble lift. The pandemic then delayed most of the installation for a year. This spring, the quad was finally removed, and tower foundations for the new lift were poured in June.
Powered by Direct Drive technology, the top drive/bottom tension lift will have 954 hp of continuous output, 1,224 hp starting output. Big Sky worked with Northwestern Energy to install a new primary feed to power the lift. The 126 heated carriers will travel up the 8,300-foot slope at 1,200 fpm, rising 1,657 vertical feet. Uphill capacity will increase up to 50 percent, to 3,000 pph. The Swift Current 6 will follow a slightly different alignment than the quad, to allow for more space and a better maze configuration. 
Due to space restrictions in the base area, Big Sky located the 12,500 sq. ft. chair storage barn at the top of the mountain. Clad in aluminum composite panel siding, the barn will store the bubble chairs on three rails; an automated system for parking and launching the carriers vastly reduces the labor required for these tasks. The storage barn will also house a heated maintenance bay, a temperature-controlled room for the drives, and a snow-facing space for ski patrol
WILD MOUNTAIN, MN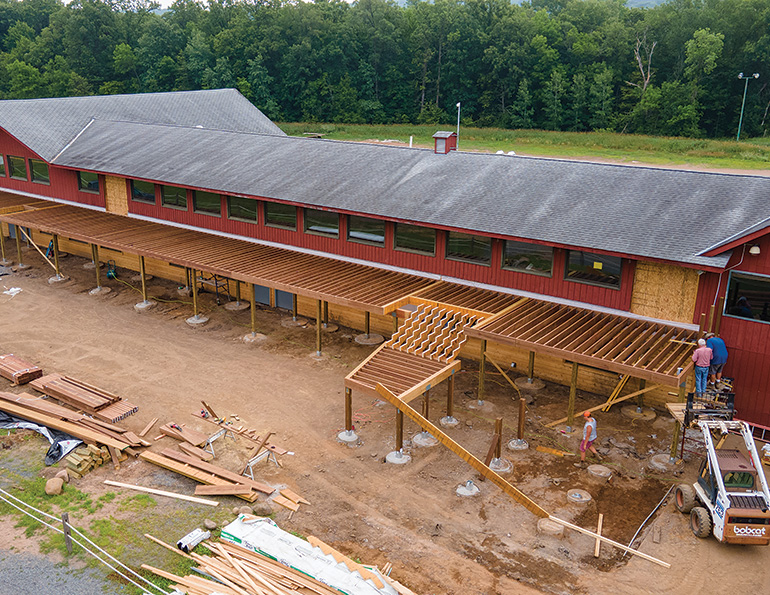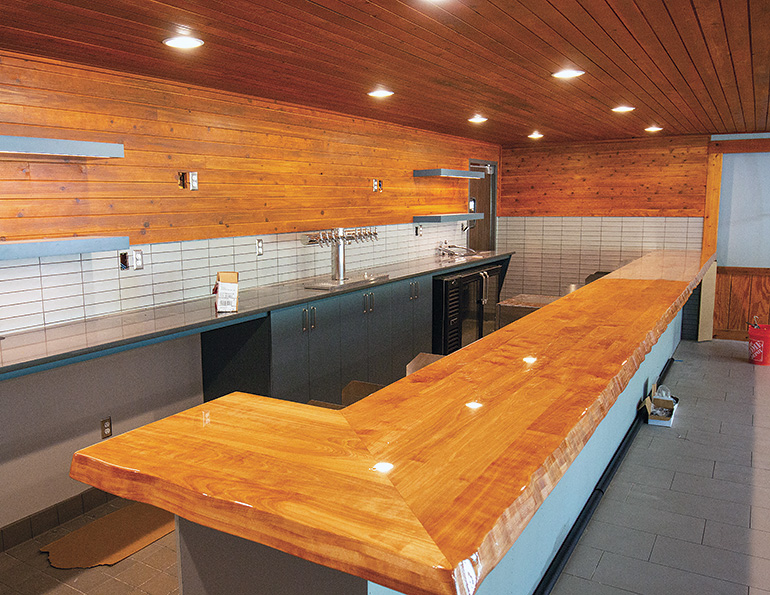 Wild Mountain aims to add an après ski scene to its base lodge via a new bar and 2,000 sq. ft. slopeside deck.
The deck project began in April. Local contractor Diversified Construction is doing the work and made adjustments to the original plans as the work progressed. The Wild Mountain base lodge has been expanded several times over the years, and the original base lodge is now a portion of the lower building. It had a shallower concrete foundation than other parts of the building, which required the crew to pour more footings than anticipated. They wound up pouring 40 footings for the deck supports and stairs, all 50 inches deep to avoid frost heaving. 
The framework consists of laminated, treated wood vertical posts; joists are brown treated wood. The 150' X 14' deck surface is Trex composite decking. Resort president Sara Larsen says rising lumber prices and delivery delays put the project over budget, but it will still pay for itself through F&B service in both winter and summer. It will have tables and chairs along the length of the deck, plus some outdoor sofas for people "to see, and be seen," Larsen says.
The new bar inside the base lodge will also serve that purpose. Located in an area previously used for general seating, the bar will have "a funky, mid-century mod feel," says Larsen. The 27-foot-long pine bar surface was finished by local designer/painter Décor-Tec. It will have 10 bar seats with more "soft seating" nearby. Ten taps with a nitro line will pour mostly local beers. New infrastructure includes refrigeration, a big HVAC system, all the required sinks, two POS stations, and an electric fireplace.