After a winter of changing rules, shifting policies, openings and closings, masks and social distancing, and some confusion, the ski world learned a lot. These learnings, operational adjustments, and newly implemented technologies have combined to brighten the outlook for this winter and every winter moving forward. Resorts of all sizes are using the challenges of the 2020-21 season to improve the resort experience for both guests and staff.
Across the industry, many resorts are finding the changes they had to make were ones they'd been pondering anyway. The need to comply with pandemic best practices sped up the process—but that's a good thing. 
If this past summer was the "summer of love" (see SAM, July 2021) when it came to welcoming newer folks to mountain sports, this could be the winter of "I'm loving it" for guests and especially staff at mountain resorts everywhere.
NEW ZEALAND: LESS TRANSACTIONAL
New Zealand's 2021 season could be a prelude for Northern Hemisphere resorts. At NZSki, which owns and operates The Remarkables, Coronet Peak, and Mt. Hutt, the focus this winter (our summer) on streamlining processes is upping the guest experience ante.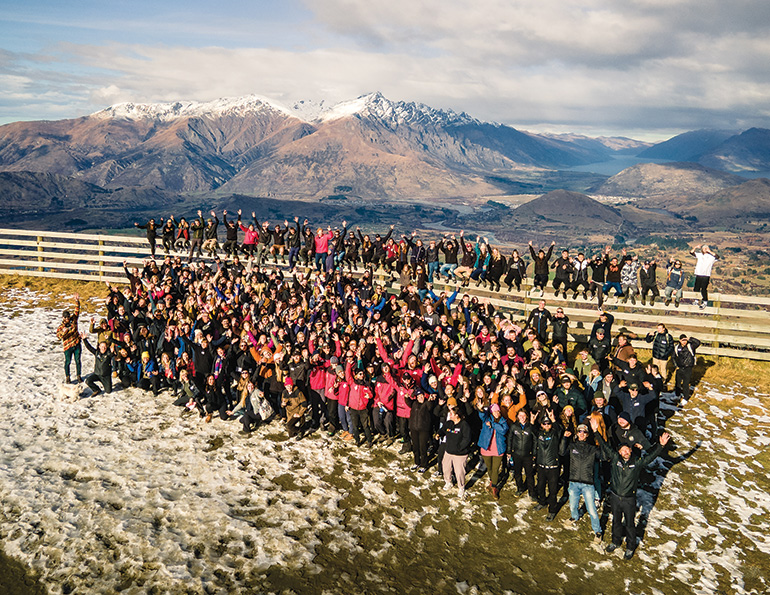 The staff at Coronet Peak, New Zealand, celebrate a new season after their team induction day.
"We're more concierge service than transactional now," says NZSki general manager–customer Fiona Boyer. "We're doing a lot of wayfinding—helping guests on their journey to and on our mountains."
NZSki went completely cashless, pushed advanced bookings for tickets, rentals, and lessons using Intouch Elevate software, and adopted a new parking plan to encourage carpooling or taking public transit. These moves have, says Boyer, freed up staff to anticipate guest needs, guide folks to their best experience, and most of all, make every guest's visit great from the start.
SKI COOPER: FOCUS ON FUN
North American resorts are similarly taking the opportunity to innovate.
"I feel really, really good [about where we are heading this winter]," says Dan Torsell, president and CEO of Ski Cooper, Colo. "I look at this Covid situation and the many unintended consequences of it and I think: This was an opportunity to stop, look in the mirror and say, 'Is this really working?' Just because we've done it this way for 30 years does not mean we should not consider change."
Port of entry. For Ski Cooper, last year's temporary "Port Authority Entry," as they call it internally, becomes permanent this winter. Set up as a way to not just control crowds but also give the resort real-time information about how many guests are on site, the entry will look a bit like a Disney theme-park entrance gate, Torsell says, with one dedicated way in and one dedicated way out.
And everyone is happy about the change, partly because "it allows us some semblance of control," he says.
It also permanently removes what may be one of the most stressful jobs on the mountain: lift line ticket checker. "Being that person can be super stressful," says Torsell. "Now, we scan each guest's ticket just once at entry instead of at each lift. The guests really enjoy it, too."
Abandoning old ways. This change was one they'd been considering, but Torsell says they were reluctant because they worried about losing individual lift data culled from scanning. Now, however, "It doesn't concern me anymore," he says of that data collection. "We'd become too data centric. At the end of the day, this is all about fun. I think last year taught us that. We are really trying to make a severe paradigm shift to fun."
He means that for both guests and staff. After all, many employees are drawn to work in the mountain sports world to share their love. Making it fun to share makes for a better experience for all, he says.
Guests sharing the fun of a lesson with family is another Covid-induced change Ski Cooper is keeping around. It always struck Torsell that splitting up families or related groups by age or even ability diminished some of the joy of the shared experience for guests. "They come as a group, all excited, and then we rip them apart," he says.
Covid forced the resort to offer family and bubble-group lessons for all abilities. "Some staff pushed back a bit, but overall, most liked it," he says. "Some say you cannot put a child with an adult in a lesson, but if you're good at it, you can."
Torsell feels that his staff is happy with the changes going into this winter, in part because they were involved in the decisions. "We have all worked together to solve this puzzle," he says. "We evolved as last winter went along. Everybody helped us steer the ship to where we are now, and they feel that. It's very much a 'we are doing this together' situation."
BOYNE RESORTS: FROM NECESSITY TO AMENITY
As the pandemic intensified in spring 2020, Boyne Resorts—which owns and operates nine North American mountain resorts—saw the writing on the wall, and quickly committed to investing in e-commerce software and RFID hardware. 
"We purchased systems at a pace we never have before," says Boyne Resorts senior vice president of ski and snow Rick Kelley. The goal was to move customers to purchasing products online across the board: rentals, childcare, tickets, even food and beverage. 
Embracing tech. Boyne chose Aspenware as the new e-commerce solution for five of its resorts. Three other Boyne ski areas are using accesso Passport for their e-commerce. Axess RFID gates and Pick-up Box kiosks were added at six resorts ahead of last winter. 
These additions and integrations were made so Boyne's properties would "have a system that was ready for anything," Kelley says. "We looked at the worst-case scenarios and had systems just in case."
For customers, he says, it wasn't a major shift, as people are now accustomed to making purchases and reservations online. "People's perception of buying things online has changed so dramatically over the past year," he says. "It's become the norm, and that precursor really set us up to be able to do this so quickly and so well."
The new RFID systems allowed those resorts to manage lift capacity, and a simple app was used to track guests coming in and out of lodges and F&B outlets, all in real time. This data helped staff manage their operations better, and revealed improvements that needed to be made. 
Now, looking toward the new season, he says, "I don't think we want to step away from any of those changes," but indoor capacity management will depend on the Covid situation.
Reducing stress. Staff is happy about keeping the new systems in place, says Kelley. The new systems provide a welcome change: less stress from arriving guests. "I always like to look at the first-time customer," he says. "They come in at their wit's end already [since it's a new experience] and then they see this long line for tickets, for rentals, for lessons—I see this as an opportunity to not have these 'oh-my-god' moments when they think: 'Do I really want to ski this bad?'"
Now, by pushing more people to buy in advance online, he says, the resorts can better manage "the hour of chaos in the morning. Spreading that out improves [the experience for both guests and staff] on every level." 
"I think any time we can reduce stress between employee and guest, it's a good thing," Kelley says. "These changes increase the time employees can spend with guests, helping them, guiding them, encouraging them. That pushes right to a quality experience on the hill."
His advice to other resorts? Find the tech that works for you, both in price and application. "There is a lot of new technology out there," says Kelley. "This was a worldwide crisis and there are a lot of smart people in the world creating these things."
BIG SKY: RIPPLE EFFECTS
Some changes can cause positive ripple effects. At Big Sky Resort this winter, expanded use of RFID tickets will allow the resort to track and charge per day when guests ride the Lone Peak Tram. Aside from Big Sky's top-tier season passholders, all other guests will need to purchase a separate tram access pass or enable auto-charge on their pass or ticket.
Managing traffic through tech. Big Sky spokesperson Stacie Mesuda admits this new system and add-on charge represent a rather radical shift. However, she believes it will be a welcome change. The primary goal is to shrink lift line wait times and improve the guest experience. In the past, wait times of 90 minutes on busy (and powder) days were common. The hope is the new system cuts wait times to 30 minutes on average, and also gives Big Sky a sense of how many guests will be looking to take the tram that day, allowing it to better plan and staff.
Educating guests. Like any big change, it will take time to educate guests about it. Big Sky began the process this summer via emails, blog posts, and a Q&A on its website. Staff will be trained and ready to help people navigate the new tram access rules, too. Easy-to-understand refund policies will also be in place should weather cause tram closures.
The tram program may lead to other changes. "It can set the stage to apply it to other lines of business, like food and beverage and shops," says Mesuda.
Had it not been for the pandemic, though, this change may never have happened. "It's a good example of tech improvements that are coming because of Covid," she says.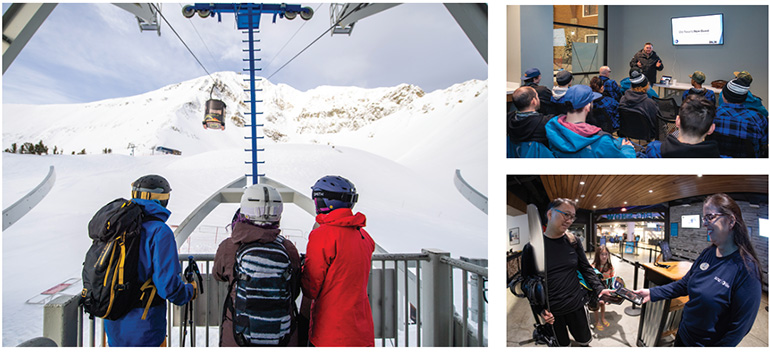 Clockwise from left: Big Sky's expanded use of RFID can track and charge for usage of the Lone Peak Tram; SNOW Operating trains staff on "The Service Trail" approach to management; Advance purchasing helps streamline the guest experience at Big SNOW.
SNOW OPERATING: OUT OF THE ICE AGE
Joe Hession, CEO of SNOW Operating, agrees with that notion of a pandemic push. "Covid gave resorts the chance to be forced out of the Ice Age and into the present day," he says, respectfully. That includes adoption of new business structures as well as new technology. 
Everyone, he says, was pondering change but afraid of it. And he's not just talking operators. "Not only were resorts not ready to do [things like all online ticketing], but the customers were not ready either," he says.
Now, Hession says, Covid has made advance purchasing "perfectly acceptable" and even preferable. "In today's world, its less stressful to show up with a ticket in your pocket," he notes, and that helps explain why the change is taking place.
A new management model. Covid also transformed the structure of work at Hession's Mountain Creek and the Big SNOW indoor ski dome in New Jersey. SNOW Operating eliminated the former department structure and adopted what long-time ski management expert Dick Tapply calls "The Service Trail," instead.
It works this way: Every 10-15 staff members has a guide, who is a manager of sorts, and a "Blazer," who can make dynamic changes as the day and night goes on. The idea is to remove what Hession calls "castle building" that can happen with departments and department heads—silos, of sorts, that do not work in unity. "Now all staff are responsible for all aspects," he says, "so they can fix any problems immediately."
Employees, he says, like the vibe and work well within the new structure.
HOMEWOOD: TECH REDUCES STRESS
At Homewood Mountain Resort, Calif., its new Aspenware e-commerce platform and Axess Pick-up Boxes will remain in place, drastically reducing the need for ticket window staff, and allowing the resort to re-focus those staffers to roles that are more customer service oriented.
Homewood general manager Kevin Mitchell says that while the Pick-up Boxes were installed to avoid contact during the pandemic, "We did not hear much [complaining] from guests because they've come to expect this kind of thing in so many areas of life." He pointed out that airlines have worked that way for years, and guests have realized "less steps are better."
Online F&B. The resort also implemented an online system for ordering food. Customers scan a QR code on their ticket or season pass that brings them to a landing page that focused last season on some of Homewood's new protocols, says Mitchell. "There was a dining button from there, which they tapped to bring them to food outlet options, and the ordering would go through one of two different platforms we partnered with," he explains.
Even after adding back in-person ordering, 30 percent of guests still ordered online and then grabbed their food when ready. This, Mitchell says, makes it easier for F&B staff who can focus more on preparing food than on collecting payments.
Less stressful rentals. Rental process changes have had a positive impact on staff as well, and will stay in place. Because all rental information is gathered ahead of time online via Aspenware and RTP, staff can work the night before a big day, or early that morning, to "tech the equipment at their pace." 
When a guest arrives, the rental process is almost grab and go. Rental shop staff focus on making sure the customer is fit well and educated on how to get out on the slopes. It's a less stressful and more positive experience for guests.
In general, staff embraced the changes and like that they will remain in place. Plus, "managers are finding they all are more efficient," says Mitchell.
"Covid sure was challenging," he says, "but it also taught us a lot."

Above left: Homewood's F&B changes will stick, with online orders and pick-up, and, of course, delivery via Pizza Patrol all improving service. Above right: Staff training focuses heavily on the guest experience at The Remarkables in New Zealand.
SEASON PREVIEW: FORECAST FROM DOWN UNDER
In New Zealand, guests continue to appreciate the Covid changes. According to Boyer, online advance purchases "have been a fantastic success," and any client pushback has "fallen away."
NZSki's resorts also pivoted their ski schools to what she calls the "Aspen model," when a guest spends all day with the same instructor, bringing a "much higher quality and value" to the ski school experience.
Additionally, NZSki is encouraging guests to carpool: cars with four or more people park closer to the slopes and those alone in a car park farther away.
Staff training. The company's three ski areas added intense pre-season training for staff to learn about each change, empowering them to be able to help customers in most every way out on the mountain and at the base.
"Our whole focus is on the guest," Boyer says. And it's paying off. When guests understand the parking system, can plan things out and purchase online ahead of time, and then find staff at the ready to help at the areas, it "makes people calmer."
And that, she says, makes employees happier too. "Our staff is so excited we made these changes," she says.