RIDE THE CAPITAL WAVE
This time last year resorts were consumed with Covid concerns: Would we open? Would anyone come? We did. They did. And now, in the wake of all that worry, a wave of capital plans is heralding not simply a return to normal, but the promise of a thriving, growing industry.
Of course, with growth comes growing pains. Long-term concerns about sustainability—environmental and business—are real. And the sluggish supply chain and soaring materials costs may derail many near-term construction plans. Vail Resorts' 2022-23 planned lift upgrades—19 new chairlifts across 14 resorts—alone could stall lift orders and installations for other operators. "I'm guessing this year you are going to have to order early or you're not going to get a lift in 2022," observed LiftBlog's Peter Landsman, following the VR news.
Despite these factors, ski areas appear to have money to invest, and investing they are—both in the near-term and in plans for projects years down the road.
Alterra shared plans for $207 million in capital improvements between 2021-2023. Snowbasin, Utah, plans to build its first onsite lodging—a 300-bed Club Med hotel—for 2024. Mt. Rose Ski Tahoe, Nev., is pumping $7.5 million—its largest single capital investment ever—into the resort ahead of the 2022-23 season. Sunday River, Maine, is getting a new eight-seat chairlift for 2022-23. A $50 million redevelopment plan is underway at Cranmore, N.H. A quarter-billion-dollars-plus is funding development of the new Mayflower Resort on the eastern flank of Utah's Deer Valley, which is undergoing its own uprgrades. Snow King, Wyo., spent $20 million this summer on a long-awaited, much-debated transformation.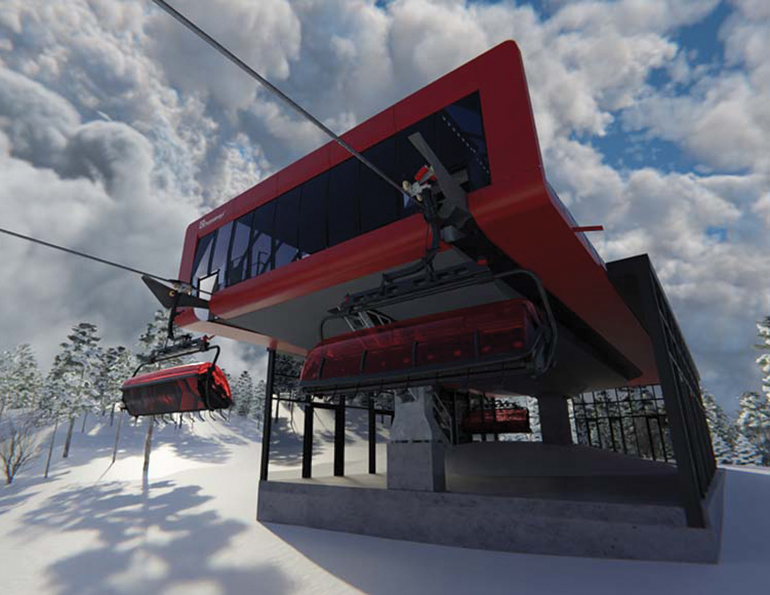 Sunday River's Jordan 8, coming winter 2022-23.
And this is just the crest of the tsunami. Does this deluge of capital expenditures invite a sense of loss for the nostalgia-tinged days of yore? Perhaps, but transformation is inevitable. For those shaking their heads or shaking in their boots at the prospect, consider this bit of Marxist dialectic, as summarized by our own Rick Kahl: "Each new stage of development instigates its own ongoing evolution. Everything remains a work in progress in a continuously, upwardly spiraling growth curve."
To reframe, consider what a pleasure it is to be back to wringing our hands over the business of skiing (What should it be? What could it be?) and not frantically washing them in fear of viral disease.
HOT TAKES ON FAST TRACKS
It was probably inevitable that resorts would start to develop new premium services such as Powdr's Fast Tracks program. Selling line-cutting privileges, as Fast Tracks does, suits guests who have limited time on snow, and for whom time is their most precious commodity. And after promoting inexpensive season passes for a decade, resorts are looking for ways to increase spend per guest.
Premium products aren't new, of course. Resorts have long offered ski lesson programs that are little more than a way to ski with a guide and cut the lines. Most resorts have an "early bird" or "first tracks" type product. Many resorts offer close-in parking for a fee.
But there's something different about Fast Tracks, given the outpouring of negative response from many core skiers and riders. So the question is: How does this program impact both the resorts that offer it, and the industry more broadly? SAM contacted several industry leaders to get their perspectives on the program and illuminate the possibilities. Some spoke on the record, others asked for anonymity.
"The difference is that early bird programs are relatively invisible to the larger skiing public. These skiers are gone before the regular crowds arrive, so there's no conflict," said industry luminary Chris Diamond. "That changes when all of a sudden there are 'special' maze entrances on key lifts, so now it's an in-your-face issue."
"Skiing still struggles with an elitist image to many, and this only reinforces that view," said one resort chief. 
Most agreed that Fast Tracks likely won't have much impact on other guests, but the optics make it seem like it does. The question is, will the customers who have responded negatively continue to do so?
"Resorts and guests have to evolve and adapt to the demands of the market," said a Western GM. "For years, the need to generate more skiers and riders to participate in the sport was the main focus of the industry, but that is counter to the demands of a local guest. Of course, they would like a private ski experience with less people. But without growth in the sport there is NO sport. It's simple."
To an extent, premium services are a response to the unlimited sales of multi-mountain passes, which have made peak-day lift lines unbearable at some resorts. "That makes fast lane access a godsend for skiers who want and can afford it," said Indy Pass founder Doug Fish. For the others? It smacks of elitism and unfairness. Even though the program, as Powdr has outlined it, is not likely to negatively impact lift lines, the PR hit is real. Other guests resent anything that seems to give one group an advantage over them.
"Disruptive resort policies are frequently met with a ton of criticism, often followed by grudging acceptance," said Fish. One concern, he said, is that premium programs chip away at passholder loyalty.
Will programs like Fast Tracks help or hinder the bottom line, though? One executive noted that the direct revenue might be small, but the room nights and other spending could be significant. Another exec disagreed, saying it could create more red ink than black.
The executives who spoke to SAM about Fast Tracks did agree on one thing: they doubt that this particular premium service will become widespread. But one GM hopes guests become more understanding that resorts need to find ways to be sustainable businesses.
"Ultimately, it's a competitive landscape and resorts are challenged to be financially efficient and profitable. Many are NOT profitable, but yet the guests want everything to stay the same. No other business in America would accept that, but skiing has more passion associated [with it] than most."
INDUSTRY MAKING GOOD ON DEI PROMISES?
Eighteen months ago, the murder of George Floyd sparked an uprising of Americans calling for racial justice. A multitude of forums and webinars acknowledging the lack of DEI in snowsports culture followed, as did calls for action. This fall, several key stakeholders appear to be making good on their promises to foster a more diverse, equitable, and inclusive snowsports industry.
The industry's two largest conglomerates, Vail Resorts and Alterra Mountain Company, rolled out initiatives focused on supporting ongoing DEI work. Alterra entered a multi-year collaboration with the Share Winter Foundation. A $4 million donation (in the form of cash and in-kind services) to support Share Winter's partner programs aims to promote long-term engagement for youth and is expected to result in more than 13,000 on-snow visits in 2021-22 alone.
As part of its annual giving, Vail Resorts and the Katz Amsterdam Charitable Trust donated products, services, and $560,000 in grants to 11 nonprofit organizations supporting youth of color, including the National Brotherhood of Skiers. Through the partnership, the organization also intends for instructors of color to conduct the on-snow programs so participants can better see themselves represented on-mountain.
That dovetails well with PSIA-AASI's mission to foster the development of more Black, Indigenous, and People of Color (BIPOC) instructors. This season, PSIA-AASI expanded its partnership with Women of Winter to host three instructor certification events around the country specifically for BIPOC women. Participants will receive full event scholarships and gear.
While these are only steps in a long climb, it's buoying to see ski industry players put their DEI statements into action. We know others are doing the work too. Is your resort fostering real change? Supporting programs to reach diverse audiences? Tell us about it. Email Sarah at sarahw@saminfo.com.
SUPPLIER NEWS
SNOW OPERATING has formed SNOW PARTNERS, a new parent entity to preside over its various businesses, including Mountain Creek Resort, Big SNOW American Dream, SnowCloud, and SNOW Operating. With the restructure, Scott Baldassano was promoted to chief legal officer, Hugh Reynolds was promoted to chief marketing officer for SNOW Partners, and Patrick Hession was promoted to COO for SNOW Partners. Erik Tlatelpa joined SNOW Partners as CFO; former CFO Mike Sangalli moved into an advisory role with the company.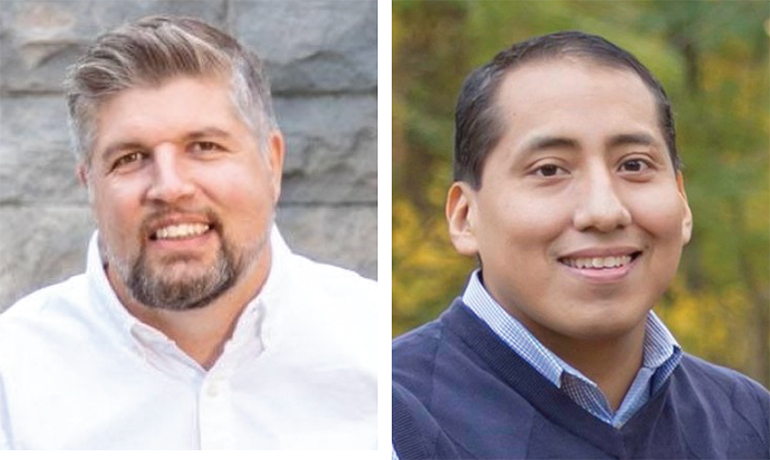 Left: Hugh Reynolds. Right: Erik Tlatelpa
PRINOTH has purchased Jarraff Industries Inc., a privately-owned company based in St. Peter, Minn., that specializes in the design, manufacturing and commercialization of specialized right-of-way maintenance, land clearing, and tree care equipment.
LEITNER installed New Zealand's first eight-seater chairlift at Mount Hutt, which debuted for the 2021 Southern Hemisphere season.
Dieter Sturm renewed his exclusive U.S. SNOWFLEX representation with Snowflex designer and manufacturer Briton Engineering Developments (UK).
KÄSSBOHRER ALL-TERRAIN VEHICLES, INC., national marketing manager John Glockhamer retired Sept. 30, 2021, after 45 years in the ski industry.
HEAD/TYROLIA hired Stefan Hughes as U.S. competition and team manager.
Jordan Buchsbaum was named head of sustainability and impact at FLAIK, where she will focus on creating measurement tools and reduction strategies to help resorts combat climate change.
HKD SNOWMAKERS brought on Ken Mack as the iSno product manager. Mack was at Loon Mountain, N.H., for 22 years, and was the 2014 inaugural winner of the SAM-run, HKD-sponsored I AM a Snowmaker contest.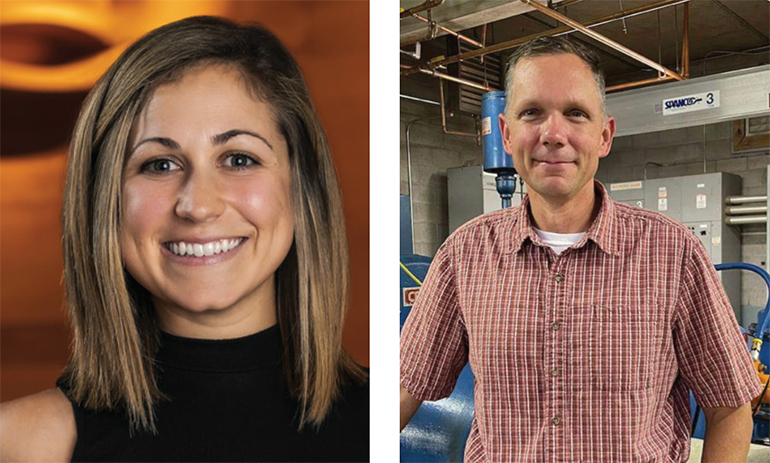 Left: Jordan Buchsbaum. Right: Ken Mack.
CENTERPLATE has parntered with Bosquet Mountain, Mass., to provide year-round F&B services.
BLIZZARD TECNICA has added four PSIA National Team members to its roster: George Flynn and Bart Flynn of Jackson Hole, Wyo., Mike Hafer of Breckenridge, Colo., and Troy Walsh of Sunday River, Maine.
THE INDY PASS is partnering with the tracking app Slopes to provide two days of premium access to Indy passholders for the 2021-22 season.
PEOPLE
Former SAM Summit Series mentee Stephen Remillard is the new director of sales for Crystal Mountain, Wash. … Whitefish, Mont., director of marketing and sales Nick Polumbus will succeed Dan Graves as CEO when Graves retires in April 2022. … John Calderon was hired as the food and beverage director for Schweitzer, Idaho. … Nick Roma joined Granby Ranch, Colo., as slope maintenance manager.
Steamboat, Colo., chose Kylie Simpson as its new director of conference catering, and Julie Germond joined in the newly created role of director of resort transformation.
Jay Gamble was named general manager of Wintergreen Resort, Va., and Steve Campbell joined Wintergreen as the director of racquet sports. … Erik Barnes was hired as general manager of Ragged Mountain, N.H. … Waterville Valley, N.H., named Sarah Van Kralingen as marketing and communications manager. … PJ McSparran is now the chief business development officer for Saddleback, Maine.
Cranmore Mountain Resort, N.H., made new staffing additions and promotions: Sara Butterfield, executive assistant; Mary Ann Sanguinet, accounting and payroll specialist; Meghan Kelsey, assistant snowsport director; Alan Tate, ski patrol director; Mark Gorveatt, properties and facilities Manager.
At Mountain Creek, N.J., Christopher Haggerty and Evan Kovach were promoted as co-general managers; Josh Bernstein was promoted to VP of hospitality; Christine Vette was promoted to controller for both Mountain Creek and Big SNOW, N.J.; and Trish McLeod was promoted to director of resorts marketing and sales for both Mountain Creek and Big SNOW.
In Boyne Resorts news: Jason Perlmutter was chosen as the new general manager of Boyne Highlands, Mich. COO of Eastern operations Rick Kelley is retiring after 44 years in the industry. He will serve on the Boyne Resorts board of directors. COO, Western and Gatlinburg operations John McGregor will transition at the end of winter 2021-22 to president of Gatlinburg SkyLift Park, Tenn. Senior VP, golf operations Bernie Friedrich will become Boyne Resorts director of golf course renovations and development in April 2022. Brad Keen has been named COO of Maine and Michigan resort operations. President and GM of Loon Mountain Resort, N.H., Jay Scambio has been named COO, day area operations, for Boyne Resorts, effective May 1, 2022.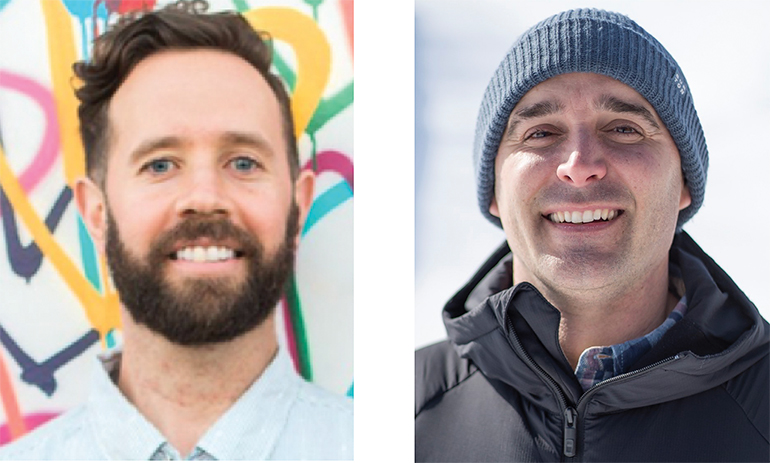 Left: Steve Remillard. Right: Jay Scambio.
At Vail Resorts: JD Crichton was named general manager of Wildcat, N.H.; Sue Donnelly is the new GM of Crotched Mountain, N.H.; Mike Giorgio was named general manager of Mt. Brighton, Mich.; Aimee Wenske joined Vail Resorts as the director of strategic alliances; and Tim Harris is now VP of Midwest resorts.
The U.S. Collegiate Ski and Snowboard Association hired Meegan Moszynski as its new managing director. … U.S. Ski & Snowboard appointed Sophie Goldschmidt as its next president and CEO. … Ben Clark is the new global CEO of The Chill Foundation. … Karl Schmidhofer resigned as president of the Austrian Ski Federation; senior vice president Roswitha Stadlober was named as interim president.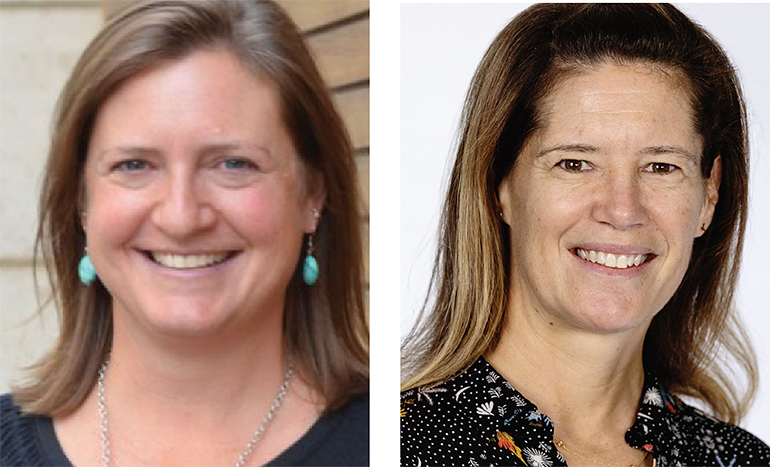 Left: Meegan Moszynski. Right: Sophie Goldschmidt.
The Quebec Ski Areas Association elected its 2021-22 board of directors: Jean-Michel Ryan, Mont Sutton, Nadia Pépin, Gleason, John Barnowski, Ski Montcalm, Alain Beauparlant, Vallée du Parc, Daniel Rochon, Bromont, Annique Aird, Mont Tremblant, Louis-Philippe Hébert, Les Sommets, Luc Élie, Mont Rigaud, and Isabelle Émond, Vallée Bleue.
AWARDS
Katie Mckeiver, risk manager for Boler Mountain, Ont., and 2021 SAM "11 Under 30," received the inaugural Ontario Snow Resorts Association (OSRA) Trailblazer Award, recognizing exemplary achievement by a young (under 30) industry leader. OSRA also recognized Fred and Graham Archer of Track Vehicle Repair with an Industry Appreciation Award.
Colorado Ski Country USA named its 2020-21 Double Diamond Award winners, including: Liana Aghajanian, Granby Ranch, F&B Professional of the Year; Scott Alder, Steamboat, Groomer of the Year; Christina Bruno, Steamboat, Instructor of the Year; Toby Cruse, Copper, Patroller of the Year; Duncan Draper, Steamboat, Covid Safety Champion; Fred Koetteritz, Arapahoe Basin, Guest Services Personnel of the Year; SAM 2021 "11 Under 30" Maddy Pierce, Copper, Snowmaker of the Year; and Kevin Sprecher, Eldora, Terrain Master of the Year.
Ski California recognized its 2021 award recipients, including: Dave McCoy Lifetime Achievement Award honoree Horacio "Rocky" Cuevas, Northstar; Lift Maintenance Person of the Year recipient Jamie Keffer, Kirkwood; Lift Operations Person of the Year Joel Baker, Heavenly; and Top 3 Under 30 recipients Will Cain, Heavenly, Sabrina Hatzer, Snow Valley, and Ross Roberts, Palisades Tahoe.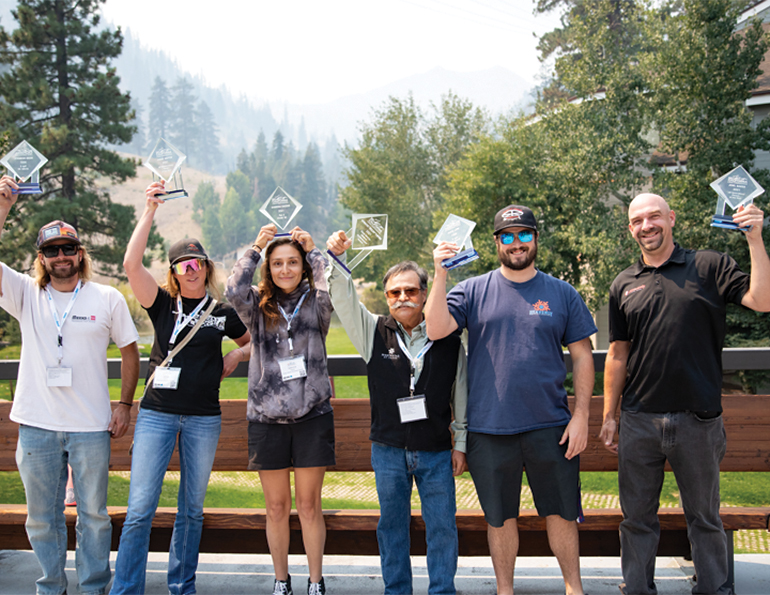 Ski California award recipients.
The U.S. Ski and Snowboard Hall of Fame inducted eight new members: Pennsylvania resort and snowmaking icon Herman Dupré; plastic boot inventor and ski gear innovator Sven Coomer; ballet skiing protégé and freestyle skiing legend Alan Schoenberger; retail geniuses Renie and Dave Gorsuch; the voice of Nordic and cross-country skiing, Peter Graves; ski movie star and backcountry guru Mike Hattrup; extreme and big mountain touring pro Jan Reynolds; and James Bond skiing stunt double and Bogner Fire and Ice star John Eaves.
OBITUARIES
Snowmaking pioneer Peter Alford died in August at age 83. In 1963, he started engineering consulting firm Alford International—later the Alford Design Group—which he led until his death. Over the course of his career, Alford installed snowmaking infrastructure for ski areas around the world. In 2009, he founded PNP Supply LLC, the exclusive North American importer of TRM Austria's ductile iron pipe and fittings.
Bluewood, Wash., general manager Kim Clark died of an apparent heart attack while working on the mountain in September. He was 65. Clark was a past board member of the Pacific Northwest Ski Areas Association. Prior to Bluewood, he was the GM at Mt. Ashland, Ore., from 2005 to 2014.

Franklin Drake, the founder of Mt. Hood Meadows, Ore., died in September. He was 93. A long-time Portland construction mogul, Drake and his two brothers built the ski area in the late 1960s after securing a 30-year lease from the U.S. Forest Service. Drake managed the resort until 2006, when his son, Matthew Drake, took the helm.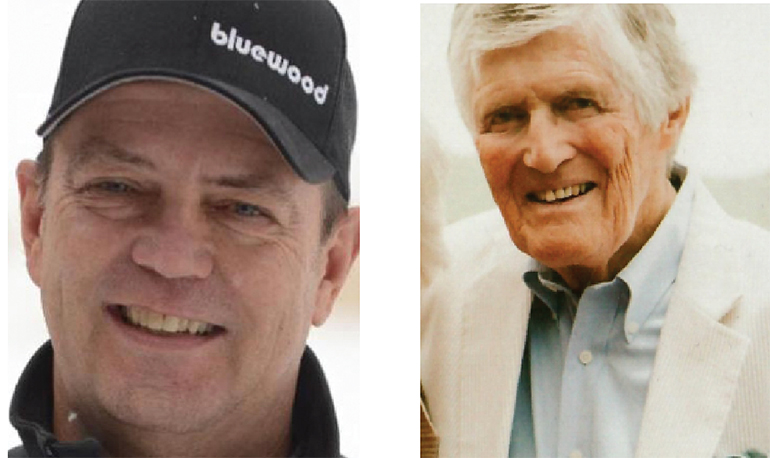 Left: Kim Clark. Right: Peter Alford.