Midwest Ski Areas Association, Grand Geneva, Wis., Aug. 15-18, 2021

The Midwest Ski Areas Association Summer Meeting and Trade Show was the industry's first large, in-person gathering since the pandemic began. It drew 373 attendees, including 254 ski area and affiliate personnel and 119 supplier representatives. The event kicked off the fall show circuit in style at the Grand Geneva Resort in Wisconsin. Left: MSAA executive director Amy Reents, and Jim Vander Spoel, Gogebic Community College director of ski area management. Center: Snomax International's Wayne Palmiter and Todd Buchholz talk with the Mont Du Lac, Wis., crew. Right: Attendees enjoy an outdoor BBQ and awards presentation.
New England Summit, Sunday River, Maine, Sept. 13-15, 2021

Left: (left to right) Stew Jensen of Nxt Concepts, Brandon Rogers with Amlon Ticket, Torrent Engineering and Equipment's Greg Sheets, and NSAA's Dave Byrd, happy to be gathering again at the New England Summit. Center: (left to right) Olivia Rowan, SAM, Dave Belin, RRC Associates, and Kelly Pawlak, NSAA, seeing each other for the first time in a long time. Above right: The NE Summit had a good turnout with 318 attendees representing 64 vendors and 48 ski areas. Right: Smiles everywhere as attendees gathered outdoors for live music and libations.
SANY-PSAA Expo, Holiday Valley, N.Y., Sept. 20-22, 2021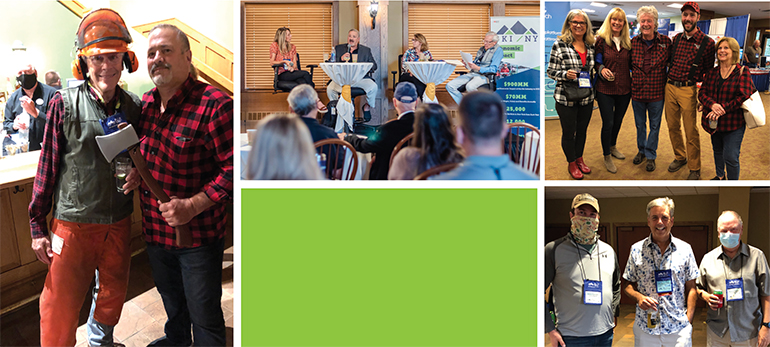 The Ski Areas of New York-Pennsylvania Ski Areas Association Expo welcomed 326 attendees. Left: Dennis Eshbaugh of Holiday Valley, N.Y., and Scott Brandi, SANY, set the bar high for the lumberjack costume event. Above center: (left to right) Olivia Rowan, SAM, Scott Brandi, Kelly Pawlak, NSAA, and moderator Dennis Eshbaugh discuss resilience, sustainability, and the future. Above right: Buffalo check looks good on the team from Thunder Ridge Ski Area, N.Y. Right: Dean Parmiter and Russ Coloton of Hunter Mountain, N.Y., join Joe VanderKelen (center) of SMI Snow Makers at the trade show.