SUNDANCE, UT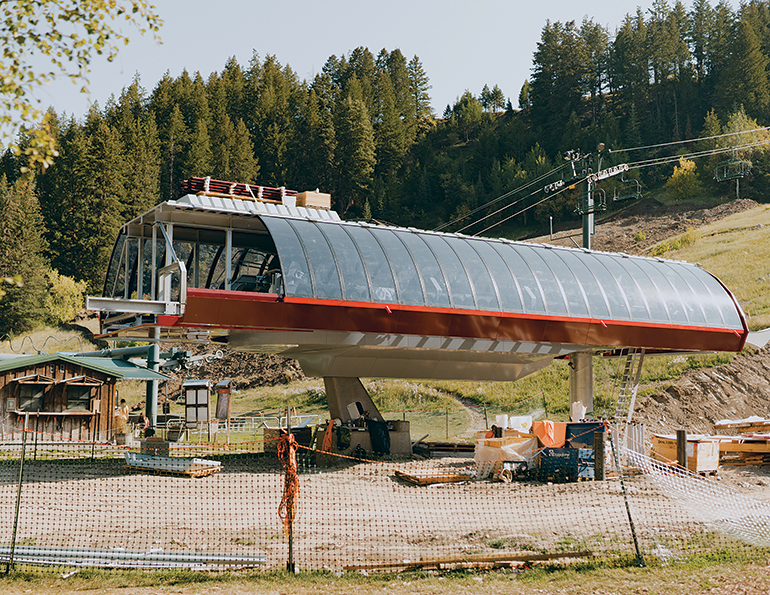 Sundance Mountain Resort is making substantial infrastructure upgrades, adding a pair of new Doppelmayr quads to replace an aging fixed grip, three new conveyor lifts, a new snow gun fleet, a new snowmaking reservoir, and more.

Ray's Lift, a 1995 CTEC/Garaventa fixed-grip quad, is being retired. With two loading stations, three unloading stations, and access to all levels of terrain, Ray's was the resort's primary artery. To replace it, says VP of operations Czar Johnson, Sundance is building two new lifts.

One is a Doppelmayr high-speed detachable quad. The new top-drive, bottom tension lift will carry 2,400 pph over a span 4,998 ft., up 1,293 ft. of vertical. It will mostly follow the old lift line, but will terminate about 300 vertical feet higher, accessing terrain previously reachable only by hiking. Ride time will go from roughly 20 minutes down to seven.

A new 962-foot Doppelmayr fixed-grip quad will provide additional access to the new summit in winter and summer, and also serve the zip line tour. It rises 426 vertical feet with 24 carriers traveling 450 fpm. The drive is 88 hp.

Sundance is replacing its beginner area handle tow with three new SunKid Star Lifts conveyors, which are 180, 250, and 380 ft. long, respectively. And the resort is re-grading its learn-to-ski area for consistency.

Material delays, permitting, and juggling multiple projects have been challenges for installing the new lifts and conveyors. Boring for a new 19-million-gallon snowmaking reservoir was also complicated. "Rocky terrain caused the original bore to collapse, and we had to start over," says Johnson.

The reservoir is in a natural depression, so Sundance didn't have to excavate for it. Once the bore was drilled, only minimal surface preparation was needed before laying the HDPE double-sided textured liner. It will feed a new pumphouse with two new 400 hp Torrent pumps with VFDs. Capacity will be about 3,600 gpm. The resort is also adding seven HKD Halo fan guns and 70 HKD Impulse and Phazer towers—the first air/water guns at Sundance. Previously, it ran 10 fan guns at 800 gpm.

The air-water wands will be spaced 95 to 120 feet apart on a mix of new and regraded terrain. The added snowmaking is served by nearly four miles of steel water pipe, and air is supplied via 4,500 ft. of 8-inch HDPE pipe and 4,400 ft. of 6-inch pipe.
WINTER PARK, CO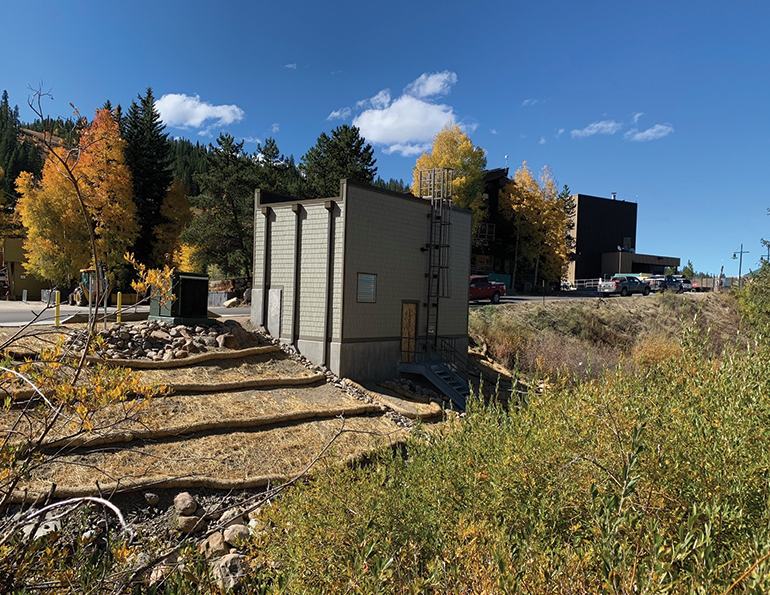 A new snowmaking pumphouse on the Fraser River will allow Winter Park Resort to maximize its water allocation and provide the resort with an alternative point of diversion when its main water source, the Vasquez Canal, is low or closed.

Construction of the Fraser River Pumphouse began May 25. It was completed Oct. 7. Garney Construction out of Littleton, Colo., built the 640 sq. ft. pumphouse, which sits on a foundation of precast and poured concrete. It houses three 200 hp VFD pumps from Torrent Engineering that can move 2,700 gpm/6 cfs. It feeds into the resort's snowmaking system via a new 3,000-foot, 12-inch steel water line, buried 12 inches below ground.

Where the pumphouse really improves on Winter Park's snowmaking capacity, however, is through its location, says planning director Doug Laraby. Winter Park gets its water from the Denver Water Board's Fraser River Collection System's Vasquez Canal, which crosses the resort property in the Moffat Tunnel. Under its water use agreement, Winter Park can draw five times the water it owns for snowmaking as long as the excess water is returned to the canal as springtime runoff.

Certain areas where Winter Park makes snow are not tributary to the Vasquez Canal, so the resort cannot apply the leverage benefit there. However, those areas do flow directly to the Fraser River. The pumphouse is located on the river below these non-tributary areas, so when the snow melts in these areas the corresponding water used for snowmaking will be returned back to the Vasquez Canal. This will allow Winter Park to fully leverage its water rights.

The new pumphouse will also operate as an alternative point of diversion when the canal is low on water or down for maintenance, as it is this fall while Denver Water completes maintenance on the Moffat Tunnel. There will be no water in the canal until the maintenance is completed in the first week of November, so Winter Park will put the Fraser River Pumphouse to immediate use for the first part of its snowmaking season.
GRANITE PEAK, WI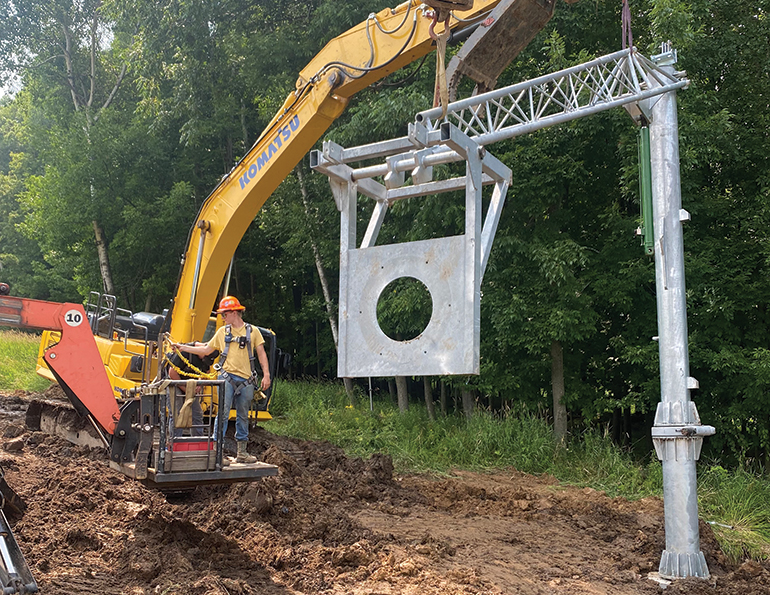 Granite Peak is installing more than 100 fixed-position fan guns and low-energy sticks from SMI as part of a $2.5 million investment in snowmaking.

The new SMI fleet includes 28 Standard Polecat towers, 11 Super Polecat towers, five Super Puma towers, 71 Grizzly sticks, and 27 York Rubis to Grizzly conversions. The machines will be a mix of automatic fans and manual fans and sticks. Capacity will be the same (about 5,000 gpm), but higher-output guns and a more efficient process will allow for "greater overall snowmaking production and fewer total snowmaking hours required to open," says GM Greg Fisher.

Gun density was increased in key locations for better coverage and enhanced surface refreshing. Granite Peak has no on-hill air, so all snow guns are either water-only or have on-board compressors. While 27 York sticks were removed, their hydrovane compressors were re-installed on the Grizzly sticks; Granite worked with SMI to get Grizzly bases with mounts for the hydrovanes.

The upgrade will impact the western side of the mountain most, where water-only sticks could only run at 15 degrees wet bulb or less. The new guns will allow snow to be made on this part of the mountain in milder temps.

To date, Granite Peak has installed 43 tower foundations and a spread footing for a swing-arm mounted Super Puma fan; 71 Grizzly bases were fabricated in-house and also installed.

Reflecting a global trend, Fisher says that lead times on materials have been the biggest hinderance to progress. Electrical components and wire for installs, valving, hydrants, and flanges have all taken longer to ship. In some cases, processes had to be changed since materials hadn't arrived yet.
GREAT BEAR PARK, SD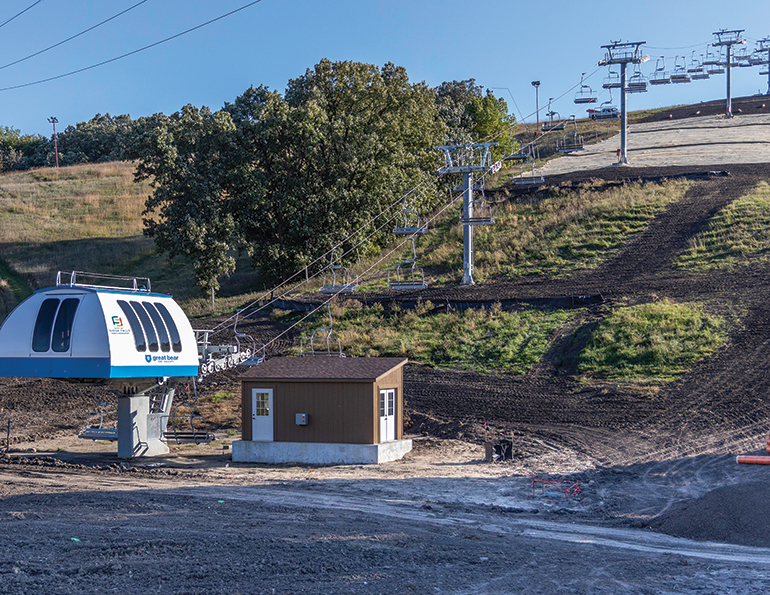 Great Bear Park—owned by the city of Souix Falls, S.D., and run by not-for-profit Great Bear Management Inc.—invested a total of $1.8 million in a new Skytrac fixed-grip quad that will open this winter. It replaces a Borvig quad that had served the ski area since 1981. It's Great Bear's only aerial lift.

The new lift is just shy of 900 ft. long, with four towers, one less than the old lift. The tower footings required about 75 cubic yards of concrete. The 100 hp bottom drive propels 42 carriers at a max speed of 400 fpm up Great Bear's 182 ft. of vertical. The speed and uphill capacity (2,611 pph) are the same as the old Borvig, and it follows the same line.

"Besides the obvious upgrade in technology, the new lift will be easier and safer to load and unload for the guest and will provide a much better working environment for Great Bear team members," says GM Dan Grider.

With no counterweight shed on the hydraulically tensioned lift, Great Bear has more room in the loading area. The unload area was regraded and re-engineered to create a gentler runout for passengers.

Two Skytrac employees and a few local sub-contractors installed the lift. Skytrac was on-site in mid-April. The project was completed in August.

To help raise funds for the upgrade, Great Bear sold all the old lift chairs and cut the haul rope into one-foot sections, which were mounted on plaques and sold. Proceeds topped $35,000. The city contributed $1.6 million to the project, which "reflects its commitment to providing affordable outdoor winter recreational activities to the citizens of Sioux Falls and the surrounding area," says Grider.
MOUNT SNOW, VT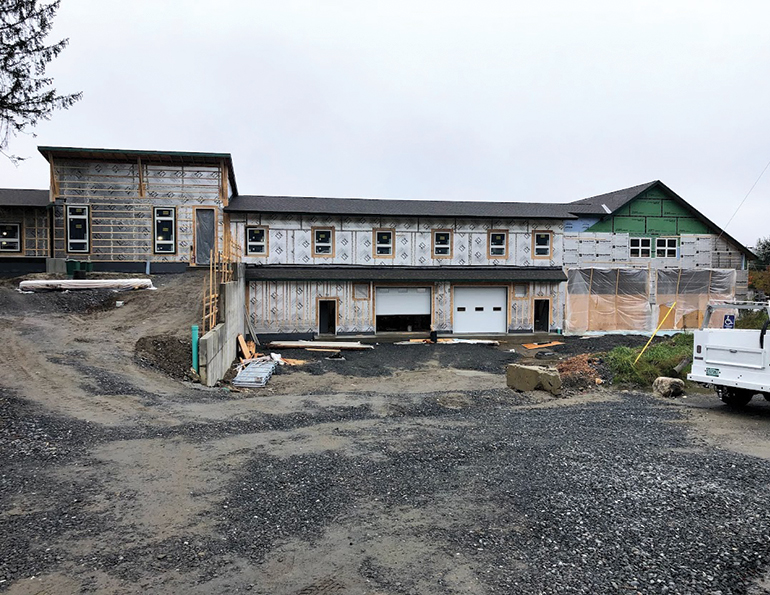 Mount Snow is building a new 16,000 sq. ft. mountain operations facility to replace a building that burned in a June 2019 fire. The new facility is being constructed on the same footprint as the old one, and includes a 3,130 sq. ft. vehicle maintenance garage that was built post-fire in fall of 2019.

The facility will also house snowmaking operations, building maintenance (including the plumbing and electrical shops), administrative offices, a conference room, training space, and ski patrol locker rooms and offices. While the footprint is the same, the interior layout is "completely different," according to senior director of mountain operations Dave Moulton.

Construction began April 22. ReArch Company Inc., out of South Burlington, Vt., is the general contractor managing the project. All new foundations were poured and the vehicle maintenance facility has been tied into the new two-story, stick-built structure. The project is scheduled to be complete by early November.

It is going to be ADA accessible, with an elevator. The building will meet new energy codes, too, making it "several times more efficient" than the old one, says Moulton. Overall ventilation will also be improved, including a built-in exhaust system for vehicle maintenance.

The building is located on the edge of a parking lot, and the state of Vermont requires a stormwater filtration system for all non-pervious surfaces of a certain size. In lieu of building a sedimentation/filtration pond—and losing valuable parking spots—Mount Snow installed a large, underground stormwater filtration system. The 20' X 20' concrete structure houses a system that separates suspended solids/pollutants from stormwater runoff using an induced vortex and discharges clear, cleaner water.
SNOWBASIN, UT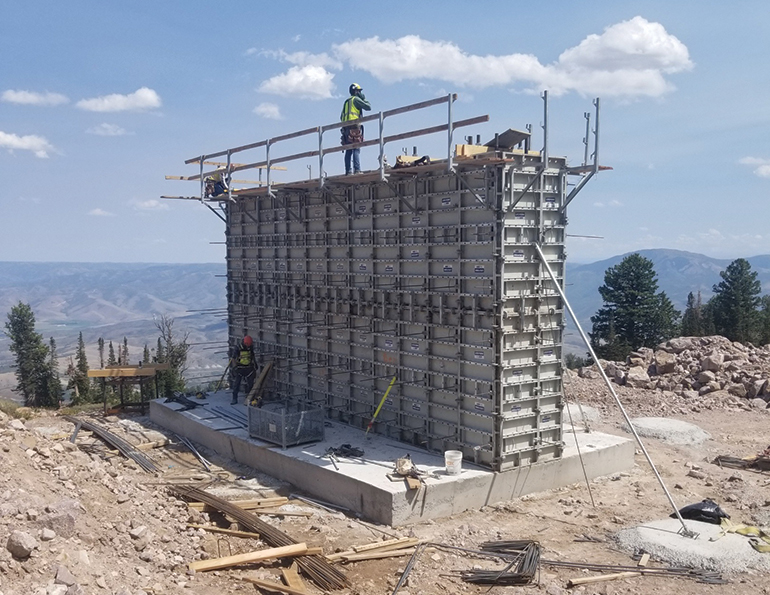 Snowbasin has several projects underway as part of a new multi-year capital plan. A high-speed detachable six-passenger chairlift from Leitner-Poma of America is replacing the Middle Bowl triple, a 1979 CTEC. Installation is expected to be complete by Christmas 2021.

The new Middle Bowl Express will cut the ride time up to the Needles Lodge by more than half, from 12 minutes to less than 6, It will terminate above the lodge—88 ft. higher than the old terminal—for easier access. A return trail to the Needles Lodge was added to help with skier flow from the unload area. Snowbasin GM Davy Ratchford says the site of the old lift's upper terminal will become a new wedding venue looking out over the Ogden Valley.

The new lift line follows a slightly different alignment, which only required significant clearing from tower 2 up to tower 6 (about 1.75 acres). The rest of the line is over existing trails or the old lift line. A total of 18 new towers were installed; the old lift had 24. The terminal footings and 10 tower footings were poured by truck, and the other eight tower footings were poured via helicopter.

The lift is powered by a 770 hp top drive with bottom tension. The lift's 51 carriers will travel a max speed of 1,000 fpm over a 4,802-foot span up 1,188 vertical feet. Initial capacity is 1,800 pph. The heavier six-passenger chairs will help decrease wind holds, which can be common in that area of the mountain.

Snowbasin also added about 350 new parking spots to its Maples and Canyon Rim parking areas this summer. The expanded parking required only minimal grading and county permits to build since it's located on Snowbasin-owned property. All parking at Snowbasin is free and located close to the base area. The resort has free shuttles to and from the lots.