Small ski areas that have come back from near extinction in the past few years—and thrived!—seem to use the same potion: one part understanding your people, one part purpose, and a giant dollop of that thing you simply cannot buy: passion.

These three P's have helped many areas roar back to life. We sat down with the folks at the helm of three such operations to talk about where they've come from, how they're doing, and what their long-term place in the snowsports industry looks like.
ECHO MOUNTAIN, CO
The headlines announcing the 2016 sale of Echo Mountain, Colo., were skeptical at best. "27-Year-Old Dude to Buy Colorado Ski Resort Out of Bankruptcy for $3.8 Million," one read.
That "dude" is Peter Burwell, son of the late Rod Burwell, a Minnesota philanthropist who owned several Aspen hotels. When Peter, who is CEO of the family's Burwell Enterprises, decided to buy Echo Mountain, he went into business with two of his fellow University of Denver alums, Kyle Granowski and Fred Klaas, the latter now the area's general manager.
Echo had struggled for much of the past decade, buffeted by shifting ownership and changing missions. As a result of the dudes' collective vision, though, the close-to-Denver day spot is now growing at a pace those headline writers could never have imagined.
Learning from the past. In earlier chapters, Echo was operated as an all terrain-park destination and then as a race training venue. "Both concepts had merit," says GM Klaas. But both failed. "We were fortunate to learn from both of those and all involved," he says.
To reimagine operations, Echo's team had to first figure out who the area was there to serve.
An inclusive model. An area with 600 feet of vertical, with a base elevation of 10,000 feet, served by a single triple and two surface lifts, Echo is close enough to Denver to view the cityscape from some trails and close enough to the Front Range to be a true "feeder" spot.
Realizing that tapping the diverse population of the greater Denver area was key to success, the team focused on building inclusivity into everything from Echo's branding and visuals to its ski school model—no formal lessons, just floating instructors who offer tips.
As leadership tried to home in on what offerings would reach a broader demographic, Klaas says they realized something all smaller mountains should: "We're not going to be everything to everyone. No one is, and we recognize that."
One priority was upping Echo's beginner vibe—in recent years, the area had been thought of as only for hardcore park riders and then later, racers. So, leadership added a tubing hill and expanded the learning area.
They also built an inclusive and enthusiastic staff that reflected the audience they wanted to attract, and let it be known via social media and other marketing channels that everyone would feel welcome at Echo.
To say it bluntly, and we say it all the time: It's OK to suck here," says Klaas.
And it's OK to say it that way. "We work at speaking the language of our younger demographic," he says. "Knowing how to connect is very much about that."
Klaas says Echo encourages its staff to be welcoming ("Every position is part guest services here.") and to use humor, sarcasm, and slang unabashedly.
The model is working. "The past five seasons, we've continued to grow more and more diverse. We now have over 50 percent non-white [guests]," Klaas says. "We're super proud of that."
Last winter, a Black guest told Klaas that her visit to Echo was the first time—on skis—where she'd felt included. "She said, 'You have a lot of Black people here. It's real!'" he remembers.
"It's not a one off," says Klaas of the interaction. "When you don't see people who look like you, you don't feel welcome. We've changed that." So much so that Echo's guest visits are up fivefold from 2016.
Leadership is now looking to triple growth yearly going forward, and plans to expand the mountain's skiable acreage.
Think differently. Klaas' advice to other areas facing an uphill struggle? "Try to think in a new or different way. Don't have that 'this is how we've always done it' mentality. Thinking freshly, finding the cool stuff people want in your area, presents a great opportunity to a lot of ski areas."
As Echo moves ahead, Klaas hopes the industry sees the value of spots like this thriving. "We don't see ourselves as competition [to the big guys]," he says. "These people [we are bringing in] have not been interested before. Now we're creating new skiers and riders. It's good for all of us."
MAGIC MOUNTAIN
Magic Mountain in southern Vermont has been on the brink, holding on for dear life, many times in its history. When it was on the edge of extinction in 2016, current ski area president Geoff Hatheway was one of a group of 16 investors, all long-time Magic enthusiasts, who stepped up.
"I became involved as a customer in the early 2000s," says Hatheway. "I brought my kids here and said, 'this is the place I want them to grow up skiing.'"
The investors, under the LLC Ski Magic, took ownership just before the 2016-17 ski season. The mountain has been on the upswing since.
Balancing tradition and modernization. Hatheway says they realized early on that, to achieve success, they'd have to weave together Magic's traditional character and the modernizations necessary to not only keep the operation afloat, but also help it grow.
Accomplishing the first part started with a simple premise: Respect the classic trails cut by Swiss skiing great Hans Thorner when he built the place in 1960. To do that, Hatheway says, they've had to make some decisions that may not make sense to the everyday skier. Like, for instance, not building a high-speed quad to the summit.
Fixed on fixed grips. "We are committed to fixed-grip lifts," says Hatheway. That's not to save money. Rather, it's to save that authentic New England trail network. "Fixed grips have a more even pace, so the ski experience on the trail is better," he explains.
In 2018, the ownership invested in finalizing the installation of a double chair that serves the mid-mountain. Construction of the chair began in 2003, but it remained unfinished for about 15 years. Magic also purchased a 1986 fixed-grip quad from nearby Stratton Mountain to replace an old triple serving the summit. That lift will debut this winter.
"Not everyone is crazy happy that we did not put in a high-speed quad," says Hatheway. "But those five minutes a high speed would save someone? That would change the whole mountain."
Some change is necessary. "We were a hard place to learn," Hatheway admits. The mid-mountain double remedies that, providing access to beginner and intermediate terrain that could formerly only be reached from the summit.
Where is Magic going the most modern? Snowmaking. The new leadership has expanded snowmaking infrastructure from 20 percent coverage to 50 percent, with plans to expand further. "It's still a work in progress," says Hatheway. "We're creating a great mix of natural terrain and manmade. It's always going to be something we are working on."
As they "nibble" away at improvements like additional snowmaking and night lighting for the terrain park, Hatheway feels Magic is finding its sweet spot.
Netting results. Last season, Magic thrived amid the pandemic, says Hatheway. And numbers are looking good going forward as well. "Season passes are up fourfold over where we were when we took over," he says. Day visits are up as well.
The good word about Magic got out in many ways. Word of mouth, social media, and traditional media were key.
Hatheway's advice? Communicate with your customers and potential customers. "Magic needed some credibility, so we put it on the line by being completely transparent [with customers]," he says. "Weather, mechanical breakdowns, things are going to happen, and you have to plan for—and be honest about—the unexpected."
Today, Magic feels secure in its future for perhaps the first time since its 1960s-1980s heyday. The growth in visitation has helped get the ski area on more secure financial footing, but ownership won't let the prospect of further filling the till degrade the guest experience.
"We don't need to be greedy," Hatheway says of the ski area's increasing numbers. "We know our capacity and where it is comfortable out there. We have stuck with a 1,500 per day max tickets sold, and we have had to implement that a few times."
"We are in a really good spot," Hatheway says. "We're really close to the point where we can reinvest. We are never done. But we are moving forward well."
Magic is charging full speed ahead (just not in a high-speed quad kind of way).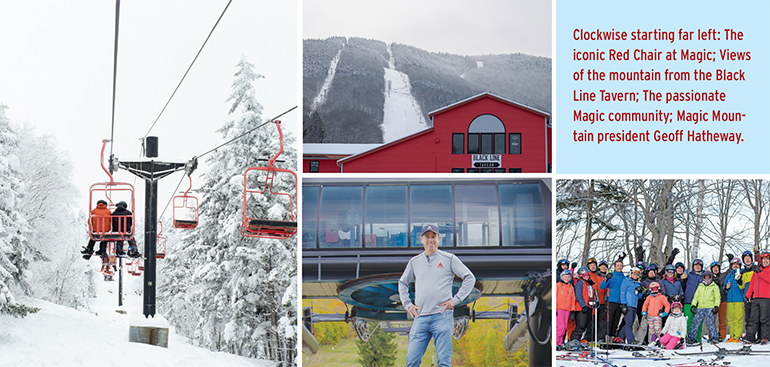 SLEEPING GIANT, WY
Nick Piazza grew up in Cody, Wyo., skiing Sleeping Giant Ski Area—one of the nation's oldest ski hills. He never planned, or even dreamed, of becoming its proprietor. Instead, he left his hometown and moved to the Ukraine where he thrived as an investment banker. War and other complications, though, brought him back to Cody and into Sleeping Giant's orbit.
The non-profit running the struggling ski area, Yellowstone Recreation Foundation, was seeking donations to keep it afloat. Piazza says he was ready to donate but heard a calling to do more. "I thought, if we're going to put that much in [via donation], why not go further?" he says.
Piazza took private ownership of the area just as the 2020-21 season began—in the middle of the pandemic.
"I had to make a go/don't go decision," he says. "We decided it would do more harm to the business to take it offline for a year [and spruce it up] than to keep it going. So we said, 'Let's go for broke and see what we learn.'"
More than skiing. Sleeping Giant is at the start of the reinvigoration process undergone by the two other areas profiled here, but Piazza sees great potential.
First, there's the location: "We are a niche-y hub on the edge of Yellowstone," he says. That has not been capitalized on in the past.
"It's always been a lopsided economy," Piazza explains. "Three million visitors come through there in the summer, yet it's a ghost town in the winter." This winter, though, they hope to appeal to both the locals and visitors who may want to get out on snow in a more kicked-back environment.
Piazza says they are striving to be a more "European style" operation, meaning Sleeping Giant aims to provide lots of outside fun and more ways to savor the snow than simply skiing. "Our mission isn't just for skiers to come," he says. "It's to be a cool outdoor place to hang outside in the winter."
This will take investment, he says, something he is prepared to take on. "[Fundraising] was done by potluck dinners before," he says. "Now it's time to do more, and that won't be cheap."
Spend money to make money. One of Piazza's first moves as owner was to shift the business philosophy from a focus on saving money to a strategy that reinvests in the operation.
Ahead of winter 2020-21, he put in a yurt, night lighting, tubing runs, and more snowmaking, brought in live music for the first time, implemented a mobile app for pre-ordering food, and added Sno-Go bikes. Then he let the region know Sleeping Giant was open for business.
The response? "We got a lot of people in the area who said they haven't skied for 20 years," he says. "And there are more out there."
Going forward, he plans to build on Sleeping Giant's unique vibe. "Sleeping Giant is quirky," he says. "It might not be the best skiing in the world, but for me, it lets people get out there and enjoy. That's what we're striving to be. We're the kind of place if you wait five minutes in line, that's a long line. We have music, the bar, the vibe, and the best tailgating."
Lift all boats. Piazza believes that the success of Sleeping Giant will be good not just for Cody and other small areas, but for all.
Last year, Sleeping Giant partnered with Snow King and Antelope Butte, Wyo., and Soldier Mountain, Idaho, on reciprocal pass programs. These were successful and will continue this season. "They understand that we are making the pie bigger," he says of the partner areas. "I know we are gaining more than them, but they understand the value to us all."
"We all know what mega resorts are, and we all see they have their place," Piazza continues. "But I think the ski industry will lose part of its DNA if we go all the way that way. Smaller spots like Sleeping Giant boost up the entire industry."
So he will push on.
"It's a labor of love," he says. "I'm pretty sure my staff thinks I'm having a midlife crisis. But I believe in this. If the community sticks with us, we will be solid."