Cross country participation exploded last season amid the pandemic, and that growing pool of Nordic skiers is eager to hit the trails once more this winter. For ski areas looking to capture a share of the market, pleasing cross country skiers will mean a renewed focus on the basic strengths that made Nordic skiing such a welcome activity last time around: its inherent Covid safety, the healthy outdoor recreation it offers, and its accessibility.
A pre-season consumer survey carried out by the Cross Country Ski Areas Association (CCSAA) and Snow Sports Insights (SSI) found that those who plan on cross country skiing this winter—as many as 5 million people, according to the 2019-20 Snowsports Industries America (SIA) Participation Study—will come to Nordic ski centers with specific expectations. There are lots of controllable variables that ski areas can tinker with to earn the patronage of both new and experienced cross country skiers.
An eager market. That consumer base is real and raring for the coming season, says SSI researcher and consumer survey architect Kelly Davis. She explains, "97.8 percent of respondents say they will cross country ski this season. That's an incredibly positive response. … It indicates that cross-country skiers who were new to the activity or had come back after a lapse in participation will be back on the trails this winter."
With more than 1,200 responses, the survey achieved a margin of error of less than 3 percent, at a confidence interval of 95, which means, in layman's terms, the survey results accurately represent the perceptions and attitudes generally held by North American cross country skiers. The respondent pool includes skiers from the databases and mailing lists of CCSAA, Ski Post, Cross Country Skier Magazine, The Nordic Approach, Alpina, and individual cross country ski areas.
Shares to grab. As for how folks plan on skiing: 41 percent have already purchased a season pass to a cross country ski center, but 53 percent have yet to put their money into tickets. Of the survey respondents—virtually all of whom plan on skiing—13.9 percent might purchase a season pass and 39 percent have not purchased a season pass (see graph below). That's a sizeable market share left to grab through either day or season pass sales.
But who are these skiers, most of whom are waiting to choose where they'll spend their money and time? How does skiing fit into their lives, and how can cross country ski areas shape the consumer experience to meet their needs?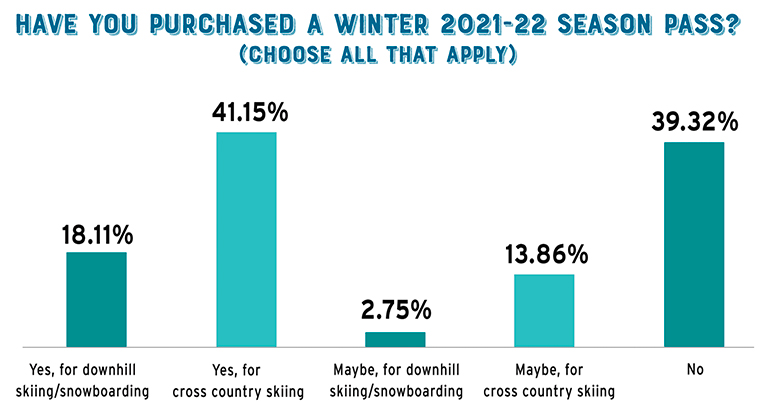 WHO IS THE NORDIC SKIER?
In the simplest terms, Nordic skiers are most likely to be middle-aged. Around 55 percent are male, 45 percent female. According to the SIA participation data, they also tend to be well-educated: 66 percent of skiers over age 25 have a bachelor's degree, and 24 percent have some post-graduate education. Correspondingly, 60 percent report a household income of more than $100,000.
So, cross country skiers make up a market with substantial disposable income. But for ski areas to develop into an important feature of these folks' lives and, by extension, a part of their expenditures both regular (weekly lessons, F&B purchases, etc.) and exceptional (annual passes, big equipment purchases, etc.), Davis says a few of the survey's trends deserve close attention.
First, most cross country skiers typically ski alone. A good, though smaller, share tend to ski with friends, and a similar percentage with partners or spouses. Less than a fifth of skiers typically ski with their children. That is, in part, a function of age (the mean age of respondents and of cross country skiers in general is around 50 years old).
This also goes hand-in-hand with the second trend: Most cross country skiers ski more on weekdays than they do on weekends. The survey indicates that Nordic skiers during the 2020-21 season did the majority of their skiing during the week, and that Nordic skiers are planning on even more weekday ski time this coming winter (see graph above).
Motivated by exercise. For Davis, this marks the continuation of a distinctly Covid-related shift: Cross country skiing is becoming increasingly popular as a habitual form of outdoor exercise that, given the looser schedule of the home office, can fit neatly into new daily routines. Though some Americans still visit their local gym or fitness center, gym memberships have dropped precipitously. Nationwide, gym enrollment dropped by more than half last year, with almost a quarter of former members predicting they will not renew in the future.
But Americans didn't stop exercising. Davis, who also directs research for the Outdoor Industry Association (OIA), notes that most of those active people simply moved outside. Her data suggest that outdoor activities have picked up at least 7 million new participants during the months of the pandemic. For a sizeable share of these folks who will find themselves in snowy regions this winter, cross country skiing is an obvious way to continue their outdoor recreation.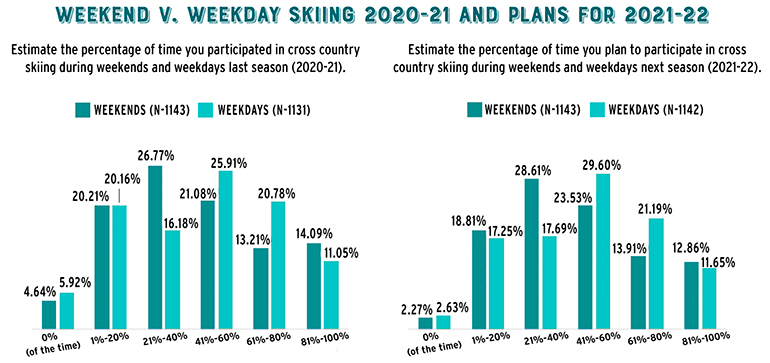 CATERING TO NEW TRENDS
So, what sort of experience is sought by this new body of cross country skiers for whom skiing is a regular outlet and form of exercise rather than a rare weekend outing? The CCSAA/SSI survey shows that, among the most important attributes of a favored ski area, good grooming tops the list, followed closely by terrain and snow quality, and the area's convenience and proximity to skiers' homes. While some of these factors are clearly out of operators' control, there are some inferences to be made here about today's best practices.
Improve your surfaces. First, if it's in the budget, improved grooming and trail maintenance are worthwhile investments. Even small changes, such as groomer training and minor equipment improvements—installing new track pans, replacing broken teeth, upgrading rig lighting—can make big differences.
Second, if a cross country ski area is looking to scale up and attract skiers' attention, snowmaking (which also received considerable mention in survey responses) is an obvious boon to the reliability, quality, and seasonal longevity of a trail system.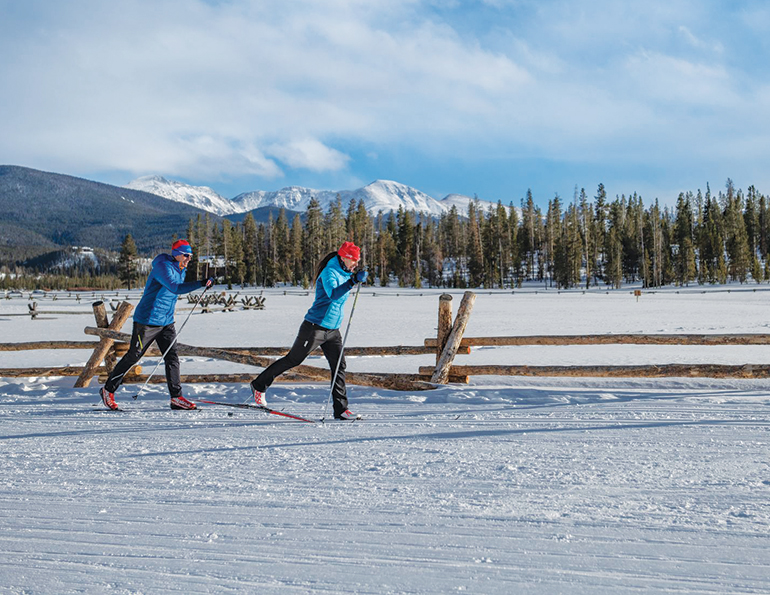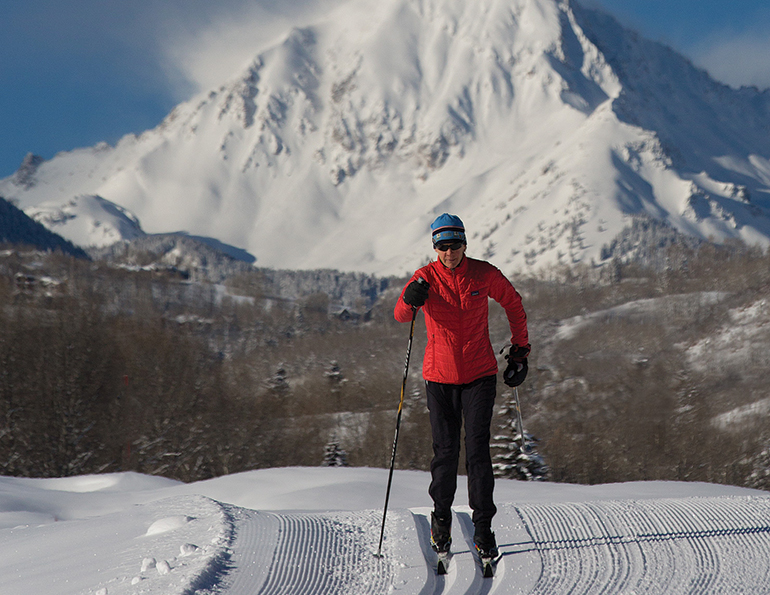 Skiers at Tahoe Donner Cross Country Ski Area, Calif., and Aspen, Colo., respectively. Thousands of newcomers to cross country discovered the sport as a source of habitual outdoor exercise last winter.
In the early season especially, when most Nordic centers cannot yet open, skiers will seek out areas that can offer good skiing without natural snow. This is not to say that snowmaking is a make-or-break feature of a ski area; survey respondents emphasized accessibility and trail condition as more important qualities. However, as winters get more unpredictable, having reliable conditions might be more and more a question of a ski area's snowmaking capacity.
Promote proximity and accessibility. Since skiers prefer trails that are as close and accessible as possible—in order, perhaps, to fold a quick ski into a busy weekday schedule—a ski area should be sure to appeal to its local community, highlighting the convenience and availability of its trails.
Sally Jones, manager of California's Tahoe Donner Cross Country Ski Area, notes that much of last winter's growth in ticket sales at her operation was due to new Truckee residents and second-home owners working remotely. "More athletic, younger folks are out skiing midweek," says Jones. Not only is this largely consistent with the CCSAA/SSI survey's findings, but it also reinforces the opportunity areas have to connect with this new demographic.
Spreading the word. To appeal to the WFH (work from home) crowd, cross country ski centers should ensure their offerings are visible and clear. It should be as straightforward as possible for new residents to get to know their local ski area; basic information on passes, schedules, and trails could be posted on community Facebook pages and listserves, and at the physical businesses where potential skiers are likely to stop or shop.
Crucially, this doesn't need to mean a costly increase in advertising. In fact, Jones was able to cut back on Tahoe Donner's media spend as last year's strong pass sales have continued. Instead, the area has focused on warning skiers that they may run out of season passes, which has driven up preseason sales. Staying in touch with your local ski community—through mailing lists, social media posts, in-person events, and the like—is key to attracting and maintaining a base of dedicated consumers.
Beyond marketing strategies, there are some Covid innovations particularly well-suited to the WFH folks that ski areas would do well to keep in place. A streamlined check-in process, for instance, is critical to somebody with only an hour to spare for a ski. Even if she's not a season pass holder, many ski areas now let her purchase a day pass online, which means no waiting at a ticket counter and practically on-demand access to the trails.
Brick and mortar retail. Despite the growth in recent years of massive online retailers, more than 50 percent of Nordic skiers are likely to buy equipment in a physical store; for apparel sales, this number is around 46 percent. On the flip side, only a quarter of Nordic skiers will go online for apparel purchases, and less than 15 percent will for equipment. The remainder are either undecided or will attend online or in-person gear swaps.
At least a third of Nordic skiers plan on purchasing gear and apparel this winter; another third are undecided about their purchasing plans. To be accessible to that consumer, cross country ski areas should continue to embrace in-store retail outlets.
Short supply. In this second pandemic year, however, the equipment that customers want is in short supply. As Nick Mahood, director at Vermont's Woodstock Nordic Center, says, "even though we got pre-season orders in on time last winter, we are being shorted on gear or [experiencing] major delays in shipping… we're looking at ship dates in March and April 2022, which is obviously a problem."
To further complicate matters, 32 percent of those who plan to buy equipment plan to wait for March's post-season deals; but if orders from the fall aren't arriving until then, these shoppers might not see any gear to buy, let alone gear on sale.
Regardless, a majority of skiers are going to shop in person. The challenge will be finding profitable alternatives that customers either need or will be interested and excited by. For example, perhaps a customer interested in touring will pivot to a more rugged backcountry setup because that's what the shop has in stock. This sort of shift gives the consumer a chance to try another style of skiing, and lets the retailer sell what they have on hand—all while building a lasting relationship with the customer.
SET UP FOR SUCCESS
Because skiers, even new skiers, are looking for the same simple things that originally drew them to Nordic, ski areas—caught between a massive influx of customers and the unique challenges posed by the pandemic—will need to be flexible and demonstrate reliability to serve these needs.
Take good care of trails and natural resources through thoughtful planning and quality grooming. Keep skiing accessible by keeping ticket-counter lines to a minimum, rental processes simple, and the path from parking lot to trail as painless as possible. For WFHers especially, this effortless access is key to making skiing an easy addition to daily routines. In retail, be as prepared as possible to meet the demand for in-store shopping.
Maintaining the Covid boom will mean careful attention to the details and to your dedicated customers. To keep things effortless for the customer, ski areas should be prepared to put in their own efforts.