ALPINE SKI RENTAL
By Peter Oliver 
Welcome to the 2022-23 rental smorgasbord. Most equipment companies typically address rental with a something-for-everybody approach, with several skis and boots in their rental offerings—an acknowledgement that every ski area, from the small local hill to the giant destination resort, has its own budget, clientele, demand for rental, and approach to rental in general.
OPTIONS ABOUND
Head, Elan, Rossignol, Salomon, Nordica, and K2 all adopt a similar strategy: Start with a low-priced fleet ski, step up to a slightly wider, better-performing model or two, and then a wider model mainly aimed at Western resorts (although Salomon's Chris McKearin says that "a wider trend is on the horizon" for Eastern resorts, too). All also offer a host of in-line models beefed up with bulletproof topsheets for demo.
Boots go the opposite direction on the width scale: wide, "big bucket" lasts (typically 104 mm) for entry-level fleet boots, narrowing to 100 mm lasts for high-performance demo rentals. (That said, when last widths go up, flex ratings typically go down.)
The exception: Marker-Volkl-Dabello (MVD) chooses not to compete at the lowest price points, streamlining its basic rental offering with just two rental-ski models, the Deacon 7.6 and 8.0 skis to go with its FXR boots, the fleet-rental workhorses of the last two years. (A selection of demo skis and boots is also in the mix.) 
Without exception, suppliers urge rental clients to budget a few dollars more per unit to improve the overall rental experience. Nordica's Sam Beck sums up the philosophy succinctly: "Better product, better experience."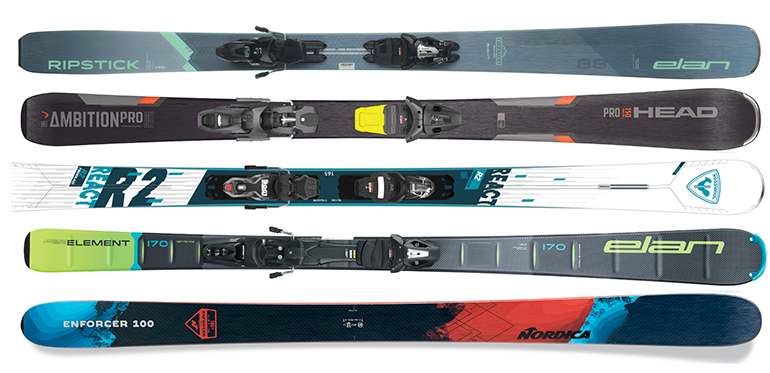 Top to bottom: Elan's new demo ski, the women's Ripstick 88; Head Ambition Pro with thicker top sheet and fresh graphics; the Rossignol React, Elan Element 76, and Nordica Enforcer are all mainstays.
MOSTLY STATUS QUO
While there are plenty of rental products to choose from for 2022-23, there are relatively few new products. Tom Pietkrowski, product line manager–ski boots for K2 Sports says, "Our entire rental product line will be carrying forward from the 2021-22 season." Both Rossignol, which revamped its rental line a year ago, and Nordica report no big changes to their rental lines, either.
What's new? Among the few new items, Salomon's Strive GW 11 and Strive GW 13 (same binding, different DIN ranges) demo bindings might be noteworthy for "increasing skier agility" with their lower center of gravity, according to Salomon's Chris McKearin. 
Head's primary rental track binding, the SP 10, gets an updated toe piece, going from the RX to the TX, which provides a cosmetic upgrade, says Head wintersports sales and operations specialist Marshall Mayhew. The Head Ambition and Ambition Pro fleet rental skis will have a 30 percent thicker topsheet for added durability and new "retail inspired" graphics, says Mayhew.
Elan adds a wider demo ski, the Ripstick 88, for both men and women (the latter with new graphics), and the Wingman 82 Ti Blue, all offered with the adjustable Power Shift system bindings and reinforced tip caps.    
Why so few new products? For Rossignol and K2, last year represented a significant leap forward in their R&D cycle, and few innovations were planned for 2022-23. In addition, the pandemic caused the 2021-22 buying season to "come to a screeching halt," as Alpina-Elan's Rob McCutcheon puts it, meaning that unsold models that were new for 2021-22 will effectively still be new for 2022-23.
In addition, many of the workhorse rental products in the suppliers' lines have proven themselves over the last few years. If it's not broken, why fix it?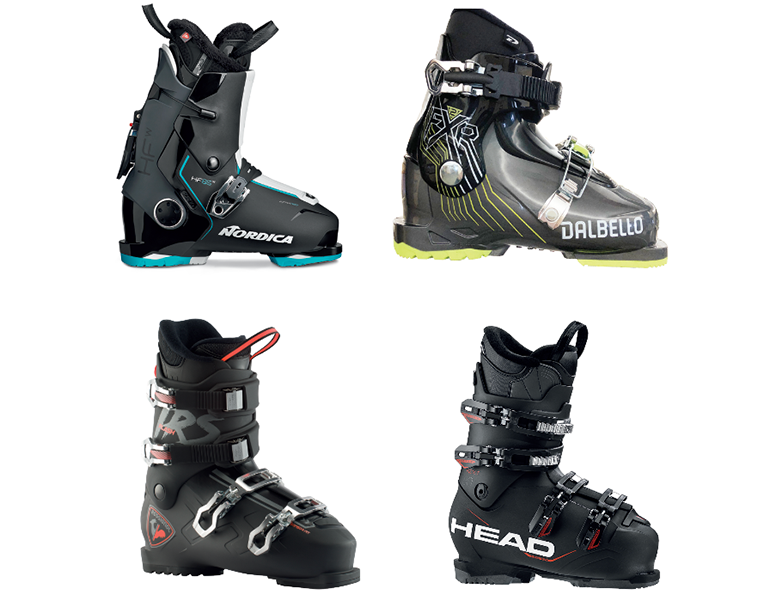 Clockwise starting upper left: Nordica rear-entry rental boot; Dabello FXR; Head three-sole-length BYS system boot; Rossignol Flash rental boot.
TRIED AND TRUE OPTIONS
Systems mainstays. Limited-sole- length boot-binding systems are among the proven concepts, and continue to serve the large market of high-volume operators and those on a tight budget.
Elan's entries are the Element 76 (with "a huge sweet spot," says McCutcheon) and the 4Factor DSS boot, with four shells, each covering three sizes. Head's three-sole-length BYS system "is still a big part of our offering," says Head's Andrew Couperthwait. Rossignol continues to offer its Flash system, based around its four-sole-length Flash boot and React skis.   
MVD plays in the systems arena with its Quick Six system, based on six sole lengths. Dalbello has "fully transitioned away from 4Factor," which it once shared with Elan, according to MVD's Geoff Curtis. 
Gripwalk pacing ahead. Speaking of transitions, Gripwalk continues to gain support, with MVD, which introduced the concept, and Rossignol among the companies fully committed to it. 
K2 is making Gripwalk standard on its rental boots for 2022-23, but regular alpine soles will still be available. At Elan, McCutcheon says that most Elan customers are "sticking with a traditional alpine sole," citing the added cost of Gripwalk as a deterrent. (McCutcheon suggests the added price is considerable; Curtis insists it is minimal.) 
Full implementation of Gripwalk might be a year or two away, but with Gripwalk binding parameters now being accepted as an industry standard, it seems inevitable.
Rear entry boots. Nordica's reintroduction of rear-entry boots last year saw its several retail and rental versions sell well, Beck says. He called the HF 90 R and women's HF 75 WR "sleeper boots" in the company's rental lineup. They remove "barriers for getting people into the sport," Beck adds, since the boots are incredibly easy to put on and take off, which suits both rental customers and shops trying to minimize interaction between customers and staff.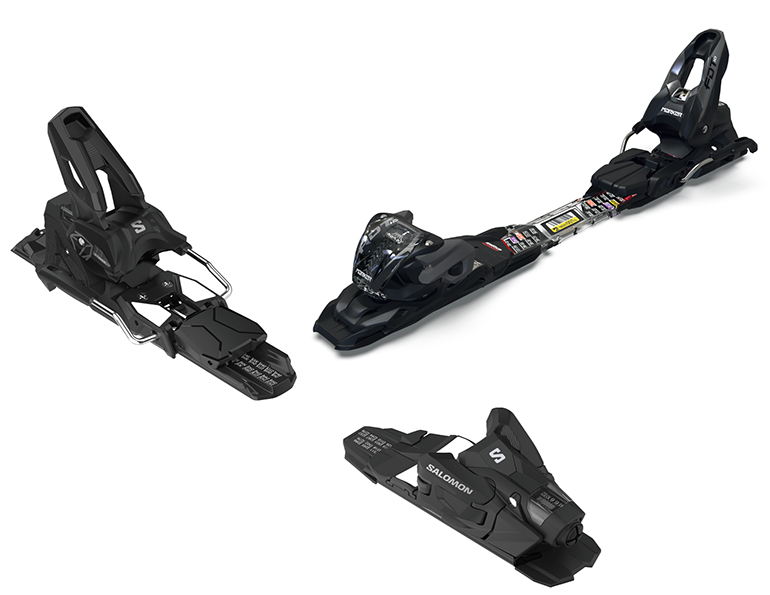 Left to right: Salomon Strive 13; Marker Quick Six System.
PANDEMIC-INDUCED CHANGES 
The pandemic forced most resorts to rethink the rental process and lessen or even eliminate person-to-person rental-shop contact. Significant among the changes has been the shift to online reservations. To support this change, several suppliers have developed materials and media that assist customers with pre-arrival preparations.
Guest education. Rossignol offers sizing charts for boots and helmets, and PDFs, such as "How a Ski Boot Should Fit," to guide customers in providing accurate information and thus minimizing in-shop size or equipment swaps. Head also offers a selection of fitting PDFs. Elan's McCutcheon talks of "videos and other assets to show how 4Factor works." 
Salomon takes a slightly different approach, offering "custom videos for preferred customers," McKearin says. 
Pricing, delivery times going up. Resorts can expect two other pandemic-fueled trends to apply: increased prices and longer delivery times. "Inflation is here as much as anywhere else," says Head's Couperthwait, adding, "shipping costs are skyrocketing." Nordica's Beck suggests that price increases have been overdue. "The price of boots has stayed the same for a long, long time," he says.
While most rental suppliers are relatively unaffected by West Coast supply-chain bottlenecks, since most products are sourced from Europe, suppliers are still seeing delays in delivery times. "Four to five weeks shipping is now six to seven weeks," says Couperthwait. Whether such delays continue into next fall is unknown. Manufacturers say that production won't be an issue.   
The good news for rental buyers is that with the many choices for 2022-23, there should be something for everyone. 
SNOWBOARD RENTAL
By Shaun Cattanach
One of the unexpected effects of the pandemic was an increase in new participation. Many resorts reported growth in snowboard rentals, especially for first timers. Because of this, most manufacturers are putting additional efforts into their product offerings for the 2022-23 season
It wasn't just newcomers, though, according to Head wintersports sales and operations specialist Marshall Mayhew. "While we have a lot of people entering the sport, we are also seeing more experienced renters than in previous years," he says. Mayhew thinks this is due to a combination of factors: "With the pandemic, we definitely saw a customer group re-enter the sport after not participating for some time. Also, we have seen customers grow out of dated equipment, so they are renting performance equipment" before buying again.
"We've seen steady growth across all categories of snowboard equipment for a few years," says Ben Fresco, marketing and product manager for Elan USA. "In particular, snowboard boots have seen the biggest increase."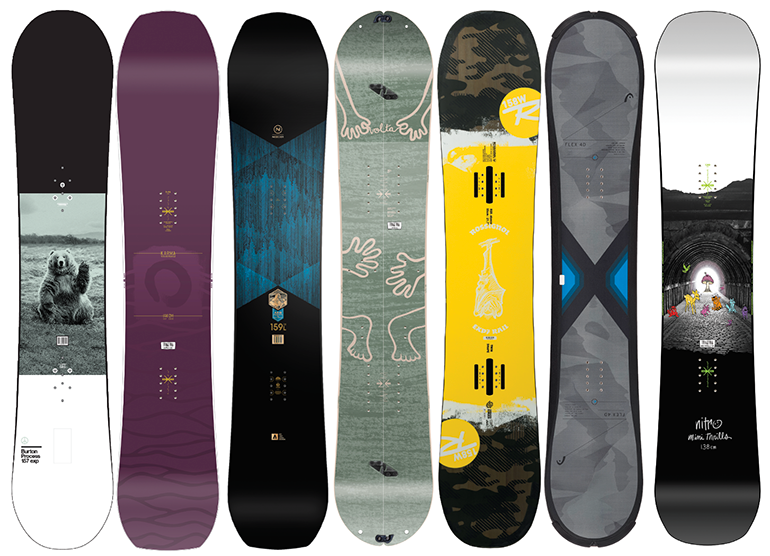 Left to right: Burton Process EXP; new Nitro Karma; Nidecker Axis rental board; Nitro Volta splitboard for rental; Rossignol EXP 7; Head Flex 4D; the Nitro junior rental snowboard, Mini Thrills.
MAKING IT EASY
Ease of use, both for the rental shop and for the guest, is paramount, and manufacturers continue to make refinements aimed at making life easier for all. Of course, cool graphics count, too.  "Rental buyers value ease of use and adjustability along with durability," says Gershon Dorfman, North American sales director for Nidecker and Flow. "Match these important features to timeless, great graphics and colors."
It starts with bindings. Nitro is introducing the new Team Rental Pro binding, which looks like the in-line Team binding, but "provides rental tech features for ease of use in the shop and on the mountain," says Nitro VP of global marketing Knut Eliassen. Among the features are reinforced ratchets and connectors with stainless steel cables, a size indicator logo, color-coding in the heel cup to quickly match binding and boot sizes, and a tool-free disc system for fast mounting and unmounting. 
Nitro's rental bindings operate on a "free disc" system, allowing bindings to be swapped from board to board "in a matter of seconds," says Nitro's Jack Stevens. The disc is permanently mounted to the board, and the binding locks into place on the disc. The bindings come in two sizes, covering men's sizes 5 to 13.5. 
Rossignol USA VP of sales and marketing Kurt Hoefler says Rossi continues to use its expanded size-range bindings. Multiple adjustments make it possible to fit men's boot sizes 4 through 15 in only two binding sizes. Color coding on the boots indicates the correct size bindings and recommended board sizes. The bindings come in two versions, one that is four-by-four hole compatible and one that is designed to work with Rossi's Rail mounting system.
To make getting in and out of its bindings easier for renters, Burton is introducing a Step-On Progression system. Chris DiMarco, Burton merchandising manager for hardgoods and Anon Optics, says that the system is based on the successful retail version of the Step On, but includes key rental features like the tool-free Quick Disc. The system will be available to select dealers through a phased rollout, he says.

Left to right: Rossignol Excite boot with H4 Boa dial; Nidecker carry-over rental boot from 2021-22; Nitro Access rental boot; new Nitro Team Rental Pro binding; Burton Strap EXP 1 binding; Rossignol Rail binding.
Updates to key products. Burton is replacing both the Custom and Stiletto EXP bindings with the new Strap EXP binding. DiMarco says updating the demo-level binding will align with the retail Cartel and Lexa offerings.
Another new offering from Burton is an adult version of the Handlebar, first introduced as a learning tool for kids. The benefits of the board-mounted device have proven to work for big people, too; paired with an LTR board, this combo aids in the early stages of the learning process.
Hoefler says that Rossignol has improved its Boa boot offering to include the new Boa H4 dial, which is more durable and can snap back into place if it comes off the boot. This new dial can also utilize either the steel cable or a textile lace through its universal spool.
In addition to its new Team Rental Pro binding, Nitro offers three new boards, the Dinghy in its Quiver series, the women's Karma, and a kids' park model, the Mini Thrills. Features include self-healing, soft-touch top sheets and doubly thick Railkiller edges.
KEEPING THINGS CONSISTENT
As with alpine rental gear, several snowboarding rental lines for 2022-23 are unchanged from 2021-22, including those from Nidecker and Elan. According to Hoefler, Rossignol will be keeping things the same with the exception of the H4 Boa dial and new graphics on the fleet rental EXP board. Burton's LTR and Radius boards will carry over, utilizing their assortment of built-in features.
The full-spectrum Head line is also largely intact after the company made some key updates for 2021-22, including the Charter Rental helmet, with durable ear pads, goggle retainer, and other rental-specific adaptations, and its revamped fleet rental board, the Flex 4D. The latter went through three years of testing and development, "and we have seen it perform very well in the field," says Mayhew. It offers Head's rental rocker camber, retail-inspired graphics, and a full range of durability features.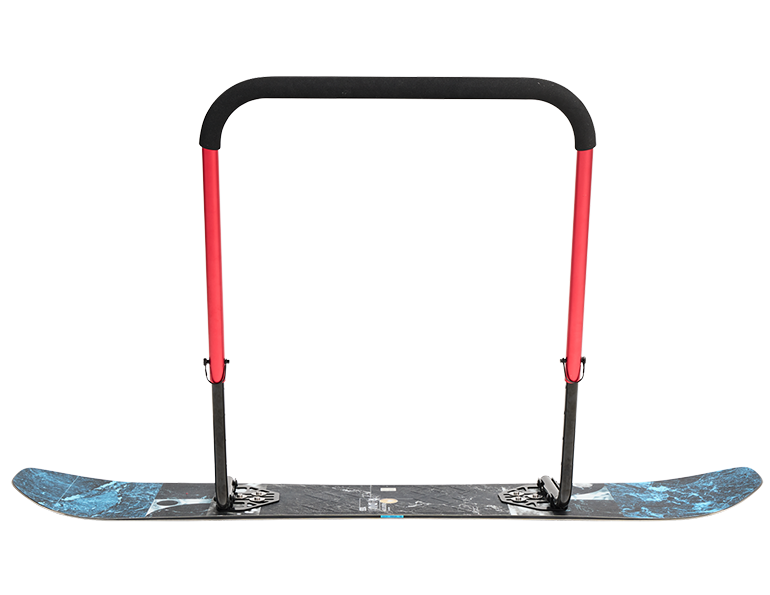 The Burton Handlebar now comes in adult size.
FOCUS ON DEMO
All manufacturers agree that there is a continued expansion of the demo market. Increased airline baggage fees, destination guests who only use gear once or twice a season, and even the impact of millennials who prefer to rent rather than own are all driving the growth in this segment.
While fleet rentals and mid-tier models make up the bulk of rental buys, some suppliers are going all in on the demo niche. According to Mike 'Gags' Gagliardi, snow sales manager for Never Summer, the company is discontinuing its rental line but still offering high-end demo options.
Both Burton and Rossignol have tiered board and binding offerings designed to accommodate more accomplished guests. Burton offers the Process EXP and Custom Experience boards for more performance oriented renters, while Rossignol's EXP 3 and EXP 7 boards cover the same targeted demographic.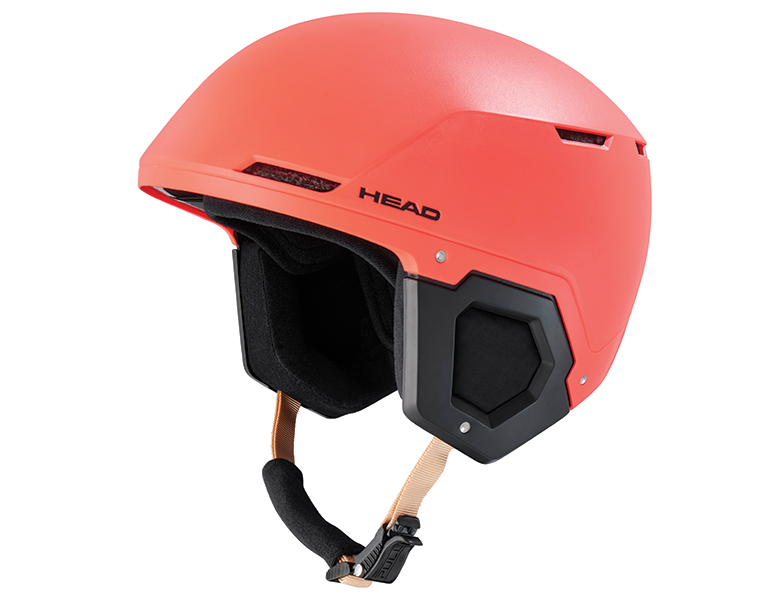 Head Charter junior helmet.
SUPPLY CHAIN ISSUES
As with many industries, supply chain issues have required manufacturers to get creative. "The biggest challenge facing the rental market right now is finding a balance between the demand for product with the supply chain issues," says Elan's Fresco. "We responded by providing forecasts to suppliers early, and air-shipping product as it has become available. Largely, we've been able to deliver preseason orders in a timely manner." If supply chain glitches continue, board manufacturers are now experienced at working around them.
ALPINE TOURING AND 
CROSS COUNTRY RENTAL
By Peter Oliver
Most cross country and backcountry rental gear is identical to retail product. Equipment manufacturers simply don't make rental-specific models for cross country or backcountry, save for a binding here or a boot there. Rental packages are composed almost entirely of retail products. 
That might change, as both cross country and backcountry—alpine touring in particular—are experiencing a surge in interest and participation, due at least in part to the pandemic. Rental equipment is playing an important part in that upswing. As Reese Brown, executive director of the Cross Country Ski Areas Association, told SAM: "Rental has a huge potential for revenue." That might soon inspire equipment companies to make rental-specific gear.   
For the time being, however, rental racks for cross country and backcountry are stocked with retail gear. Equipment companies offer volume discounts, of course, to lighten the budgetary burden for rental operators. 
Beyond price, the critical issue is assembling a rental fleet—from a wide choice of retail products—consisting of boot-ski-pole packages that sensibly and economically cover a particular cross country center's rental demand. With cross-country and backcountry sub-divided into several niches—classic track skiing, skate skiing, light backcountry touring, uphill/downhill alpine touring, etc.—getting the mix right can be a tall order.
ALPINE TOURING
Start with in-bounds alpine touring skiing, which has grown exponentially in popularity in the last two years. "We see the trend happening everywhere in the U.S., though mostly in the West and New England," says Rossignol's Kurt Hoefler. In response, Rossignol has added two AT ski models to its demo lineup: the Escaper 80 and Escaper 87. Drawn from the company's retail line of touring skis, the two rental models, "demo-ized" with sturdy topsheets, are "very affordable," he says.
Affordability is a big issue with AT gear, especially for any rental operator interested in stocking a full ski-and-boot size run. For most companies, AT gear prices typically track higher than alpine gear, and even with Rossignol's push to make AT rental cost-friendly, Hoefler admits that "it's hard to make an affordable binding." 
Rossignol's AT rental packages include AT demo bindings made by Dynafit, starting at $340 wholesale. Add the expense of climbing skins, and an AT rental fleet can chomp a big bite out of a rental budget. 
That might discourage many resorts from offering AT rentals, but equipment manufacturers are watching the trend closely. As equipment company reps recommend ski and boot models from their retail AT lines—typically light skis in the 85 mm waist range and light touring boots—the key component to an AT rental set-up is a binding with a wide adjustment range. 
Marker makes a few AT demo bindings. Marker's Geoff Curtis recommends the Kingpin—which comes in two DIN ranges—because of its easy adjustment. But, like the Dynafit binding, it doesn't come cheaply.
CROSS COUNTRY
One of the big continuing stories in Nordic track skiing is Salomon's abandonment of its SNS and Pilot bindings in favor of a commitment to the market-dominating Rotafella-conceived NNN format. "Now is the last chance to order any additional SNS boots or bindings," Salomon's Andre Watt says, as this is the final year Salomon will produce SNS and Pilot products.
For the overall cross country market, Salomon's shift to NNN is a blessing, as it will make all boots and bindings compatible, thus expanding the mix-and-match options a rental operator might consider.
The big challenge in stocking a cross country rental fleet is covering the sport's many flavors. No one ski-boot-pole package can cover all the bases: skate skiing, classic skiing, backcountry touring. 
Combi boot. One option popular at many cross-country centers is to start with a moderately priced combi boot, one with a flexible sole for classic skiing and a cuff that's stiff enough for skate skiing. The stiff cuff can also add stability for light, off-track touring or for novice skiers who are balance-challenged. 
Boots that fit into that category are Alpina's T30 ("our workhorse," says Alpina's Rob McCutcheon) and the slightly more expensive T40. Rossignol offers the XC6 SC and the slightly more expensive XC8 SC. Salomon's Watt recommends the R Prolink with a low cuff suitable for entry-level skaters; for more advanced skaters, the higher-cuffed (and more expensive) Pro Combi would be the way to go. Fischer's XC Control boot might also work here, although it is a bit soft for skating. 
The width factor. In the quest for versatility, some touring-ski models can double as in-track classic skis and light backcountry touring skis. Such models are typically in the 60-mm-wide range—narrow enough to fit into a 70 mm set track but just wide enough to provide some stability when out of the tracks. 
Salomon's Snowscape 7, 59 mm wide and with compact sizing well suited to learning skiers, and Alpina's Control 60 or Control 64 fit that description, as does Fischer's Apollo model, part of its Nordic Cruising series. Rossignol is introducing the partial-edge OT60, a slimmed-down version of its popular OT65. Hoefler says the OT60 was developed because cross country operators were reporting that the OT65 was slightly too wide to fit comfortably into set tracks.
Skate skis, on the other hand, are pretty much a one-trick pony, with economical skate skis for a rental fleet a hard find. Something like Salomon's RS 7 Skate, which typically retails at about $250 with bindings, "is great for rental purposes," says Watt. Rossignol, however, has discontinued its entry-level Zymax skate skis, meaning that the company's most affordable skate model is now the Delta Sport. The Delta performs better than the Zymax, but its retail price is close to $350 with binding. 
Poles are important. While poles are often the forgotten stepchild in an alpine set-up, they are a vital component in cross country skiing. They are not only subjected to more wear and tear, they also play a major role in basic technique. For that reason, manufacturer reps recommend investing a little extra in rental poles—something with a sturdier, lighter shaft and a better grip—than simply opting for the least expensive pole available. The extra investment should pay off in both improved performance and durability.   
Cross country gear at retail has been selling briskly, so manufacturer reps urge buyers not to dawdle if they plan on stocking or restocking a rental equipment fleet. "Order early," is Watt's recommendation; wait until spring, and the cupboard will be bare.