From the shores of Atlantic Canada to the mountains of Montana, resorts pushed through pandemic uncertainty to invest in lift infrastructure for the 2021-22 season. The total of 33 new aerial lifts ranked well ahead of 2020 but still behind pre-pandemic 2019. While the sheer number of lifts wasn't huge, the lifts tended to be big: installed vertical transport feet per hour (VTFH) surged 70 percent from 2020 and 17 percent from immediately pre-pandemic. Major additions included an eight-place chairlift, three gondolas and four six packs. The conveyor business also rebounded with 66 installations across four manufacturers—the most since 2006.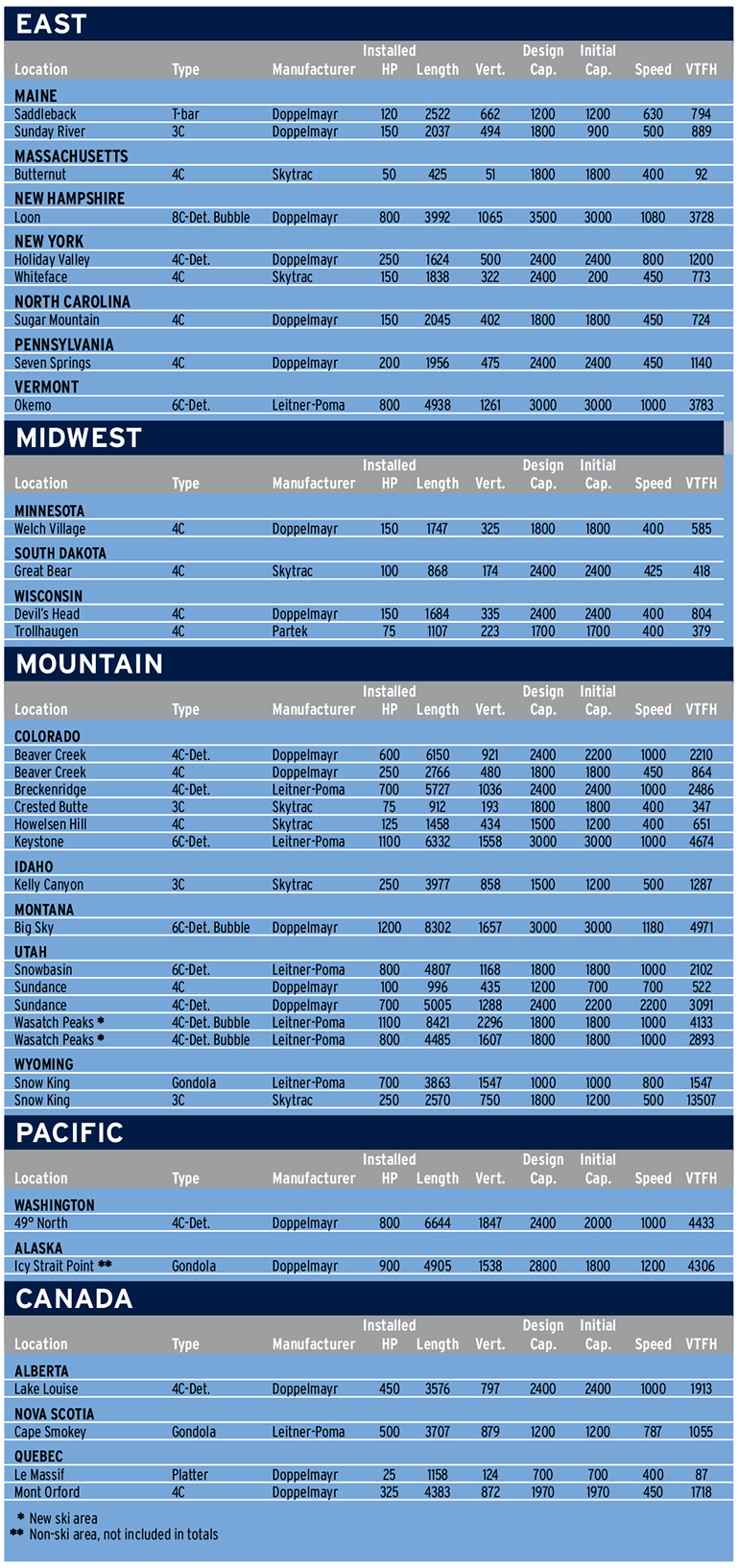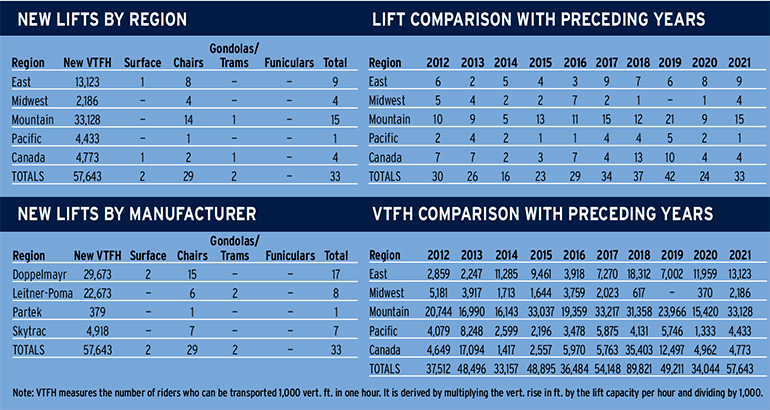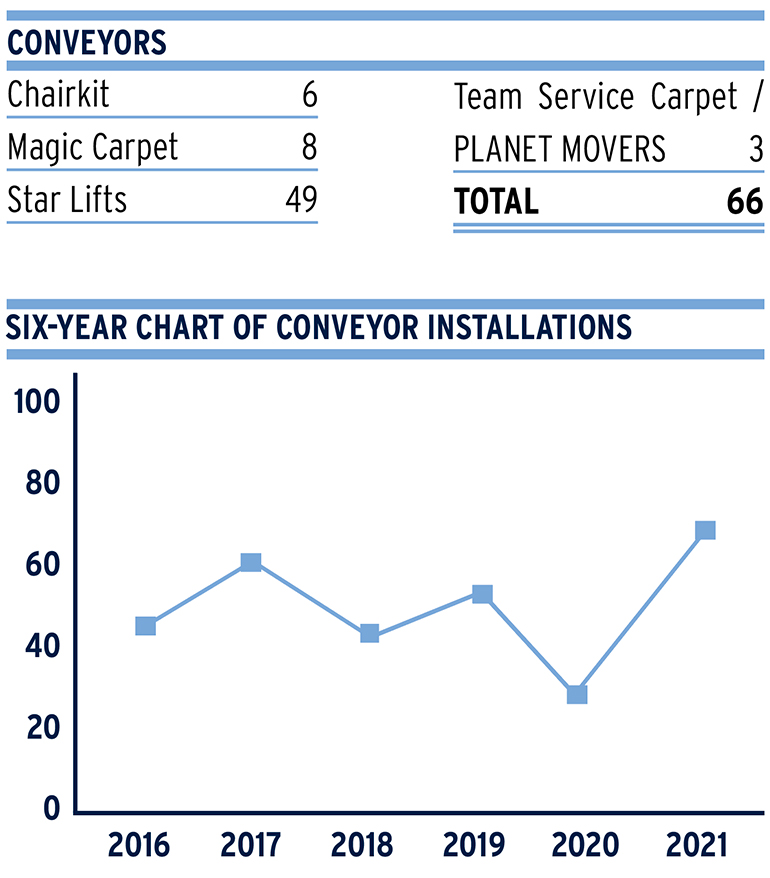 "I thought it was going to take a lot longer than one year for the demand for lifts to come back," says Jennifer Kelly of Magic Carpet Lifts. "I thought people would need more time to recover from last year. We didn't see that."
REGIONAL ROUNDUP
The Midwest recovered particularly swiftly and saw a five-year high of four new chairlifts. The eastern United States also ramped up with new chairlifts in seven different states. Additions in the Rockies were heavily concentrated in Colorado and Utah, with 11 projects between the two states. Canada and the Pacific Coast saw lower levels of construction, perhaps due to stricter Covid measures.
Leitner-Poma of America completed a slate of entirely detachable lifts ranging from 500 to 1,100 horsepower. They included new eight-passenger gondolas at Snow King Mountain, Wyo., and Cape Smokey, Nova Scotia. Also on the gondola front, more than 30 towers were installed for the upcoming Base-to-Base at Palisades Tahoe, Calif., which will open in 2022. Perhaps Leitner-Poma's largest project of the year was completing two detachable quads with bubbles for the new Wasatch Peaks Ranch private ski area in Utah.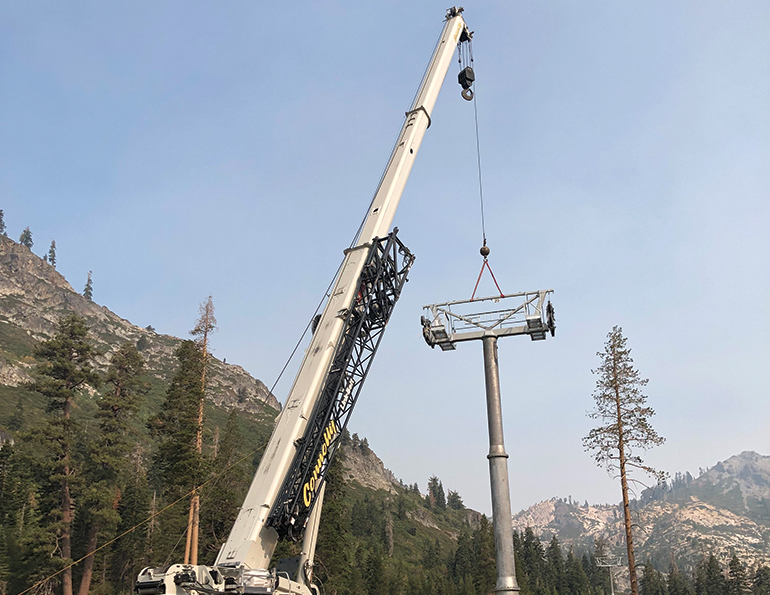 LPOA set 30 towers for Palisades Tahoe's Base-to-Base gondola.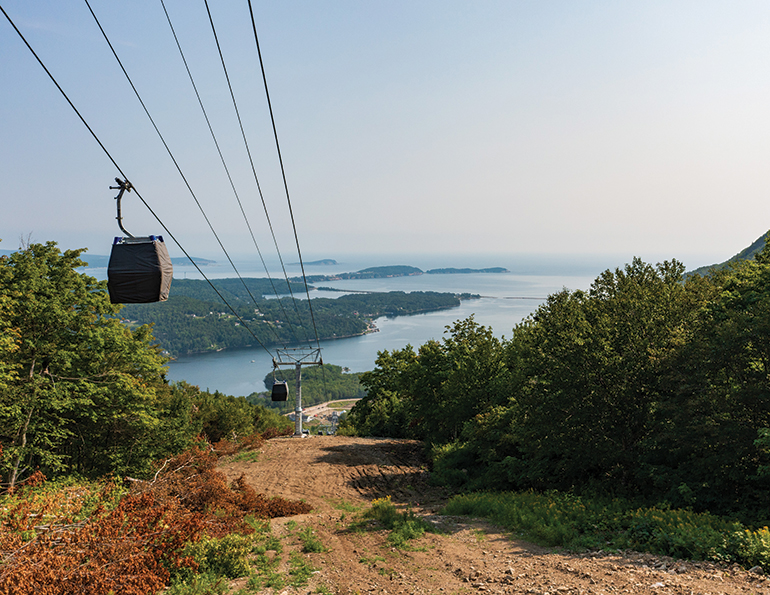 New Leitner-Poma eight-passenger gondola at Cape Smokey, Nova Scotia.
Skytrac, Leitner-Poma's sister company, enjoyed its busiest year ever, with seven complete lifts (all fixed grips), two drive terminals and a major relocation. Six of the seven new Skytrac lifts replaced so-called orphan lifts built by manufacturers long out of business. 
"What's really driving the business, besides a lot of resorts doing really well coming off of Covid, is the replacement lift market," notes Skytrac president Carl Skylling. "The percentage of lifts that are replacements is at an all-time high compared to historically. I don't see it slowing down."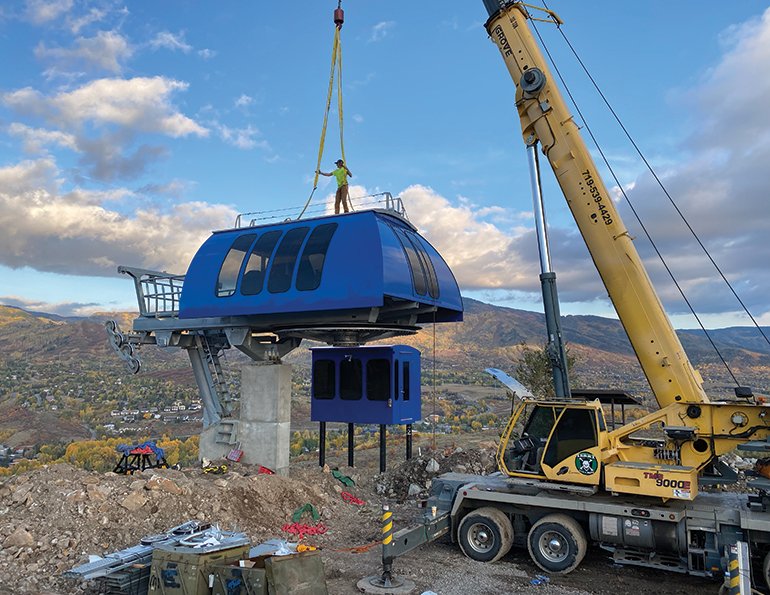 Skytrac dropping in a top terminal at Howelsen Hill, Colo.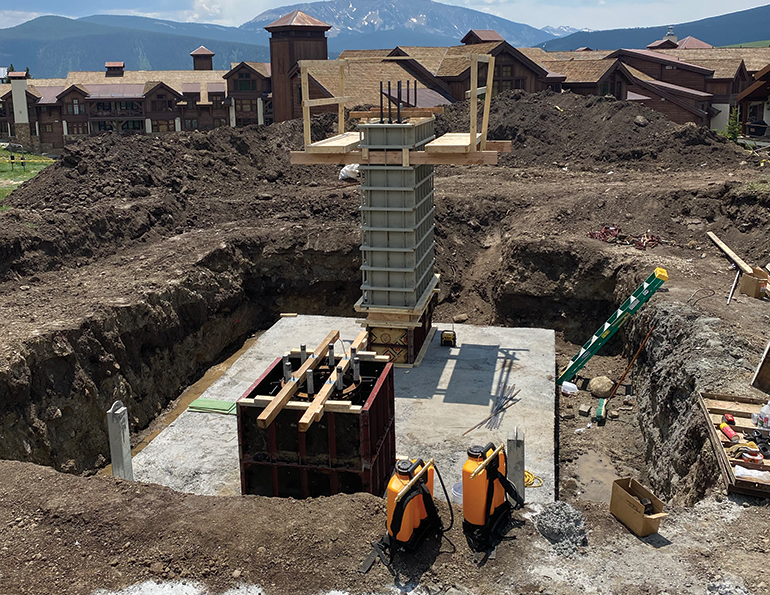 Terminal foundation for the Skytrac lift at Crested Butte, Colo.
Doppelmayr built a total of 18 new ropeways in 2021, including two full-featured bubble lifts at Big Sky Resort, Mont., and Loon Mountain, N.H. Loon's Kancamagus 8 is the first eight-seater on the East Coast. "It turned out to be a busy year with a swift recovery from 2020 to 2021," says Doppelmayr USA president Katharina Schmitz. 
Doppelmayr also completed both lifts for Beaver Creek's high alpine McCoy Park expansion in Colorado. At Sundance Resort, Utah, the company added a fixed-grip quad and a high-speed quad with a midstation to improve skier flow and access higher terrain. "Sundance was an exciting one for us being local and under new ownership," notes Schmitz.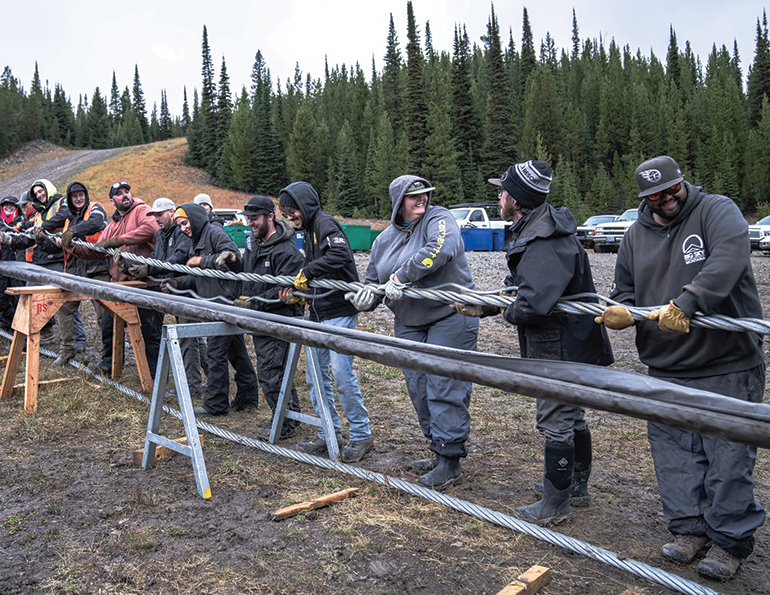 It takes a team to splice the haul rope for Doppelmayr's new six-passenger bubble lift at Big Sky Resort, Mont.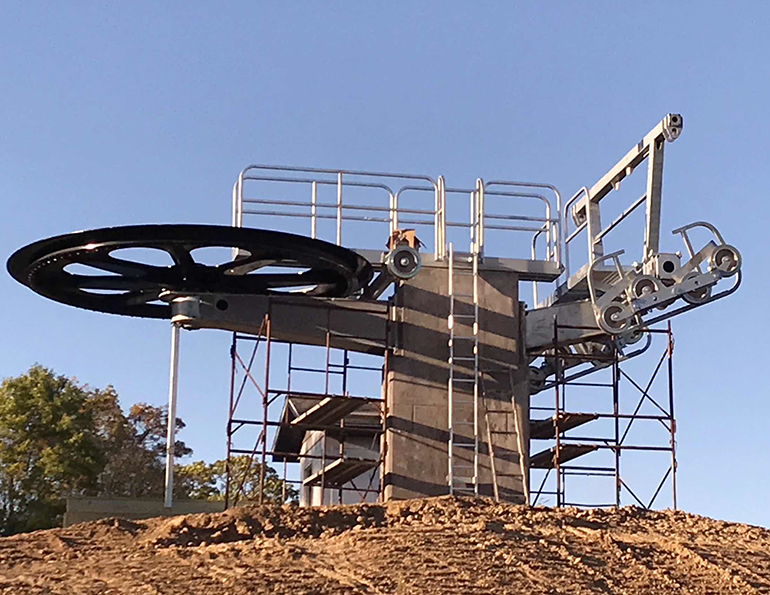 A terminal coming together for the new Doppelmayr fixed-grip quad at Welch Village, Minn.
CONVEYOR BOOM
The pandemic hammered the surface-lift business in 2020, but quickly paved the way for new orders. Six resorts installed more than one conveyor, with Sundance adding three to a reimagined teaching area, alongside the new chairlifts. 
Star Lifts supplied an impressive 49 SunKid conveyors to the North American market in 2021, more than all other manufacturers combined. "Thirty-seven was our best year ever in 2019, and now this year, we broke every single record," says vice president Conor Rowan. "The saving grace was that Europe had a terrible year," he says, noting manufacturing capacity that would normally supply Austria or Italy went to Alberta and Idaho. "Back when we were in our sales season, Europe wasn't selling because they had such a bad season," likely due to pandemic-induced shutdowns in several European countries.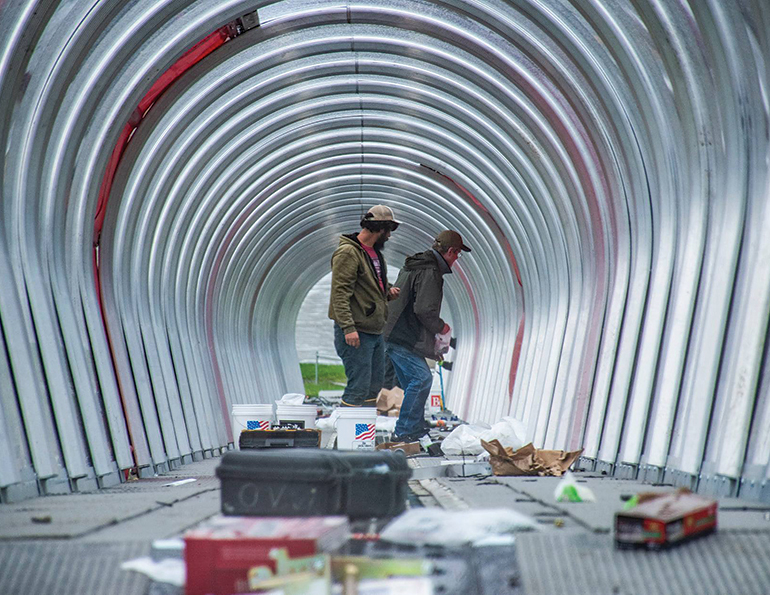 Star Lifts led the conveyor boom with 49 projects in 2021. Here, a new SunKid conveyor being installed at Jay Peak, Vt.
Magic Carpet Lifts, based in Denver, built eight conveyors.
Team Service Carpet completed three projects in 2021.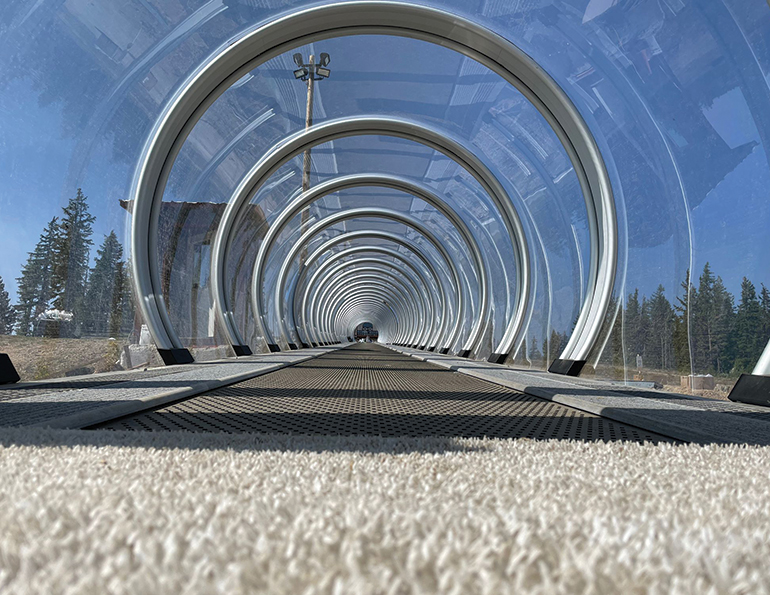 Team Service Carpet installed a new conveyor at Silver Mountain, Idaho.
Most new conveyors were sold to small- and medium-sized operators for a mix of skiing and tubing. "The demand for putting in tubing areas is very high, including new tubing areas that are not connected with ski resorts," says Magic Carpet's Kelly. "Ski areas that don't have tubing will probably be adding tubing. It attracts people who don't have the skill level for skiing and you can do it in a couple of hours."
Chairkit, which specializes in conveyors for chairlift loading, completed six installations—tripling last year. Half of them were retrofits to existing fixed-grip quads, while the rest accompanied new chairlifts.
OVERCOMING OBSTACLES
With the pervasive labor shortages and supply chain challenges, lift companies did what they do best: solve problems. "We've had the longest delivery times I've ever seen," says Rowan. "We've had to look at all sorts of shipping options to try and deliver as close as we can to what we estimated for the customer." As of November, he was even considering air freighting drive and return terminals from SunKid's European factory. "If that's what it takes so we're not late, it's not off the table."
Managing the supply chain. Chairlift manufacturers also navigated the chaos. "We are largely designed and manufactured in Grand Junction (Colo.), so we avoided the worst of the supply chain delays," says Michael Manley, Eastern GM at Leitner-Poma of America. "A lot of our lifts were holdovers from 2020, so that equipment was all ready to go." 
Doppelmayr, which utilizes a mix of American, Canadian, and European factories, also managed to deliver lifts on schedule. "We're doing a lot of creative problem solving and workarounds to get the parts we need or coming up with alternative parts to finish an installation," says Schmitz. "Highly engineered components that come from a handful of sources are the hardest ones." 
Even a small manufacturer building one or two lifts in a typical year was impacted. "It only takes one supplier to let you down and your lift is not done," says Partek Ski Lifts owner Hagen Schulz, who built a quad chair for Trollhaugen, Wis., this season.
Inflation and labor. Inflation posed yet another challenge. "We didn't factor in things like fuel going up [in price] when we sold lifts nine months ago," says Kelly. "We're having to absorb a lot of material cost increases." 
Labor also proved scarce and more expensive. "Everyone is struggling to field enough people to get things done," says Schulz. "It becomes an issue of manpower and availability of materials. The days of ordering lifts in April or May and having them put up in November or December are over." 
At busier-than-ever Skytrac, "We were pushing our capacity, doing double shifts in welding, fabrication and machining," says Skylling. "Looking for people to staff the second shifts and increase our capacity on our first shifts, it was really hard to find welders and keep the welders we had. People just didn't seem to want to come back from some of the stimulus money being provided."
A FLOOD OF ORDERS
The story of 2021 is as much about installations as it is about order books. Vail Resorts surprised many in September with its plan to add 19 lifts at 14 resorts in what the company called the "Epic Lift Upgrade." As of November, Boyne Resorts had already announced several lift projects for 2022, including the first eight-seaters in Maine (Sunday River) and Michigan (Boyne Mountain). In addition to its big Palisades interconnect, Alterra Mountain Company unveiled plans to build North America's longest-ever gondola at Steamboat, Colo.
"[LPOA] had more sold than ever before [for 2022] by July," says Manley. "We're already starting to see evidence that 2023 is going to continue that trend." 
Doppelmayr found itself in a similar situation. "There is very strong, active interest for next year with a tremendous amount of early orders," says Schmitz, noting six Doppelmayr D-Line lifts were already under contract as of November. "We're really excited; these are some very large flagship installations. We're having a lot of good conversations with customers even now for 2023."
The market for fixed-grips is just as strong, with mountains of varying sizes shopping for ropeways. "I've already quoted several lifts for next year," says Schulz, who notes Partek typically builds lifts at independent ski areas. 
Skytrac, which also builds only fixed-grip lifts, is just as busy. "We are seeing an unprecedented amount of interest right now," says Skylling. "It's really quite amazing." 
He'd already sold seven complete lifts, a terminal, and a major relocation as of early November. "Normally if we have two or three contracts signed by the new year, we're feeling pretty good. Having them early probably means we can put out more projects. We're going to do everything we can to increase capacity."
Still less than two years since the pandemic impacted sales, producers are weighing demand with supply chain constraints. One interesting development that might help is a third manufacturer for detachable lifts coming to North America. French-based MND Ropeways, a partner with Bartholet of Switzerland, has already begun foundation work for a bubble six pack at Waterville Valley, N.H. That first-to-market lift is set to debut for the 2022-23 season.
The surprisingly busy 2021 North American lift construction season appears to be a prelude to busy construction seasons ahead. Ski areas big and small investing in improved aerial and surface transport is good news for all—suppliers, guests, and ski area personnel.