Glamping, a.k.a. glamorous camping, is on the rise. Chic, rustic retreats where accommodations range from yurts to safari tents to covered wagons have popped up all over the country. Consumer interest in glamping has exploded amid the pandemic; Grand View Research predicts the global market will reach $5.41 billion by 2028.
Ski areas, boasting wide-open spaces, untrammeled wilderness, and magnificent scenery, are uniquely positioned to reap the benefits of the glamping trend. Glamping offers a fresh way to introduce guests to the magic of summer in the mountains. SAM first reported on glamping in September 2017 ("Roughing It?"); here, we look at how it has played out at three very different resorts. Their experiences can guide other ski areas looking to enter the field.
Skyline Bear Valley. Bear Valley, Calif., launched its glampground in 2017—its first foray into summer operations. The resort built 15 raised decks on the edge of a parking area that offers endless views over Mokelumne Canyon, and fitted them with canvas tents. It took a few years to recoup the initial capital outlay, but the product has begun to gain some serious traction, particularly in the wedding market.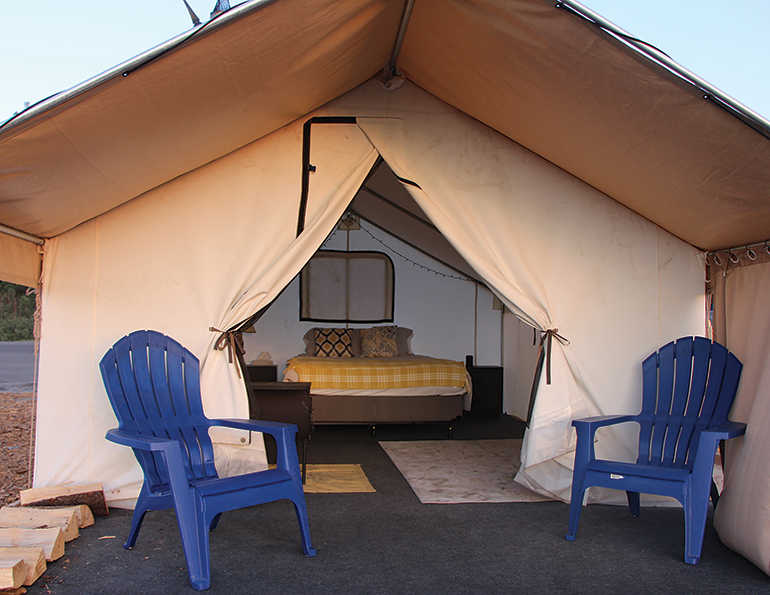 Skyline Bear Valley, Calif., tents have queen beds, woodstoves, and private decks.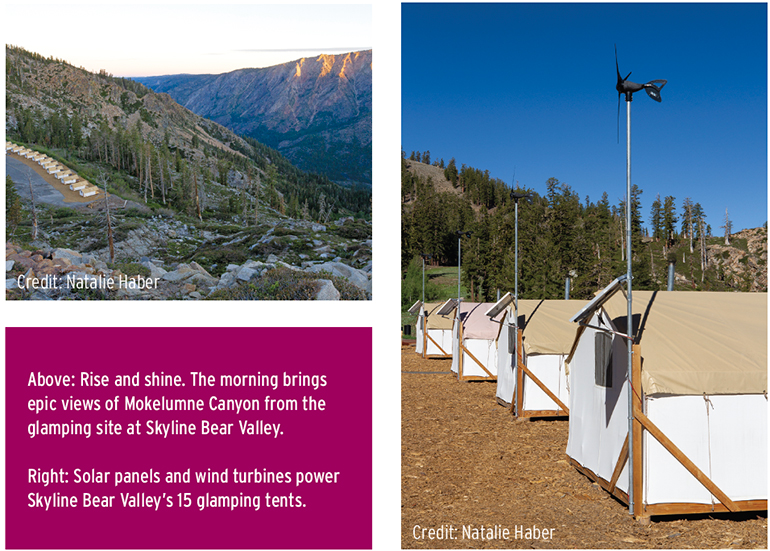 A combination of solar panels and wind turbines power the tents, which feature queen beds, woodstoves, and private decks that sport Adirondack chairs. Maintenance has been minimal—the original 15 tents, still in use, have only just begun to show some wear, and a handful of generator batteries have had to be replaced. "Everything has worked out great," says director of operations Tim Schimke. "Last summer we made more money than we ever have. It's what the market is demanding right now. Fresh air is king."
Crystal Mountain. Inaugurated in July 2021, Crystal Sky Camp, a collaboration between Crystal Mountain, Wash., and upscale outdoor operator Under Canvas, has taken the concept of glamorous camping to new heights—literally. The glamping village's 25 luxurious safari-style tents sit at 6,000 feet in the foothills of Mount Rainier. Guests drop their luggage at a welcome tent at the resort's base area, where they're greeted by a concierge before enjoying a two-chairlift ride up the mountain to camp. "You ascend the last ridge and the camp comes into view," says Adam Sutner, Crystal's VP of business development. "It's kind of this emotional experience that sets the stage for an incredible weekend."

Left: Interior of the Sky Camp tents at Crystal Mountain. Right: Starry nights, mountain views, and cozy digs are all part of the glamping experience at Crystal.
Although Crystal Sky Camp was originally planned as a group enterprise targeting family reunions, corporate retreats, and weddings, the resort began offering individual bookings during the first year to meet consumer demand. "While we weren't conceived as a retail lodging operation, we have evolved in that direction," says Sutner. "Moving forward we're going to continue our emphasis on groups but supplement with FIT (fully independent traveler) oriented experiences."
Blue Mountain. With more than 50 tent sites divided into basic, deluxe, and group categories, Blue Mountain, Pa., has cornered the Poconos glamping market. The initial success of its deluxe product—25 private, mountain view sites scattered around the summit where staff deliver guests via UTV—prompted the resort to add another 10 sites at valley elevation, where guests can drive up and park. All tents offer either full- or queen-sized bunk beds, picnic tables, fire pits with cooking grills, Adirondack chairs, five gallons each of handwashing and drinking water, and a 32-gallon cooler.
Beyond revenue, glamping gave Blue the opportunity to retain key staff. "It's the main reason we went into this whole thing," says Blue president Barb Green. "I want to keep our talent all year long. The culture stays really healthy that way."
To Partner or Notto Partner?
One initial question for all three areas was, how to get started?
For Crystal, teaming up with Under Canvas ticked several boxes. One major plus: The company's core brand aligned with the resort's vision for a hospitality product. "The idea was always to be big and bold emotionally," says Sutner. "Sky Camp was going to be a destination in its own right, not solely a glamping venue. We went with Under Canvas very simply because they were not only the innovators in the category, but also the leaders in every respect."
Oversight and expertise. During the winter prior to Crystal Sky Camp's launch, Under Canvas made numerous site visits to assess the project's viability and operational requirements. The company was heavily involved in the camp's creation and start up and remains involved. Crystal now oversees day-to-day operations and programming while Under Canvas provides sales and marketing support.
"This was a far faster and more effective route to market than we could have done on our own," says Sutner. "They knew all the challenges and barriers and pitfalls—that very much accelerated our speed to market."
Cost considerations. Blue Mountain's glamping operation got off the ground when New York-based Tentrr inquired about setting up a couple of tents on the resort grounds. "They put up two sites in 2018," says Green. "They marketed them for us and provided us all of the equipment. It was a turnkey operation."
Ultimately, however, Blue cut ties with Tentrr, which had been receiving a 20-percent revenue share. "They were basically a booking engine, and it was costing us more to service the guests," Green says. "So in 2019 we said, 'Why don't we do this ourselves?' We put 25 tents up on the mountain and contracted with a company called Resnex to do our bookings. We've been very happy."
Bear Valley planned to go solo from the beginning. "We did it that way to save some money," says Schimke. "We bought our tents and all of the materials to build our platforms." To furnish the tents the resort tapped a local rental company, which supplies everything from beds with memory foam mattresses to chairs, end tables, and cots for additional guests. "We call them, and they bring everything up so we don't have to worry about it," Schimke says.
Location, Location,Location
One advantage ski areas have among glamping options is location.
"Mountain resorts have something to offer that most campsites don't, and that's views," says Green. "You can put folks up on the mountain and they get an outrageous experience. They're there by themselves, and it's very private. That's something most glamping sites don't have."
Crystal Sky Camp's setting, a natural amphitheater surrounded by three towering peaks, was actually the impetus for the project. "We were just walking around up there one day last winter saying what a great setting this would be for a glamping operation," Sutner recalls. "We sit on top of a 7,000-foot mountain where there's this cantilevered topography; it's just utterly spectacular. Compared to the plethora of retail glamping operations that are springing up all around the country, that's what makes us unique."
Arriving at Bear Valley's glampground, you'd never know that the tent site overlooking Mokelumne Canyon is the resort's lower parking lot in the wintertime. The resort transforms the area into an oasis by spreading a thick layer of woodchips on the ground, and beautifies the space with potted plants and trees.
"In real estate they say, 'location, location, location,' and I'd give the same advice here," says Sutner. "At the end of the day, it's the power of the location that's selling this for us."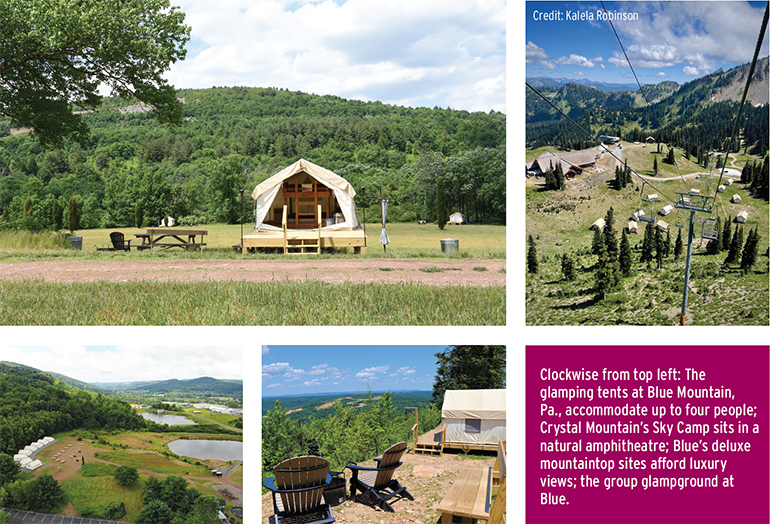 Capitalize On Existing Infrastructure
At even the most mindblowing settings, folks still need a place to eat, pee, and brush their teeth. Fortunately, most ski areas have infrastructure in place that can pivot from serving up bowls of chili and housing bathrooms in winter to supporting a glampground during the summer months.
All-inclusive. Crystal utilizes its Campbell Basin Lodge. "We had this state-of-the-art mountain lodge that was dormant in the summer," says Sutner. "This was a way to bring that high mountain lodge into play in terms of generating revenue and employment."
The lodge, which houses a full-service bar, a commercial kitchen, a cinema, and a game room, serves as a hub for Sky Camp guests, who enjoy an all-inclusive experience. "It's the best of both worlds," Sutner says. "We have this remote glamping site that benefits from all the amenities of a private, 15,000 square foot high mountain lodge."
A la carte. Blue Mountain and Bear Valley also tapped into the facilities located within shouting distance of their glamping tents. Although each of Blue's deluxe tents sports a portable composting toilet and solar shower, guests can head to the resort's Summit Lodge for a less rugged experience. "The furthest site is probably a 20-minute walk and the closest is about five," Green says. "But we've had no complaints about that. People know they're camping."
The Summit Lodge is also home to the Slopeside Pub and Grill, where guests can dine on the patio while taking in views of the Poconos. Or glampers can arrange for takeout from the restaurant, which resort staff deliver to the tents via UTV. "We have packages that allow people to cook at their sites, too," Green says. "We provide a cooler with all the stuff you need—burgers, buns, potato salad—and we provide firewood for the grill."
Bear Valley guests will find bathrooms and hot showers in the resort's mid-mountain day lodge, which sits about 100 yards from the glampground. The lodge also houses a comfy lounge where folks can grab fresh coffee in the mornings. "On weekends this summer, we'll probably have live music and do some appetizers and cocktails out of Monte Wolf Saloon," says Schimke, referring to the lodge's eatery. "We haven't done that in the past couple of years because of Covid, but this summer we're hoping to bring some of that back into play." 
Boost Summer Ops
Having a captive on-site audience can be a solid motivator for ski areas looking to ramp up warm weather offerings. "It's not just a matter of selling tents," says Crystal's Sutner. "The programming aspect is a key piece of this. People are going to be at the top of your mountain for two or three or four days. You have to provide them with enough things to do.
"We're always looking to supplement our amenities with new ideas—new ways to keep people enthralled that fit our 'human powered adventure' positioning," he says.
Crystal's summer programming runs the gamut from paddleboarding on a high alpine lake to guided mountain hikes, fly fishing clinics, stargazing, sunrise and sunset yoga, and foraging excursions. "We've introduced new activities for the camp, which, in turn, have turned into FIT offerings," says Sutner. "We also took activities we offered individual consumers and leveraged those for the camp. So, it kind of worked both ways."
Feeding other revenue lines. "Financially, glamping may not be your best margin, but it feeds all the other product lines," says Blue Mountain's Green. "For us, it feeds the Slopeside Pub, the high ropes course, our On Mountain Training Program. We've definitely seen an uptick related to all our other lines of business," which also include mountain biking, disc golf, laser tag, scenic lift rides, a rock climbing wall, and zip lining.
Glamping has helped pave the way for expanded summer operations at Bear Valley, too. A new, lift-served mountain bike park is launching this summer. "That's where we're going with the mountain biking," says Schimke. "We want to get those people here, and then they say, 'Oh crap! We can stay here in the glampground on the weekend, and they're going to have a band here? Oh wow!'"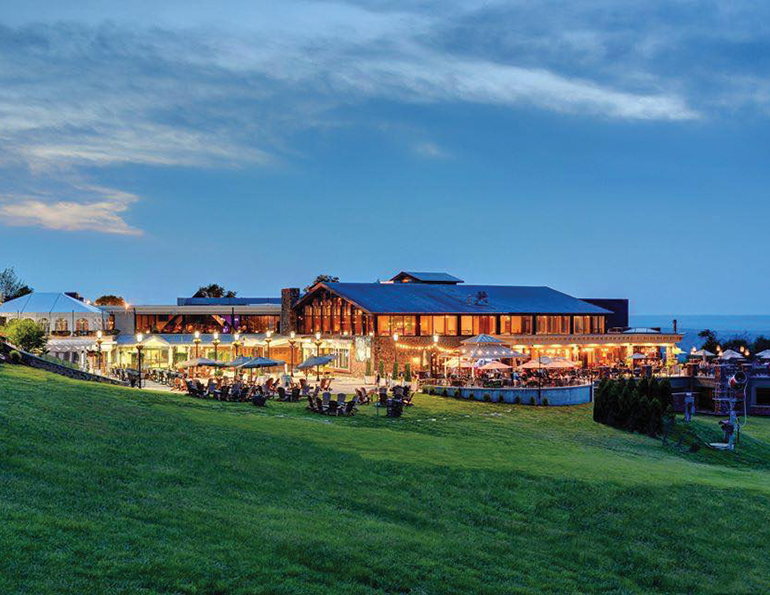 Blue Mountain's Summit Lodge Slopeside Pub & Grill offers patio dining and takeout for glampers.
A disc golf course and scenic chair lift rides could be in Bear Valley's not-so-distant future, too, along with a second wedding venue. But the resort is taking its time. "We're adding streams of revenue and businesses slowly to make sure they actually work," says Schimke.
Basecamp. Even with fewer on-site offerings, Bear Valley's position in the High Sierra makes the glampground an excellent home base for folks looking to explore the surrounding area. "There's hiking galore around here," Schimke says. "There's also kayaking and fishing up at Lake Alpine. People can take a day and go wine tasting in Murphys and then come back up here to relax and get out of the heat."
It's a winning formula. Glamping, says Schimke, "can be a great revenue stream if you don't go hog wild."