Not all grooming machines are created equal, and that's a good thing. Given that every mountain is unique, and that the slate of grooming chores for any particular resort is unique, a grooming machine or fleet of machines needs to be adaptable. One size—or one set of performance parameters—does not fit all.
In addition, grooming software has evolved to allow resort managers to customize grooming operations to fit different terrain and snow-depth profiles. The software is also designed to be relatively easy to grasp for operators with varying levels of experience. And that matters, because an effective, competent operator remains a critical component of any grooming operation. While full automation (i.e., driverless cats) may be possible somewhere on the distant horizon, that time is still years away.
Within that context, current software packages are designed to make the process as intuitive and easy to learn as possible, with many automated features in the mix. Ease of use is obviously an important consideration in the current era of high employee turnover. It hasn't reached the point where anyone off the street can step into a groomer cab, take the controls, and competently complete a grooming assignment. But, with the latest advancements, it's getting closer.
In addition to ease of use, a major, twin focus of recent years for both PistenBully and PRINOTH has been efficiency and sustainability. Toward that end, for example, the new PistenBully 400 models come with new Cummins L-9 diesel engines that produce more power but run more efficiently than their predecessors. PRINOTH has also been developing machines that run on cleaner fuels, including electricity and hydrogen.
All new groomers from both companies meet both Euro Stage 5 and North American Tier 4 emission standards, and can run on hydrogenated vegetable oil (HVO), if available, reducing emissions by as much as 90 percent compared with running on standard diesel fuel.
Efficiencies are also the primary aim of the continually refined fleet- and snow-depth-management software packages from each company. The technology can help resorts develop grooming strategies that reduce machine hours, and a more streamlined operating plan obviously leads to a further reduction in overall emissions. 
THE MACHINES
Both PistenBully and PRINOTH basically divide their groomer lineups into three sizings—small, medium, and large, for lack of better terms. The machines in each size group have their strengths, if you will, but are also versatile. A bevvy of optional features expands upon that versatility. The behemoths—PRINOTH's Leitwolf series and PistenBully's 600 series—are geared to tackle big, open slopes; hence, they are most popular at alpine resorts in Europe and some western resorts in North America.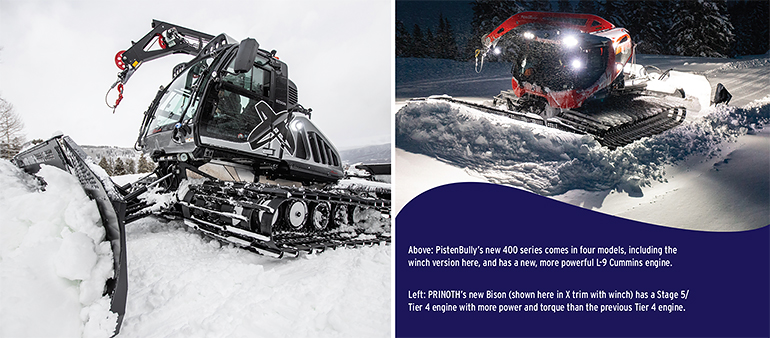 The most popular machines in North America are those of medium size, PistenBully's 400 series and PRINOTH's Bison series. These are machines still big enough to tackle wide-open spaces, but also nimble enough to handle more intricate assignments.
The small machines, the PB 100 and PRINOTH Husky, are suited for tasks that require agility to work in tight or awkward spaces, such as lift mazes and ramps, narrow trails, and Nordic operations. Neither the Husky nor the 100 is geared for pushing big snow loads like their larger brethren, but they are inherently more maneuverable than the big boys.
Not that those are hard and fast rules, of course. While PRINOTH's Leitwolf is typically associated with big-mountain operations, Andreas Muigg, PRINOTH's head of product portfolio management, notes that Mt. Southington, a small Connecticut resort, recently purchased a Leitwolf. The nature of the grooming tasks, not the size of the mountain, says Muigg, should determine the machine choice.
One option for a resort manager to consider in seeking to maximize the value of any machine is the ability to tackle non-winter tasks—transportation of materials, earth movement, vegetation management, and so on. Both PRINOTH and PistenBully machines can be fitted with rubber tracks for summer use.
That said, neither Muigg nor PistenBully marketing coordinator JP Wirtz is enthusiastic about going in that direction. "The groomer is a valuable resource," says Wirtz. "You don't want to put too much strain on it." In other words, a snow groomer is a snow groomer is a snow groomer. 
PISTENBULLY
Emblematic of the need for adaptability is the new series of PistenBully 400 groomers. The 400 comes in four models: a standard version; a ParkPro version with a sculpting skill set for park building; a winch version (the 400 W); and a winch and ParkPro combo. In all, PistenBully lists 19 different groomer models on its website.
The bigger L-9 Cummins in the new PistenBully 400 models have beefed up the machines' muscle to a max of 435 hp, up from 400 hp and approaching the power of the 600 models. The ProBlade on the new 400 ParkPro version features edges designed to cut sharper, more precise features. And with the 400 ParkPro Winch combo, you have what Wirtz calls "a Swiss army knife of a machine" that combines power and versatility.
The new, more fuel-efficient engine coupled with a larger fuel tank (92 gallons, up from 69) allows for longer shifts on the hill. And the 400 models, like the 600s, are equipped with the AutoTracer rear implement carrier for active steering assistance, especially on off-camber slopes. Other control features assist operators in maintaining, among other things, consistent tiller depth and consistent winch-rope tension.
Also new this year is the 6-belt KombiPlus track. With one less belt than the previous KombiPlus track, there's more space between belts to shed snow, allowing for less space between the track cleats. The result, according to PistenBully, is a more durable and maneuverable track.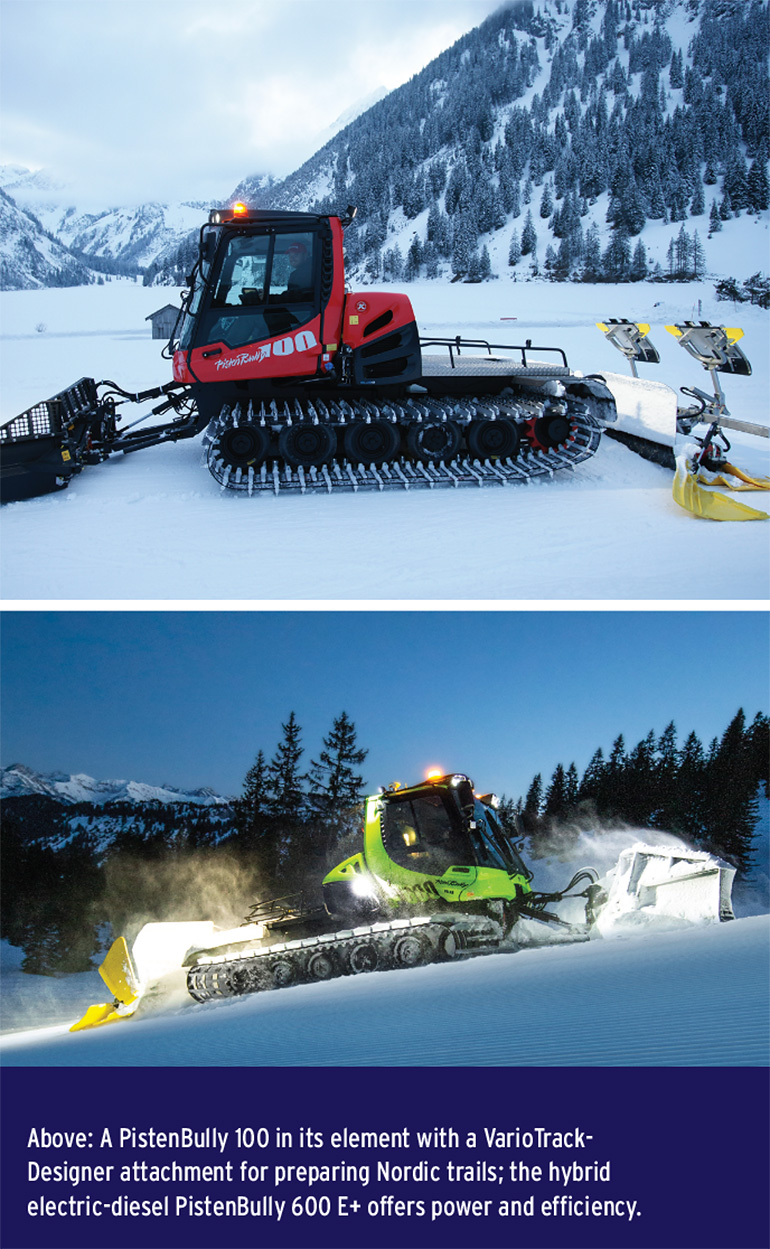 The PistenBully 600 machines are the heavy lifters. Standard versions can produce up to 455 hp, although the 600 Polar gets up to 512 hp. Also in PistenBully's lineup is the 600 E+, an electric-diesel hybrid with 16 percent more pushing power than the standard diesel. It also reduces both fuel consumption and emissions by 20 percent. The 600 models can also be equipped with 10- or 15-passenger cabins, the latter able to haul a load of more than 3,500 pounds.
To improve ease and comfort of operation in the cockpit, PistenBully machines come with a four-axis joystick, integrated into the center armrest, for blade control. The cockpit (seat, armrest, steering wheel) form what PistenBully calls "a single ergonomic unit." And now, the new 400 series shares the same cockpit ergonomics as the 600- and 100-series machines.
The PistenBully 100 can put out up to 253 hp with a blade that can open to more than 12 feet wide. PistenBully also touts the 100's park-building capabilities, as it is equipped with an "all-way-blade" featuring a working radius of 131 degrees. It is also suited for Nordic trail grooming, with available rear implements to cut classic tracks. 
PRINOTH
PRINOTH offers its three main models—the Leitwolf, Bison, and Husky—in a variety of configurations.
The control unit and cockpit were updated for all models this year, with ergonomics and operator comfort in mind. The updates include a new center Recaro seat, larger heated footwell, sunroof, multifunctional joystick-in-joystick feature that enables operators to work the blade using only their thumb, and a larger, 12-inch tilting touchscreen display in the cab for easier, more intuitive operation.
PRINOTH's Bison remains the company's most popular model in North America, although the Leitwolf is "gaining interest because of its increased pushing power" in dealing with dense, man-made snow, says Muigg.
The newer Bison's Stage 5/Tier 4 Caterpillar engine produces more power and more torque than the Tier 4-only version, with an output of 422 hp (from 406 hp) and nearly 1,400 lb. ft. of torque (from 1,273 lb. ft.). The Bison's max blade-width is 17.5 feet when fully open.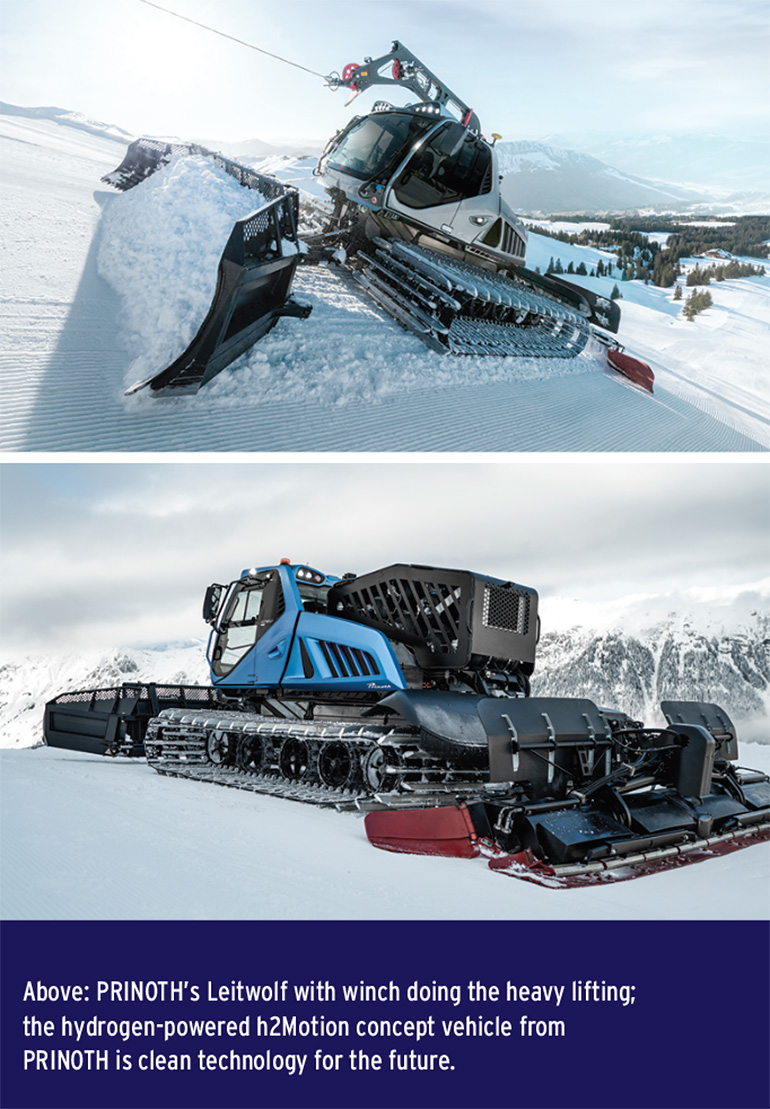 The bigger Leitwolf's Stage 5/Tier 4 Mercedes engine can crank out up to 530 hp and 1,918 lb. ft. of torque. The Leitwolf also features the biggest blade in PRINOTH's fleet—19-plus feet wide when fully opened. Both the Leitwolf and the Bison feature six-cylinder diesel engines that are also capable of running on HVO, synthetic diesel, or converted biomass fuel to be more environmentally friendly. Both models are also available in winch versions.
The smallest machine in the PRINOTH lineup is the Husky, which comes with a 231 hp engine and a blade that maxes out at just under 13 feet wide.
The Husky can be equipped as a cross-country groomer, able to set up to four classic tracks, as well as a snowmobile-trail groomer. Both cross-country and snowmobiling have experienced something of a boom in the last two years, spurred by a Covid-era desire to get outside and get away from other people.
The Leitwolf, Bison, and Husky all come in an X version, which has park-sculpting features including a blade and tiller with extended range of motion, a tape-measure tool, and an inclinometer, says Muigg. The 12-way park blade also has special teeth for back-blading corduroy and optional side cutters.
When the park-sculpting hardware is used in combination with the snow-measurement capabilities of the three-dimensional CAD software included in PRINOTH's Snow How package, Muigg says that the manual labor typically involved in building park features can be reduced by as much as 60 percent. The Leitwolf X Winch and Bison X Winch combine the benefits of the park and winch capabilities. 
CLEAN MACHINES
Both PistenBully and PRINOTH continue to up the sustainability ante in developing machines that can run as closely as possible to zero emissions. For the most part, they aren't quite there yet, but they're getting closer. Meeting the Stage 5/Tier 4 standards has become a given, which has vastly reduced emissions already.
Electric engines would presumably be the zero-emission gold standard, but the groomer manufacturers continue to be hamstrung by technological challenges. A major drawback is that batteries for electric motors are typically bulky and heavy. In addition, limited battery life, especially when working in cold conditions, has been a difficult technological hurdle to clear. So far, standard battery life in the cold is three hours or less, which clearly falls far short of covering a full, eight-hour grooming shift.
As a result, PRINOTH's Husky eMotion has yet to emerge from a concept phase; ditto PistenBully's all-electric 100 E. As PistenBully's Wirtz says: "The technology isn't there. . .yet." That closing "yet," however, at least implies that the technology will eventually arrive.
PRINOTH has also introduced as a concept vehicle the hydrogen-powered Leitwolf h2Motion, but the limited availability of hydrogen fuel, at least for the time being, is a restricting consideration in bringing the machine to market.
In the meantime, both PistenBully and PRINOTH have been integrating the use of alternative fuels for their existing line-ups, most notably hydrogenated vegetable oil, allowing normally diesel-powered engines to run cleaner. HVO-burning engines don't quite reach the zero-emission threshold of electric engines, but for some resorts, every half step toward a zero-emission target can be meaningful. 
THE SOFTWARE
Both PistenBully's SNOWsat and PRINOTH's Snow How software packages break down primarily into three subdivisions: snow-depth management, fleet management, and maintenance management. The basic idea: to maximize ease and precision of use for operators and to streamline on-mountain operations and maintenance programs/schedules.
As is often the case with software, both packages are in a state of continuous refinement.
Both manufacturers are putting more tools in the hands of human groomers that either function automatically or allow operators to improve precision through easy-to-follow, computer-generated guidance. Somewhere in snow grooming's future may be full automation, with unmanned machines programmed to run perfect patterns up and down the slopes. But it's not here yet. 
PISTENBULLY
The snow-depth measurement methodology in SNOWsat is improving and is about to become even more accurate, according to Wirtz. He says a cab-mounted LiDAR device able to read 200,000 data points per second will soon be on the market. It will be able to produce snow depth info in real time, rather than leaving operators to rely on info based on a pre-generated model.
SNOWsat's fleet-management component targets operational efficiency; the company stresses a potential savings of 25 percent in fuel consumption, but that kind of improved efficiency also plays out in better man-power management and less wear and tear on machines.
The SNOWsat software suite also offers platforms for vehicle maintenance (Maintain), communication and planning (ToDo), geodata management (GIS), and trail prep/snowmaking (Snow Management).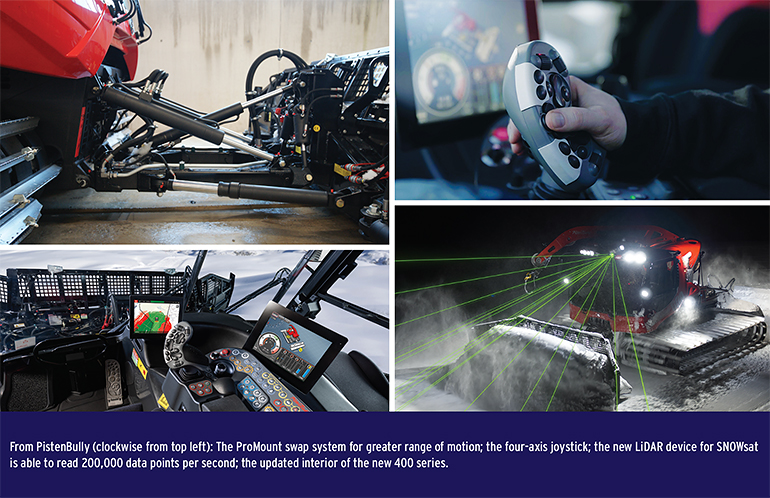 PRINOTH
Muigg says that Snow How's snow-depth management software, based on LiDAR modeling technology, relies on a "cloud" of irregular triangles, or triangular mesh. This, says Muigg, enables PRINOTH/Leica's snow-measurement software to achieve accuracy within one inch, especially valuable in conforming to correct terrain-park geometry.
PRINOTH says that knowing, through fleet-management software, the location and movement of every machine on the mountain at any particular time can mean significant improvements in efficient and economical operation. The value of fleet-management software, of course, increases with the size of a resort's grooming-machine fleet. That said, of interest to smaller resorts might be the fact that other vehicles—trucks, snowmobiles, UTVs—regardless of manufacturer, can be equipped with Snow How, allowing management of an area's entire vehicular fleet.
Snow How has other platforms aimed at increasing operational efficiencies, such as Reporting, Task Manager, and Maintenance Overview. The Snow How platform is driven by Skadii, a new resort operations management software being brought to market by PRINOTH parent company HTI Group.
Options abound, so a thorough assessment of a resort's grooming-task menu is essential in matching any particular machine to its assignments. With so many groomer models to choose from, there is undoubtedly something for every resort and every task.