Cheers!
SAM isn't the only industry institution celebrating its 60th anniversary this year. In 1962, the National Ski Areas Association (NSAA) was founded and at least 20 North American ski areas opened, too. Diamond anniversaries abound! What a ride we've all been on, taking the foundations built by those early visionaries and expanding into a sustainable, resilient, four-season industry. We have a lot to be proud of.
SAM and NSAA
SAM's own history starts with my father, founding publisher David Rowan, attending the meeting in Colorado Springs in May 1962 that led to the creation of NSAA. At that meeting, David was appointed as NSAA's first executive director. He established the organization's first office in New York soon after.
Not one to sit still, David also published his first issue of Ski Area Management the same year. When he left NSAA a few years later to devote his time to publishing, my mother, Ann Rowan (Ann Hasper at the time) took over as the second head of NSAA.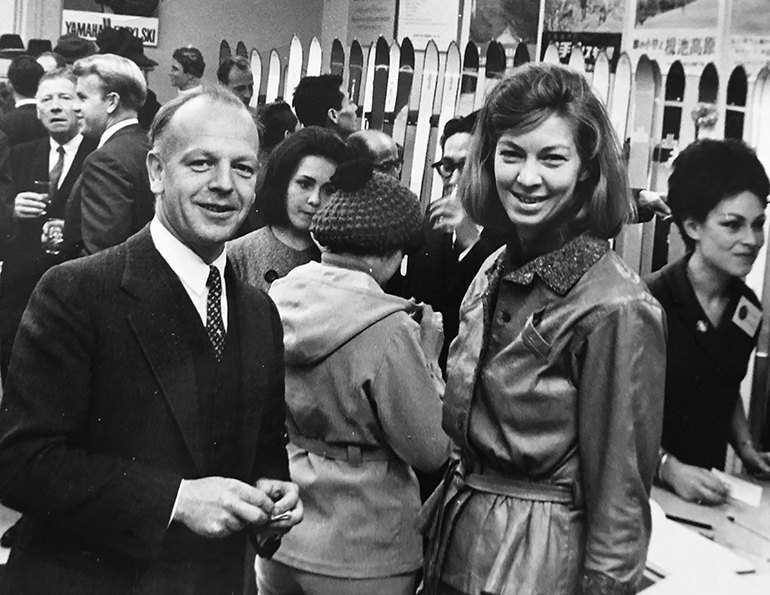 David Rowan and Ann Hasper (later to be Ann Rowan) at an SIA show 1961.
Former NSAA president Michael Berry once said, "David's role as publisher of Ski Area Management magazine had the most influence on NSAA and the industry. He was, of course, the industry's conscience and the association's gentle (sometimes) prodder. He always wanted the best for both—he was sometimes a booster in the classic sense and sometimes a critic—but whatever his position, he always had the interests of area owners and operators in mind."
In the years since my father left us, we have endeavored to maintain and grow his vision for SAM as the voice of the industry, connecting everyone through the good times and bad, and always trying to foresee and illuminate what's coming next. Have we succeeded? That's for you to decide. As always, we welcome your feedback and are deeply grateful for our subscribers' and supplier partners' support—it means the world to us.
Lighting the Way Forward
I'm very proud of this issue of SAM because it includes impactful articles on a range of topics—mental health, climate, operations, business, social responsibility, and much more—as well as examples of the our industry's supportive nature with peer recognitions for leadership (SAMMY Awards) and marketing (Best and Worst, Peer Reviews). I hope you enjoy it. 
Olivia Rowan, Publisher