ACCT INTERNATIONAL EXPO,
CLEVELAND, OHIO, FEB. 13-16, 2022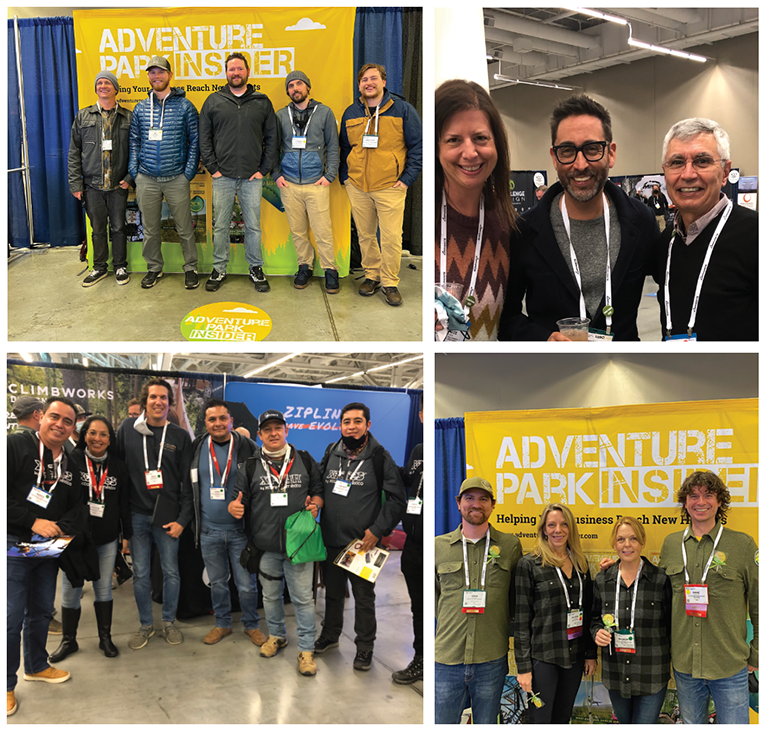 Back in February, more than 630 members of the Association for Challenge Course Technology (ACCT) gathered for the group's 32nd annual International Conference and Expo. Next year's show will be in Portland, Ore., Feb. 9-12. Clockwise from bottom left: Nick Thompson of CLIMB Works Design meets with the crew from XCaret, Mexico; Boyne Resorts' Jeremy Cooper, Ean Darwin, Brett Johnson, Josh Compton, and Brandon Gage stopped by the booth of SAM's sister publication Adventure Park Insider; Candie Fisher, Micah Salazar, and Bahman Azarm of Outdoor Venture Group on the trade show floor; the Adventure Park Insider team, Jack Fagone, Olivia Rowan, Sharon Walsh, and David Meeker.
U.S. SKI & SNOWBOARD HOF
,
BRETTON WOODS, N.H., MARCH 3-6, 2022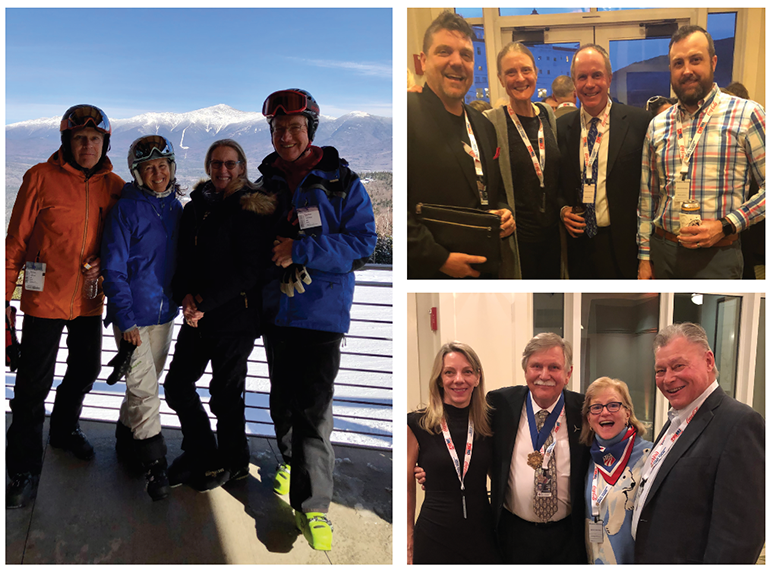 Following a two-year hiatus, the U.S. Ski and Snowboard Hall of Fame was back in person for its annual induction event, hosted March 3-6 at Bretton Woods and the OMNI Mount Washington Resort, N.H. The induction ceremony recognized Hall of Fame inductees from 2019 and 2020, including, among others: ski area operator and sustainability pioneer Brian Fairbank; trail map maestro James Niehues; Snurfer inventor Sherman Poppen; and first "Women in Industry Award" recipient Barbara Alley Simon. 
Clockwise from left: Attendees Dennis and Jane Eshbaugh, GM and marketing director of Holiday Valley, N.Y., respectively, and Tom Sanford (retired), Doppelmayr USA, with wife Barbara, enjoy a picture perfect day at Bretton Woods; cocktail hour with Tyler Fairbank, Fairbank Group CEO, Claire Humber, SE Group, Ben Wilcox, Cranmore Mountain Resort, N.H., and Mitch Lefevre, SE Group; SAM Magazine's Olivia Rowan poses with inductee Brian Fairbank, Fairbank Group chairman, Carolyn Stimpson, Wachusett Mountain, Mass., and Mike Noonan.
YOUNG LEADERSHIP SEMINAR AT MTS,
VAIL, COLO., APRIL 3, 2022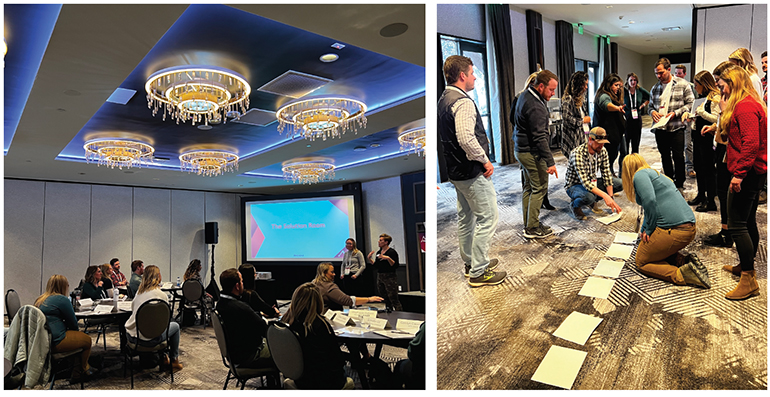 Industry professionals ages 35 and under attended the Young Leadership Seminar, hosted April 3 at Vail, Colo., ahead of the annual Mountain Travel Symposium.  Left: Mountain Travel Symposium marketing director Catherine Shaw introduces speaker Julie Cilluffo, associate director of sales, travel partner sales and distribution, Vail Resorts, in the Solution Room. Right: Seminar participants, including SAM Magazine's Jack Fagone, take part in an ice-breaker activity. 
SIERRA-AT-TAHOE 75 YEARS,
TWIN BRIDGES, CALIF., APRIL 9-10, 2022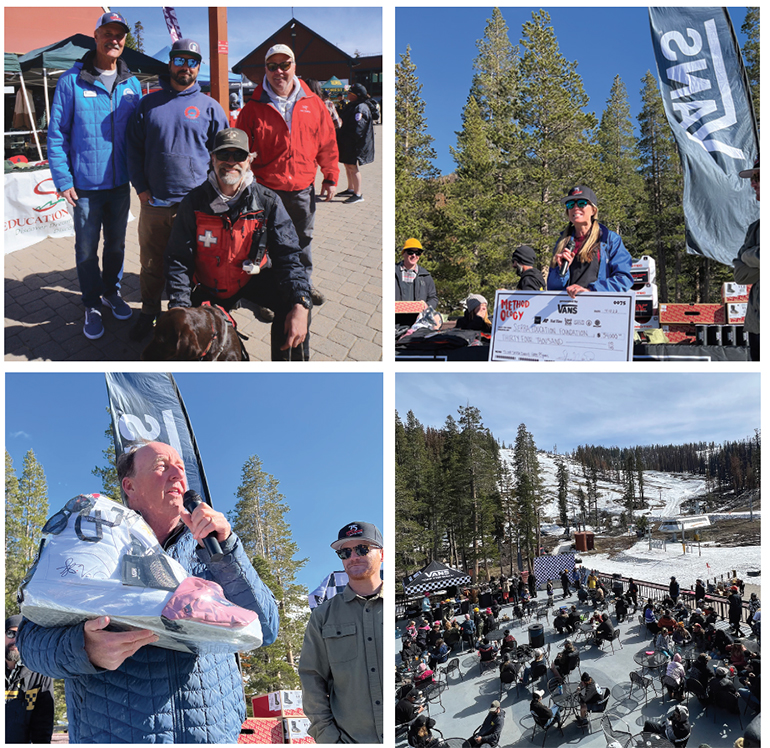 After surviving a devastating wildfire this past summer, Sierra-at-Tahoe's future seemed uncertain. Despite the challenges the ski area has faced on its long road to full restoration, on April 9 and 10, it was able to open for one weekend to celebrate its 75th winter season. Parking lots were packed, and the vibe was light as the local community came out to support their home mountain. Clockwise from bottom left: Steve Van Doren, vice president of events and promotions at VANS, presents awards after the Methodology event, a snowboarding competition with a banked slalom concept; John Rice, Sierra-at-Tahoe general manager, with Bryan Mettler, a Sugar Bowl patrol alumni, Zach Johnston of Sierra-at-Tahoe's ski patrol and his dog, Dyna, and Roger Ashton, president of the Sierra Education Foundation; Sierra Education Foundation's Kelli Teteak accepts a donation check of $34,000, raised through the weekend's events to support the Sierra-at-Tahoe employee fund; skiers and riders return to Sierra-at-Tahoe's deck to soak up the sun after a few laps off the Easy Rider Express, Rock Garden double, or Slider carpet.