Booking trends show that mountain destinations will remain very popular with travelers this summer. Combined with the growth in outdoor participation, resorts should be ready for a busy few months. And surveys suggest that activities with a low barrier to entry—like hiking and camping—are most popular with new outdoor participants, hence the Spy's question.
It's easy to see the appeal of camping at a well-maintained recreation area like a ski resort. Those new to the outdoors and/or lacking familiarity with ski areas and how they're managed may not know that camping isn't customary (or even allowed) at all mountains. Policies vary depending on a long list of factors. Would-be recreators may be surprised to learn that pitching a tent comes with "red tape" at many ski areas.
Of course, if someone calls because their family wants to camp at your ski area, even if it's not allowed, there is an opportunity to engage a potential customer—an opportunity that many of the resorts the Spy called missed. Some of the staffers were clearly caught off guard. Though, this proves a good point: It can be tough to switch gears from selling lift tickets and season passes to rattling off summer information, but staff should always be on their toes and ready to help—or sell.
Did a guest ask a question that stumped you or your staff this season? Send it to jack@saminfo.com for the Spy to ask. If we use it, your ski area will be immune from the Spy's inquires—for that mission, at least. 
MOUNTAIN 1, VT
First contact: Female.
SAM: Stated question.
Staff: People do go and hike to the top and camp, yeah.
SAM: OK. So, are there campgrounds or anything like that?
Staff: (Long pause…) No. Just kind of hike up and stay there for the evening. There's no facilities.
SAM: OK. So, no facilities but you do allow camping. 
Staff: (Silence…)
SAM: Alright, cool. Thank you.
Staff: You're welcome. Bye-bye.
SAM: Bye.
Score: 2
Comment: It takes effort to be this dismissive. And no mention of the many pay-to-play activities at the mountain to a dad planning a trip with his family? At least she knew we could camp.
MOUNTAIN 2, WV
Answering phone: Automated machine. Chose next representative.
First contact: Female.
SAM: Stated question.
Staff: (Big sigh…) Ya know, I don't think they do, but I could transfer you over to reservations if you'd like?
SAM: OK, I'll try them.
Staff: OK, let me check.
... transferred …
Second contact: Female.
SAM: Stated question.
Staff: Um, there's really no place for overnight camping. There's an RV parking lot out here, but it's basically a parking lot, like a gravel parking lot. There aren't any hookups or picnic tables or grills, or anything like that.
SAM: OK. But if we were to go up and find a flat space like on the summit, would we be allowed to pitch a tent?
Staff: Not that I'm aware of because, I mean, there's bears in the area and they just don't allow camping, from what I understand, on the mountain at all.
SAM: OK, good point. I didn't think about wildlife. So, you have an RV parking lot, could we pitch a tent there?
Staff: (Long pause…) Um? I mean, can you? When are you coming up?
SAM: Probably in a couple of months. Maybe middle of June.
Staff: So, we have several events going on in June like [name] and absolutely no camping during that timeframe at all, I know. There's not even RV parking.
SAM: OK.
Staff: So as far as pitching a tent, I don't think they allow it at all. I'm not going to say I haven't seen it done, but I don't know what the repercussions would be.
SAM: Alright, I think I'll just keep exploring my options at this point.
Staff: OK. I'm so sorry.
SAM: No, that's OK. Thank you for the info. That was helpful.
Score: 5
Comment: It's so nice to have two people answer the phone right away, in the off-season no less! Both were nice and gave good information, but this was a missed opportunity to make me a customer. 
MOUNTAIN 3, MN
First contact: Female.
SAM: Stated question.
Staff: So, we do not offer camping on our mountains. So, it all depends where you were planning to pitch that tent?
SAM: Well, I haven't been to your mountains, but I was planning on taking an easy hike to the summit and maybe camping up there. But it sounds like that's not OK?
Staff: Yeah, we do not offer that.
SAM: OK.
Staff: (Silence…)
SAM: Well, thank you. Bye.
Score: 1
Comment: Why does it matter where I pitch my tent if camping isn't allowed? I kind of felt like an idiot for being made to explain my plans given that fact. So, was there a place I could camp? I'm left with more questions than answers. 
MOUNTAIN 4, QC
Answering phone: Automated machine. Chose all other information.
First contact: Female.
SAM: Stated question.
Staff: Uh, no. Maybe in the National Park of [location], but not at the resort itself.
SAM: OK. Where can I find more information on that?
Staff: Would you mind holding for a second? Since we don't, you know, sell that type of product, I will go verify, sir.
SAM: Sure.
... brief hold …
Staff: OK, thank you for holding. So, the website is [url].
SAM: (Repeats url.) 
Staff: Exactly.
SAM: And is the mountain on the National Park land or is it separate?
Staff: It's separate. I would say it's about a 20- or 30-minute drive to the resort.
SAM: OK. Well, very good. Thank you for your help.
Staff: No problem! Have a good day!
Score: 8
Comment: Pleasant, knowledgeable, straight to the point. The resort doesn't offer camping, but she took the time to help find out where I can go for info about an alternative spot off property. That's good customer service. 
MOUNTAIN 5, CO
Answering phone: Automated machine. Chose operrator.
First contact: Male.
SAM: Stated question.
Staff: Uh, not right on the mountain. You will need to do that elsewhere. You can camp on the other side of the highway; I've camped over there before. Um, but not on the mountain.
SAM: OK, gotcha. So, any idea where I can find more information on camping in the area?
Staff: (Long pause…) Um, Google (condescending chuckle).
SAM: Google. OK. Thanks.
Staff: Sorry.
SAM: Bye.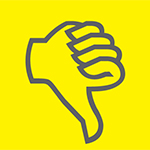 Score: 0
Comment: Really, dude? Sassy, mean-spirited answers don't fly with the Spy. "Google" is about as little effort as a guest representative can give. Too cool to help a dad looking for info, I guess.
MOUNTAIN 6, WA
Answering phone: Automated machine. Waited for operator.
First contact: Female.
SAM: Stated question.
Staff: Are you going to be backpacking?
SAM: Something like that. I was thinking just an overnight. Hike up with the family, spend one night, and come back down the next day.
Staff: Yeah! We're on National Forest Service land, and yeah, you can backpack and pitch a tent if you find a nice place. There are some lakes up there. Yeah, people do that for sure. The trails aren't fully dried out until early July, so you may find some patches of snow in the shade if the sun hasn't hit it yet. When are you coming?
SAM: I was thinking end of June.
Staff: There can still be patches of snow in the shady areas at that time of year, just so you know, at the higher elevations. But yeah, there's plenty of places! If you're going to be camping in our parking lot, which people do, it's not that pleasant because it's a dusty lot, but there is a pleasant little stream behind it. We are going to be going through a ton of construction this summer, so it could be extra dusty and could have lots of trucks and stuff in it. But those are the only RV hookups for miles and miles and miles. We have some beautiful camping areas around here, but they book up so fast these days, on weekends especially. But there are quite a few other areas to camp around here and yes, you are welcome to backpack up and pitch a tent in a meadow or on a mountaintop or wherever you like.
SAM: OK, very good. Do you have hiking trails and a summer trail map?
Staff: Yes, we do! If you head to [website] and up in the search bar type in "maps," you'll see our trail and resort maps. Scroll down until you see the summer trail maps. And remember we are still in our winter season, so the whole website will flip over to summer operations probably the day after Easter. I haven't confirmed that, but you'll see there's a whole bunch of summer maps you can download to your phone.
SAM: Wow, alright! So good to know. Thank you so much for all of this information.
Staff: Yeah, absolutely! Enjoy your trip with your family.
SAM: Thank you so much. Bye.
Score: 10
Comment: Wow. I am blown away. She checked all the boxes: cheery, welcoming, knowledgeable, and excited to hear I was bringing my family. She also provided helpful information and guidance navigating the website. She's the person you want answering the phone and representing your resort's brand. 
Identity revealed: Crystal Mountain