Jackson Hole Mountain Resort, Wyo., has received much attention for its decision to limit daily visitor capacity in the 2021-22 season, and the impact is underscored on a giant outdoor digital sign near the resort's iconic Aerial Tram: on a late-season Saturday, wait times for every ski lift at the resort were listed as "0-2 minutes." It's the kind of visual boast sure to make Jackson Hole's marketing team smile—but it is also timely and important information for guests navigating the slopes.
Digital signs haven't yet replaced trail signs or billboards displaying trail maps and lifts, but they are becoming increasingly visible at ski areas. At Jackson Hole, for example, video screens displaying lift status, avalanche danger, event information, and other messages are strategically located in places where skiers and riders typically wait in line for lifts, such as at the tram and the gondolas. Dynamic trail maps have popped up at Heavenly in Lake Tahoe, Copper Mountain, Colo., and Whistler-Blackcomb, B.C. Vail Mountain, Colo., has even installed solar-powered ski trail signs.
"Resorts are investing in digital signage solutions for their clients who are increasingly connected through smartphones, social networks, etc., and want real-time information about mountain and resort conditions," says Julien Chassange, executive vice president of Lumiplan North America, a supplier of digital outdoor signs to the ski industry.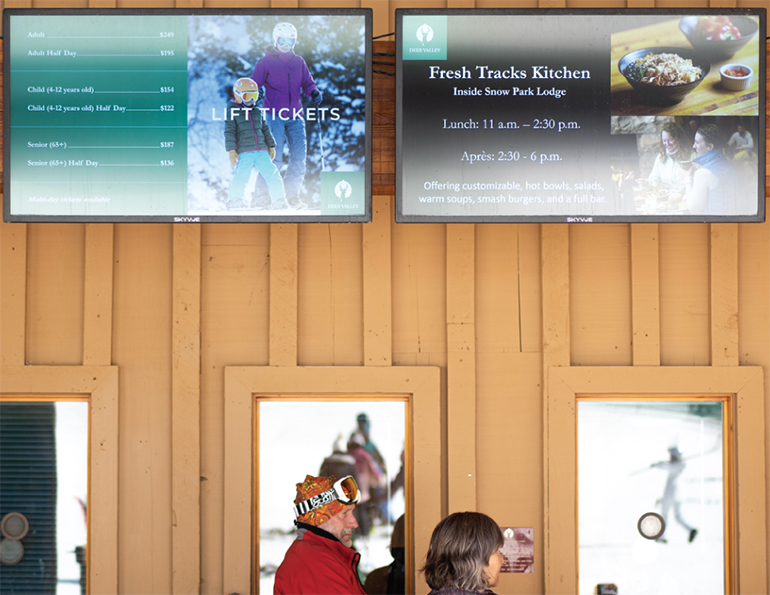 Indoor screens at Deer Valley do double duty, showing product menus and promos.
It's not just larger operations installing digital signage either, according to Chassange. "One change we have seen is that smaller resorts are seeking out digital signage more than before," he says. For example, New York's 285-acre Windham Mountain installed digital screens before the 2020-21 season above the ticketing plaza, and digital trail maps at its base area and the summit of West Peak.
"Digital solutions are not just practical for the large resort, but for resorts of all sizes looking for a centralized system," says Chassange.
PROS AND CONS
Carley Piper, senior marketing manager at Copper Mountain, states the pro/con argument for digital versus analog signage succinctly: "Static is much less expensive and much less flexible. Digital is expensive, but timely."
Real-time updates. "The main benefit of a digital sign versus an analog sign is the reduction of time to get the information out there to the intended recipient," says Kate Sullivan, marketing and communications manager at Windham Mountain. "When used in conjunction with our website and social media, we're able to ensure more of a saturation of the right information, at the right time. We can display day-of event information, operational updates or changes, and moving forward, we'll be able to display lift and terrain status."
Cost-benefit analysis. Deer Valley, Utah, makes extensive use of digital signs both indoors and outdoors; the investment in the former is a relative pittance compared to the weather-safe outdoor signs. "Any screens that don't require being in the elements don't have high costs," explains brand content manager Ryan Mayfield. "The price of the on-mountain screens is a deterrent to adding many more at this time," he adds.
Outdoor signage can range from $10,000 to $50,000, depending on the size, electronics, number of screens, etc., according to Chassange. Lumiplan's prices include shipping and installation, but buyers also pay $1,000 annually for the proprietary cloud-based platform to run the system, and another $6,000 for a custom mobile app.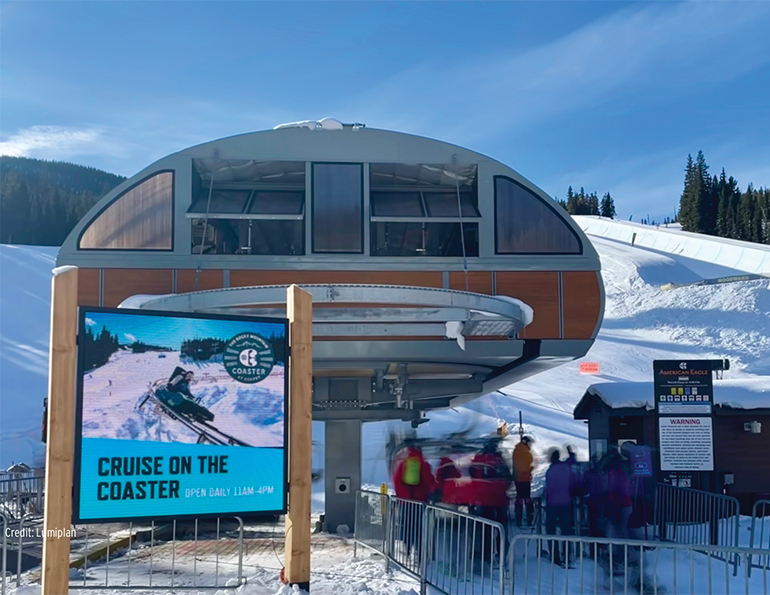 Below: At Copper Mountain, outdoor digital screens are largely devoted to product upsell.
"Even if digital installations come at a cost, there are benefits of having a real-time information system, which will save the resort time spent updating content while minimizing error on a daily basis," Chassange argues.
"In the footprint of one poster, for example, a digital display can communicate multiple messages within the context of time of day and location of the screen—all scheduled in advance," says David Gibson, president of Propeller Media Works, which offers its PropDisplays digital signage system.
Senan Gorman, chief creative director at North Pole Design, another supplier of digital signs that recently entered the ski-area market, says that in addition to scalability and flexibility, the cost of digital signs can be offset with savings in other areas. 
"From a functionality perspective, the negatives of using printed materials that need to be updated all the time can easily begin to outweigh the negatives of a digital sign," says Gorman.
North Pole Design's Carry2Mobile platform allows anything displayed on digital signs to be sent to a guest's phone. All the guest needs to do is scan a QR code. And the scans are trackable, giving operators data on which messages are most effectively reaching guests. "This makes it much easier to determine how guests are responding to your content, special offers, etc.," Gorman says. 
THOUGHTFUL IMPLEMENTATION
Replacing every analog sign at a ski resort with digital would be cost-prohibitive, and maybe even detrimental to the guest experience, experts say. 
"We're surrounded by screens at work and at home—it's important for us that our digital signage is employed well and compliments the overall mountain experience, not detract from it," says Windham's Sullivan.
Practical considerations. There are some practical limitations to where digital signs can be placed. A power source needs to be available, and Wi-Fi must be able to reach the sign location in order for information to be updated. Digital screens are designed to withstand harsh weather conditions, including temperatures down to -40º F, but direct sunlight can reduce readability for even the most high-resolution screen, which also affects where signs can be sited.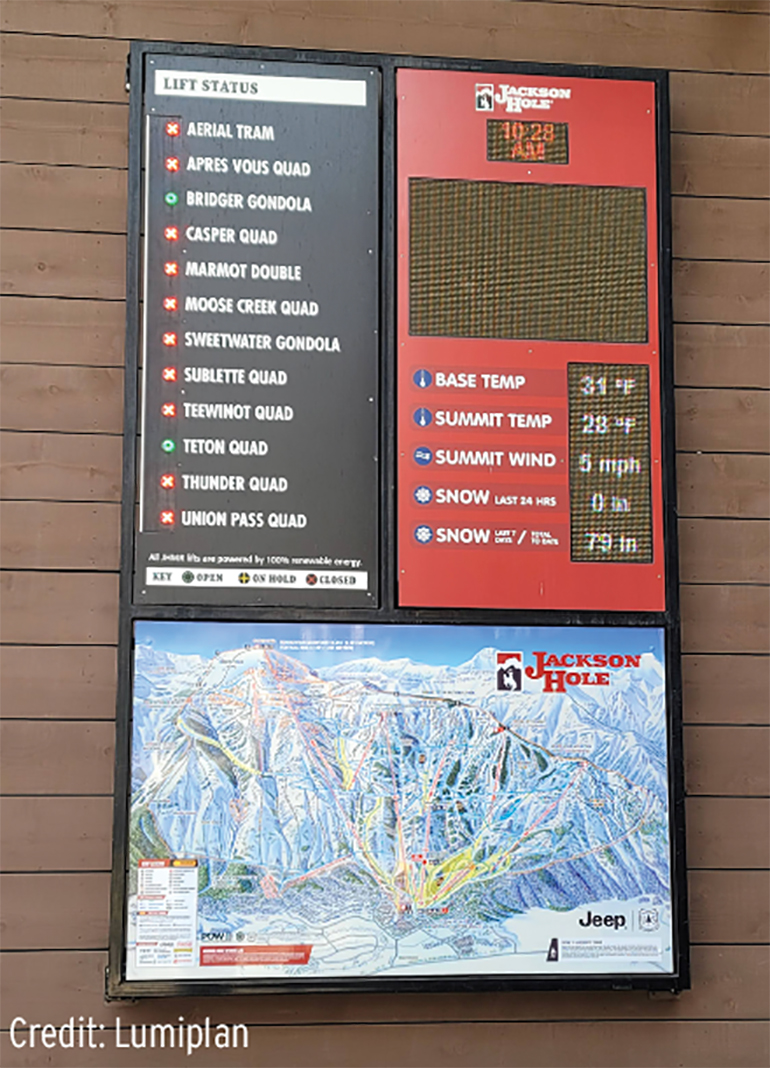 Signs post real-time info at Jackson Hole.
"For each sign location, it is important to identify the information that will be communicated," says Chassange, and how often the info changes. 
Trail signs, for example, would likely be among the last to be converted to digital, since the information they contain is static. (Although, a backlit digital trail sign would have some benefit on cloudy or snowy days, and trail signs that provide additional information, such as lift wait times, are being adopted.)
Static signs that must be updated frequently with seasonal or trail map changes can be costly, too, though—in both materials and time. "Resorts would want to ask themselves what the time savings would be to have to update each sign from one [digital] hub versus manually managing that content," suggests Gorman.
Also, says Gibson, guest traffic should be considered. "High-traffic areas are not always the right spot because the displays may cause people to pause and slow down traffic flow."
Ultimately, "The focus should be on the guests' journey from the parking lot to the ticket office to the lift departure to the mountain restaurants," Chassange says. "The guest will need to be informed in each of these locations in different ways throughout the day."
WHO, WHAT, WHERE
Ticket windows and lift lines are obvious first locations for going digital. "We found a need for digital signs in high-traffic areas where we can catch people's eyes," says Jackson Hole digital marketing manager Andrew Schrum. "It's so hard to get people to read these days, we thought that maybe with some motion on a screen maybe we will catch their attention." 
"It is easy to notice the vibrant colors and movement," agrees Piper, who said Copper's signs are "placed at key base area lifts [Copper American Eagle and American Flyer] for the most exposure." 
Operations and marketing. While resorts commonly utilize outdoor video screens to communicate lift and trail updates, the technology has the potential to deliver a variety of other information to guests. 
Jackson Hole, for example, uses digital screens to provide avalanche information to users of its backcountry areas and updates on the grooming status of individual trails. Those updates are part of the estimated 75 percent of messaging that falls under the heading of operations, according to Schrum. 
"People in line for the tram are maybe seeing that the avalanche danger today is a 4 and saying to themselves, 'maybe I should stay inbounds,'" he says. 
The other 25 percent, though, is marketing, including promotional messages about food and beverage offerings, après ski experiences, lift ticket sales, and more. There's even an entertainment element: ski videos are sometimes played at Jackson's gondola locations when lines get longer, offering a little Disney-style distraction to queued guests.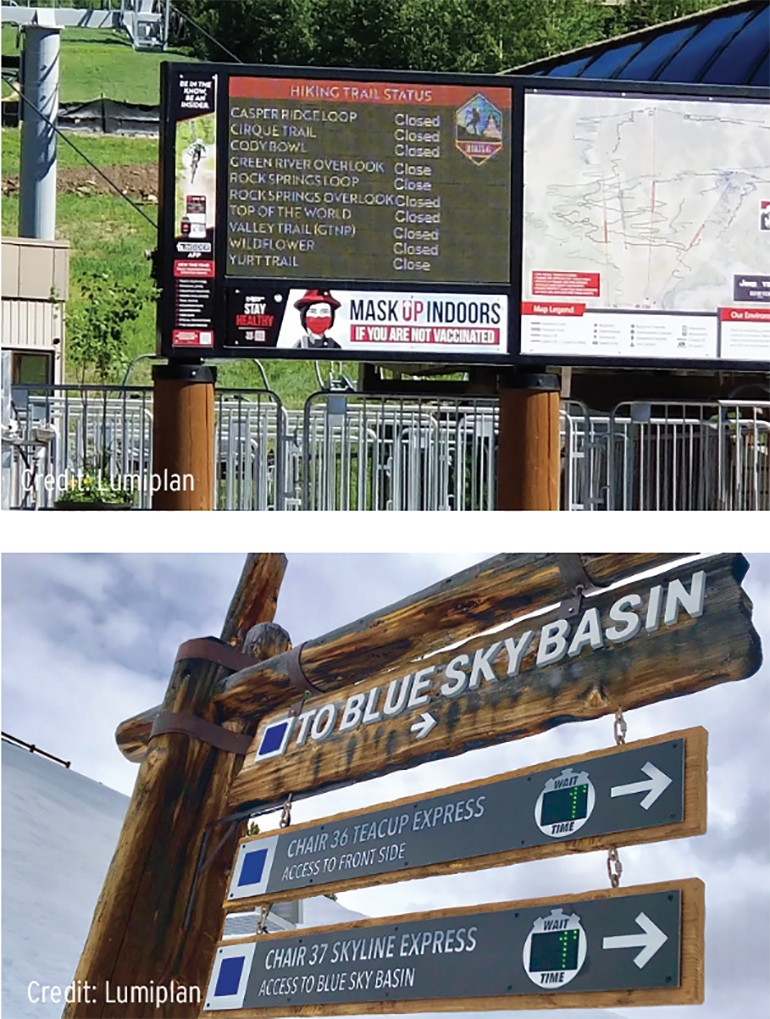 Top: A single dispatcher feeds up-to-date information to Jackson Hole's outdoor digital screens, website, and mobile app.  Bottom: Solar power allows Vail to share lift wait times on remote trail signs.
Copper Mountain has seven digital trail maps to provide up-to-date information on open/close status and lift operations, but other outdoor digital screens are largely devoted to marketing of offerings like the resort's Rocky Mountain Coaster, Play Forever initiatives, season pass messaging, and ski school availability, says Piper. "It's primarily product upsell," she explains.
Digital screens also can deliver highly individualized information to guests, from missing-persons/lost child messages to "gamification" data, such as a leaderboard tracking guest metrics like total vertical and total runs for the day.
Systems integration. Gamification requires integration between video screens and RFID media, but in most cases the screens are already closely tied-in with user apps as well as the back-end systems used to supply screen information and post updates. 
Chassange says LED resolution has improved in recent years, but "the real innovation of the last few years has mainly been in software."
Lumiplan screens, for example, can "talk" to a variety of integrated systems, some of which include automated weather stations, GPS-based grooming data, point-of-sale systems, and parking management software. 
Information management. A single dispatcher has primary responsibility for feeding up-to-date information to Jackson Hole's outdoor digital screens, website, and mobile app, although other staff also may receive permissions to add or update content. Information can be updated in real time and from almost anywhere using a laptop or a mobile phone, notes Schrum.
Copper Mountain also employs a sole manager to keep its screens updated, but "eventually staff will be able to also include messages specific to operational updates," says Piper.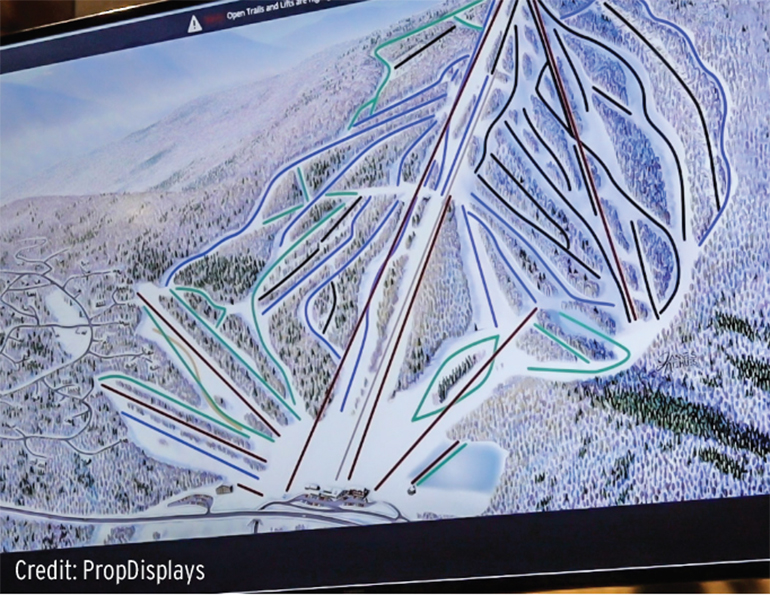 A dynamic trail map display on a digital LED monitor can be updated in real time.
"From a cost-benefit perspective, in the aggregate, digital signage enables us to save on material resource costs while efficiently using staff resources—we've built skill depth on our marketing team so that we can all update the signs' content editor with information when necessary," says Sullivan. 
Employee tool. Employees are another key audience for outdoor digital screens: "It's a great tool to keep our staff updated" on lift and trail status and other information, says Piper. 
"For this year, with capacity being limited, the signs have really allowed us to give our front line another line of defense. Giving guests a heads up that tickets are limited has proven very difficult, but now we can post a huge message: Lift Tickets Sold Out," says Schrum.
Looking ahead. With some ski areas phasing out paper trail maps, and paper lift tickets rapidly giving way to RFID smart cards encoded with reams of personal information, digital signs that can be programmed to distribute information about on-mountain activities and offer personalized messaging are likely to become an ever more common sight at base areas and lift stations. 
"We don't get much feedback from guests about the screens except when they are wrong," says Schrum—a sign not only that people are looking to the screens for information, but that they already are "becoming an expected part of the guest experience."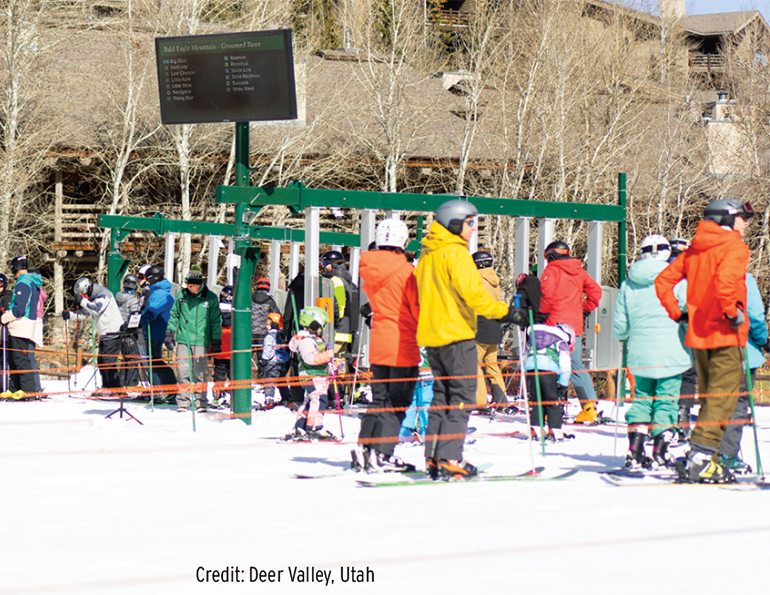 Outdoor signs at Deer Valley indicate which runs are groomed.