Marketers at resorts of all sizes work hard to capture and sell the unique essence of their mountain. Of course, most can't help but watch the competition, too, whether for strategic reasons, inspiration, or just because it's fun to see all the clever, creative, and clear-eyed marketing that's out there.
We here at SAM believe in celebrating the good work of others, and few things feel better than a tip of the cap from your peers. That's why we asked last year's peer-recognized marketers, among others, to pay it forward by sharing what they liked about something their contemporaries did this year. Thank you to those who weighed in, and congratulations to the resorts they recognized.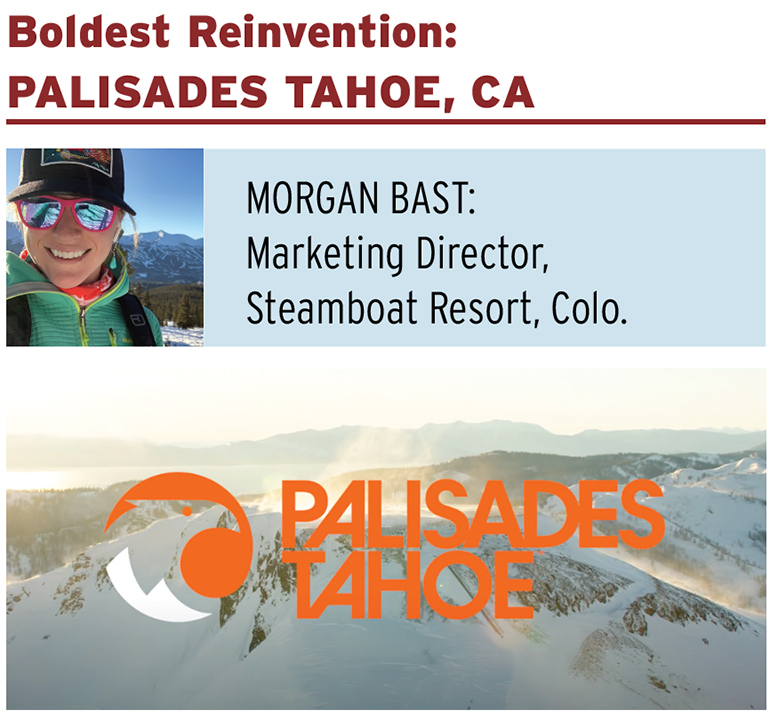 We can all name a few transformative, "once in a lifetime" projects that we've worked on as marketers—a new lift, a terrain expansion, a base area renovation. Capital investments tend to be the things we get excited about building brands and stories around. What could be bigger from a marketing standpoint?
A soulful resort in Tahoe answered that in a HUGE way ahead of this winter. It took a hard look at itself in the mirror and didn't like what its name and mark stood for—a name that offended the Indigenous Peoples we all do our best to honor. When the resort changed into Palisades Tahoe, it showed the industry, its guests, and the nation that racism—no matter how subtle or how embedded into a community—is unacceptable. It showed us all that we can be better.
It's not easy to build a brand, let alone start from scratch with an entirely new name and mark, but Palisades Tahoe approached the process thoughtfully and methodically so as not to waste the opportunity of this "once in a lifetime" project. The resort listened and was transparent about its approach, garnering buy-in from the community. It teased the announcement date to build anticipation. And the end result honored its heritage in both subtle and obvious ways, while clearly showcasing what the storied resort's future will be. While I would've liked a bit more storytelling in the announcement, that aspect came eventually and the "why" behind the mark and the name blew my socks off.
Of course, not everyone will love a new name. Naming is a thankless task and one of my least favorite parts of my job. You typically can't win. Naysayers aside, with the rebrand of Palisades Tahoe, you have a place that is now more welcoming, more progressive, and more soulful than ever—I'd call that a BIG win.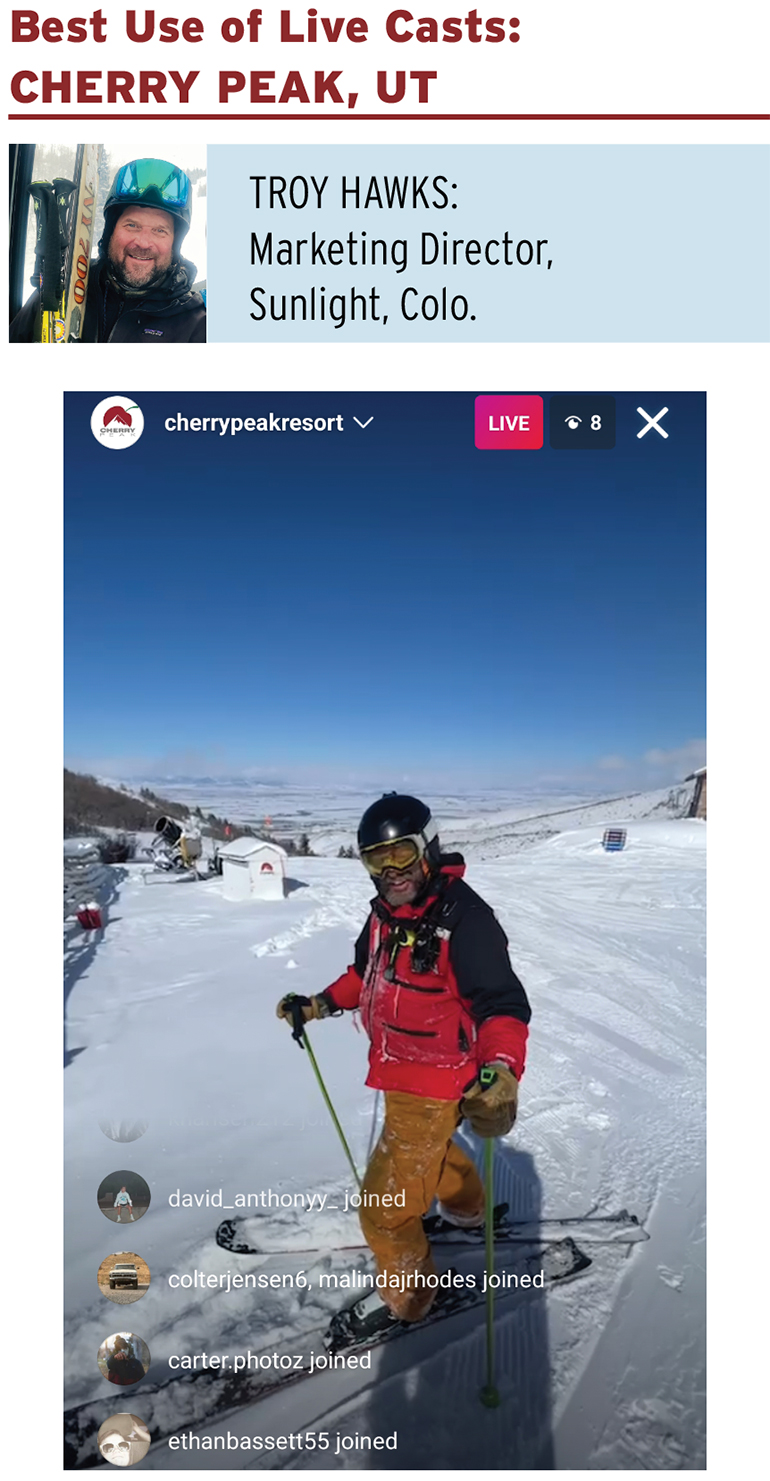 There's skiing it to believe it, but more so today, skiers and riders want to see it before they decide if they want to go and get after it. Surveys show that more than 80 percent of visits to small ski areas leave guests believing in it. Simple is an easy sell. But it's that first part—effectively allowing skiers and riders to see it in advance—that can be a big challenge for small resorts operating on a "do not spend it if you do not have to" budget.
Cherry Peak in Utah keeps its message cherry red with live video broadcasts on Instagram featuring director of operations and marketing Dustin Hansen. It's a straight-shooting live look at the mountain, with operation updates from the person doing the work, and it works very well at motivating visits.
"Alright, we're gonna check in live here—the sun came out, so if you're at work, tell your boss you gotta go," says Hansen as he pops into the Cherry Peak Instagram feed. "I'm going to give you a little taste of the mountain after the sun came out with all of the fresh snow," he tells followers as he proceeds to give a full report of recent snowmaking, grooming, natural snowfall, and powder stoke.
And when you arrive at Cherry Peak, the "believing it" part immediately kicks in. The lodge feels like you just joined a family ski trip, and Cherry's Instagram channel is the photo album—you even have the friendly uncle who loves to tell you all about the mountain. It's sweet.
Best Retail Marketing
Eldora, CO
Jordan Spear, Marketing Director, Killington, Vt.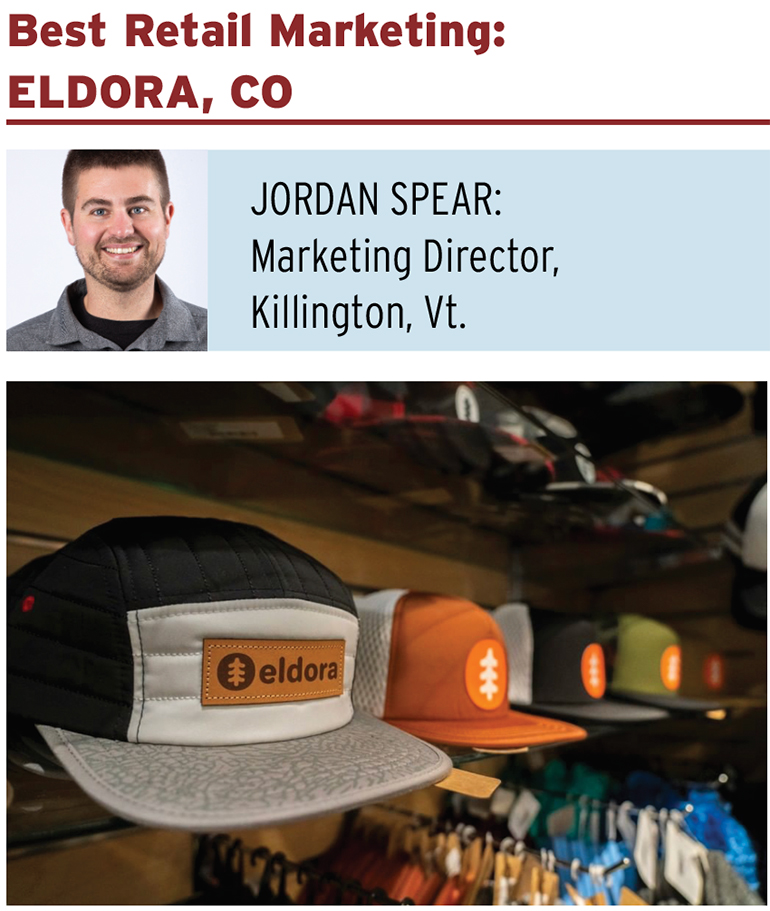 Last year, we were recognized for our "Cancel for Karma" messaging around parking reservations, but I must give credit where credit is due and that's to the talented team at our sister resort, Eldora, which developed the concept and was gracious enough to share it with us.
So, this year, I'm throwing my compliments to the Eldora team for its retail marketing efforts. Like most resort marketers, I follow several resorts on social media, and Eldora's efforts around retail always stand out.
The mountain offers a broad range of well-done logo wear and gear. More than just your typical t-shirts and pint glasses, Eldora seems to offer everything from embossed leather logo mittens to a wide range of lifestyle clothing, and it's all top notch. The marketing team's commitment to the Eldora brand and retail doesn't end with just quality gear, though—it consistently pushes retail messaging throughout the year, highlighting a good mix of both logo and non-logo wear with strong imagery and a diverse crew of models.
It's easy to support retail when there's a sale going on, but Eldora's efforts aren't just isolated to those events—they are consistent all through  the year. The team even tied in its commitment to supporting the community in February when it donated a portion of every logo item sold to support the Boulder County Wildfire Fund, demonstrating a real ability to build and highlight the Eldora brand through retail.
Most Holistic Marketing
Granite Peak, WI
Matt Gustafson, Marketing Director, Buck Hill, MN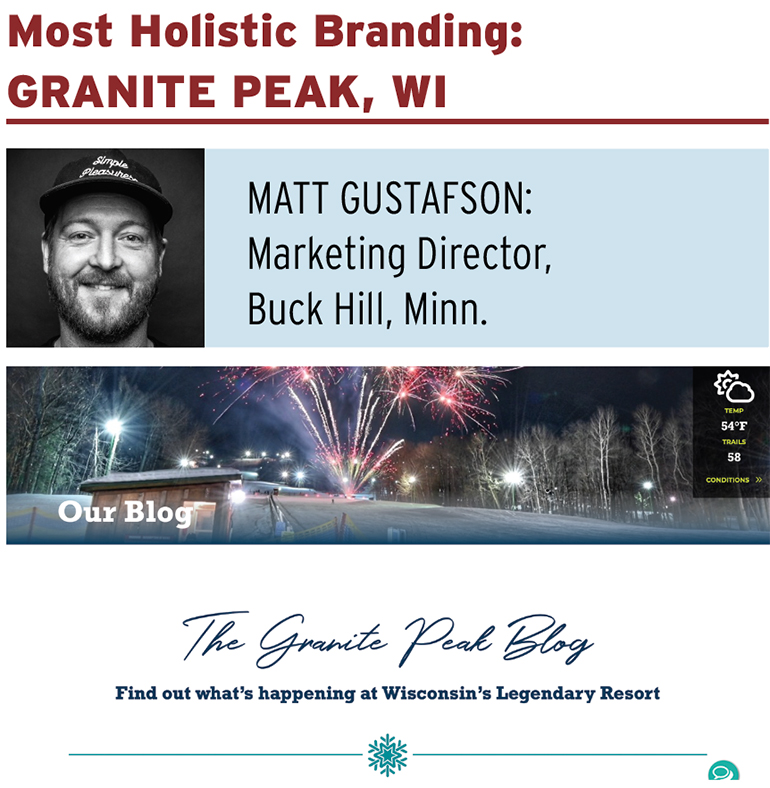 Resort industry social campaigns are like musicians: a lot make noise, but few play in a way that resonates with listeners. Granite Peak is a rock icon amongst others, with mesmerizing tunes of concise messaging, melodic bars of delightful storytelling, and solid riffs of branding that reverberate through its social platforms. Great messaging allows Granite Peak to be a trusted voice and resource for what's happening within the operation. It's easy to see why there are so many Granite Peak brand loyalists; its messaging is clear, consistent, and honest.
Holistic storytelling across all channels, from organic and paid social to landing pages, email campaigns, and blog articles, is done with fine-tuned accuracy. Resort offerings are showcased well without being muddled. Social media stories are constructed in a way that allows followers to be actively engaged in what's happening and not just spectators watching.
One of the things I love the most about following Granite Peak is its branding. The branding is a metronome that ticks to keep a steady pulse. The logos, workmarks, typefaces, and colorways are chords that come together in perfect harmony, and it's a beautiful sound. Every aspect of its branding is a supportive micro solo within a full song. The rhythm builds as future guests are guided through the awareness, consideration, and conversion funnel.
As you sift through the racks of social accounts for inspiration, stop and listen to Granite Peak; its orchestration is unmatched and masterfully played.
Best Mountain Experience Snapshot
Lost Trail, MT
Ciche Pitcher, President, Discovery Ski Area, MT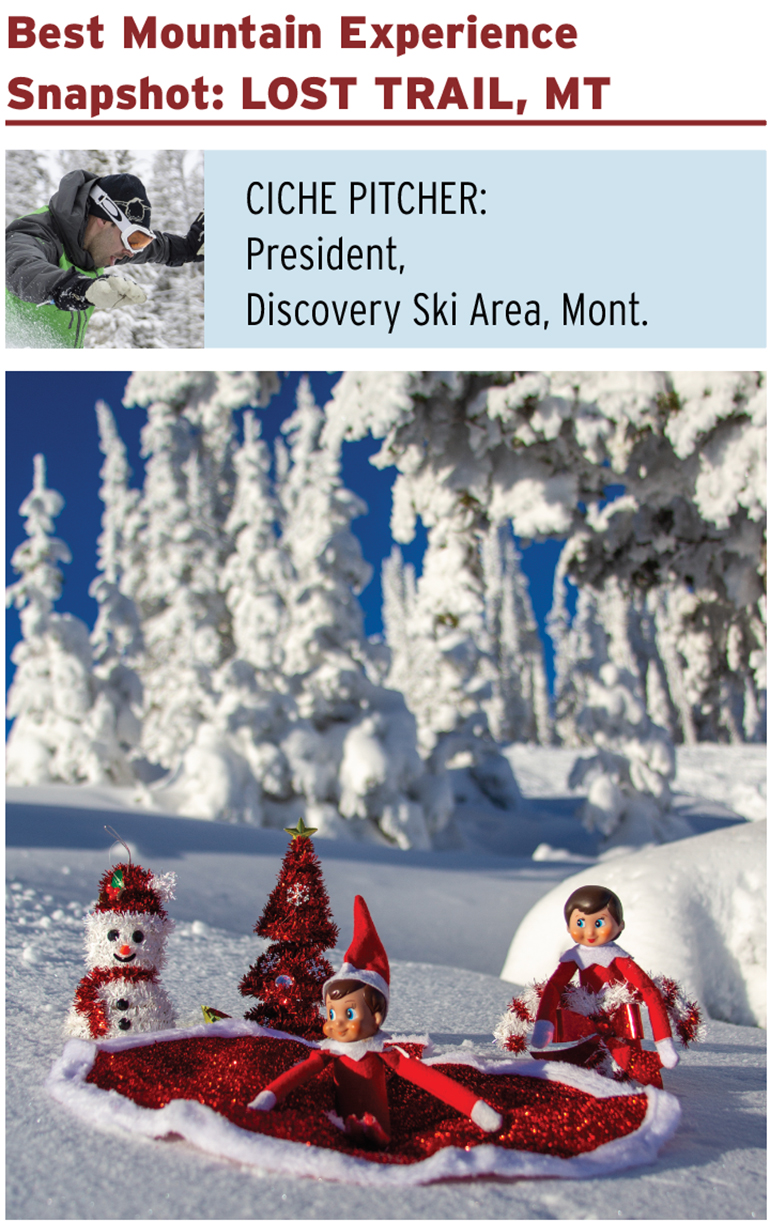 This season, I have been really impressed with the quality and mix of images Lost Trail Ski Area posted on its social media feeds. When it kicked off the season, you could see that the photography was going to be both high quality and fun to keep up with. Throughout the winter, Lost Trail posted a great mix of action shots and videos, scenic photos, and lifestyle pictures. It all gave a great feel of what it was like to be at this gem of a Montana ski area this winter.
My experience has been that it can be difficult to keep your images both high in quality and capture the energy and feel of a day on the mountain. The best pictures can often be too polished, and the most authentic pictures don't have the quality for use in marketing. Lost Trail struck a balance of quality and authenticity this season.
The ski area is legendary in Montana for deep powder days, and since it is closed Monday – Wednesday, skiers travel from all over the state after an early week storm cycle to enjoy "Powder Thursdays" at the mountain. While epic powder shots have been a mainstay of Lost Trail's marketing for years, this season's images were much more than the typical "ski porn" you see on everyone's feeds.
Having grown up in the ski business, I know it can be difficult to convey the energy and fun atmosphere that makes each ski area special and unique. Whether it was pictures of sunrise corduroy, lesson programs, or the famous lodge fireplace, Lost Trail's Instagram feed was a great snapshot of life at a Montana ski area.
Best Snow Reporting Series
Seven Springs, PA
Ashley Seier, Marketing Director, Blue Mountain, PA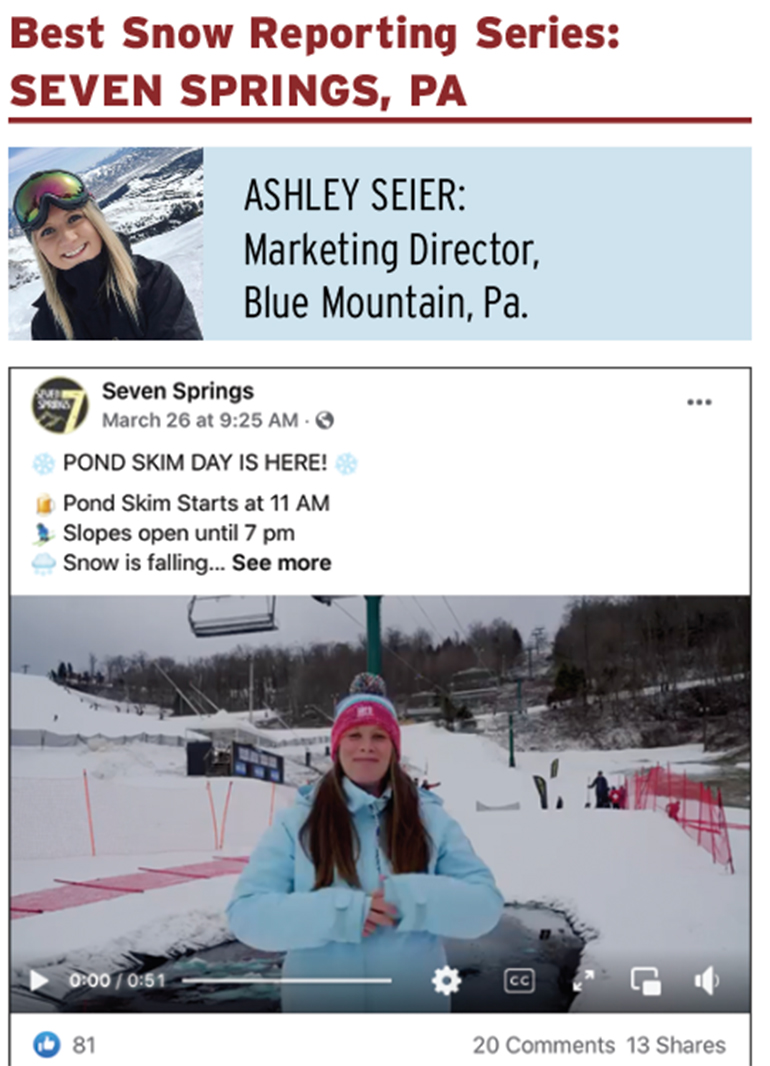 One thing I always preach to my team is the power and importance of social media. Ski season is packed with many moving parts, and ever-changing weather affects operations. As resort marketers, it is our job to wrangle the moving parts and clearly communicate to our guests. I think the most powerful way we can do this is through a daily social media snapshot that highlights conditions, mountain happenings, and open amenities. Seven Springs in Pennsylvania does an amazing job at this.
If you follow Seven Springs on social media, you're familiar with its daily snow report videos, starring social media manager Abbey Way. Even if you don't follow along, you're likely familiar with the snow report video with a skier struggling down the steps in the background that went viral this season. Halley O'Brien featured the video in a "Real or Fake" segment on "The Snow Report" show. It was a brilliant use of a marketing "blooper."

Each Seven Springs snow report video is filmed on snow and includes a snapshot of the daily conditions report and mountain happenings, with captivating b-roll overlaps. Abbey's fun and well-spoken narrative keeps you watching and coming back for more, as evidenced by some daily videos having more than 7,000 views. Kudos to the Seven Springs team!
Best Change for the People
Solitude, UT
Brandon Ott, Director of Marketing, Alta, UT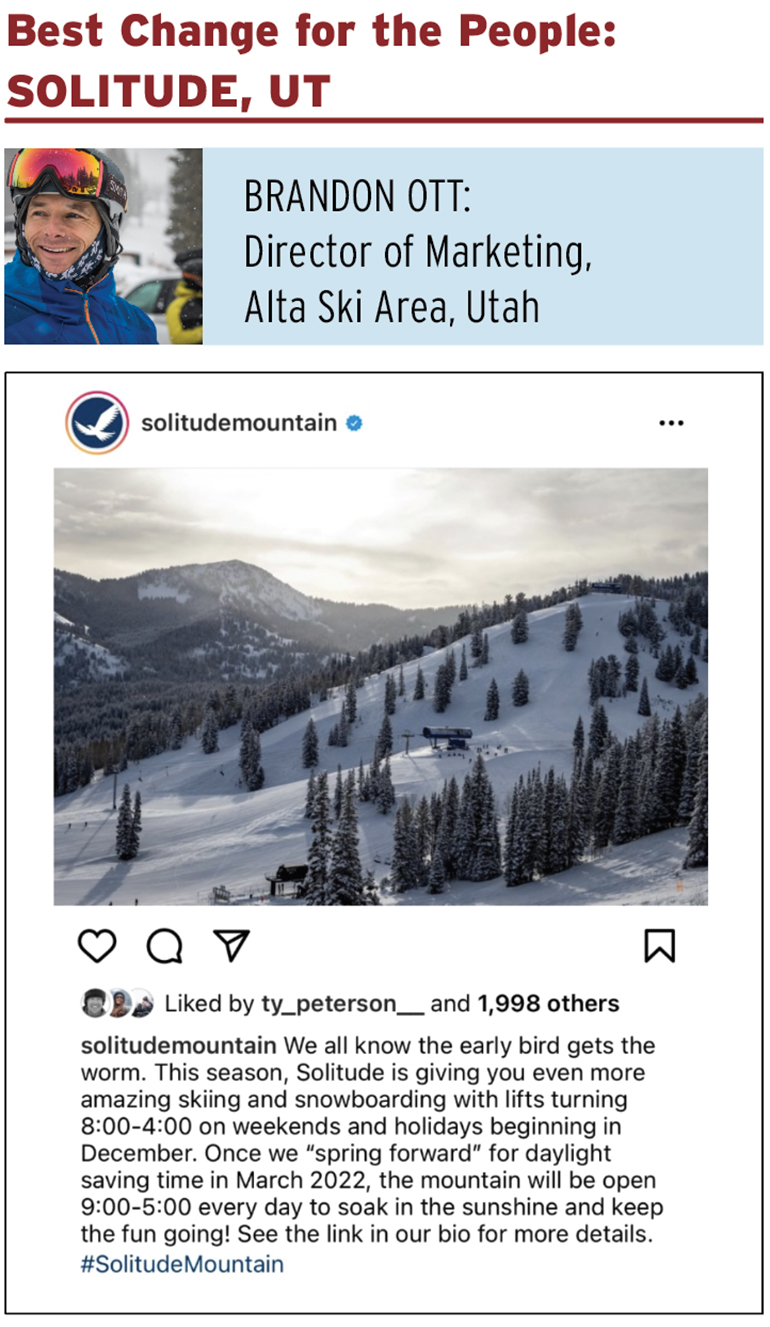 While the U.S. Senate pushes for permanent daylight savings time, I applaud Solitude Mountain Resort's light bulb moment this season to redefine its mountain hours around the seasonal time change. Normally, on weekends and holidays, Solitude's lifts turned 9 a.m. – 4 p.m. Once we "sprung forward," lift hours were changed to 8 a.m. – 5 p.m. on weekends and holidays. Not only did the change provide more time on the mountain, but it also staggered drive times from neighbor Brighton, which opens each morning at 9 a.m.
I would imagine that this change was not easy on Solitude's operations team, as staffing challenges remain a constant for most resorts, but the most important thing is that Solitude made a bold change and did well by its skiers in giving them more time on the mountain.
Being unafraid to make a significant operational change that improves the guest experience ultimately created marketing value for the ski area, as Solitude's skiers applauded the gift of extra time across their own social channels. With the extended mountain hours, I'll continue to keep a watchful eye on social media, as Solitude skiers and riders are happily posting more sunrise and sunset photos than ever before.
Most Likeable Brand Character
Brighton, UT
Sarah Sherman, Communications Manager, Snowbird, UT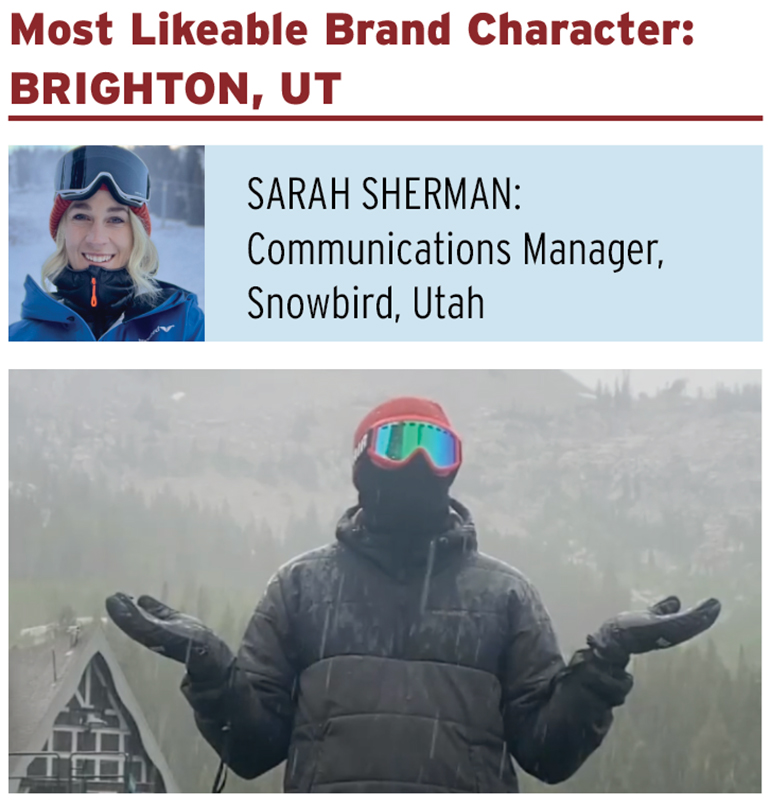 If there's one thing we've learned from Progressive's ever-so-helpful Flo, or Frosted Flakes' Tony the Tiger, it's that a brand character can capture and engage an audience in a relatable way. This season, were you to scroll through the feed of Brighton's Instagram, you might notice a subtle reoccurring figure—one that I've dubbed the "Brighton Guy."
The Brighton Guy first made his appearance on Brighton's page on June 24, 2021. It was summertime and the Wasatch was receiving some much-needed rain. The Brighton Guy simply stood center frame in a beanie, goggles, balaclava, and a puffy anorak, taking in the rain. Since then, he's appeared in rain, and more often snowfall, waving, diving through snow, posing with cars, and more. The community loves it and Brighton has capitalized on it.
While many resorts try to avoid a singular figure being overly associated with their brand, Brighton has successfully created a character that is more of a mascot—fun, captivating, slightly anonymous, and able to communicate important messaging to its guests. Whenever I see the Brighton Guy pop up in my feed I wonder, "What is he doing this time?" and, "Wow, that guy is dedicated to the cause."
The Brighton Guy isn't a flashy campaign, probably doesn't produce much in terms of visitation, and is likely stressful to try and keep fresh. But he also stands out, which is definitely worth something nowadays. We've seen him roll out of a snowbank covered in powder from head to toe, running toward a lift and falling on his face, talking about expected excitement for the next morning's turns, soaking in a hot tub (fully geared up), celebrating new snowfall as all skiers and riders wish they could, and writing on a whiteboard to reveal Brighton's scheduled closing date for the 2021-22 season. Each time, bringing a smile to my face.
Props to Brighton for running with this one all season long, keeping it original and fun, and embracing the weird.