APRÈS-SKI MAGAZINE
SKI magazine has been a part of my passion—like most skiers—for as long as I can remember. So beloved is the experience of deep diving into every issue, it can almost feel religious. It was so powerful a draw, I set a goal as a child to write for the magazine—and I have, since 1999. 
SAM even has deep ties to the magazine. David Rowan started as an editor at SKI in 1949, before founding SAM in 1962. He later returned to SKI as associate publisher for a decade, while continuing to publish SAM. 
Reading it, in part, led longtime resort PR guru Bonnie MacPherson to abandon her job as a designer in Boston, move north, and embrace a new career. Once she joined the ski world—first as a PR lead at Bretton Woods, N.H.—SKI took on another dimension: the gold standard score for a resort PR pro.
"Getting mentioned in SKI was always a big deal, and scoring a feature made me look like a superhero," she said. "And, of course, placing well in the Top 50 every year gave my resort bragging rights that we promoted extensively."
Steve Cohen, who served in various editorial roles at SKI for more than 30 years, saw that power. "SKI and Skiing and Powder, we were the gatekeepers," he said. "If you wanted the public to know about your resort, you had better have a presence there."
"There was something about it coming to your home," he added. "There's something warm about holding pieces of paper with stories about what you care about."
Boyne Resorts CMO Nick Lambert also reflects on SKI's print legacy. "To me, SKI represented the industry's best overall communications platform for key areas like resorts, gear, and culture, and it was able to share this content in an authentic, longer-format way," he said.
Which may be part of the sadness behind SKI's not-so-shocking announcement in May: It'll scale back to one print issue a year (for now) and focus on building a hearty online presence instead.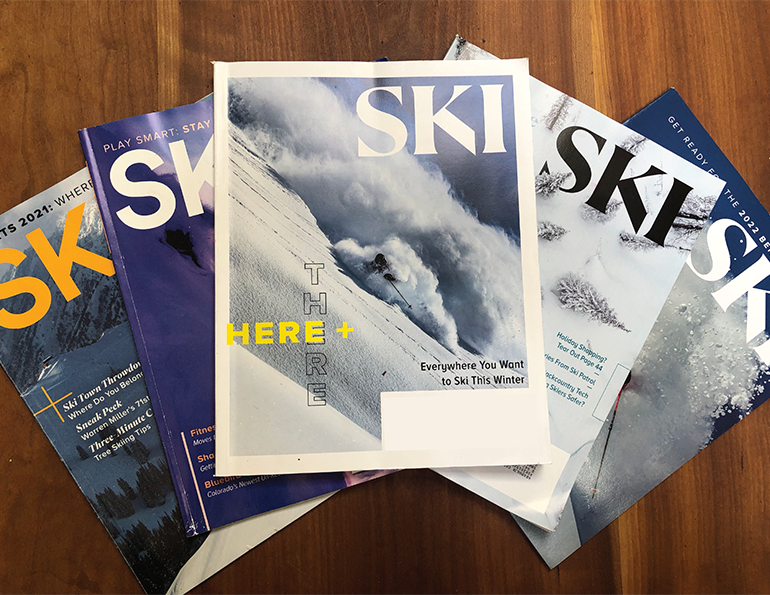 What's Next?
It's important to note: SKI is far from dead. How it will feel remains to be seen, but one thing is for sure: Most in the industry want it here and want it strong.
The question is: Can a mostly online resource bring the detail—from the equipment testing and the lesson tips to the captivating features, and especially the "put you right there" visuals that made SKI?
It must now do what those deep in the resort industry say has not happened yet: find a way to share that same sense of community, passion, and feeling of "publication of record" without using print.
"I'm not a Luddite when it comes to technology, but I do prefer a printed book over a tablet or device," MacPherson said. "And I'll admit I have a deep-seeded infatuation with high-quality printed material. It's a guilty pleasure—an indulgence in dreaming of the things I could have, the places I could go, and mountains I could ski."
Lambert predicts the shift to online will be a challenge because no other outlet has yet cracked that code. "To date, nobody has successfully built a comprehensive and successful online resource around skiing," he said. "There have been several niche sites, but no broad-based portal for the sport."
Cohen has hope. He points to the ability for online sites to be both fluid and deft in what they share and when. But the challenge could be in monetizing it. "What gave SKI their muscle was their printing press and mailing list," Cohen said. In its heyday, SKI listed more than 450,000 subscribers.
For me, I'm hoping for a new era of ski communication—one as magical, effective, and yes, profitable as SKI was before. And I hope whatever the new iteration of SKI looks like, it brings all the feels. 
WHO'S AT FAULT HERE?
The liability release armor that protects ski areas against lawsuit and loss isn't bulletproof, as evidenced by the recent decision against Mt. Hood Skibowl, Ore. A Multnomah County jury awarded $11.4 million to the plaintiff who said he collided with a 4-by-4 wooden signpost on a Skibowl bike trail and was left paralyzed from the waist down—his lawyers argued that the ski area should have had collapsible markers at the trail crossing. 
Skibowl, which suspended its mountain biking operations indefinitely in May, called the verdict "unprecedented," adding that, "Liability releases in Oregon currently offer recreation providers with practically little to no protection, and they are less effective than they are in neighboring states and others across the country, which allow for the use of liability waivers in recreational contexts." 
To better understand the liability release situation, SAM reached out to ASDA attorney Brian Johnson of Minnesota firm Nilan Johnson Lewis. 
SAM: Is release loss in law a trend? 
Johnson: I am not sure I would call it a trend, but releases are under attack. For example, the Oregon Supreme Court struck down releases as being against public policy some years ago. New York does not recognize releases. Other states eschewing releases include Vermont, Montana, and Virginia. 
The Minnesota Supreme Court is currently deciding a case on the issues of whether 1) releases signed by a parent for his or her minor child should be outlawed, and 2) whether all releases, even those signed by adults, should be outlawed. We expect a decision in late 2022 or early 2023. 
Why is this happening? Many judges find releases distasteful, and not favored in the law. Judges would prefer to have juries decide cases involving injured skiers and snowboarders rather than have cases thrown out on the "technicality" of a release signed before the accident even occurred. That is definitely the trend in my state of Minnesota.  
SAM: How can ski areas protect themselves? 
Johnson: Ski areas should have their patrons sign a document called an "Express Assumption of Risk." Express assumption of risk means that the inherent risks of the sport are put in writing, and signed by the patron, and/or on tickets, websites, signage. 
The express assumption of risk legal doctrine recognizes that certain recreational activities have inherent risks that cannot be prevented. For skiing and riding, these include changing weather conditions, uneven terrain, collisions with fixed objects or other skiers, etc. A skier who is injured by encountering an inherent risk of skiing cannot prevail against the ski area in those states that recognize the defense of assumption of risk. 
Most courts are more accepting of the defense of express assumption of risk because the skiers are advised as to what risks they are going to encounter, and those risks are clearly understood by skiers and riders. 
SAM: What about a bifurcated release? What is it and how does it offer ski areas protection?
Johnson: A bifurcated release allows the patron to pay extra money in order to not sign a release. So, a patron may choose to pay an extra $20 on a day pass to not sign the ski area release of liability, or an extra $100 to not sign a season pass release of liability.
The legal advantage? In all lawsuits involving a release of liability, the judge will examine whether or not the patron had bargaining power against the ski area when signing the release. That bargaining power issue can be an important element of state law to determine the validity of any given release. With a bifurcated release, the ski area can argue that the patron had bargaining power because the patron could have paid the small extra amount to not sign the release. Courts have found that the bifurcated release gives the patron bargaining power with the ski area, thereby upholding the release.
For ski areas in Minnesota and Wisconsin that use bifurcated releases, I can safely say 99 percent of patrons will not pay the extra money to avoid signing a release. The ski areas are losing nothing by offering bifurcated releases, and instead reap great benefits in the courts.
SAM is planning a broader look at this topic in a future issue.  
SUPPLIER NEWS
The TECHNOALPIN TT10 fan gun won a 2022 iF Gold Design Award, presented at the annual iF Design Awards event in Berlin on May 16. 
HKD SNOWMAKERS welcomed Caiden Shea to the iSno team as an automation technician in June. Shea will focus on the customer experience for the iSno products, which include pumphouse controls and automation, HKD Tracker, and HKD KLiK automation.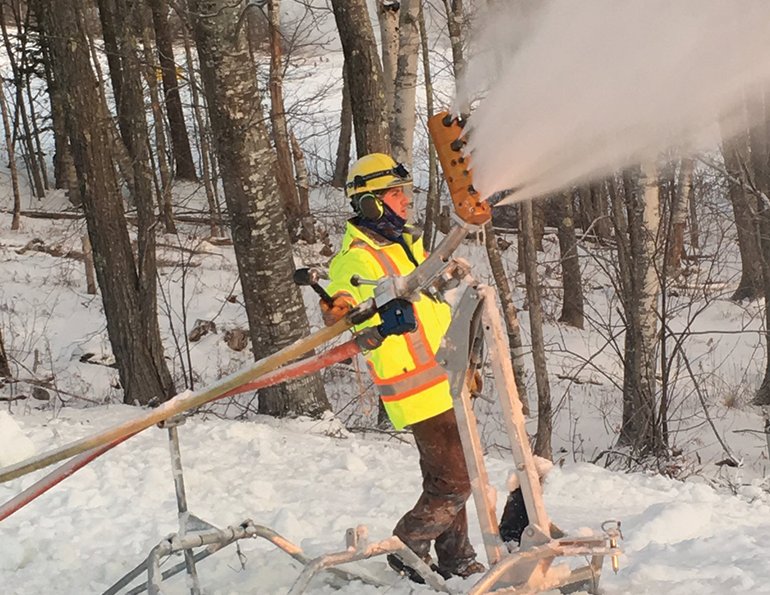 Caiden Shea
Aspen Ski Co. and Alterra Mountain Company acquired e-commerce provider ASPENWARE through a joint venture in May. Aspenware will remain a standalone business.
Architecture firm BULL STOCKWELL ALLEN and resort planning firm SE GROUP were part of the team that won the "Best of Event Space" category at the 18th annual Hospitality Design Awards for their role in planning, designing, and building the Rosebrook Lodge at Bretton Woods Ski Area at the Omni Mount Washington Resort, N.H. 
PEOPLE
 In the East, JJ Toland is now VP of sales and marketing at Sugarbush, Vt. … Bolton Valley, Vt., named Nathaniel Mathes as its new VP and COO. … Andy Shepard stepped down as general manager of Saddleback, Maine, to a new role focused on the mountain's philanthropic mission. … Ragged Mountain, N.H., promoted John Morrison from facility manager to director of mountain operations. 
In the Midwest, Tony Santora was named GM of Hidden Valley, Mo.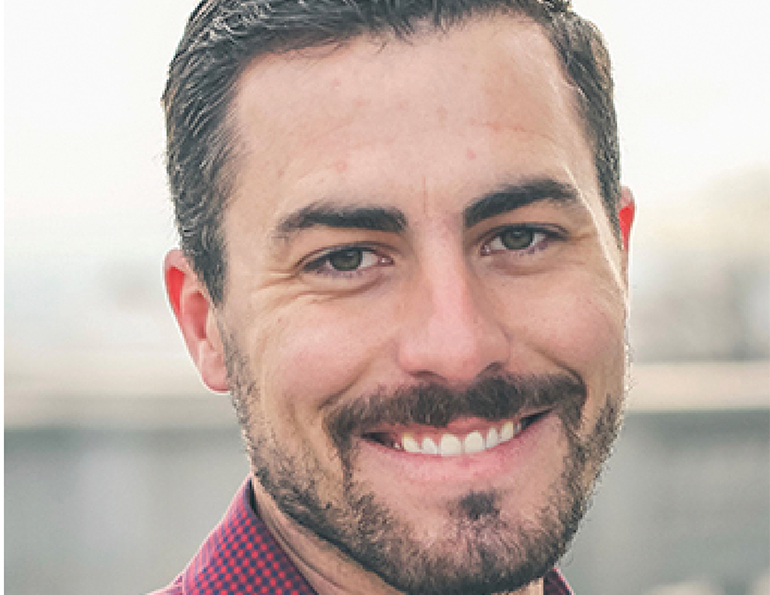 TONY Santora
In the West, John Vermaas retired after more than 30 years at Mt. Hood Skibowl, Ore. 
Alterra Mountain Company president Jared Smith will succeed Rusty Gregory as the company's CEO, effective Aug. 1. Gregory will become vice chairman of the board of directors.
At Vail Resorts: Mike Goar was named as VP, COO, and managing director of Andermatt-Sedrun, Switzerland; Deirdra Walsh succeeded Goar as VP and COO of Park City Mountain, Utah; Tom Fortune was promoted to VP and COO of Heavenly and Vail Resorts' Tahoe Region; and Ellen Galbraith assumed the role of VP and GM for Stevens Pass, Wash.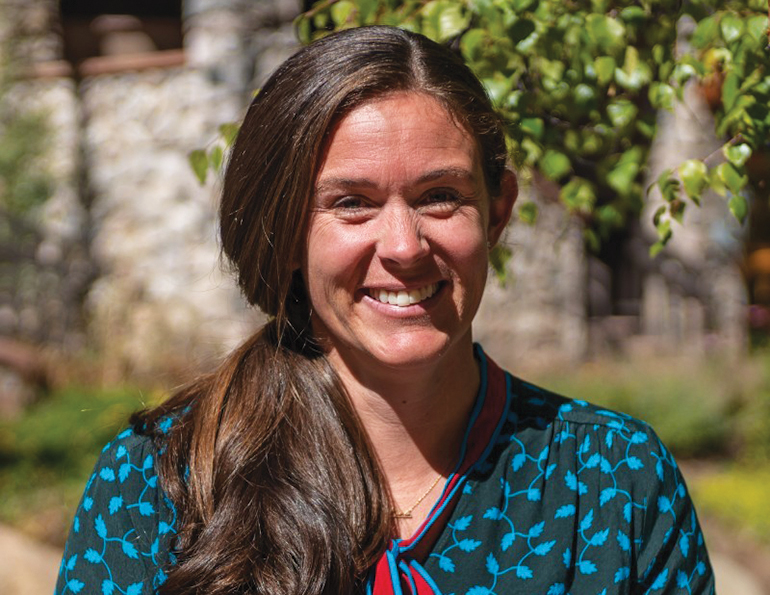 Ellen Galbraith
Courtney Harkins is the new director of marketing and communications for the U.S. Ski & Snowboard Team. … PSIA-AASI created a new partnership and sales team: Samuel Sleger is the new director of partnerships and sales; Max Felix is now merchandise manager and sponsorship specialist; and CJ Lambrecht is the e-commerce and product sales supervisor. 
AWARDS
NSAA named its annual award winners at the association's national convention in May. Among them: Win Smith was honored with a Lifetime Achievement Award; Rob Katz received the Industry Impact Award; Snowbasin, Utah, won the Conversion Cup; Alta Ski Area, Utah, won the Golden Eagle Award for Environmental Excellence; and Jay Peak, Vt., won Best Overall Marketing Campaign. 2022 SAM "10 Under 30" Kaitlyn Schwalbe from Snowbasin was named as Safety Champion.
Ski New Hampshire recognized several of its members at its June 7 conference and trade show. Among them: Rick Kelley received the H.H. "Bill" Whitney Award; Marty Hall received the Al Merrill Award; and Ian Cullison was recognized with the Next Gen Award.
The Quebec Ski Areas Association  presented its Awards of Excellence at its annual conference in June: Claims adjuster Eddy Zajac was awarded the Real-Boulanger Prize; Station du Mont Gleason was recognized as the Best Covid-19 Team; Ski Garceau and Ski Saint-Bruno were recognized for risk management excellence; Mont-Orford was recognized for its environmental and sustainable development; and Stéphanie Grenier, Ski Saint-Bruno marketing director, and Marc-André Meunier, Bromont marketing director, received the Young Managers award.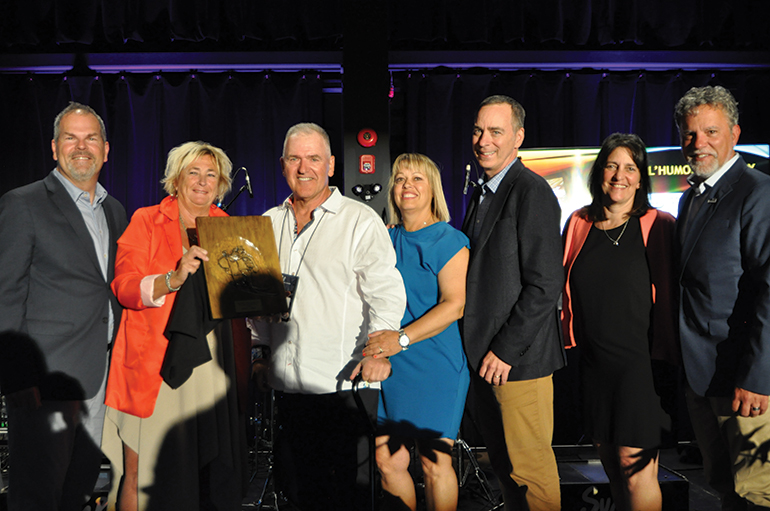 Eddy Zajac (in white)
Colorado Ski Country USA Double Diamond Award winners include: Trish Sullivan, President's Award; Kannon Thompson, Groomer of the Year; and Patrick Cooke, Snowmaker of the Year.
Ski Vermont's Industry Achievement Awards went to Barbara Ann Cochran, Olympic Gold Medalist and longtime ski school director at Cochran's Ski Area; and Diane Whatley, Stratton Mountain Resort's director of marketing and sales.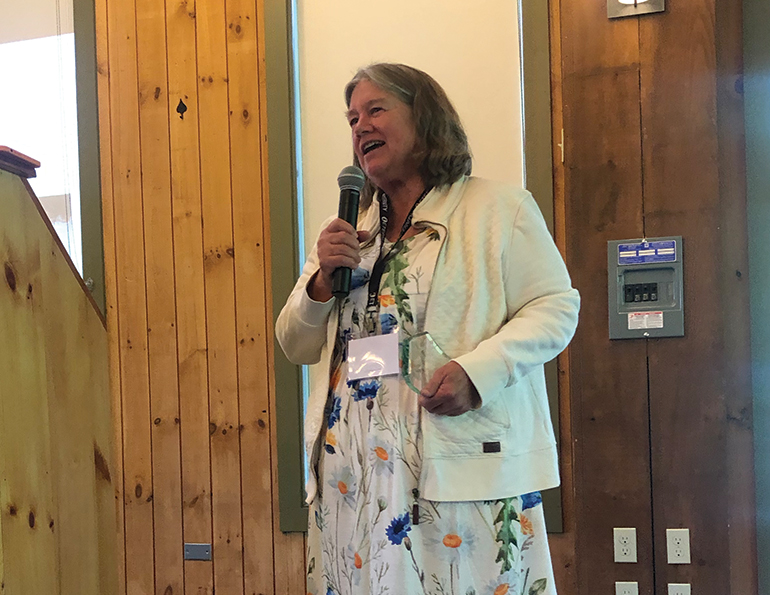 Barbara Ann Cochran
Canada West Ski Areas Association honored Lawrence Blouin with the Jimmie Spencer Lifetime Achievement Award, and Debbie Muirhead received the Jim Marshall Leadership Award, among many other honorees.
Ski California recognized chairlift hobbyist Kirk Doering and Snow Valley VP of operations Rick Redin with lifetime achievement awards, among other award winners, at its Lift Maintenance and Operations Education conference. 
As part of the North American Snowsports Journalists Association annual awards, Brian Fairbank of The Fairbank Group received the Carson White Snowsports Achievement Award; Dan Egan was honored with the Harold S. Hirsch Award for the best stand-alone story; Kim Jackson, director of communications for Vermont Adaptive, received the Bob Gillen Memorial Award; Eric Wilbur won the Mitch Kaplan Award. 
OBITUARIES
Erik Tlatelpa, chief financial officer for SNOW Partners, died in his home on June 3, 2022, after a two-year battle with pancreatic cancer. He was 41 years old. Tlatelpa had a background in the global financial services industry, and was with the SIX Group in Stamford, Conn., before joining SNOW Partners in 2021. He is survived by his wife and two sons.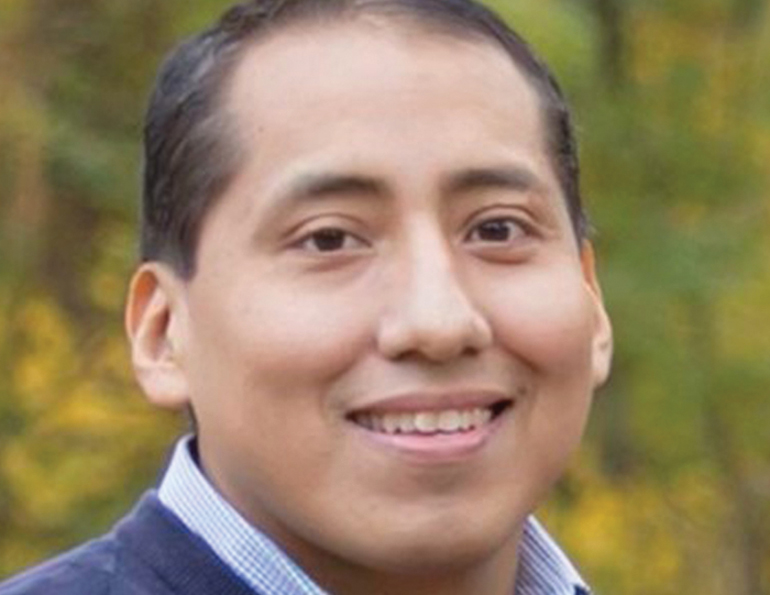 Erik Tlatelpa
"I have known Erik since childhood, and he was one of my closest friends. It was an honor to mix his vast business experience with our company's needs, but more so, it was amazing to see the instant human connection—our most important purpose. I wish he had more time to share his joy for life with each of you," said SNOW Partners CEO Joe Hession.