PNSAA Mountain Works Conference, Bend, Ore., April 26-28, 2022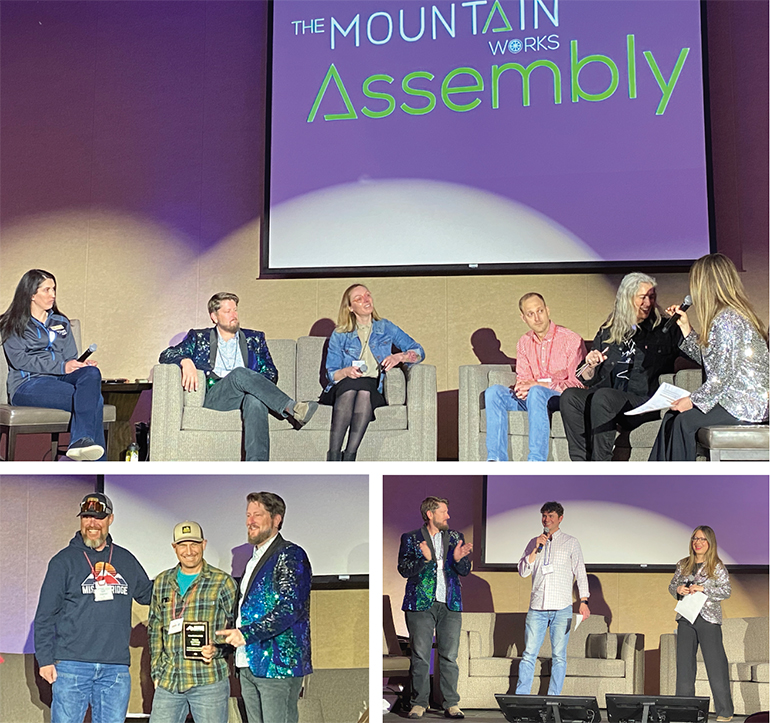 At the new full-day Pacific Northwest Ski Areas Association (PNSAA) Mountain Works Assembly. Top: Adrienne Saia Isaac, NSAA; Jordan Elliott, PNSAA; climate scientist Dr. Sarah Myhre; climatologist Nick Siler; Gwyn Howat, Mt. Baker; Shanan Kelley, emcee. Bottom left: Mission Ridge's Brad Whiting receives the Tower of Excellence from Mission Ridge GM Josh Jorgensen (left) and PNSAA's Jordan Elliott. Bottom right: SAM's Dave Meeker with Jordan Elliott and emcee Shanan Kelley.
Mountain Planet, Grenoble, France, April 26-28, 2022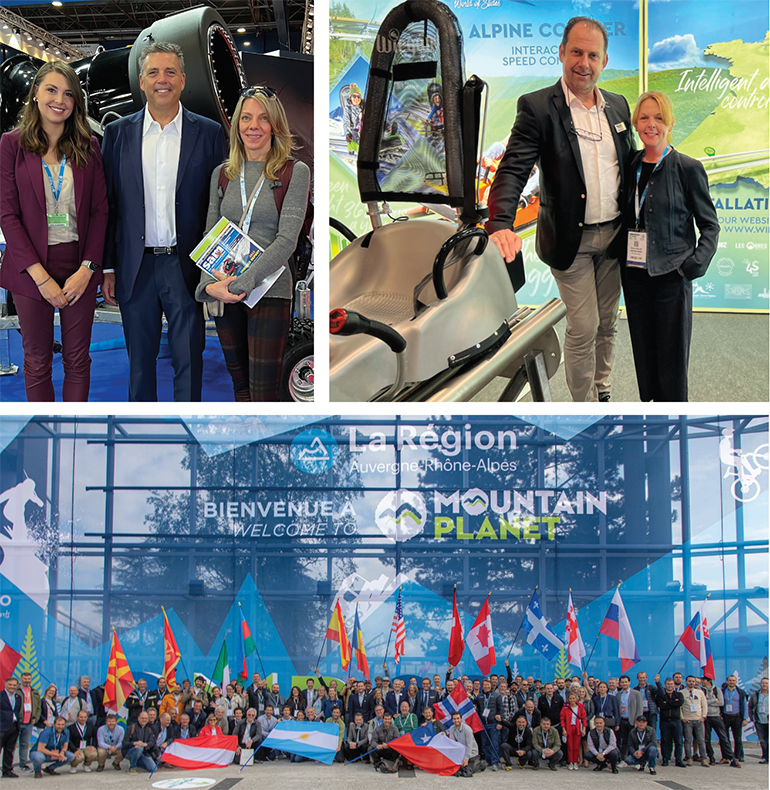 Top left: Father-daughter duo of Brooke VanderKelen Alba and Joe VanderKelen from SMI Snow Makers at the Mountain Planet Expo with SAM's Olivia Rowan. Top right: Juergen Ruschke, chief executive officer of Wiegand Sports GmbH, with SAM's Sharon Walsh catching up on the trade show floor. Bottom: 200 operators representing 27 countries and 32 nationalities gathered in the French Alps for the event, hosted by Cluster Montagne.
NSAA National Convention, Nashville, Tenn., May 11-15, 2022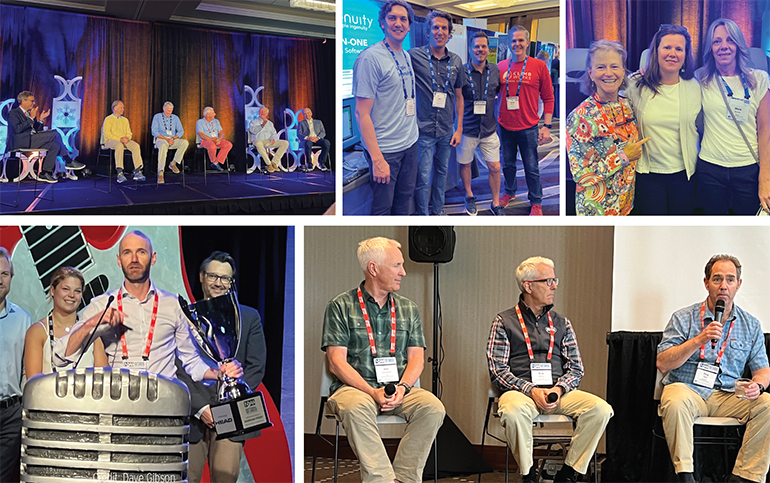 The National Ski Areas Association (NSAA) National Convention and Trade Show returned to gathering in-person for the first time since 2019. Top left: (L to R) Moderator, and Boyne Resorts CEO, Stephen Kircher chats with NSAA Lifetime Achievement Award honorees Win Smith, Eric Flynn, Tim Boyd, Bill Jensen, and Tim Silva. Top middle: The teams from CLIMB Works Design and Singenuity at the trade show. Top right: (L to R) Wachusett's Carolyn Stimpson with Amber Broadaway of Solitude and SAM publisher Olivia Rowan. Bottom left: Snowbasin took home the coveted Conversion Cup at the NSAA awards show. Bottom right: (L to R) Alan Henceroth of Arapahoe Basin, Brad Wilson of Bogus Basin, and Greg Pack of Mt. Hood Meadows discuss capacity management in a session moderated by SE Group's Claire Humber and Kent Sharp.
SAMMY Leadership Awards, Nashville, Tenn., May 12, 2022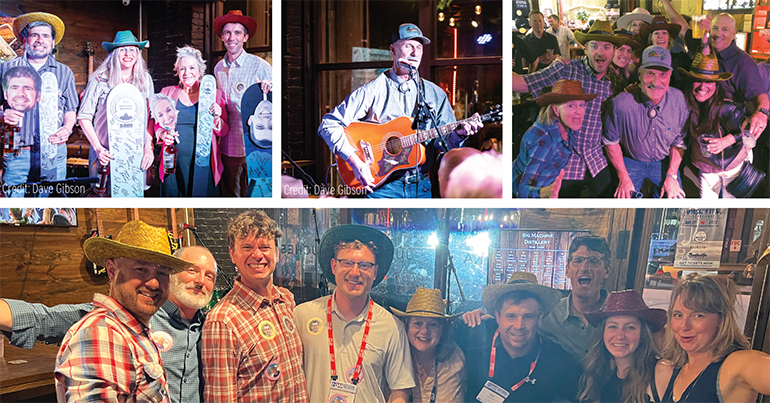 The SAMMY class of 2022, above left: Kevin Somes, Snow Valley; Constance Beverley, Share Winter; Katie Boedecker, Showdown Montana; and Gregg Blanchard, Slopefillers and Inntopia. Top middle: Sierra-at-Tahoe's John Rice serenades the crowd with Bruce Springsteen's "I'm on Fire." Top right: (L to R) Carolyn Stimpson, Wachusett; Matt "Gunny" Gunnarson, POWDR; John Rice; Jody Churich, Breckenridge; Bill Rock, Vail Resorts; and other party goers. Shutting down the dance floor, left: Greg Fisher, Granite Peak; Ryan Lavoie, MountainGuard; SAM editor Dave Meeker; SAM Summit Series mentee Benjamin Bartz; Amy Reents, MSAA; Rick Schmitz, Nordic Mountain; Mike Kaplan, Aspen SkiCo; SAM editors Katie Brinton and Sarah Wojcik.
Cutter's Camp, Timberline, Mt. Hood, Ore., May 16-20, 2022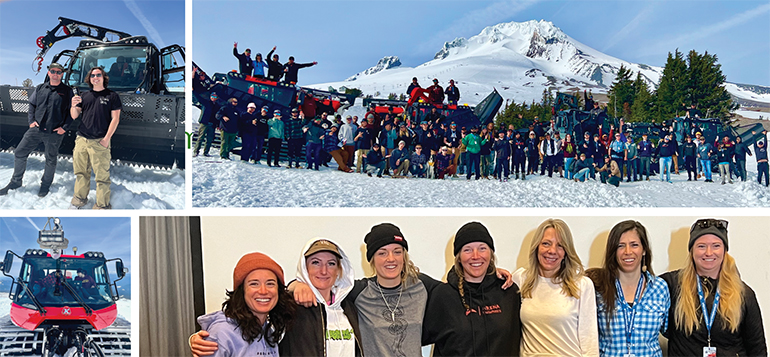 Clockwise starting above left: On-hill coach Charles Beckinsale and camper Luke Boutin from McIntyre Ski Area step out of a Prinoth Bison X Winch cat; the whole 2022 Cutter's Camp crew in front of the iconic Mt. Hood at Timberline Lodge; camp began with an all-female panel of (L to R) Mary Walsh of Snowboard magazine, pro snowboarder Laura Rogowski, Chloe Butel and Abigail Lewis of Timberline Lodge, Olivia Rowan of SAM, Angela Staup of SheJumps, and Harmonee Johnson of Mammoth Unbound; Landon Taylor (left) offers tips for how to operate a new PistenBully winch cat to camper Brenden Poot.
Ski NH, Waterville Valley, N.H., June 7, 2022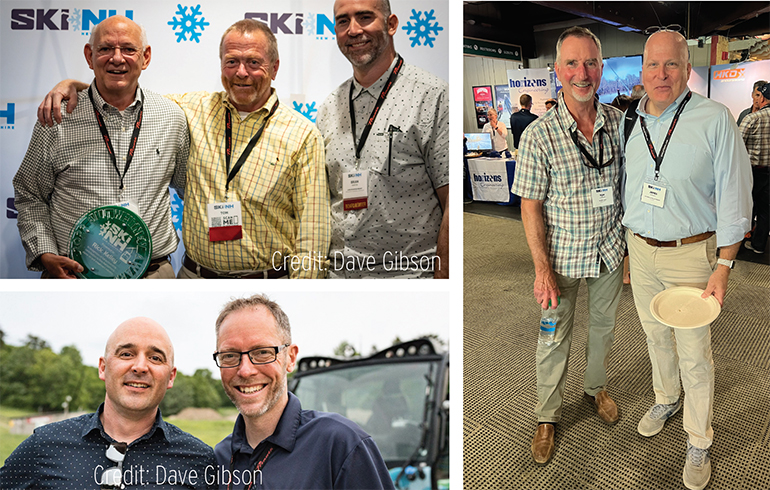 At the Ski NH Annual Conference, clockwise from left: Jay Scambio of Boyne Resorts (left) and Waterville GM Tim Smith; Rick Kelley (left) receives the H.H. "Bill" Whitney Award from Gunstock's Tom Day and Loon's Brian Norton; Tom Lithgow, Resort Logic (left), and Waterville Valley owner James Sununu.
Ski Vermont, Sugarbush, Vt., June 8-9, 2022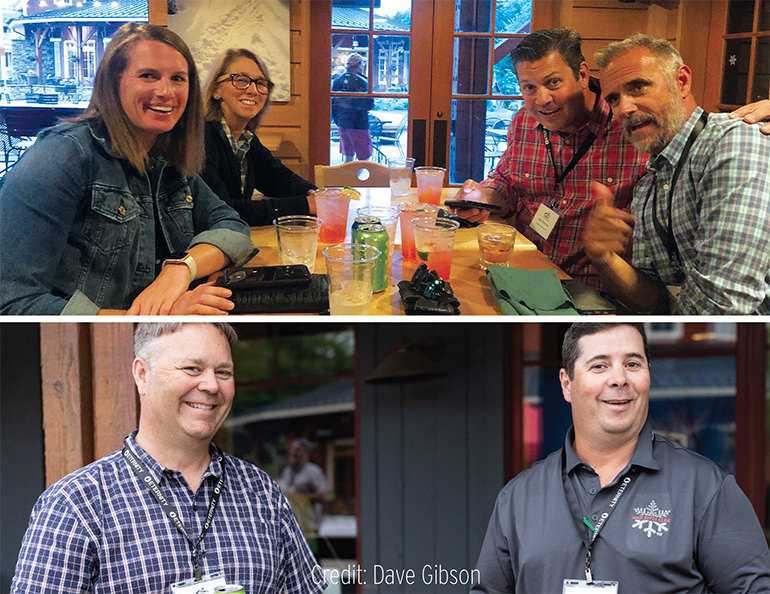 At the Ski Vermont Annual Meeting. Left: (L to R) Amy Laramie, Killington; Kelly Pawlak, NSAA; Matt Kinsman, Killington; and Steve Wright, Jay Peak, gather for cocktails. Above: Sugarbush GM John Hammond chats with Mad River Glen GM Matt Lillard.