When it comes to activities at-height, ski areas have widely adopted zip lines and ropes courses as key components of their summer business. While high-adrenaline, high-challenge treetop activities certainly have a market, as the pool of outdoor participants continues to grow and diversify, the need for inclusive attractions grows with it. 
The canopy walk and its relatives the suspension bridge, the observation tower, and even the viewing platform, are less ubiquitous on the summer ops scene, but they offer design possibilities that cater to a wider variety of participants. Open access bridges and walkways put users at height without lifeline equipment or age/height/weight restrictions, and ADA-compliant segments can extend the experience to wheelchair and stroller users. 
Ski resorts, with their existing infrastructure and natural terrain variations, are ripe locations for such activities. Building with accessibility in mind—particularly ADA accessibility—has associated costs, but the end product offers a shareable, sellable mountaintop or treetop experience with the broadest user-base—and often multi-season applications.
Here's a look at several recent and in-progress projects inside and outside of the ski industry that aim to provide a little something for everybody.
SkyBridge Michigan
(Experiential Resources)
Boyne Mountain, Boyne Falls, Mich.
As part of its "Renaissance 2.0" capital investment, Boyne Mountain is building SkyBridge Michigan, dubbed "the world's longest timber-towered suspension bridge." The 1,200-foot-long pedestrian bridge, slated to open September 2022, will link the McLouth and Disciples Ridge peaks. 
"While it's the first of its kind, designers and engineers wanted to ensure the experience was not only memorable but highly accessible," says Boyne Mountain general manager Jason Perl. To that end, the bridge is accessed via chairlift from the resort base area and is about 500 feet on paved, flat walkway from the top terminal. Accommodations will also be made to drive guests who are unable to ride the lift to the SkyBridge, says Perl.
The bridge, which starts at ground level and puts visitors 118 feet in the air as the terrain drops away below, will allow for two-way travel between the peaks. Two 27,000-pound, 3-inch diameter, galvanized-steel cables suspend the five-foot-wide, steel-framed, pultruded grating deck walking surface, with handrails along the length of it. In the middle of the bridge, at its highest point, the deck is replaced with 36 feet of glass walkway for views below.
The suspended walking surface connects to two 52-foot-tall timber-frame towers made of treated engineered lumber (glulams) with 10 in. x 10 in. internal bracing. The design nods to the logging heritage of northern Michigan, and lumber has been sourced by a local partner, Matelski Lumber. A total of 15,000 bolts anchor the towers to concrete footings, which combined used 16,844 cubic yards of concrete.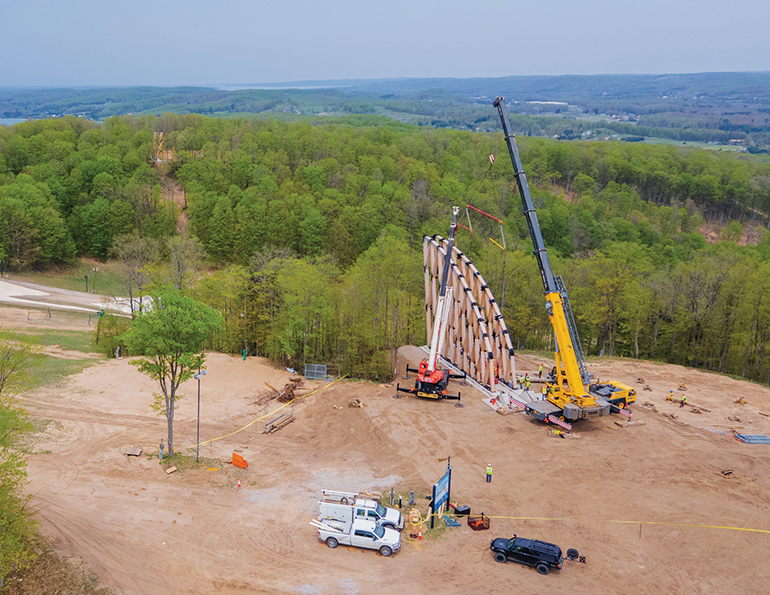 Construction of the distinctive timber towers that will support the suspension bridge.
The project is modelled after Boyne Resorts' Gatlinburg SkyBridge at the Gatlinburg SkyLift Park in Tennessee. Like the Gatlinburg SkyBridge, SkyBridge Michigan has also been designed and is being installed by Experiential Resources (ERi). In addition, the Smith Group is offering design support and doing the hardscapes for the build.
Open year-round, the bridge will offer valley views and light displays. It will also connect to Boyne Mountain's extensive paved resort trail system. In winter, the mountain ops team will shovel the bridge clear of snow. Tickets to access the bridge will include a roundtrip lift ride, and a typical experience, roundtrip from the base area, is estimated to take 45-60 minutes—or as long as guests want to take in the panoramic views, says Perl. 
With access to F&B, retail, and restroom facilities at the site, the bridge was built to appeal to everyone, particularly families. Additionally, says Perl, "While our current guests are sure to enjoy SkyBridge, we anticipate attracting new guests from near and far who may not have otherwise visited a ski resort."
Redwood Sky Walk
(Synergo)
Sequoia Park Zoo, Eureka, Calif.
 The 1,104-foot Redwood Sky Walk, located at the Sequoia Park Zoo, reaches 100 feet above ground at its highest point, with most platforms sitting about 60 feet up in Eureka's old-growth redwood forest. Designed and built by Synergo, in partnership with the zoo and design and management firm Greenway Partners, the project took seven months to complete and opened June 4, 2021.
Much of the Redwood Sky Walk is ADA accessible.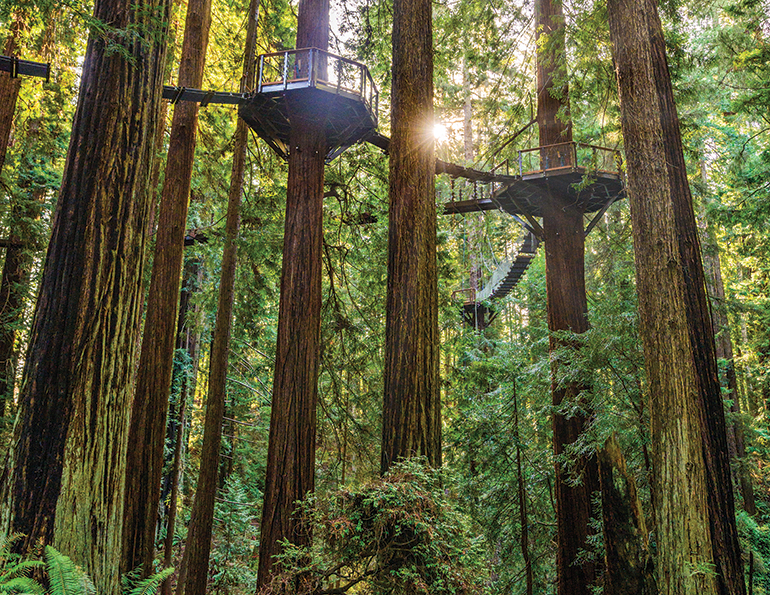 Parts that aren't, i.e., the optional catenary bridges , are open access.
An ascent ramp provides access to the canopy walk. At 383 feet long, the ramp is roughly the length of the tallest known living coastal redwood tree, so walking it becomes a sort of virtual "redwood climb." No actual climbing is involved, though; the ramp, like most of the Sky Walk, is ADA accessible. 
"We wanted to make it as accessible to as many people's abilities as possible, while still providing some challenge and excitement," says Synergo co-owner and CEO Erik Marter. As such, the attraction is entirely open access and belay-free, and Synergo increased elevation slowly to ease participants into the heights.
The structural details: 320 Garnier Limbs support nine viewing platforms, two fixed bridges, four traditional suspension bridges and four catenary suspension bridges. The catenary bridges make up part of an optional "adventure leg," a 369-foot section, 36 inches wide, constructed with open mesh decking. While the catenary bridges are not wheelchair or stroller accessible like the ADA bridges, the open access design still offers visitors of differing ages and mobilities the opportunity to dial up the challenge.
The elevated walkway blends in with the forest as much as possible. The ascent ramp and launch deck are wood structures with concrete foundations and a walking surface made of durable, non-slip Dynaplank. Posts and handrails are redwood, and metal panels are infilled between posts. Fabricated aluminum was used for the bridges and platforms, which have the same Dynaplank surface for walking, with railings made from cable and metal mesh panels.
Access to the Sky Walk is included with zoo admission (adults, $24.95; child 3-12, $12.95).
VINS Forest Canopy Walk
(Weller & Michal Architects, Phoenix Experiential Designs)
Vermont Institute of Natural Science, Quechee, Vt.
When choosing a site for its Forest Canopy Walk, the Vermont Institute of Natural Science (VINS) had two main goals: get everyone into the trees at elevation, and minimize environmental impact.
The natural elevation variations of the land, which slopes toward the Ottauquechee River, allowed the crew to forego structural elements with big footprints, like long access ramps or elevators, and build a canopy walk that remained largely level as the ground dropped away beneath it. "By utilizing the topography, we were able to eliminate a lot of the design challenges that come with building for ADA access," says lead builder Robbie Oates of Phoenix Experiential Design.
The 815-foot-long wood-structured boardwalk quickly puts visitors roughly 50 feet up in the trees. Landings constructed of wood plank decking are connected by semi-transparent fiberglass grate walkways that shed rain and snow. The walk's 42-inch-high wood and mesh guardrails allow views of the woodland "for both young and old, regardless of one's eye-level height," notes VINS programs director Chris Collier.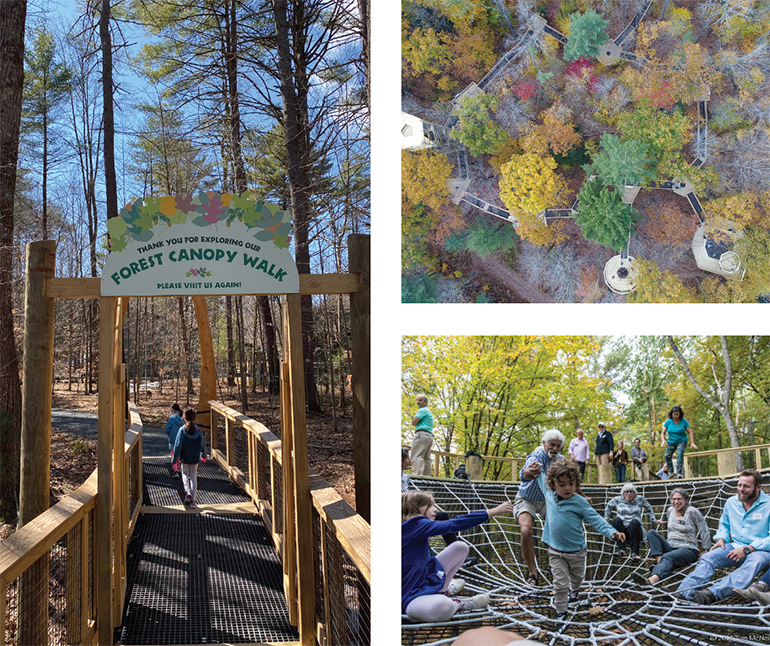 Clockwise from left: The canopy walk starts at ground level, gaining elevation through topography; an aerial shot of the attraction; multiple generations play on the Spider Web.
The design has several other access-conscious touches. Benches offer respite throughout the walk, which visitors take at their own speed. The approach path is constructed of small, crushed stones set in a plastic grate for wheelchair and carriage access. Three feature nodes, while not ADA accessible, are open access. The first is the Spider Web, a 20-foot-diameter, three-layer net suspended 43 feet in the air. Next is the Eagle's Nest, a two-level viewing platform. Third is the Treehouse, an emergent tower with a helical staircase that brings visitors 100 feet above the forest floor.
The Forest Canopy Walk was a collaborative effort. Weller & Michal Architects designed the attraction. Phoenix Experiential Designs led aerial construction with a team of riggers, while local firm Trumbull Nelson Construction supported on the groundwork and Thayer Fellows served as the structural engineer. 
Of course, VINS's investment in the Forest Canopy Walk was made with the nonprofit's long-term financial stability in mind. A benefits study conducted prior to the installation's approval by the board of trustees projected the attraction would result in approximately a 62 percent increase in visitation, according to Collier. 
VINS executive director Charlie Rattigan reports that the expected dramatic uptick in visitation has become a reality. For VINS's fiscal year ending March 31, 2019—the year before the canopy walk opened—visitation was 36,644. For the fiscal year ending March 31, 2022, visitation ballooned to nearly 70,000, an increase of more than 90 percent—and numbers were up for April and May 2022.
"We are quite pleased with the results, as you can imagine," says Rattigan, humbly noting that "the entire VINS experience is contributing to this increase."
The Treetop Walk
Laurentides 
(EAK Treetop Walks Inc.)
Mont-Blanc, Quebec
The new Treetop Walk Laurentides from EAK Treetop Walks Inc., is a massive wheelchair- and stroller-accessible attraction that combines a canopy walk and observation tower. It opens July 2022 in Mont-Blanc, Quebec, just a few minutes' drive from Mont-Tremblant Ski Resort.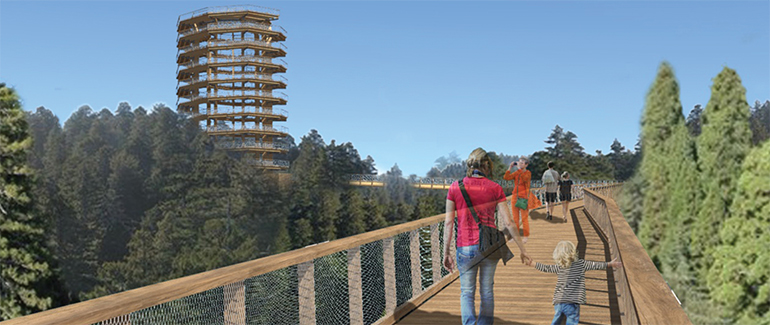 A rendering of the completed attraction.
The walk connects a 2,000-foot-long footbridge, which reaches up to 30 feet above the forest floor, to a 130-foot-tall observation tower with a 2,300-foot-long walkway. A maximum 6 percent gradient throughout makes the entire attraction wheelchair accessible, while handrails with stainless steel mesh eliminate the need for any lifeline equipment.
The observation tower spirals up 12 stories and will offer a 360-degree view of the surrounding Laurentian Mountains. In addition, learning and experience stations with balancing and climbing elements positioned along the attraction will provide education and some low-key thrills for visitors.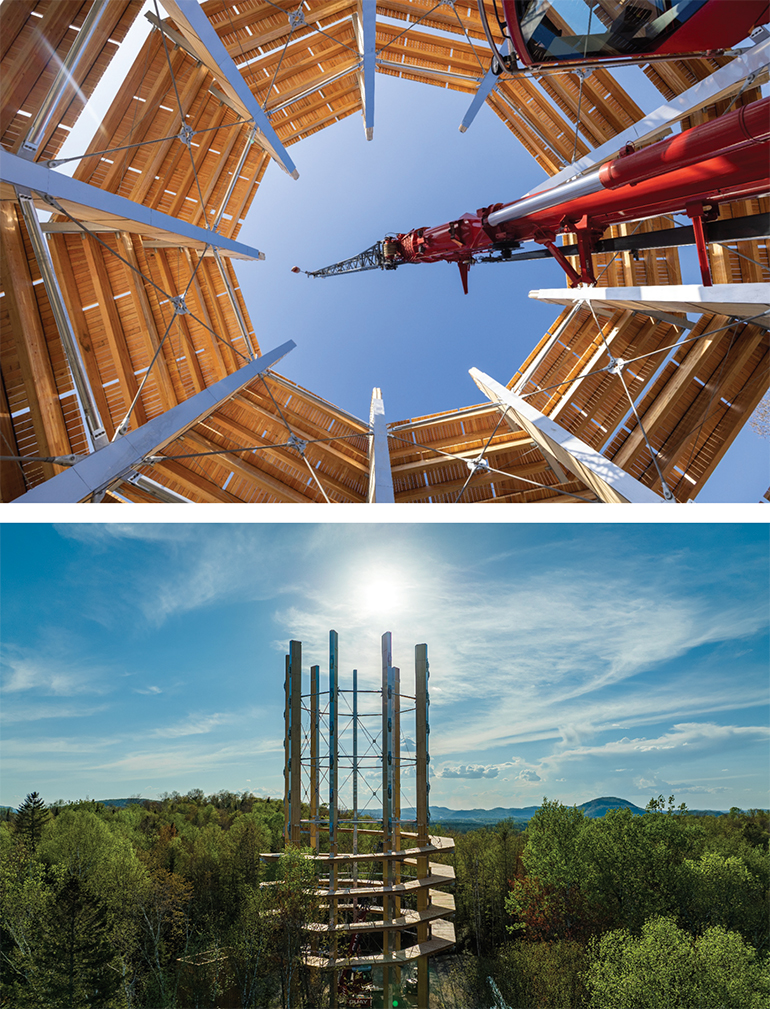 The observation tower's 2,300-foot-long accessible walkway, under construction, climbs 12 stories.
EAK plans to add a multi-story, fully-enclosed slide to the tower in the next two years. The feature can be seen on several of the company's 12 towers already operating in Europe. Currently, the center of the top level is covered with a 750-square-foot walkable mesh panel, which flexes slightly underfoot and offers guests a vertigo-inducing view to the ground 130 feet below. The structure is made of untreated Douglas fir, which will grey with time, allowing it to blend with the surrounding forest.
Of all of the inquires EAK has received about the attraction, says director of communications Kathy Poulin, about 20 percent have come directly from potential customers with disabilities, adaptive program operators, and adaptive tour groups. "People have been waiting for this kind of infrastructure," says Poulin. "We have seen tremendous response from people with disabilities, older people, and people with little children—people who don't traditionally have access to nature."
The site will be open year-round. It will have a welcome center with F&B, retail, and other amenities. Poulin also envisions offering guided tours and events for corporate groups. Particularly when it comes to winter business, says Poulin, "the aim is to provide a counter point to the more active winter pastimes like skiing and snowboarding" for a visitor demographic less familiar with nature and treetop experiences. 
Treetop Skywalk 
(CLIMB Works Design)
Anakeesta, Gatlinburg, Tenn.
The Treetop Skywalk, a canopy walk with 16 bridges and 14 observation platforms, was one of the first attractions built at Anakeesta, a mountaintop adventure park accessed via Chondola, which opened in Gatlinburg, Tenn., in 2017.
"The concept of Anakeesta overall is to provide an outdoor experience for people ages 4 to 94," explains president Bryce Bentz. The self-paced Skywalk, built by CLIMB Works Design, appeals to users across that demographic. In addition, says Bentz, "it is high-throughput, low staffing."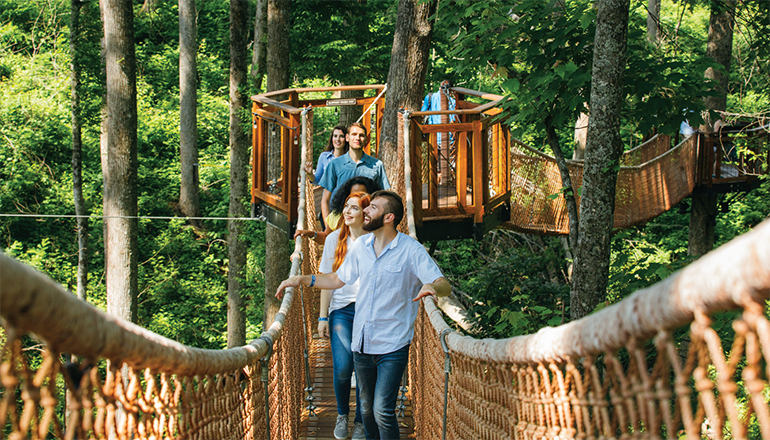 Skywalk is one of Anakeesta's most photogenic attractions, and is popular with adults and kids alike.
The Skywalk is 880 feet long, and its bridges are suspended anywhere from 60 to 80 feet in the air. To give users a taste of the forest's biodiversity, the walk is built on a variety of different trees—poplars, black walnut, hickory, a chestnut oak, a couple of white oaks—and one pole. Bridges are suspended between two-part metal platforms, anchored to the trees by a tab system. Platform and bridge decking is made from a Douglas fir product with a copper naphthenate pressure treatment that gives it a dark stain. The bridge cables are wrapped in rope and also serve as the handrails. A natural-looking netting is used for the sides of the bridges. 
At 48 inches high, the handrails are built higher than standard 42-inch height. This was done as an added comfort for guests that aren't used to being at height, explains Bentz. "A lot people coming to the Gatlinburg area are looking for entry-level outdoor experiences. The canopy walk really allows for that," he says.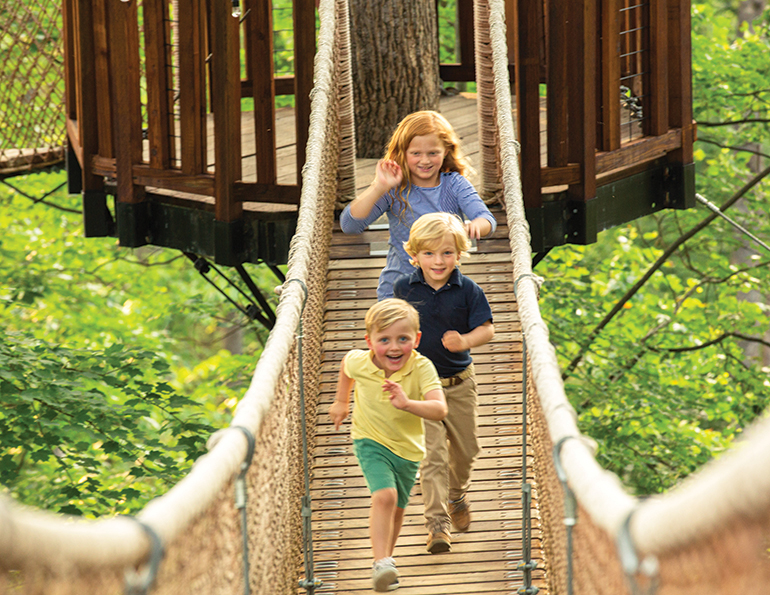 There are no age, height, or weight restrictions to access the Skywalk.
The attraction is not high angle, and guests gain height gradually as the ridge the park is built on drops away beneath them. It is not ADA accessible. "It is an adventure element—you have to be able to move yourself through the experience," says Bentz. But there are no height limitations or weight limitations, and the design is open access. A large platform at the midway point of the attraction also has benches where visitors can stop to rest. "The benches 100-percent get used," says Bentz.
Anakeesta offers many attractions—parallel zip lines, a mountain coaster, netted playgrounds—but Bentz says probably 50 percent of the park's visitors use the canopy walk, which is included with admission (adult, $32.99; child 4-11, $19.99). The walk is very photographable, says Bentz, and "on any given day, you'll see couples shooting engagement photos or guests getting their Instagram shots there."
In addition to the daytime experience, the walk is also illuminated for nighttime adventures, which Bentz describes as "other world-ish." "People come up to Anakeesta for our Skywalk," says Bentz. "People look for experiences these days," and the Skywalk delivers. 
Updated Aug. 19, 2022. An earlier version of this story incorrectly stated that SkyBridge Michigan was ADA-accessible