CABERFAE PEAKS, MI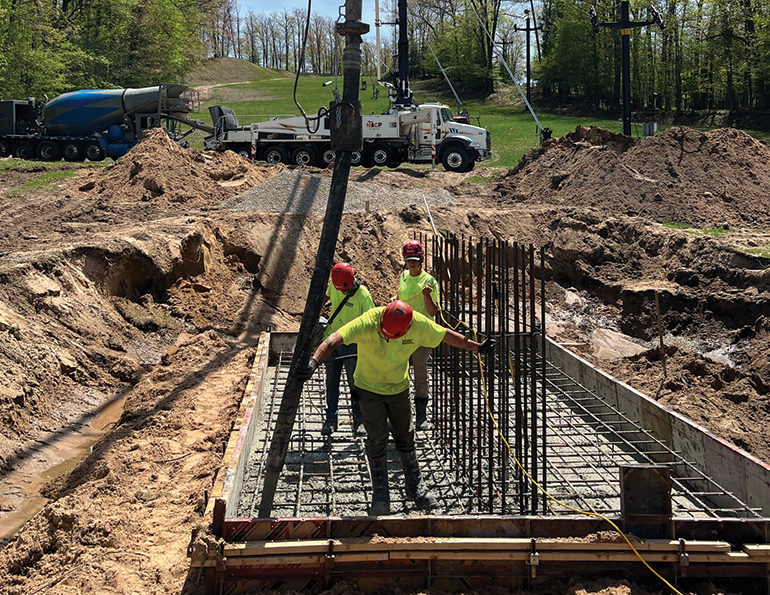 Caberfae Peaks, Mich., began planning for the new East Peak Triple chairlift in early 2020.  
The East Peak Triple, a new Doppelmayr fixed-grip, was the first 2022 order Doppelmayr received, according to Caberfae GM Pete Meyer. "The contract was signed in the fall of 2020 when other large ski areas were canceling or deferring their lift projects and/or other 2021 capital improvements," said Meyer. "The early order allowed for the engineering and manufacturing to be completed in 2021 and the lift to be delivered in March of 2022."  
Replacing a Hall double installed in the early '90s, the East Peak Triple will serve the new East Peak expansion—including a new trail that debuted last winter—providing twice the vertical of its predecessor. It also follows a different line, rising 374 feet over a span of 2,000 feet. It will have 85 carriers, six towers, and move 1,800 people per hour.
Director of mountain operations Tim Meyer said the decision to build a triple chair over a quad was largely based on customer behavior, noting that Caberfae guests frequently choose to ride the Vista 1561' Triple over the North Peak Quad, despite both lifts accessing the same terrain. "We have observed that skiers do not want to ride four on a quad unless we make them or they are already skiing in groups of four," said Meyer, also noting that loading and unloading a triple is easier for their guests, leading to fewer stops and happier customers.  
Construction on the new triple began as soon as lift ops ended for the 2021-22 season, with crews taking advantage of the opportunity to drag the new towers into place over the existing snowpack using snowcats. Tower and terminal excavation is being done in-house. The original Hall double will be put into storage in anticipation of potential future use. 
KILLINGTON, VI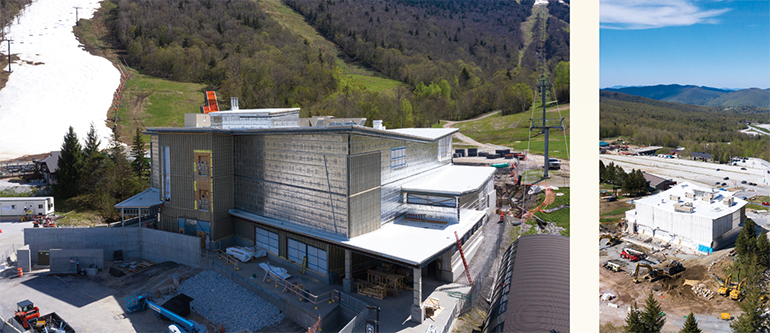 Killington is building a new three-story, 58,000 sq. ft. K-1 Base Lodge, which is about 21,000 sq. ft. bigger than the lodge it replaces. The project began back in July 2019; a portion of the new lodge was built in front of the existing lodge before the pandemic delayed the project for about two years. It is now expected to open in time for the 2022 Women's World Cup races over Thanksgiving weekend.  
The new facility will sit on roughly the same site as the old lodge but is set further back on the slope side to allow for easier guest flow between lifts. It is also entirely on the northwestern side of Roaring Brook, which flooded during Tropical Storm Irene in August 2011, causing the Superstar Pub—a restaurant and bar connected to the lodge but on a different foundation—to collapse. A new stormwater collection pond out front will help to regulate brook levels in the event of deluge.  
Markowski Excavation carried out the demolition of the old building in April 2022, recycling more than five tons of waste. About 15,000 cubic yards of material was excavated. Roughly 10,000 cubic yards of processed fill and stone will be brought in.  
Breadloaf Construction is building the lodge, which will be sided with wood, metal, and glass, including floor-to-ceiling slopeside windows. The first floor will house the main ticket windows, a rental, tune, and repair shop, bag check, first aid, and a family changing/breastfeeding room. It will also have a staff break room and restrooms, with showers, changing room, and 100 lockers.  
An escalator accesses the second-floor main seating area (450 seats) and a food court with an open-hearth pizza oven, among other food options. A two-sided wood burning fireplace will be the centerpiece of the space.  
The primary après bar will be up on the third floor, with a balcony overlooking the second floor. A "speakeasy room" tucked in the northwest corner of the building will be a quieter space with several couches, a gas fireplace, and big screen TVs. 
All three levels will have bathroom facilities, with a total of 45 toilets in the building.
PALISADES TAHOE, CA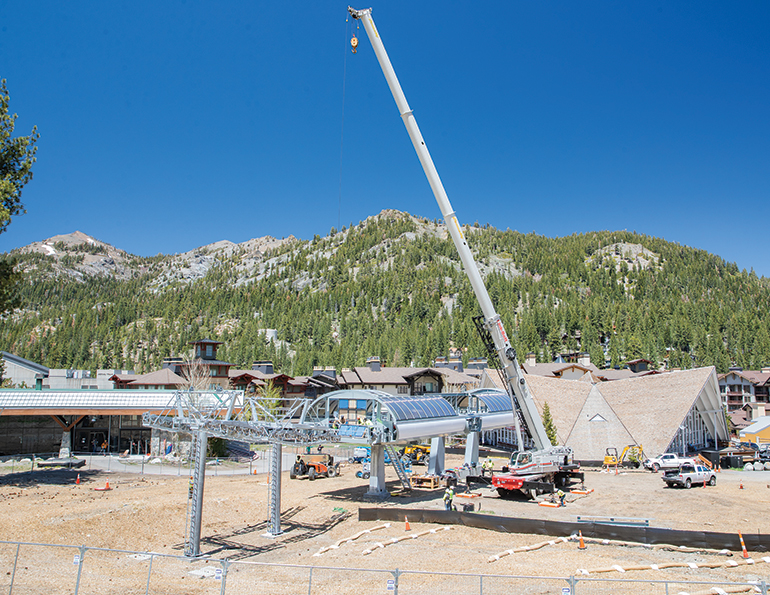 As part of Alterra's massive $344 million company-wide infrastructure investment, Palisades Tahoe is building the long-anticipated Base-to-Base gondola, which will connect the Village at Palisades Tahoe base area to the Alpine Lodge base area (formerly known as Alpine Meadows), fulfilling a dream that's been discussed since the 1960s.  
The project is on track for completion by winter 2022-23 despite challenges faced along the way, including helicopter support being called off site for wildfire control and meeting 177 conditions of approval and resource protection measures.  
The total length of the gondola, supplied by Leitner-Poma of America, will be about 2.36 miles when run as one continuous lift. With four terminals, it can also be operated as two separate lifts, with each running from its respective base area to the KT-22 terminal. Each base side will have its own direct-drive terminal and standby operational capacities. The standbys are generator-powered with a ring and pinion drive system operated by separate diesel engines, hydrostatically providing power to the drive gear turning the bullwheel.  
A total of 33 towers will carry 96 eight-passenger cabins over private and federal land, with 1,043 feet of vertical rise on the Alpine side and 1,729 vertical feet on the Palisades side. All cabins can be parked indoors on both sides in just 20 minutes using a storage system that only needs two people to operate.  
Each cabin has a cabin radio communication system so operators can communicate important information directly to passengers during the 16-minute ride if necessary. 
Extreme weather and avalanche exposure were taken into consideration when designing the Base-to-Base. According to a resort spokesperson, winds often reach speeds over 100 mph at the location of the lift's mid-station, so the terminal was lowered to reduce exposure, lowering the lift profile by more than 30 feet in elevation. Several towers were fortified to withstand avalanches, too. These factors, combined with rough terrain and the sheer magnitude of the project, have Palisades Tahoe senior advisor Casey Blann calling it the "most challenging lift profile I've had in 45+ years in the industry." 
ELDORA, CO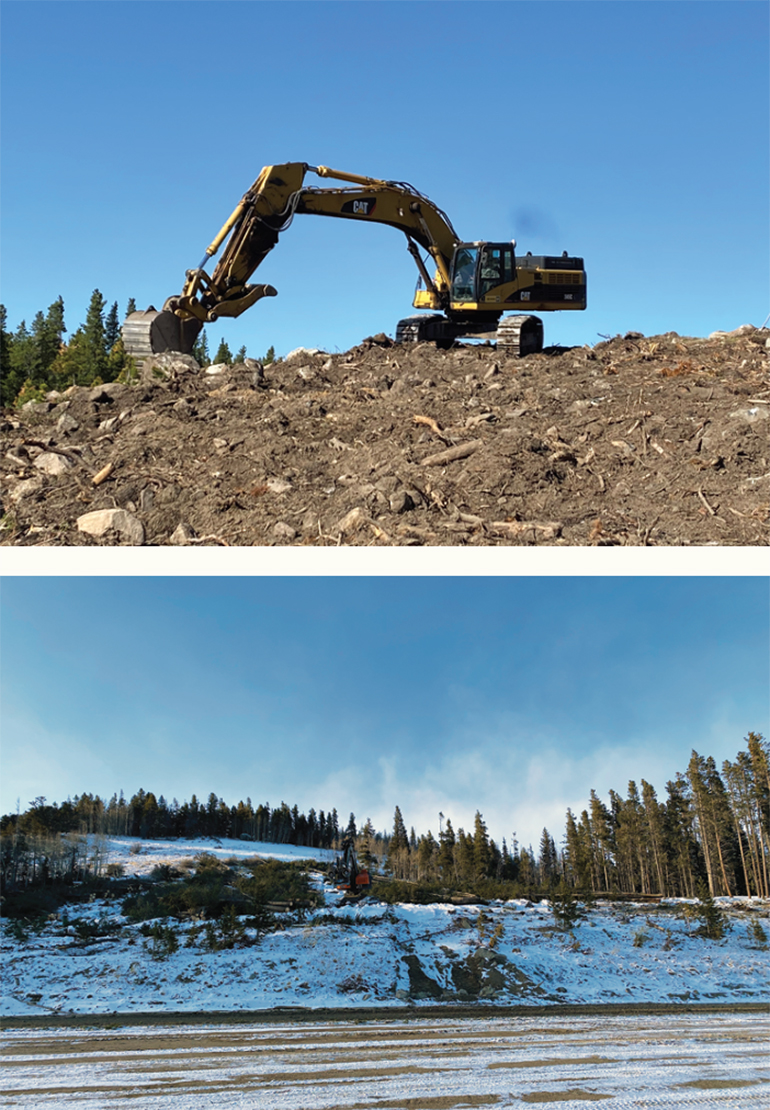 Eldora is growing its guest parking capacity by a lot—literally. Once complete, the new parking lot will add nearly 800 new spots. Additionally, 36 EV charging stations will be installed in a separate existing lot, closer to the lifts, thanks in part to a grant from the state. The new lot will be primarily for single-occupancy vehicles; HOVs and EVs will have first choice of closer existing lots. 
Working with Boulder County authorities, it took about five years for Eldora to gain approval to increase its parking capacity by about 50 percent. Approval was tied to several environmental requirements, including Eldora's continued funding of the R2D commuter bus, its continuation of existing carpool incentives, and the addition of a $10 single-occupancy-vehicle (SOV) charge on peak days, which Eldora president and GM Brent Tregaskis estimates is about 30 days a year. Funds from the SOV fee will feed back into the travel programs Eldora already supports.    
The new parking lot is being built into a hillside. Thousands of tons of rock are being excavated and blasted from that hillside and getting crushed on-site. The rock will be used to create a flat area for the lot, increase the elevation of the resort's other lots, and shore up roads, among other uses at the resort. 
Feller bunchers were brought in to clear the land in March, prior to bird migration season. Larger trees were hauled off-property to be processed, while the limbs and smaller trees were mulched on-site. The mulch will in part be used to protect new plantings around the lot, which were required by the county.  
Several underground culverts are being installed as well as two big concrete catch basins, so all the water leaving the parking lots will run through those and drop any sediment before entering a nearby creek. 
All in, the new lot, EV parking upgrades, and a future third lane of travel into the resort, are expected to cost more than $7 million and be completed by mid-November. In the last 10 years, Eldora has seen its parking lots fill to capacity, forcing the resort to turn people away with increasing frequency. With added capacity, Eldora will be able to welcome more guests who aren't regulars, i.e., day skiers and those wanting to take lessons, said Tregaskis.