SAM Turns 60!
Could it be?!? Indeed, this print magazine started 60 years ago in founding publisher David Rowan's basement. It then moved up to his attic, back down to the basement, and then up to the dining room. We've been blazing the home office trend for our entire 60 years! 
SAM magazine is still the heartbeat of who we are and what we do, but we have also grown from one staffer to eight, from one magazine to two with Adventure Park Insider, and we've added a host of other platforms to educate, inform, and inspire ski area operators and their teams, including the Huddle, Cutter's Camp, Summer Ops Camp, "10 Under 30," SAMMYs, PodSAM, Summit Series leadership platform, headline news, digital departments, and more. 
In this issue is a timeline of moments that have shaped our industry over the last 60 years. SAM has been there at every step, proudly serving as a vital tool in your toolbox and a partner in your progression. As you look back on these defining moments, consider how informative history can be in helping to solve our current challenges and forecast opportunities. By learning from the past—but not dwelling on it—we can avoid repeating our mistakes as we look optimistically ahead. 
The articles in this issue of SAM illustrate how the past can inform the present, and future. Take, for example, the burgeoning shift in guest service concepts playing out at Crystal Mountain and Loon ("Building New 'Guestinations,'" p. 48). Or the proceedings at Gunstock this summer, which exposed the potential pitfalls of public oversight ("Layers of Governance," p.22). We also dig into the drama at NSP ("Still in Need of Saving," p. 14) and the forgotten question of participation growth ("A Renewed Focus on Growth," p. 45). We hope this issue—and every issue—provides you ample food for thought.
New Team Member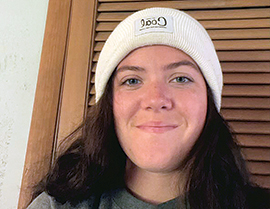 I am also pleased to share that we've added Jordyn Bremer to our team as our new marketing associate. Her title doesn't speak to all she does—her hats include assisting with circulation, events, news, social media, and the magazine. There is nothing she can't do. Jordyn hails from the U.P. of Michigan, is an avid skier, and is a longtime SAM reader (smart girl).
Thank you, as always, for reading SAM. We couldn't have made it to the 60-year milestone without your continued support. 
Olivia Rowan, Publisher