Surface lifts are the great-grandparents in the business of getting people up hill by mechanical means in winter. The first rope tow in the world was put into use in Germany in 1908. In 1934, the first rope tow in the United States was installed in Woodstock, Vt., transforming uphill transportation for skiers. Early iterations used car or tractor engines rigged to a long rope and a few pulleys. Maintenance was pretty straightforward—if you knew how to change the oil in your car, adjust the carburetor, and splice a rope, you could keep the tow humming and skiers moving.
Although handle tows and the venerable rope tow are still in play, almost 90 years later, conveyor lifts now are the most common surface lifts in use in North America. The applications for conveyor lifts are clear: getting beginners unfamiliar with boarding a chairlift up a learning slope, moving small kids around, as uphill transportation for a tubing hill, and moving people on relatively flat ground from one part of a resort to another. They are easy for resort guests to use and relatively easy for maintenance crews to take care of, given that they involve basic components: an electrical VFD drive, a conveyor belt, gearmotor, and rollers.
Here, we'll explore conveyor lift maintenance and considerations for inspections as the winter season approaches.

Left to right: Dirt buildup, shown here, can increase belt wear. The underside of a belt after 15+ years of heavy use. A belt splice caught on a fixed object underneath.
Simple, Reliable, and Durable

   
Manufacturers of conveyor lifts tout the lifts' reliability, mainly because they are mechanically relatively simple and don't have a ton of parts compared to chairlifts. Maintenance crews can quickly figure out how they work and how to keep them running smoothly. In addition, installation is typically uncomplicated—a resort's lift crew can successfully install a conveyor with minimal direction from manufacturer personnel. 
In fact, according to Dave Kelly, president of Magic Carpet Lifts, units come largely pre-assembled. Ryan Neptune of Planet Mover says, "The design is extremely simple and durable," adding that maintenance is "very remedial." Neptune, who also owns and operates Planet Mover lifts for Idaho-based Gateway Parks, says that the only parts he has needed to replace since 2013 have been two sets of $150 bearings.   
Pre-operation checklist. Even if the maintenance might be "remedial," though, daily vigilance is still required, according to Kelly. A daily pre-operation checklist, he says, should include, among other things, inspecting bearings, electrical components, and the alignment of belts and splices for proper functionality. 
Safety Is No Accident
Conveyor lifts might be simple and durable, but they still demand caution when performing maintenance work. According to Larry Smith, the supervisory tramway engineer for the state of Colorado, conveyor lifts are "far and away the most dangerous pieces of equipment" to service in a resort's lift line-up. 
Injuries to maintenance personnel, says Smith, are frequent, in part because the lax belief of maintenance crews that "a conveyor can't hurt them." It's a pretty simple machine, so why worry? Still, hands, arms, and even full bodies can get sucked in by rollers or by the rolling brush that clears the belt of snow. The in-running nip points located at the rollers and pulleys are also an area of potential harm. Another area is the control panel, which has high voltage components inside. 
"Even a five-horsepower motor, relatively very small for a lift, can exert 1,800 pounds of belt-pull through the rollers—can anyone withstand a one-ton chain hoist pull against their body?" asks Sam Geise, a longtime engineer and inspector who is also a Magic Carpet Lifts dealer.
Lockout/tagout. In addition, a lockout/tagout program should be in place for any personnel working on a conveyor lift. Not adhering to lockout/tagout can be fatal, as was the case in a 2017 incident in Colorado involving a lift mechanic who ventured under a conveyor solo. Notably, cognitive impairment has also been involved in several accidents that resulted in injury or death. 
Parts and Pieces 
Mechanical components. Bearings can last 15 years or more, says Star Lifts general manager Conor Rowan, but they need regular maintenance to keep from becoming problem children. For Star Lifts' Sunkid conveyors, says Rowan, bearings should be regreased every 200 operational hours or so. If bearings aren't maintained properly, says Kelly, failure—typically a seizure—can damage the belt.  » continued
In addition, he recommends when checking bearings to also check for the possibility of shafts shifting or becoming worn, exacerbating any bearing issues.
Rollers are also very durable, although the primary rollers—the drive drum at the top of the lift and the return drum at the bottom—might see more wear and tear, says Rowan. A longer and/or steeper lift, he adds, could mean faster replacement.
Among other components, the relatively small AC motors have no user serviceable parts and are largely maintenance-free, save for an annual oil change in the gear head, according to Kelly.
Surface and covers. Another durable component is the riding surface. "Belts last a long time," Kelly says, although "splices can deteriorate," depending on the quality of the splice installation and the amount of tension on the belt. Rowan agrees that splices are something that need regular inspection. He also recommends covering the lift with a tarp—some resorts use culverts, halved lengthwise, to cover the belt—in the summer to protect the belt from potentially damaging UV light.
Many conveyor lifts, of course, have canopies or covers, primarily for the comfort of guests. But is any maintenance benefit derived from shielding the belt from the weather and weather-induced problems such as ice jams? The company reps say the answer is generally no, certainly not enough alone to justify the considerable extra cost of a canopy/cover. That said, there might be some cost benefit in reduced manpower—no need for the laborious job of clearing snow and ice from a covered belt after a storm.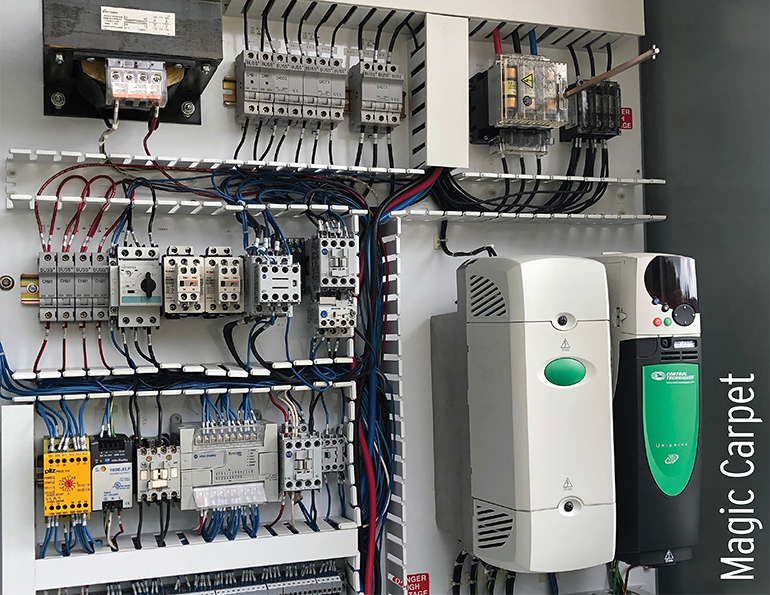 Electrical upkeep requires vigilance.
Electrical components. Conveyor-lift manufacturers tend to agree that issues requiring vigilance and/or repair are more likely on the electrical rather than the mechanical side of the system. 
For example, says Rowan, lightning can cause considerable damage if the system is not properly grounded. Corrosion, broken switches, wires coming loose, or panels improperly sealed, allowing the infiltration of moisture, are among the common problems that can befall a lift's electrical workings, says Kelly. 
And both Rowan and Kelly agree that rodents present a significant problem; mice (apparently due to the use of soy in the insulation) enjoy snacking on wires. An obvious solution in this case would be to make sure all wiring is shielded from exposure to critters, but that is not always feasible, depending on the configuration of an installation.
Parts Availability
A maintenance positive for conveyor lifts is that spare parts, when necessary, are relatively easy to come by. According to Neptune, Planet Mover lifts are essentially made of parts that "could be purchased anywhere in the U.S." 
Kelly says that while Magic Carpet carries a large inventory of parts in stock, the company has been manufacturing conveyor lifts for more than 30 years, so "some parts availability may be problematic due to logistical challenges or obsolescence." If not on the shelf, deliveries can be quite long, up to six months. VFD's, for instance, currently have very long lead times. 
Parts to keep on hand. Rowan says that spare parts for Star Lifts products are readily available from a well-stocked company warehouse, although he advises keeping a few parts on hand: a couple of safety switches and the cabling that goes with them, a couple of intermediate rollers, and a couple of primary bearings.
Inspection Prep
Part of any maintenance crew's duties, of course, is to make sure that lifts are up to snuff for passing state or insurance inspections. A big component of that chore is clerical—Kelly recommends that a maintenance crew keep meticulous documentation: daily logs, repair reports, training records, etc. Conveyor lifts need to meet all ANSI B77 requirements unless waived by the authority having jurisdiction. OSHA safety regulations also apply.
Inspection checklist. According to Smith, the following are among the many things that inspectors are looking at: 
Properly functioning electrical systems, with no wires exposed or pulled out or "deadheads" that haven't been capped off.

Proper speeds and stopping distances, for normal operations and emergencies. 

A smoothly functioning motor, with no "unusual noises" coming from the gear box. 
Stable footings and foundations that haven't shifted due to snow movements, potentially throwing the system out of alignment.
The rotary brush to clear snow moving in the proper direction—toward the outside—preventing the possibility of hands and arms getting sucked into the system.
Proper transition (relief) plate and emergency shut down operation.
While rope tows and handle tows continue to shine in the surface-lift firmament, conveyor lifts have probably jumped to the top of the charts for most resort operators. The big reason, of course, is that they are easy for users—simply step on and ride. But another strong selling point is that they are easy for maintenance crews as well. Regular greasing of bearings, regular oil changes, and daily inspections of things like bearings and splices, and you're pretty much ready to roll.