WATERVILLE VALLEY, NH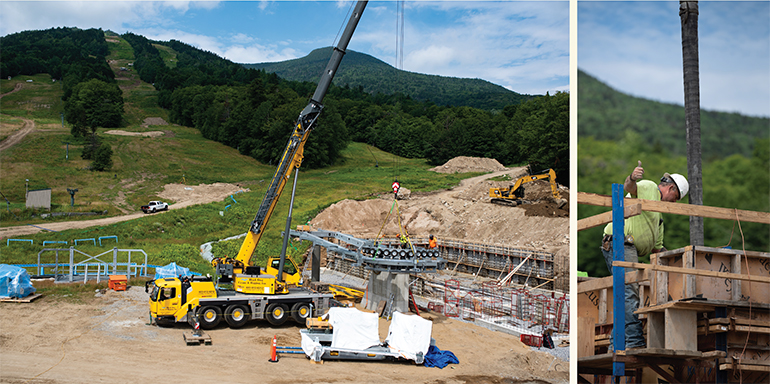 MND Group is building its first ever chairlift in North America at Waterville Valley, N.H. MND previously supplied Waterville with snowmaking equipment, conveyor lifts, and a T-Bar, but this project takes the companies' partnership to a new level.  
The MND detachable, built in partnership with Bartholet of Switzerland, will feature 83 six-place chairs with bubbles designed by the Porsche Design Studio. Each chair will include ergonomic individual seats and child protection features common in Europe.  
The new White Peaks Express will be the main out-of-base people mover at Waterville and will carry an impressive 3,200 skiers per hour. The alignment follows the same path as a previous Poma detachable quad but many tower locations moved to open up intermediate and advanced terrain under the lift. Ride time will be just six minutes at 1,000 feet per minute. The 845-horsepower lift will span 5,700 feet with 13 towers and a vertical rise of 1,585 feet.  
To ensure timely completion of the lift this year, some tower foundations were completed in 2021. This was carefully planned, as the lift is MND's first large project in the region and one of its largest in the world this year. Lift equipment was shipped in containers over the winter from MND's French production facility and is being installed by MND teams with help from Fall Line Construction.
A 10,000-square-foot chair-parking facility is also being constructed adjacent to the bottom terminal to protect the chairs during weather events. The site required significant prep work and regrading before construction could begin. The building will house a rail system for the chairs, featuring what MND calls an "injection system," which automatically "injects" chairs onto and off of the line, said GM Tim Smith. Chairs will be parked on the rail system manually. Taking the chairs on or off the line should take around 30 minutes. The building is being constructed by SL Chasse Steel and Gosselin Concrete. The facility will also house a competition center for the local ski team on the second level. 
MT. SHASTA SKI PARK, CA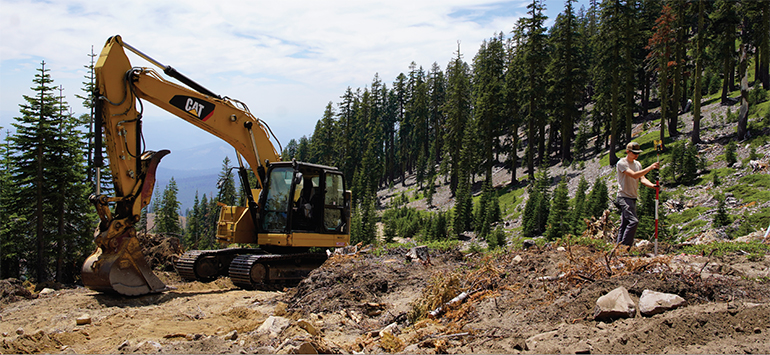 Gray Butte, an expansion envisioned for decades, is finally becoming reality on Mt. Shasta Ski Park in Northern California. More than 200 acres of private land will feature five new runs served by a Doppelmayr fixed-grip quad. Mt. Shasta went through an exhaustive county review process and worked with the state to get through California Environmental Quality Act review before breaking ground in spring 2022. 
Chief financial officer Brendan Hickey notes that, due to long lead times, the lift had to be ordered before final approval was received. Thankfully, the green light came in time for the lift to be installed as planned. CLT Logging out of Montague, Calif., completed 88 acres of timber harvesting in the spring, and Doppelmayr broke ground on the chairlift in July. Although the terrain is steep, a network of existing logging roads allowed traditional excavators to be used for construction. 
The lift will top out at 7,536 feet, bringing Mt. Shasta's vertical drop to 2,036 feet—a 650-foot increase. The top terminal will sit just below the butte's summit, protecting the viewshed from a nearby indigenous cultural site. This location will also help to shield the terminal during storms.  
A total of 137 quad chairs will carry skiers up the 4,050-foot span in 10.8 minutes, rising 1,144 vertical feet. Mt. Shasta management said the Gray Butte lift will access higher quality snow and steeper terrain than found on the lower mountain. An additional 300 acres of backcountry is also set to become more accessible via the new lift.
 WHITEFISH MOUNTAIN RESORT, MT


A new six-pack at Whitefish Mountain Resort, Mont., dubbed the Snow Ghost Express, is one of Leitner-Poma's largest projects this year. It is the mountain's first six-place lift, and it will load adjacent to the day lodge and terminate just below the summit so as to stay operational during wind events. This major undertaking for independent Whitefish includes 25 towers and a large DirectDrive motor, a first for Leitner-Poma in the region. Whitefish chose DirectDrive for its ease of maintenance and efficiency benefits, which are maximized on longer lifts like Snow Ghost. 
The six pack will feature a fast line speed of 1,100 feet per minute, yielding a seven-minute ride time. Capacity will be 2,200 guests per hour with wide chair spacing allowing ample time for loading. The lift will span 7,187 feet of slope length and climb 2,224 feet of vertical. 
The Snow Ghost replaces the old Chair 4, a much smaller lift that was installed in 1978 before the base lodge even existed. Now, the lodge has become the primary portal to the mountain and it's where most of the resort's parking is located. Guests previously had to take a series of chairlifts to reach the upper mountain, including one fixed grip beginner lift, which frequently slows and stops. The six pack will completely change the experience of getting to the upper mountain with direct, high-speed access. 
Construction began in the spring with extensive helicopter work dismantling the old Chair 4 and removing trees in the new alignment. Top terminal concrete was also flown in via Black Hawk helicopter in July. Due to the steepness of the profile, many of the tower foundations had to be excavated with a walking excavator from Spyder Environmental. The new lift is expected to be completed before the start of the 2022-23 winter season.
 STRATTON MOUNTAIN, VT

Nearly $9 million in work is happening this year both on- and off-mountain at Stratton. Construction on new bike trails, snowmaking improvements, and extensive repaving began as soon as the resort closed in April.  
Five new bike trails were constructed, including a new skills park called Fox Trot. The park, accessed by a conveyor lift at the base of the mountain, allows new riders to learn proper technique, braking, cornering, jumping, and trail etiquette before they head up the chairlift for a downhill biking experience. The rest of the new trails are lift-served downhill trails. Vermont-based Sinuosity designed and built the new trails with a mix of hand sculpted features and machine-built lines, including a hybrid flow and jump trail and another that incorporates boulders and boardwalks in a classically technical trail. 
Earlier in the summer, the Stratton Mountain Golf Course parking lot was resurfaced and paved. In total, 45,000 square feet of the parking lot and drop-off loop were ripped up and resurfaced with crushed gravel and new blacktop. In addition, 3,800 linear feet of cart paths were also repaved throughout the 27-hole golf complex. The project did not interrupt golf operations. 
In addition, snowmaking infrastructure upgrades have been a big priority this year, with an eye toward increasing efficiency and improving snow quality. Upgrades include a new switchgear in the energy center for increased power transmission, and about 2,000 feet of 6-, 8-, and 12-inch steel snowmaking pipe is being replaced. Forty-five new energy-efficient HKD Impulse R5 snow guns will replace older equipment through a partnership with Efficiency Vermont.