New resort facilities coupled with the latest technologies are already turning traditional "guest service" concepts upside down. The mountain resort industry is quicky approaching a future where tickets sell themselves, customers don't stand in line to buy anything, and no one uses cash. Akin to an Apple store, employees come to the customer—not the other way around. Welcome to the new guest experience.
This future requires a change in mindset. It's time to leave the term "guest services" behind as a relic of another era. Resorts don't just sell lift tickets (a service), they sell a day on the mountain (an experience). Tickets are a commodity, a means to an end. The mountain resort industry is in the hospitality business, not simply the service industry; it makes sense to focus holistically on the guest experience—to become "guestinations." 
Frank DeBerry, Alterra Mountain Company's western regional chief operating officer, champions this new outlook. "As an industry, we need to do everything we can to remove the anxiety, the fear, and the frustration that gets in the way of what our guests want to be doing when they get here," he says.
As DeBerry reminds us, about 85 percent of first-time skiers never come back. "It's because our first timers wait in line 45 minutes to buy a ticket, another 45 minutes in the rental queue, and another 45 minutes over at the ski school," he says. "We can't grow an industry like that." No one likes to wait in line when they can be on the snow or kicking back with a burger and a cold beer.
DeBerry is channeling these ideas into a new, open-concept skier-service facility at Alterra-owned Crystal Mountain, Wash., that's slated to open in winter 2023-24. The new building will include an innovative, technologically advanced welcome center focused on experiential food, drink, and retail, and will nix the traditional "base lodge" design in favor of open spaces and roving staff equipped with handheld devices.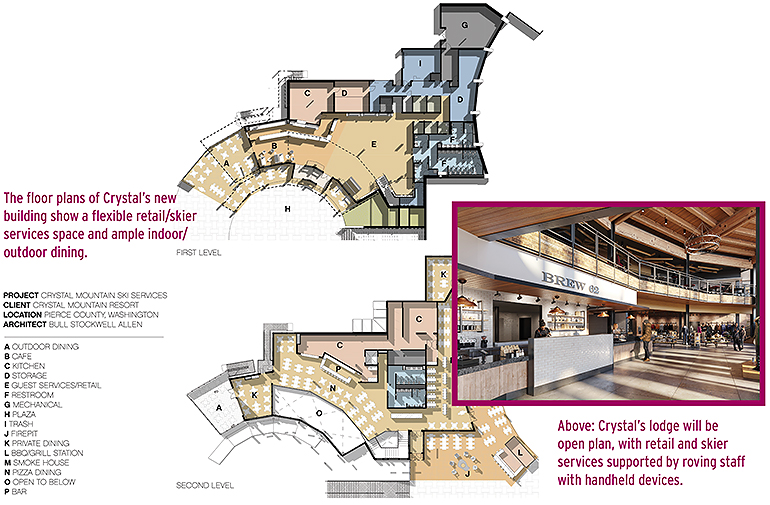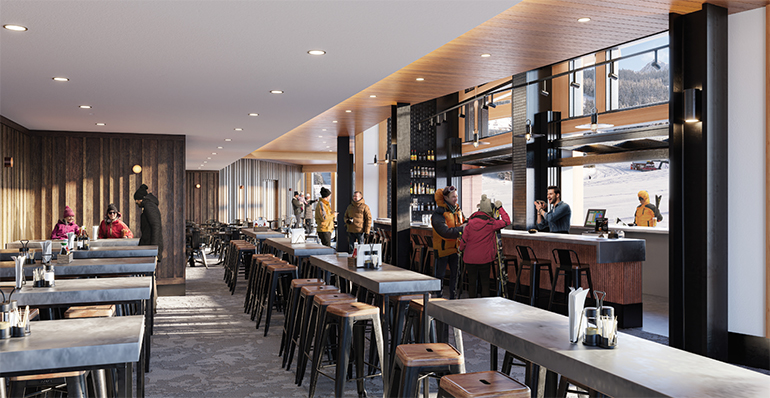 The second floor of Crystal's lodge will have two branded restaurants with bars and access to outdoor seating.
A similar shift is happening at Boyne Resorts. Jay Scambio, COO of day area operations, envisions a customized guest experience where each customer gets what they need, when they need it—instead of having to seek out what they need, then wait in line for it. 
At New Hampshire's Loon Mountain, Scambio and general manager Brian Norton are planning a significant overhaul of the resort's Governor Adams base area with this in mind. Like the project at Crystal, the plan includes a new base lodge that reimagines food, beverage, and retail operations, and incorporates the resort's primary rental shop, only with more local flavor and increased ease for guests aided by amped up technology.
Experiential

Spaces

Both Loon and Crystal Mountain cater to large drive-to populations; Loon has a greater destination base. The resorts are working to digest high demand—buoyed even more by consumer Covid trends—while delivering an experience reflective of site, location, and local culture. As Scambio points out, Boyne is a "company of resorts versus a resort company." Alterra also seeks inspiration in the unique attributes of "place." 

It's therefore fitting that the projects focus on the resort brand and the arrival sequence. At both, signature architecture, outdoor dining, and entertainment spaces are part of the overall impression. 

Moving inside, perhaps more notably, both resorts have designed their new buildings without interior walls, creating dynamic, flexible spaces, and breaking down the physical barriers between traditional departments including retail, rental, food, beverage, and ticketing. Both DeBerry and Scambio describe the new buildings as "social hubs." 

At Crystal, a new drop-off area replaces outmoded ticket booths, reducing the likelihood of entryway congestion and providing a welcoming landscaped entrance. The building's façade is inviting. Curved, faceted, and crystal-like, it reaches out to "embrace" the guest, says DeBerry. On the slope side, it defines an outdoor plaza facing the resort's existing gondola, while further up, an additional outdoor lounge and dining space offer snowside amenities along the resort's snow-covered "beachfront."

The facility's second level will house two branded restaurants, featuring bars and plenty of outdoor dining space. But it is the lower level where things will be profoundly different. On the entry level, traditional "guest service" space has all but disappeared, replaced by an indoor/outdoor café that spills out onto a plaza with views of the gondola and mountaintop. The building dedicates all other interior wall space to high-margin retail. There are no traditional guest service stations, other than three concierge stations, where customers can address issues. Otherwise, roaming employees with handhelds are trained to solve problems. They can sell you a ticket, a ski lesson, and a pair of new sunglasses—true one stop shopping. 

DeBerry says the new building will be less about housing fixed stations for transactions and more about offering spaces that people want to be in. "We're no longer designing facilities where we dedicate valuable real estate to cashiers and cash boxes, we're dedicating our real estate to experiences that generate revenue." 

At Loon, Scambio is also intent on building dynamic spaces designed to grow the bottom line beyond everyday transactions. "Once the guest arrives, it's likely you've already sold them a ticket," he says. "The game now is all about the ancillary spend: food, beverage, special events, group functions, and retail. We will boost sales by further elevating our offerings and mountain experience."

That vision underpins Loon's "Flight Path: 2030," a 10-year development plan that began two years ago. Loon's new architectural look will help orient guests. The recently completed Kanc8 lift pavilion, for instance, was designed as a giant billboard, or landmark "super graphic"—its distinctive exterior can be seen by visitors crossing into the resort via the town of Lincoln's International Bridge. Built from contrasting natural wood with galvanized steel and dark metal accents, the aesthetic is a modern play on the strong, simple forms of an iconic barn or mill building, representing the "new, New England." 

Loon's distinctive, three-story lodge will offer indoor/outdoor dining and a one-stop check-in/rental space.
As the floor plans illustrate, Loon's new day lodge will increase dining space and indoor/outdoor seating, while a new drop off at the bottom level will house rental, check-in, and renovated facilities for children's programs.
To eliminate traffic bottlenecks (another source of guest friction) the resort will create new drop-off zones to separate bus and shuttle traffic from the area's day skiers. Another new drop-off area at the newly renovated children's building will accommodate families.
The concept will also be applied to Loon's new day lodge, where the footprint will take advantage of an underutilized outdoor courtyard to improve the resort's beginner terrain and create additional outdoor dining space. The building's interior features a one-stop guest and rental check-in and an exclusive station for online rental pickups. Guests can also order and pay for food and beverage from an app. 
Loon will brand the facility's individual food and beverage outlets, a la individual food trucks, to reinforce quality and location. "Babe's," the resort's signature ski bar, will relocate to the building's uppermost level, which is also designed to provide a variety of food and beverage options throughout the season. Indoor/outdoor bar, lounge, and table space will cater to casual sit-down dining and après-ski during the wintertime, and serve as special event spaces throughout the year.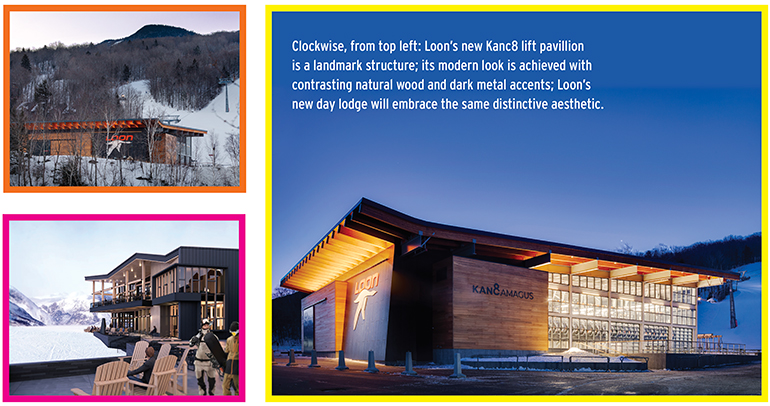 With the new facility, Scambio also hopes to further improve return on investment by breaking the Eastern tradition of brown bagging—without outright banning outside food.  
Technology 

And Staffing

Both mountains are integrating technologies with their new lodges to improve, not just streamline, the guest experience. The last few years have been a learning experience, particularly with respect to advance purchases and less person-to-person contact. 

"Technology, particularly post-Covid, has demonstrated how many steps we can take out of our current system," says DeBerry. 

He notes that through technology, our industry may be on the verge of "eliminating the friction" and hassle of crowding, created in part by the Ikon and Epic pass phenomena as well as a renewed interest in outdoor recreation in general. 

At Boyne Resorts, a stress-free customer experience begins with each resort's online portal. Scambio describes resort websites as a primary touchpoint and, often, a customer's first introduction to the brand. The portal becomes a destination unto itself.

From a staffing perspective, the online technology is also incredibly efficient while tapping into the way people want to engage and do business today. 

"For good or for bad, most customers today don't even want to deal with a real person," says Scambio. "Boyne has gone to great lengths to minimize the number of clicks it takes to understand what the resort offers, what to expect, and how to purchase online."

Personalized Touch. But what about folks who are wary of technology, or are looking for a personalized touch? That's where technology's true magic kicks in. Scambio and DeBerry view technology as "a friend and secret weapon" allowing resorts to customize the guest experience to individual needs.

In better leveraging technology, the intent is not to reduce staff headcount. Rather, the goal is to use staffing efficiencies to redeploy valuable employees to areas where they are needed most. Freed from selling tickets, rentals, and other repetitive transactions from behind a desk, an employee can now engage in one-on-one problem solving and assist the individuals who truly need advice, encouragement, or special attention. At Crystal, employees with handhelds will be available to guests at shuttle stops, while at Loon, employees may be redeployed to parking lots to assist with arrival and address other customer needs.

Boyne is extending the redeployment concept to its current reservation process at Loon. Every guest booking an online snowsports lesson or equipment rental will get a call from a staff member to answer questions in advance of their arrival. The preliminary feedback to this proactive approach has been off the charts; precisely because it demonstrates the resort's commitment to a personalized, one-of-a-kind guest experience.  
Bottom Line
While Alterra and Boyne are making significant investments in their future, neither company is willing to discuss their anticipated financial returns, only to say they will be at an "investment level" (typically meaning 20 percent on up). What is clear, however, is that both see the value in using technology to deliver an exceptional guest experience and believe that efficiencies in operation and staffing will justify the reinvention and associated expenditures. Alterra is already evaluating other innovations at its other resorts: technologically advanced waste management and composting systems as well as cashless food service at Mammoth, Calif., and Winter Park, Colo., for example. 
All of us have witnessed situations where technology and innovation fail to live up to expectations or, even worse, increase anxiety. DeBerry's advice to naysayers and smaller resorts faced with limited budgets? "We've got to stop saying that it can't be done or that no one is going to embrace the new technology," he says. "It's already here. We have no choice. Until we step beyond our comfort zone, we will never make a difference, or worse, we'll be left out." 
In other words, climb above the snow line and leave the rocky terrain below. Technology may be the engine that gets us there; technology can enable the industry to redeploy staff and build newly imagined physical structures that will deliver an elevated guest experience like never before.