MIDWEST SKI AREAS ASSOCIATION, SHANTY CREEK RESORT, MICH., AUG. 21-24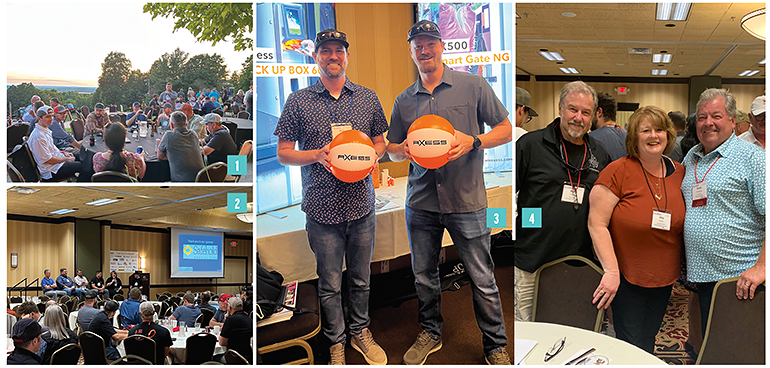 The annual Midwest Ski Areas Association Summer Meeting and Tradeshow was held at Shanty Creek Resort, Mich., Aug. 21-24. The event drew a total of 430 attendees—the largest ever registered attendence at the Midwest summer meeting—for educational sessions, networking opportunities, and a tradeshow. 1. Participants gather on the back patio of Shanty Creek Hotel for dinner and drinks overlooking Torch Lake at the end of day two of the conference. 2. Matthew Zabranksy of midwestskiers.com moderates a discussion on the hot topics facing Midwest ski area operators. 3. SAM's Jack Fagone with Nicholas Vornle vonHaagenfels of Axess Americas. 4. Mark Tibbitts, Mt Holly Ski Area, Mich.; Amy Reents, MSAA; and James VanderKelen Award recipient Bruce Firestone, Alpine Valley, Wis.
SAM SUMMER OPS CAMP, 

MONT TREMBLANT RESORT, QUEBEC, SEPT. 7-9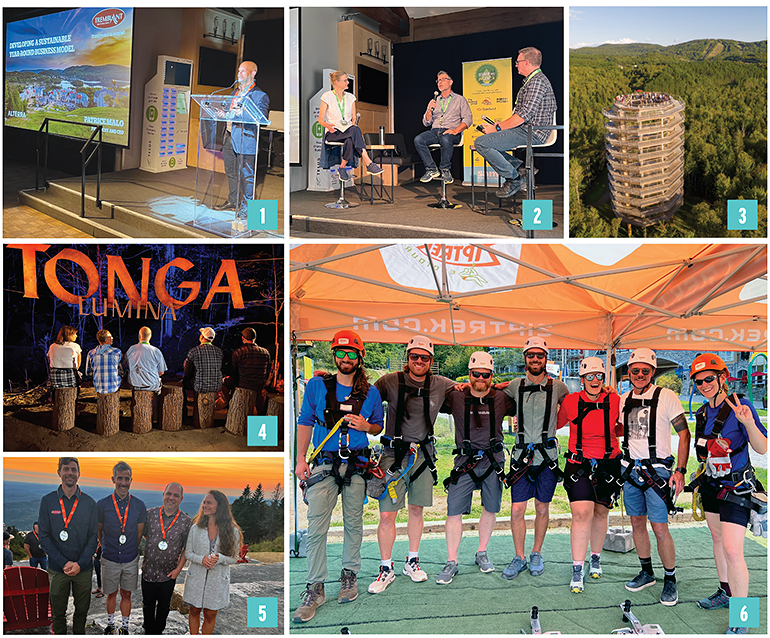 Participants gathered Sept. 7-9, at the four-season Mont Tremblant Resort in Quebec for this year's SAM Summer Ops Camp, a part-experiential, part-educational event designed to help ski area operators grow their summer business. 1. Patrice Malo, president of Mont Tremblant, gives the opening keynote on developing a year-round business model for mountain resorts. 2. Claire Humber of SE Group and Paul Cummings of Strategic Adventures interview Jean-Francois Couture of The Trekking Group as part of a series of interviews on new summer ops offerings. 3. Attendees enjoy a spectacular evening at the fully-accessible Treetop Walk Laurentides, a new canopy boardwalk that culminates at this 12-story observation tower. 4. Campers take in Mont Tremblant's Tonga Lumina Night Walk, a multi-sensory forest experience designed by Moment Factory. 5. Jean-Francois Gour of Mont Tremblant, David Grenier of Mont Gleason, and Sebastien Lemieux and Nadia Baron of Mont Sutton catch the sunset. 6. Attendees on a group outing check out Tremblant's Ziptrek Ecotours zip line tour.
NEW ENGLAND SUMMIT, SUNDAY RIVER, MAINE, SEPT. 12-14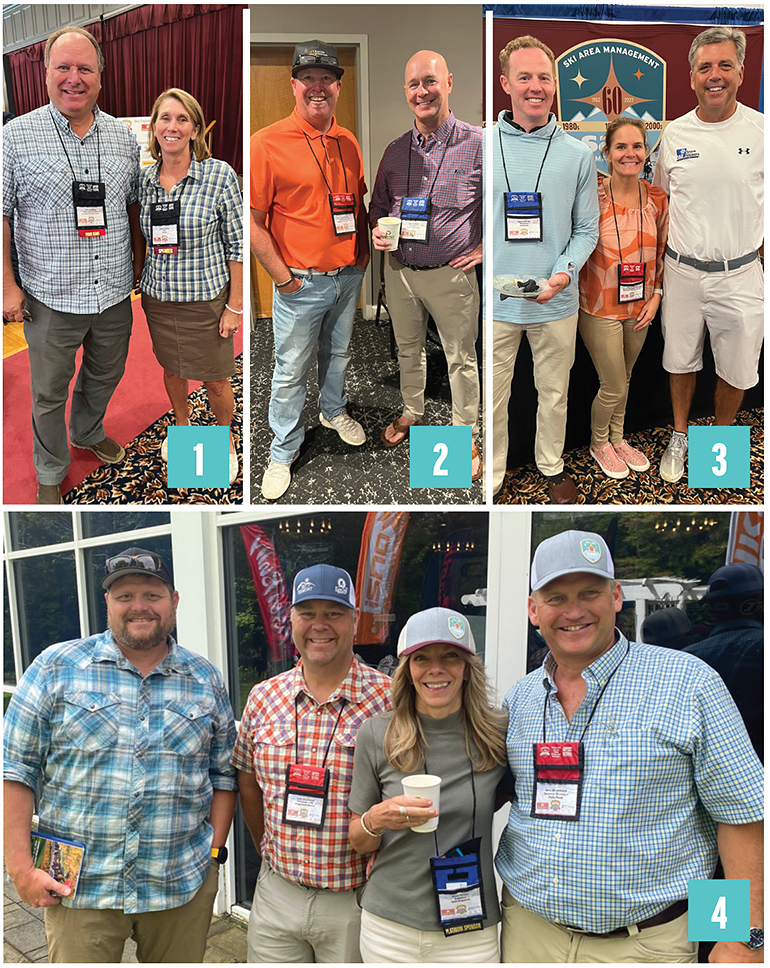 Nearly 400 industry representatives from 42 ski areas and 71 suppliers gathered Sept. 12-14 at Sunday River, Maine, for the New England Summit. A full schedule of education sessions covered a range of topics, including employee safety, snowmaking, staffing, and a lift safety boot camp by NSAA's Mike Lane. 1. Dirk Gouwens, Ski Maine; and Kelly Pawlak, NSAA. 2. Erik Barnes, Ragged Mountain Resort, N.H.; and Bob Kimball, World Cup Supply. 3. Ryan Patrick, Safehold Special Risk; Melissa Roberts, Berkshire East, Mass.; and Joe VanderKelen, SMI Snow Makers. 4. Dave Ulbrich, Whiteface, N.Y.; John Hammond, Sugarbush Resort, Vt.; Olivia Rowan, SAM; and Kris Blomback, Pats Peak, N.H.
I SKI NY - SKI PA EXPO, HUNTER MOUNTAIN, N.Y., SEPT. 19-21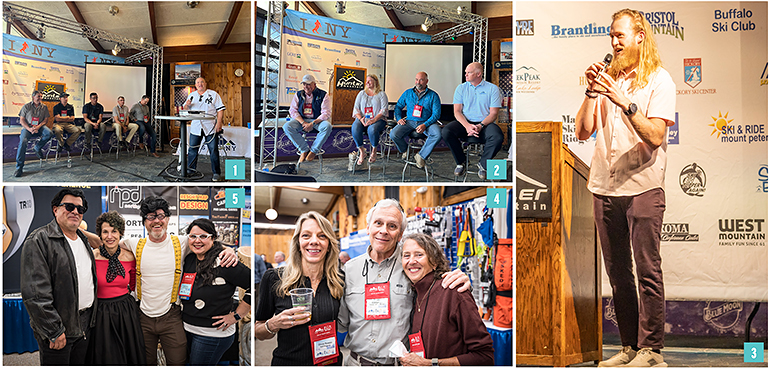 Representatives from 40 ski areas and 68 suppliers gathered at Hunter Mountain, N.Y., Sept. 19-21 for the I SKI NY – Ski PA EXPO. Education session topics included active shooter preparedness, lift maintenance, mental health, employee safety, snowmaking, and e-learning. 1. Representatives from DemacLenko, TechnoAlpin, Ratnik Industries, Inc., HKD Snowmakers, and SMI Snow Makers joined the snowmaking panel led by Scott Brandi, I SKI NY. 2. Wes Kryger, Greek Peak Mountain Resort, N.Y.; Rebecca Kullberg, Mount Peter, N.Y.; Tim Woods, Woods Valley Ski Area, N.Y.; and Jeff Lifgren of Vail Resorts share insights during the general managers roundtable. 3. Pro skier Drew Petersen presents on mental health as part of a live SAM Huddle hosted in partnership with Vail Resorts and I SKI NY - Ski PA. 4. Holiday Valley's Dennis and Jane Eshbaugh with SAM's Olivia Rowan. Photo courtesy of Dave Gibson, Propeller Media Works. 5. Grease is the word... and the theme for the party held the final night of the event. Here, organizer Scott Brandi and his wife, Senan Gorman of North Pole Design, and Sam Rufo of Nxt Concepts embrace the theme, hitting the tradeshow floor in costume. Photo courtesy of Dave Gibson, Propeller Media Works.
MOUNTAIN TECHNOLOGY SYMPOSIUM, MOUNTAIN CREEK, N.J., OCT. 3-6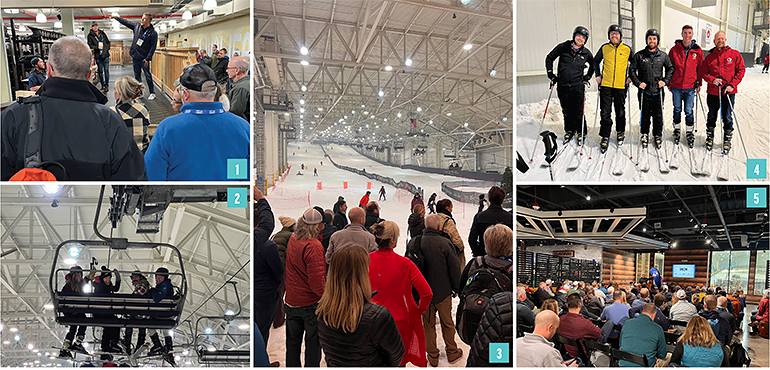 Mountain Creek, N.J., played host to NSAA's Mountain Technology Symposium, where technology professionals and suppliers gathered Oct. 3-6 to see and hear about what's new and emerging in resort technology and systems. Attendees also got a behind-the-scenes tour of both Mountain Creek and the indoor slope at its sister operation, Big SNOW. 1. Hugh Reynolds, CMO of Snow Partners (operator of Mountain Creek and Big SNOW), explains the rental process. 2. Ours is a tough business, but these MTS attendees are up to the task of scoping out the snow. 3. Joe Hession, CEO of Snow Partners, and Hugh Reynolds lead the group on a tour of the Big SNOW facility, discussing what distinguishes the operation from a traditional ski area. 4. Smiles all around after some first tracks inside the ski dome. 5. Joe Hession talks to the group about process improvement and the ideal guest experience.