SIGNS OF THE TIMES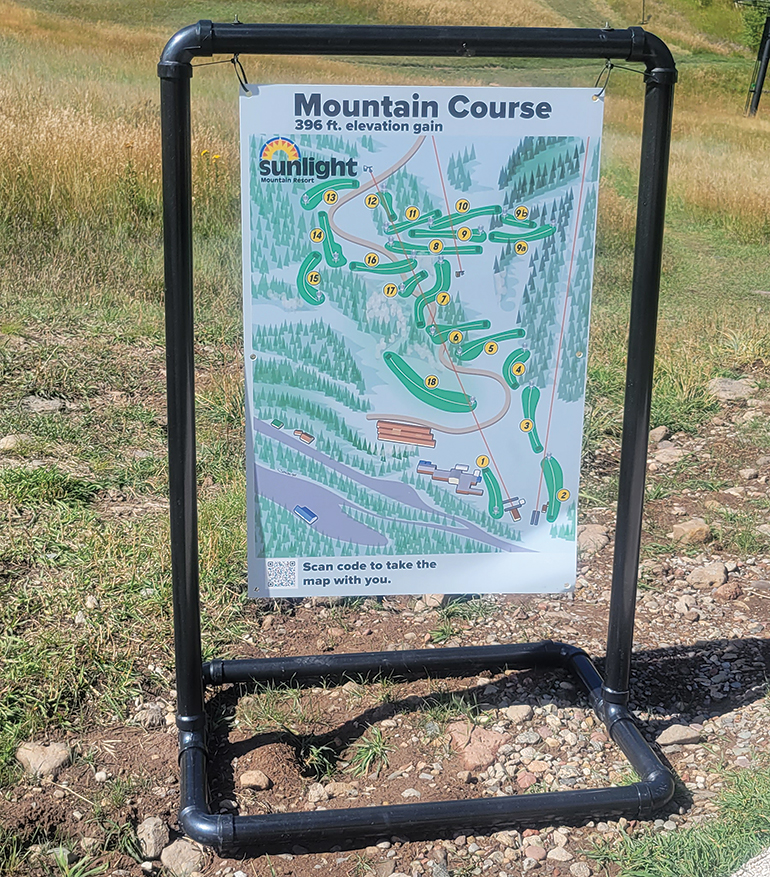 Resort signage is often high in price and low in value, and not always designed to sufficiently withstand punishing alpine conditions. However, Sunlight Mountain, Colo., found an affordable, sturdy solution for displaying 24" x 36" corrugated plastic signage using 1.5" ABS plumbing pipe, quick setting concrete, eyebolts, and zip ties. The result: a roughly 60 percent cost savings and 1,000 percent increase in durability. Four 10-foot pieces of black ABS plumbing pipe were used for two sign stands with about 3 feet of pipe left over. Bases were filled with quick-setting concrete to keep the frames steady. A local print shop delivered multiple signs on four-color, double-sided 4' x 8' sheets of coroplast, which resort staff cut down. "We add our own grommets, and with two zip ties, have a two-sided sign that won't tip over or blow away," says Sunlight's Troy Hawks. Two signs cost about $100. Top sign height is a convenient 48".
FROM THE ARCHIVES :: RED LIGHT GREEN LIGHT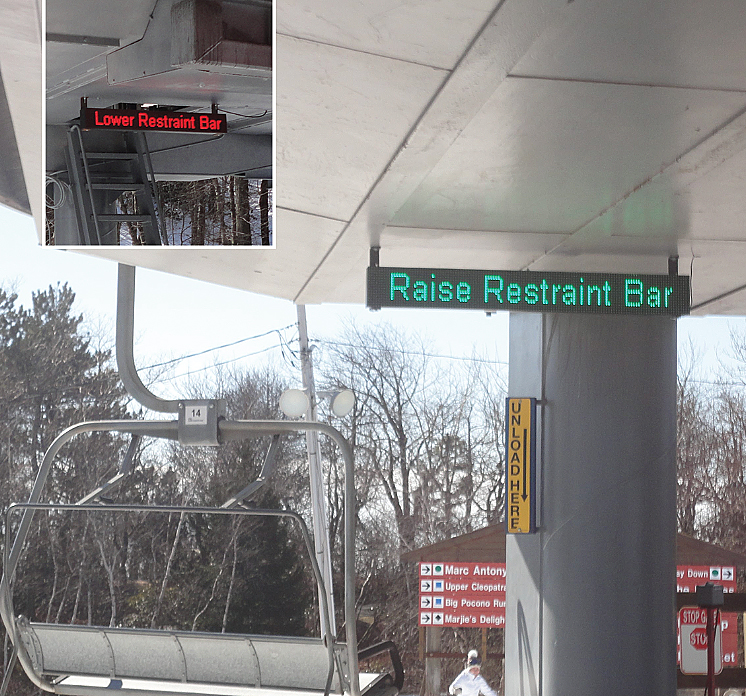 No, this is not a kid's game, but the concept is similar. "We wanted to take the idea of the red light/green light at the unload station a step farther," says Camelback, Pa., lift maintenance manager Ryan Abel. "I came up with the idea (back in 2018) to use a proximity switch and LED readouts. The units were built by our head electrician, Tony Posten, and installed by lift mechanic Jason Richardson at each detachable, at a cost of $750 per." The loading station message is a constant red "Lower Restraint Bar," and the unloading station unit flashes a green "Raise Restraint Bar" when the grip trips the proximity switch. It then stays lit for three seconds, until the chair is over the catch net. Tower signs on the way up instruct riders to leave the bar down until they see the green light. "The operations department says that it definitely reduces the number of incidents that occur at the unload station," Abel notes.
ADIRONDACK SKI CHAIRS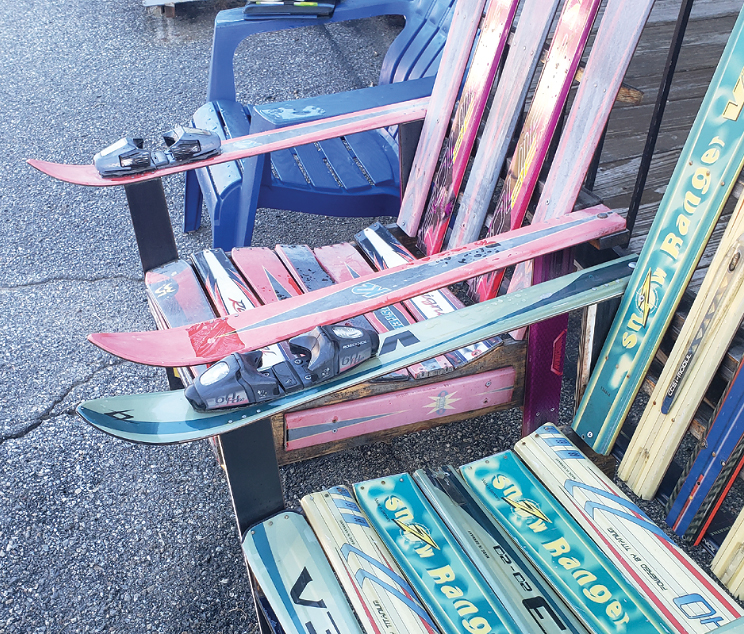 These ski chairs at Lost Valley, Maine, take the Adirondack to the next level with a ski-binding cupholder. "Idea Files" inventions are typically produced in-house, but this clever chair was built by a local fabricator, Bob Poirier of Prospect Mtn Furniture. Poirier says the first chair took him two days to craft, but he can now make one in as little as 2.5 to 3 hours. The chairs are built primarily from old skis, which Poirier cuts into back, leg, seat, and arm pieces. (A long ski can typically make three slat pieces, one each for a seat, a back, and a leg). In addition, pieces of exterior urethane-coated wood are used for the seat and back supports. Two ski-binding toe pieces are then drilled and screwed to an arm piece to form a cupholder. These chairs sit up about 5" higher than a typical Adirondack, making them easier to get in and out of and more comfortable, says Poirier. The chairs run $150, with Poirier typically sourcing the skis and bindings from a local ski swap.