VAIL MOUNTAIN, CO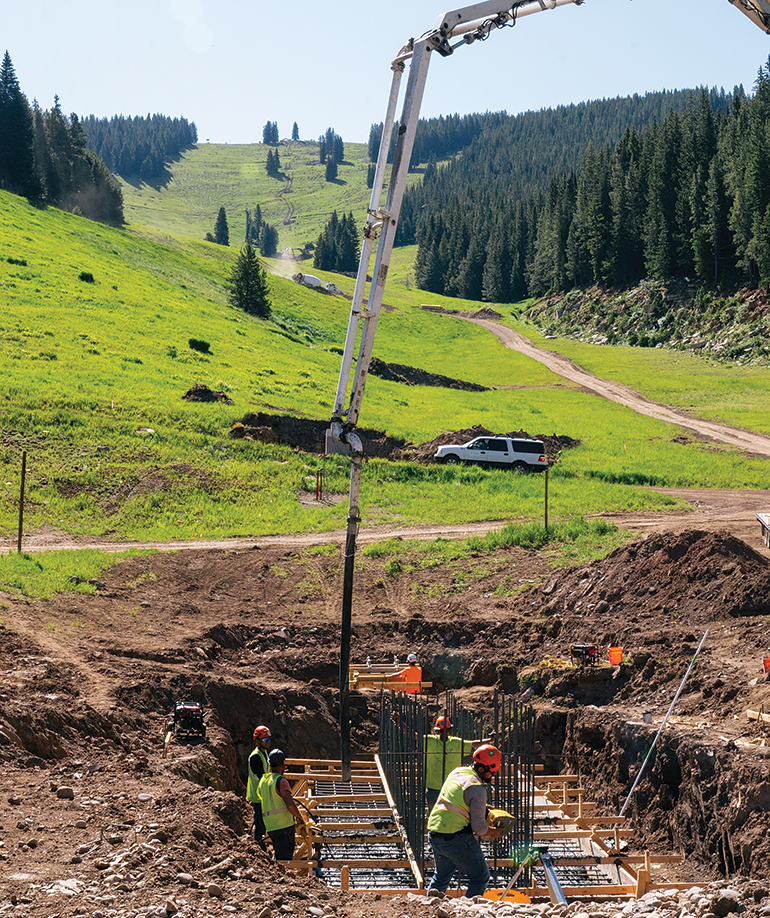 Two of the largest projects in Vail Resorts' 18-lift "Epic Lift Upgrade" are underway on Vail Mountain, Colo. Leitner-Poma of America worked this summer to replace a 1985 vintage detachable quad with a six-place detachable in Game Creek Bowl and install a new detachable quad in Sun Down Bowl.
The old 1985 Game Creek Express, also known as Chair 7, was one of the first high-speed quads built in the United States. Its replacement will span 4,484 feet of slope length with a vertical rise of 1,184 feet. A capacity upgrade to 3,200 skiers per hour will make for smoother connections between Lionshead Village and the Back Bowls.
The second lift project will help skier and rider flow in the opposite direction, out of the Back Bowls. The new Chair 17—the same number used by the former Sun Up Lift, which was replaced in 2016—runs in a new alignment from the base of the Sun Up and Sun Down bowls to the top of Game Creek. The 6,106-foot-long Leitner-Poma detachable quad rises 1,586 feet and will carry 2,400 skiers per hour. Terrain at the top of both lifts has been regraded to make egress smoother. 
In addition to improving flow in the Back Bowls, the new lift will provide redundancy at the base of the Sun Up and Sun Down bowls, making it more efficient for the operations teams to open the Back Bowls after a large storm. In the past, avalanche control in China Bowl prevented Vail from operating the Sun Up Express (Chair 9), so the resort could only operate one lift in the Back Bowls, with lots of anxious powder hounds waiting. Chair 17 will ease that while control work in China Bowl is completed. 
Construction crews utilized a Menzi Muck (or spider hoe) to work on steeper, rockier terrain in Sun Down Bowl. The terrain also required the use of explosives on large rocks. Both lifts are expected to debut early in the winter season.
 SCHWEITZER, ID
This summer, Idaho's Schweitzer Mountain Resort embarked on its second major employee housing project since 2020, in partnership with developer Eastmark Capital Group. Eastmark has experience with high-density and university housing projects in the Pacific Northwest. This is the first time Schweitzer and Eastmark have partnered. The resort owns and will control/manage all of the housing.
The 74,000 sq. ft., 84-unit apartment complex in Ponderay—about 20 minutes from the resort—will consist of three, three-story buildings as well as open space on three acres. With 37 percent of the site designated as green space and 76 percent of the site being open space (which includes green space, parking lots, and walkways), the project exceeds municipal minimum open space requirements. 
Units are designed for both individuals and families with one-, two-, and three-bedroom options. In a departure from some more traditional employee housing programs, the units are pet friendly. The apartments will also include in-unit laundry, bike storage, and ski stowage. 
There is a public bus stop on-site and other public transportation stops are nearby, with routes to Schweitzer Village and downtown Sandpoint, making it convenient for staff to get to work and around town. The property is also within walking distance of groceries, shops, and dining. 
Contractor Yost Gallagher began construction in July. The $22 million project is progressing as scheduled and is expected to be ready for occupancy in summer 2023. At press time, the framing and trusses were nearly complete on all three buildings. Work will continue through the winter. 
A future phase will include outdoor play areas, workout facilities, and a full-service daycare to serve Schweitzer employees with young children.
 BOYNE MOUNTAIN, MI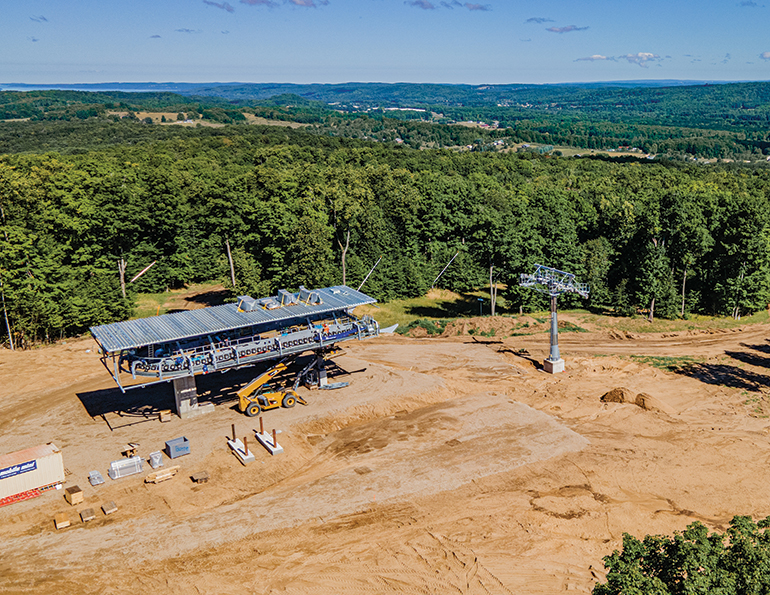 Boyne Mountain is installing the first eight-passenger chairlift in the Midwest. Replacing two Riblet triples, the Disciples 8 is the fourth eight-place lift Boyne Resorts and Doppelmayr have built together (the others: Big Sky, Mont., Loon, N.H., and Sunday River, Maine). Boyne chose an eight-passenger instead of a six "to continue our legacy of bringing bigger and better chairlifts to the Midwest," says mountain operations director Tyler Prange. 
The new lift will serve beginner and intermediate cruising terrain, which will be lit for night skiing for the first time this winter. It will move up to 3,000 pph at a max speed of 1,000 fpm, yielding a ride time of roughly three minutes. That design capacity is about equivalent to that of the two triples, but the ride will be half as long and provide a better guest experience; the old lifts had design ride times around seven minutes but frequently stopped due to guest errors loading and unloading.
The D-Line detachable is 2,596 feet long and propelled by a direct drive. Construction commenced the Monday after closing day in April. Once the old lifts were removed, excavating contractor Team Elmer's did most of the grade work along the new, wider lift alignment. 
Doppelmayr mobilized on May 15, starting with bottom terminal foundations. An all-Austrian supervisory team completed steel erection of each terminal in less than three weeks. All eight towers were installed by crane. As of the first week of October, the haul rope was pulled and spliced and the project was pacing ahead of schedule.
In addition, about 20,000 feet of snowmaking pipe were upgraded throughout the Disciples area. The pipe will feed 53 new HKD low-energy snow guns. The new pipe ranges in diameter from six to 16 inches. Ductile iron pipe was used for water lines, while HDPE pipe was used for air. All of the new pipe is buried.
 LOOKOUT PASS, MT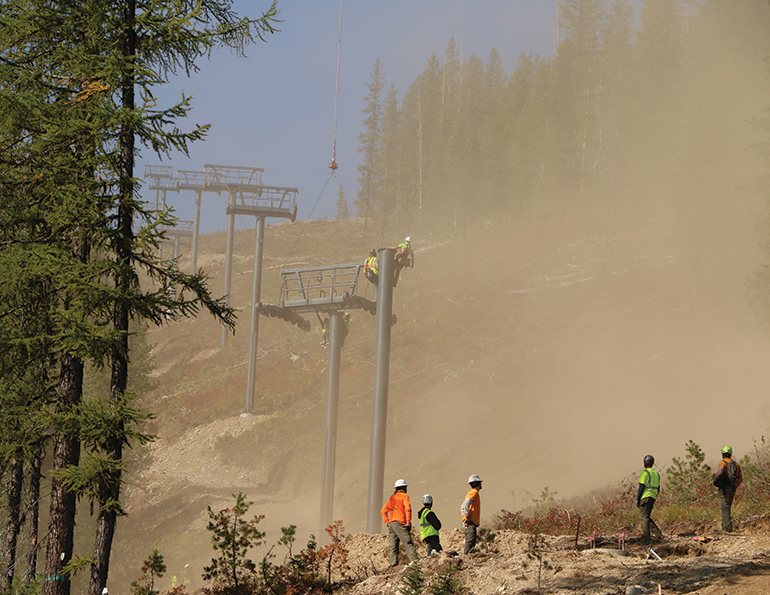 Lookout Pass will open 500 acres of new terrain on Eagle Peak this winter, nearly doubling its footprint and adding 640 vertical feet. Situated behind the existing ski area, the new acreage is spread across two states (Idaho and Montana) and two National Forests. Lookout worked with both the Idaho Panhandle and Lolo National Forests to gain approval back in 2017. While logging began that year, other infrastructure improvements needed to take place before the expansion made sense.
Over the last five years, Lookout upgraded two other lifts (in 2019 and 2021) that skiers will utilize to access and egress Eagle Peak. One existing lift went from a double to a quad and another from a double to a triple. Crews from two different logging contractors continued clearing trails. When it opens this winter, Eagle Peak will feature 14 upper-intermediate and advanced runs with glades in between.
This year, Lookout contracted with Skytrac to modify and install a Garaventa CTEC fixed-grip quad chair purchased from Sundance, Utah. Lookout Pass teams took the lead transporting components from Utah to Idaho, where the components sat in storage for a winter and were repainted.
The refurbished lift will ascend 1,350 vertical feet over a 5,260-foot span in 12 minutes, powered by a 400 hp motor with a 1,500 pph capacity and 152 carriers.
Skytrac commenced construction of Chair 5, as it will be called, in mid-July, pouring foundations for 25 towers and both terminals. The lift was brought up to current ANSI code with a new hydraulic tension return station, a new drive, and new low voltage controls. A Black Hawk from Timberline Helicopters flew towers in late September. It is expected to be operational by Nov. 30, 2022.
 BLUE MOUNTAIN, PA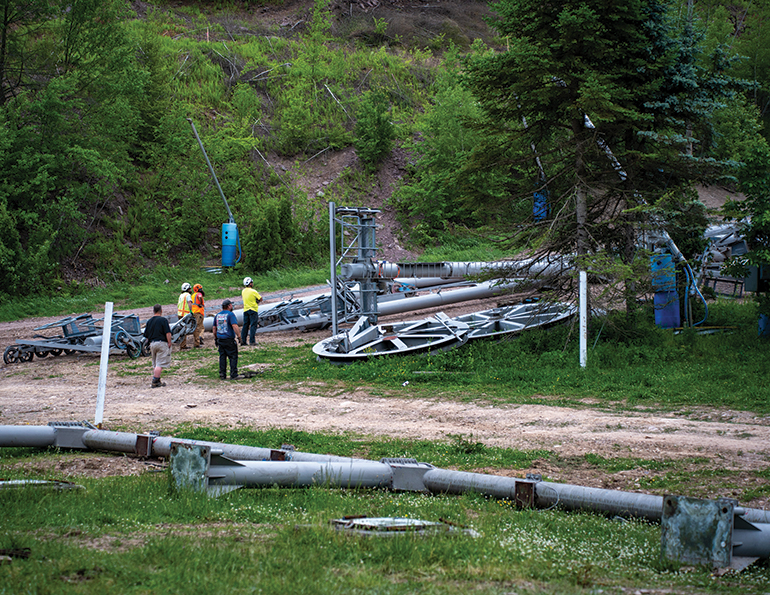 In 2022, its second year of ownership at Blue Mountain, Pa., KSL Resorts elected to replace two aging fixed grip lifts with a Leitner-Poma six-pack to be called the Main Street Express. The 4,472-foot lift runs in a new alignment directly between the Valley Lodge and Summit Lodge. It will decrease the amount of time guests spend in a lift line and increase uphill capacity by 600 people per hour. 
The Main Street Express will rise 973 vertical feet, with 16 towers and 80 chairs. Demolition and excavation began as soon as the resort closed in April, and Leitner-Poma was assisted in the lift installation by Orlando Diefenderfer Electrical, Speak Construction, and AJ Trunzo Inc. The last components arrived in mid-October, and the project is expected to be complete in December. "We worked closely with Leitner-Poma on realistic timeframe goals, keeping in mind the current supply chain issues," says mountain manager Nick Delich.
The new six-pack will operate both day and night in the winter and is rated for downhill loading during summer operations. Blue widened one of its trails significantly to accommodate increased traffic from the new lift and re-routed several sections of snowmaking pipe. 
To support the new chair, the mountain also invested in nine TT10 fan guns, three TL8 lances, and five Borax lances from TechnoAlpin. In addition, Blue increased the pipe diameter of the water and air lines on a feeder section of the snowmaking infrastructure in order to keep up with the growing demand for water capacity. All snowmaking work was done in-house.
STEAMBOAT, CO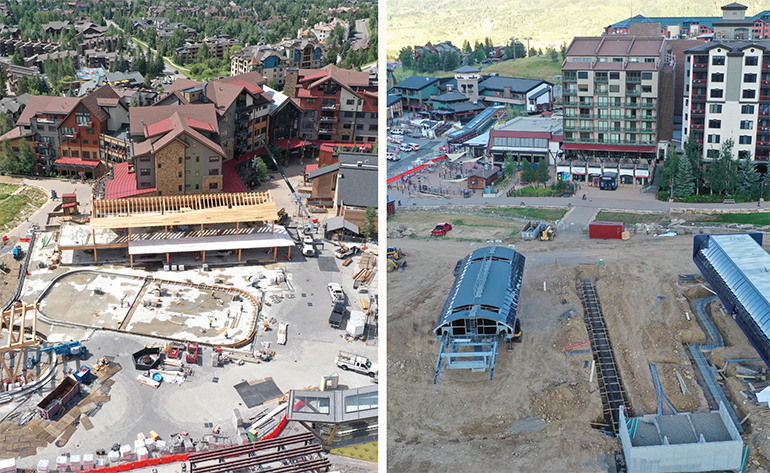 It was a busy summer at Steamboat, with phase two of "Full Steam Ahead," the largest capital improvement campaign in the resort's history, underway.
Doppelmayr is installing the first of two sections of the new Wild Blue Gondola, which runs 589 vertical feet from the base area to the new Greenhorn Ranch learning center. The D-Line gondola's capacity will be 3,200 pph at nearly 1,200 fpm, making it one of the highest capacity and fastest lifts in the country. 
Foundations for the second section to Steamboat's summit were also completed this summer. Wild Blue will be the longest gondola in North America when the second section opens a year from now. Section one features a two-ring direct drive, and section two will feature a five-ring direct drive. The two segments will be able to run together or independently of one another, making Wild Blue adaptable to weather and operational needs.
In addition, Leitner-Poma worked at Steamboat this summer relocating the lower section of the Christie Peak Express South to make room for the new gondola. Christie Peak's angled mid-station had to be modified and the bottom terminal and six towers were relocated.
The new Greenhorn Ranch learning center will include an 11,000 sq. ft. Sprung structure serving as a warmup and lunch spot for lesson groups. The center also has a Doppelmayr detachable quad and four conveyor lifts. The quad, installed this summer, is designed to carry up to 1,800 pph, though initial capacity will be 1,200 pph. It is 1,178 feet long with a vertical rise of 230 feet. It will spin at a beginner-friendly speed of 600 fpm, and serve a 0 to 15 percent graded slope designed in partnership with Snow Operating.
The four conveyors include two new, 170-foot-long, parallel SunKids that are attached by a median and covered by a clear enclosure. The other two—a 100-footer and a 250-footer—were relocated from the lower mountain. In addition, 30 fully-automated SMI Super Puma fan guns were installed in the learning area to help it open early in the season. 
To allow additional intermediate terrain to open early, about 26,000 feet of ductile iron pipe and 30 fully-automated SMI Super Pumas were installed in the Sunshine area.
 MONT SUTTON, QC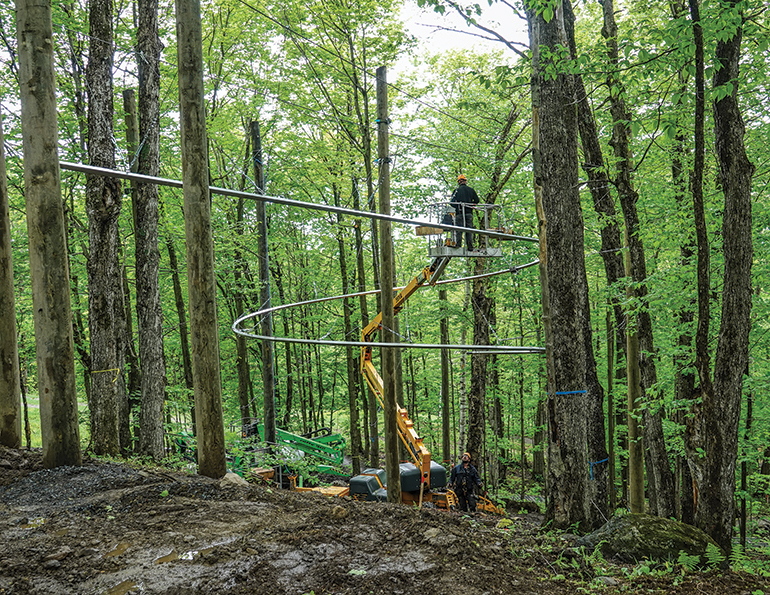 One of the first zip line coasters in North America opened at Mont Sutton in Quebec this July after more than two years of planning. The patented Zip-Curve system was designed and installed this spring by Quebec-based Zip-Rush, with the help of Mont Sutton employees.  
One year after debuting a traditional 1 km (0.62-mile) zip line, Mont Sutton wanted to add a more immersive experience in the forest. "Our clients appreciate skiing in the glades, so we figured they would appreciate zip lining through the trees," says marketing director Nadya Baron. 
Harnessed guests are connected to a trolley with magnetic braking that rides on 2,150 feet of curved aluminum rail. The gravity-fed ride descends through the trees, making a series of turns, drops, and loops. The largest loop is 450 degrees of turning track. Clients are given an orientation and safety briefing, and complete the hike to the top of the track at their own pace. The entire experience lasts about an hour and 45 minutes.
The forested setting added some challenges. Mont Sutton initially planned to use trees as supports for the attraction's rail, but ultimately switched to using wood utility poles. The route had to be altered multiple times as tree surveys were completed. Some trees needed to be removed while others were kept to serve as anchors for approximately 30 guy-lines connected to the rail. Work on the roughly CA$1 million attraction commenced as snow began to melt in March and was completed on July 23, only about a week behind target.
Finally, in partnership with East West Partners, the Steamboat base area is being revitalized with, among other things, a new skating rink and adjacent food hall. Saunders Construction is the general contractor for both. The 8,000 sq. ft. outdoor rink is located where the original Steamboat Gondola once stood. In the summer, the rink area will host lawn games, live music, and events. A two-story food and drink hall dubbed The Range will include offerings such as ramen, taco, and pie stations. 
SADDLEBACK, ME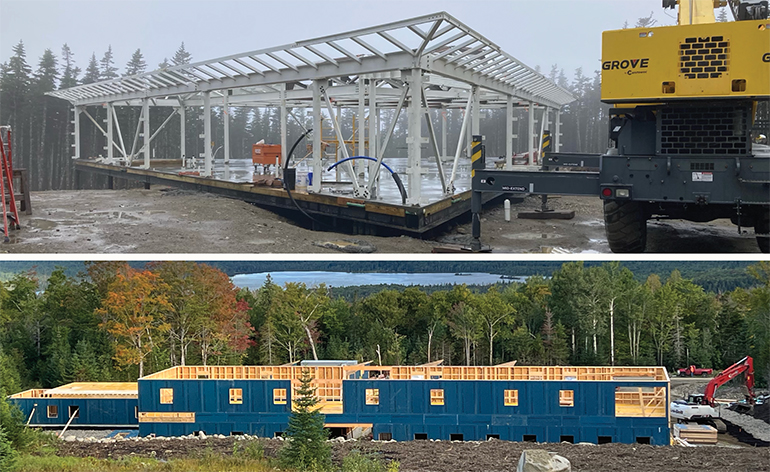 Projects at Saddleback Mountain in Rangeley, Maine, this summer included construction of a new chairlift, employee housing, and a mid-mountain lodge. 
The new Partek fixed-grip quad replaces an old Hopkins double chair. The 1,397-foot-long quad rises 227 vertical feet and serves a terrain park and condos. The lift will play a key role in providing access to the mountain's T-Bar when wind holds make a nearby detachable inoperable. Its 47 carriers will travel at 400 fpm over seven towers. Ross Stevens completed the engineering, while installation work was done entirely in-house.
Saddleback is also investing in employee housing. Two slopeside buildings are under construction, one of which will be set for occupancy this winter. The two-story wood-framed structures, dubbed The Saddleback House, feature a mix of dorm-style housing with communal kitchens, and en suite apartments with private bathrooms. Six different contractors from around New England are working on the project, which will house 80 to 90 staff members when complete.
In addition, at the top of the Rangeley Express quad, Saddleback is building a unique mid-mountain lodge. Due to its proximity to the Appalachian Trail, Saddleback worked with the Appalachian Trail Conservancy and Maine Audubon Society to create a design that blends into the mountainside when viewed from above: The one story, triangle-shaped building will have a living roof with native berries and grasses.
To reduce the environmental impact of the construction, the steel-framed lodge sits on steel pylons rather than a poured foundation. The glass for the windows is specially designed to reduce bird strikes. 
The site is within endangered Bicknell's Thrush habitat, so construction couldn't begin until after the birds' mating season in August. At press time, contractor Peter Carl Construction was aiming to enclose the building in late fall. The lodge will open sometime this winter as a warmup space for guests. It will have 80 seats. Food service will follow next year in a planned partnership with a Portland, Maine, restauranteur.