In the same way that terrain park crews like to rebuild their parks to keep them fresh, we made some changes to this year's Terrain Park Contest by adding and subtracting categories in an effort to highlight what's most important to park builders. The result: there are now four categories in the contest—the most since it first graced these pages back in 2005.
"Terrain Park Events" has returned after it was temporarily replaced last year by "Terrain Park Edits," which remains and has garnered a strong response both years. "Terrain Park Crews" has been added as a way to recognize the teams behind all of the kickass work being done in parks around the world. "Terrain Park Features" remains the stalwart, as it has since the beginning, and "Bread and Butter"—which aimed to highlight the most popular feature in your park—is no longer a category.
With refreshed categories, we noticed some trends in the entries, such as "events" that were special builds for invited skiers and riders—and photographers and filmers—that ultimately produced entries in the "edits" category.
One thing that will never change: terrain parks are all about community, from events with the sole purpose of bringing people together to tight-knit park crews that not only work with each other as a team but work for each other as a family.
We received more than 60 entries this year. See them all here, and vote for your favorites. Winners will get a prize pack from SAM—but the ultimate prize is letting everyone know you won.
Click on the links below to read all about these entrants. Voting ended December 14, 2022. Stay tuned for winner announcements, coming soon!


SPONSORED BY:

FEATURES
THE MJ FIRECRACKER
TROLLHAUGEN, WIS.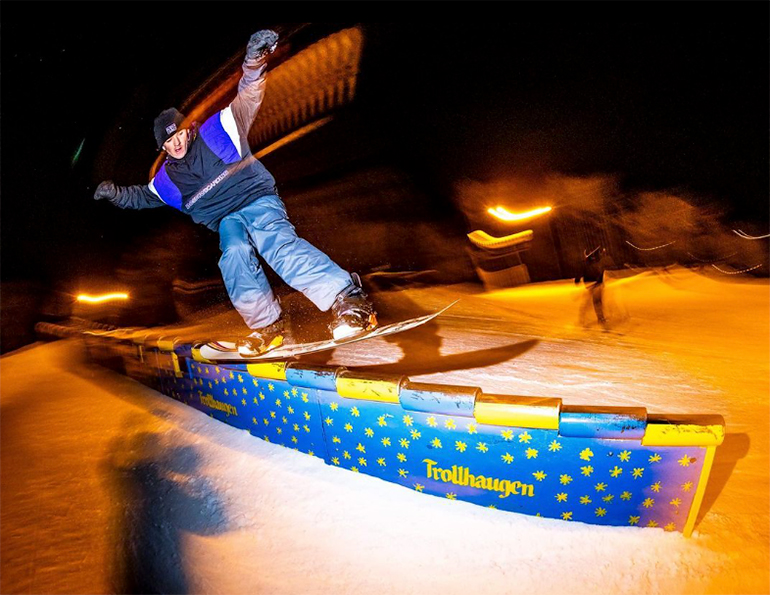 Creators Bill Brandt and Grady Tank wanted a special feature for Trollhaugen's Lord of the Ropes invitational park contest last February and came up with the idea for the MJ Firecracker. The feature is 23 feet long with 23 barrels stepped down evenly in succession, making for a loud, crackling ride. Made from steel tubes, wood panels, and "a whole lot of heart," the versatile addition has been set in both the small/medium and the medium/large parks at the ski area. A PistenBully Park Pro was used to set the feature, and snow tools from Arena and Snowboy were used by the hand crew for the finishing touches. It's approachable for all abilities, depending on the day and set up, and riders are encouraged to slap down each step and make some noise.
MONSTER ENERGY 80-FOOTER
SILVERSTAR MOUNTAIN RESORT, BC, CANADA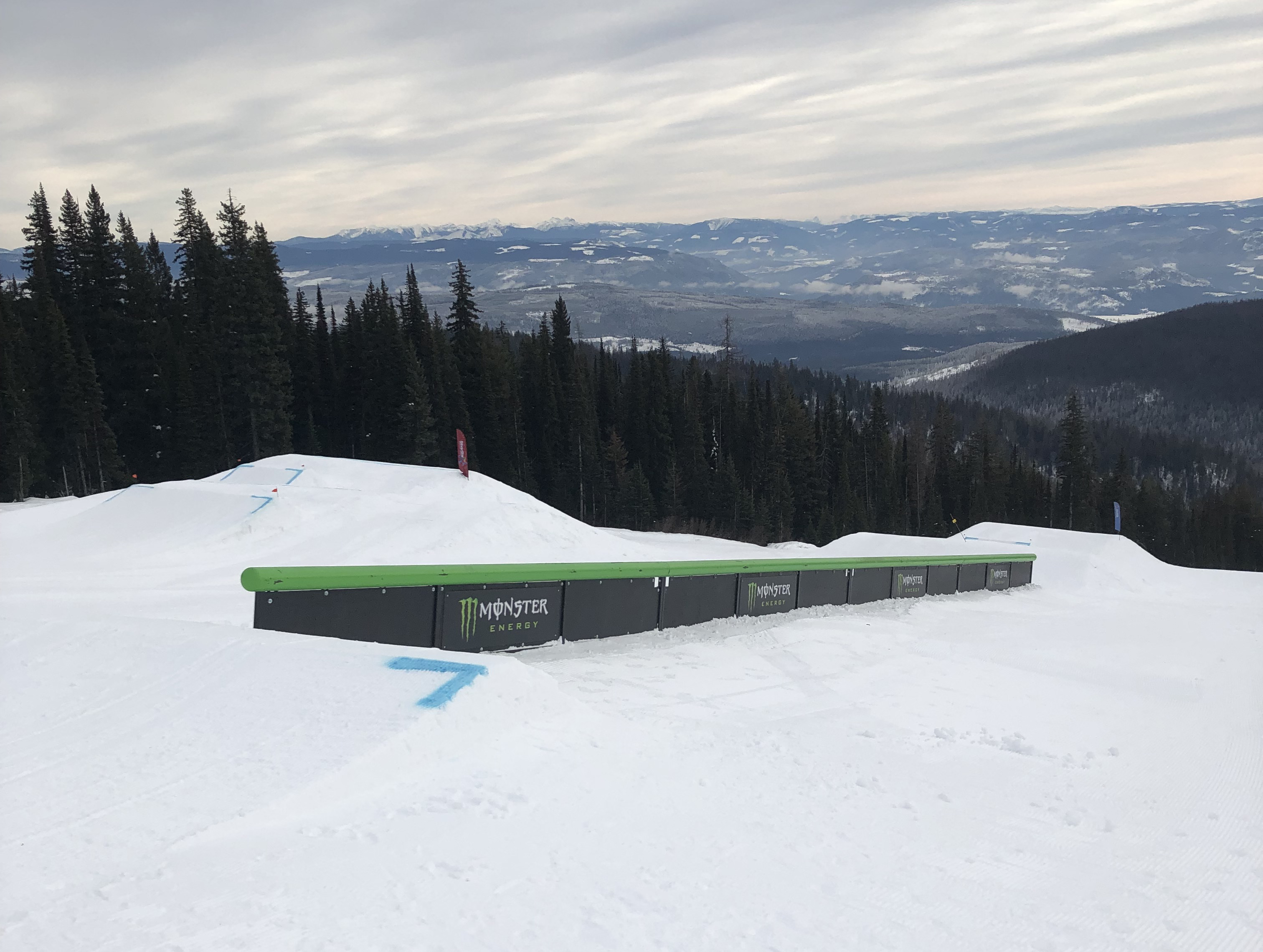 The SilverStar crew worked with Arena Snowparks and Monster Energy to create this long, modular rail. Its four 20-foot sections can be set individually or joined together to make an 80-foot rail. Four kinked rails can also be added to the 80-foot feature or used to create different combos in shorter segments. Constructed in 2022, it uses a steel frame, wood paneling, and 12-inch diameter steel tubing. It stands about three feet tall when installed. The full feature took two hours to set using a PistenBully Park Pro, four park staff, and Arena Snowparks hand tools. Because it is modular and long, to get it straight, the crew had to prop the rail up with shovels, bury the legs with snow, let it set, and then dig out the shovels the next morning. Everyone intermediate and up attempted the feature, though only a few made it to the end.
SMITH SUNGLASSES
BLUE MOUNTAIN, ONTARIO, CANADA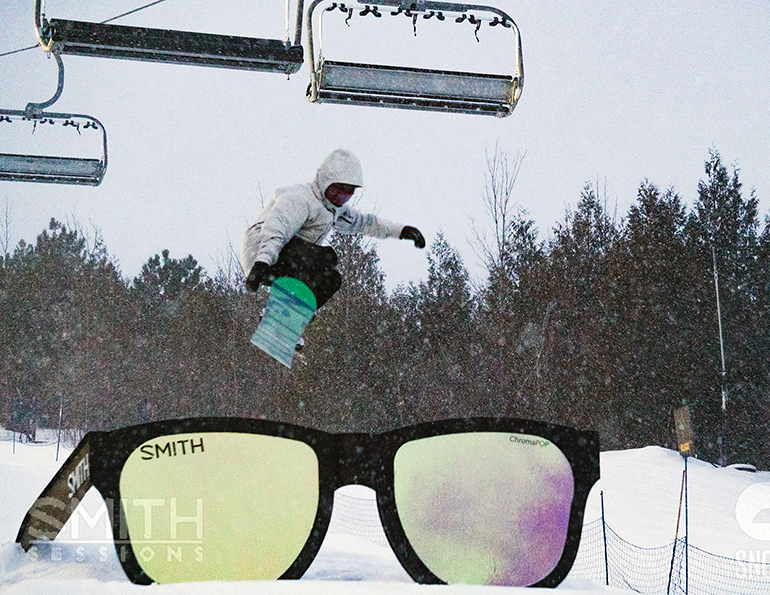 Blue Mountain partnered with Smith Optics to conceive this feature shaped like a giant pair of sunglasses. Built in November 2021 by fabricator Jim Brace and his team at PTNR Productions, the 12-foot-wide, five-foot-tall, 15-foot-long feature is made entirely of steel with "lenses" wrapped in specialty film to give them a mirrored Smith "ChromaPop" look. Fork pockets welded onto the base make it easy to move. The park crew set it in the resort's Badlands terrain park with a Prinoth groomer. A take-off deck with a small kicker allows users to gap the sunnies, tail-tap, or hand-plant on the nose piece, and the arms of the glasses have ride-on decks, making them slidable for all abilities. The versatility of the feature allowed users to put together an endless number of creative lines.
RAINBOW SPINE
MOUNTAIN HIGH, CALIF.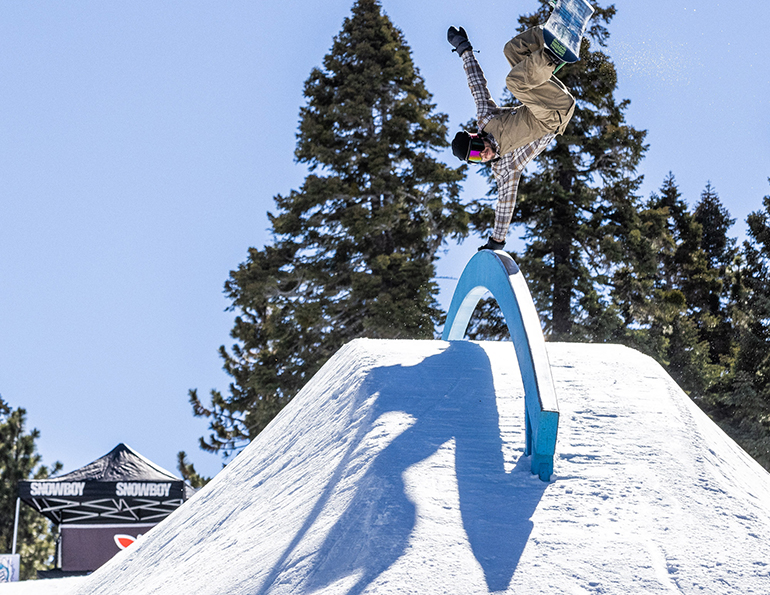 Originally built in the early 2000s, the Rainbow Spine was refurbished in 2012, and most recently installed by Scott Speers and the Mountain High hand crew for the 2022 Pipelines event from Snowboy Productions. Its recent incarnation took one cat operator in a Prinoth Bison X and four crew members using Snowboy rakes two days to install. The feature is fabricated from 4 in. x 8 in. rolled steel, bent specially for the feature. On the ground, it is 50 feet long, 12 feet tall, and four inches wide. A custom ski system on one base of the rail and a hitch on the other allows it to be towed by a snowcat. The Rainbow Spine remained on-hill for the public for almost two months after the Pipelines event, lasting the majority of the season, despite the SoCal sun.
PYRAMID STALL
ASESSIPPI SKI RESORT, MANITOBA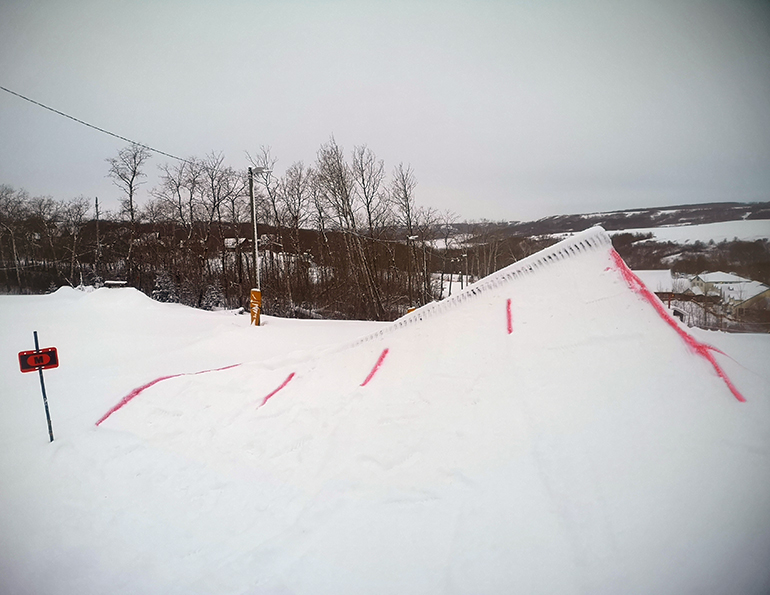 "Anyone who dares" can ride the Pyramid Stall, built by the park crew at Canada's beginner-oriented Asessippi Ski Resort. The build took two hours with two builders, Brandon Hillman and Rudi "the Scotsman" Gilmour, who used two InterMTN park rakes, and one skilled cat operator using a Prinoth Bison. The spine of the feature is made of 20-inch-wide plastic ribbed culvert, and it measured six feet high, four feet wide, and 12 feet long. It was set in Asessippi's small terrain park called Robin's Run, and stayed in place for three weeks. The ski area had never put a feature like it in its park before, so it took folks time to get used to—but once they did, it was very popular.
SNOW PARK
BEAR CREEK MOUNTAIN RESORT, PA.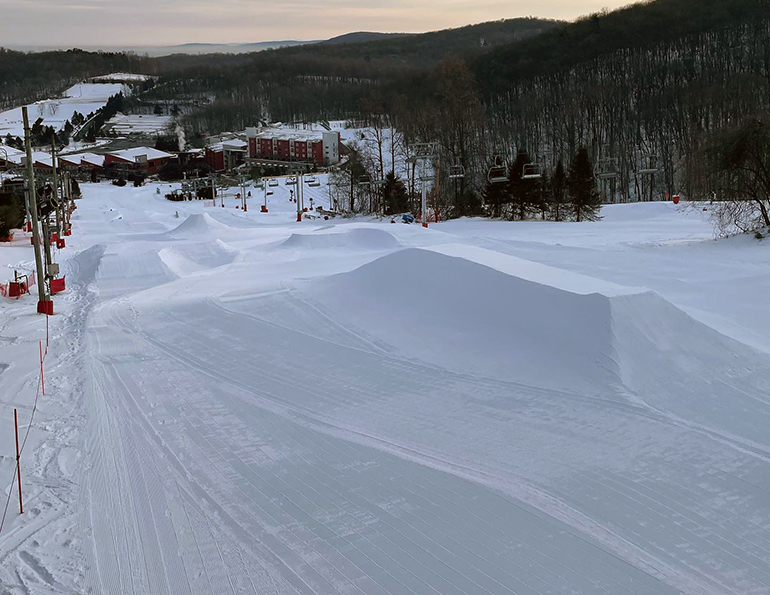 Drawing inspiration from Snowboy Productions' Holy Bowly event, head builder and park groomer Aiden Bulwicz and the Bear Creek park crew took advantage of a record cold spell in the last few weeks of January 2022 to piece together the elements of the Snow Park. Using a Prinoth Bison X, Bulwicz built one snow feature per night over the span of three nights in addition to his usual grooming routine, with some fine-tuning done by three or four members of the morning park crew using Arena Snowparks rakes. The features included: a 20-foot-tall x 60-foot-long hip; a six-foot-deep symmetrical bowl section; and a 15-foot-tall volcano, all made of snow. Although located in the large park, these features were used by all skill levels due to their dynamics, which allowed park goers to take the elements at their own pace.
THE BUS
PINE KNOB SKI RESORT, MICH.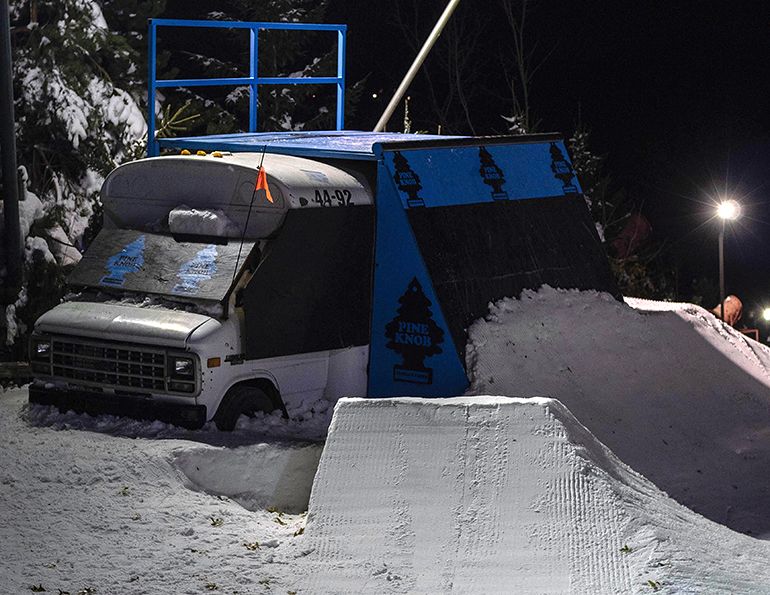 The Bus is both a permanent wall ride and the resort's "digger shack," complete with heat and electric to help the crew survive sub-zero nights spent building and shaping. A 1998 Chevy Avalanche van, The Bus was purchased for $500 on Facebook Marketplace. The wall, fixed to the bus, is 12 feet wide by 10 feet tall and has a standing deck on top. The frame is made of 2 in. x 2 in. steel tubing, 1/8-inch sheet metal covers the wall, and a piece of old six-inch snowmaking pipe was used for the coping. The feature took nine days to build, and was designed and fabricated by terrain park manager Matt Dunn with assistance from the maintenance crew. It's now fixed on an elevated pad and is one of the first features to open each winter. It's utilized by everyone from diggers to the youngest patrons, who sometimes stand on the deck to view the park.
BUTTERMILK QUARTERPIPE
ASPEN SNOWMASS, COLO.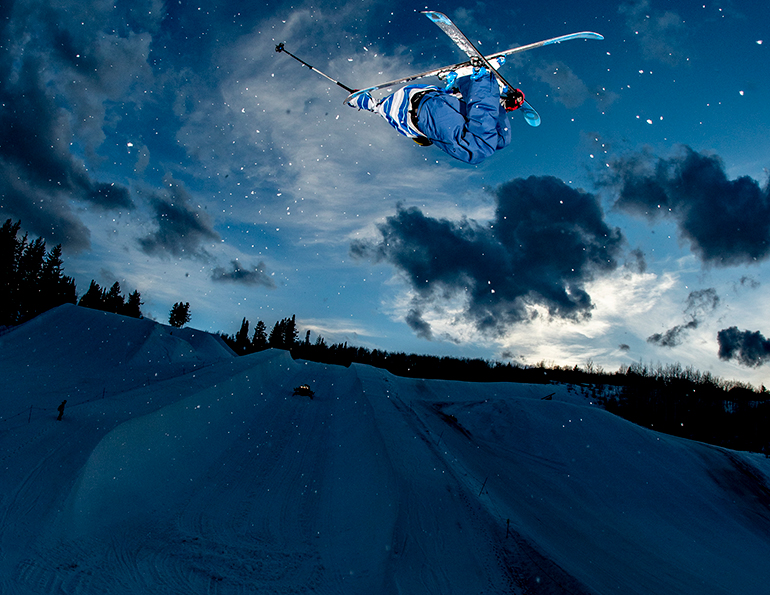 After several late-season dumps left Aspen Snowmass with a surplus of snow in the superpipe at Buttermilk, groomers Dominic DiGiovanni and Greg Viall built this 22-foot-tall quarterpipe at the bottom of the superpipe for slushy spring riding. At 50 feet wide, the all-snow feature took roughly 20 hours to construct using a Prinoth Bison X, a Prinoth 350 winch, and it was cut using a Zaugg. The quarterpipe was available for the last two weeks of the season. As the last feature in the park, park goers were also able to hike to it. Its softness made it accessible to anyone who loves a good spring quarterpipe.
HEATH LEDGER
KILLINGTON RESORT, VT.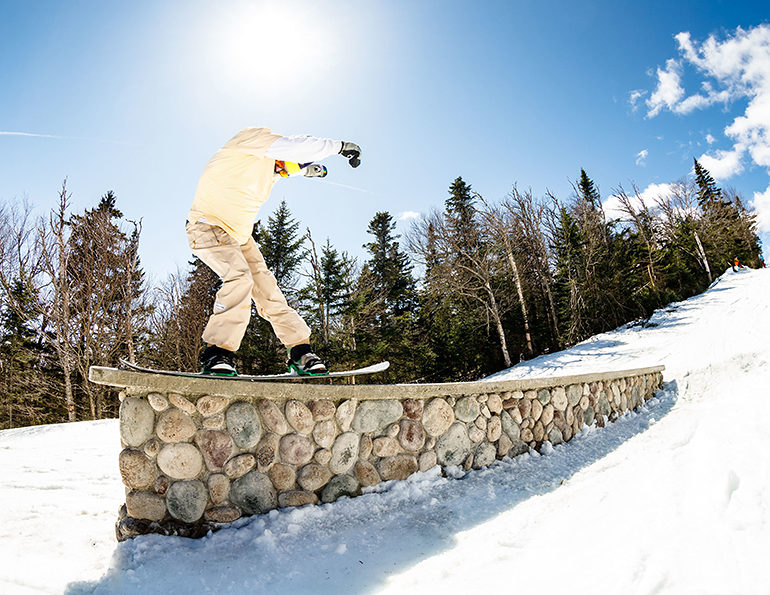 Riders at Killington just can't quit the Heath Ledger, which was cemented into the ground during early summer 2022 but is one of the original features from the early days of The Stash, the resort's longstanding Burton terrain park. The four-foot-tall, 20-foot-long feature was inspired by the idea of bringing the streets to the mountain in a way that ties into the natural beauty and theme of The Stash. Weather conditions can make its hand-shaped concrete sliding surface a bit unpredictable, and keeps riders and skiers off their edges. It was built in 2008 by the Killington parks crew and Jay "Rosey" Rosenbaum, and it has endured the harsh East Coast elements ever since with no maintenance required. Skiers and riders of all abilities like to hit it.
SHOTGUN 
COPPER MOUNTAIN RESORT, COLO.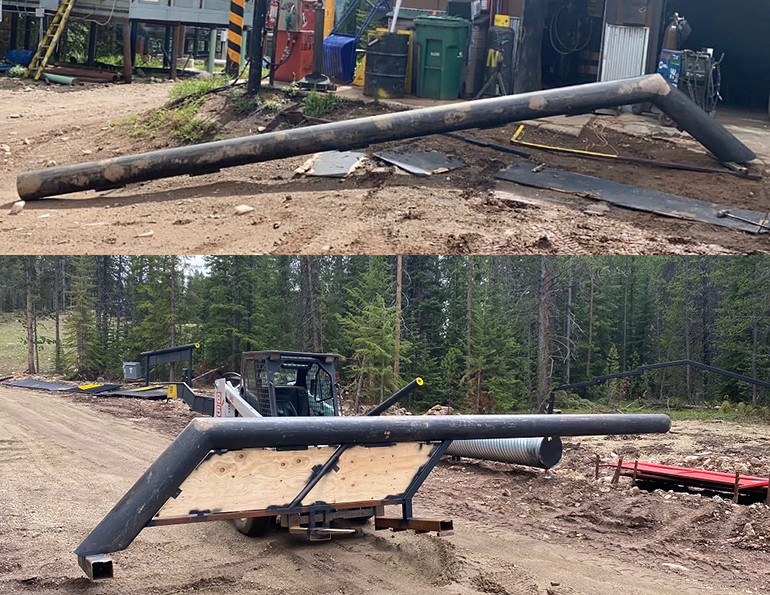 A classic tube that had been damaged during teardown was refurbished in summer 2021 and debuted last winter as the Shotgun—"a huge cannon" feature. Fabricator Chris Cracraft removed the old, battered skirting and replaced it with new, reworked material, and also added some beefy feet on the front and middle so the end could float freely. The feature is four feet tall and the 13-inch round tube is 20 feet long. It weighs roughly 800 lbs. Its frame is made of 1.75-inch square stock with plywood skirting. After building the jump and knuckle that the feature was set in, it took terrain park grooming foreman Jake Halvorsen two hours to install it with a PistenBully Park Pro. The Shotgun looks imposing, but when hit with the right speed it sends riders floating into the sweet spot, and expert riders can spin every which way they please.
CAMPGROUND A-FRAME
JACKSON HOLE MOUNTAIN RESORT, WYO.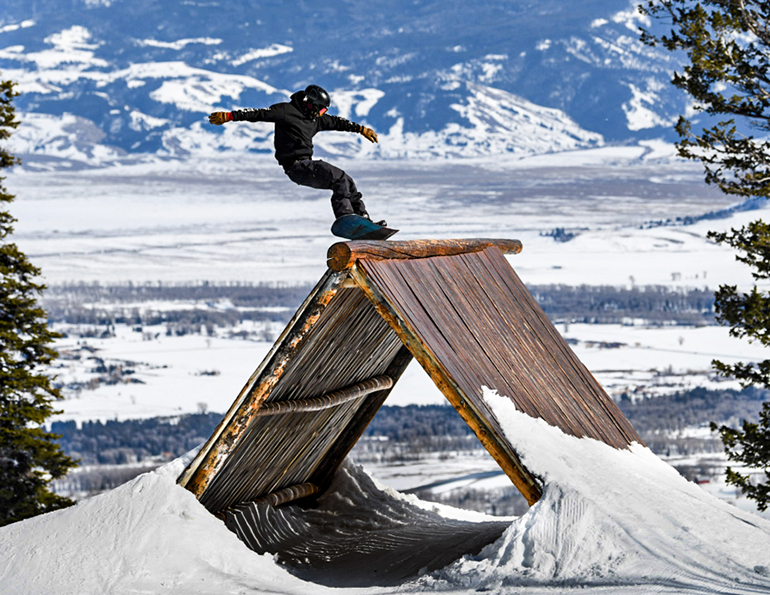 One of the first features built in the decade-old Stash Park at Jackson Hole Mountain Resort, the A-frame is a nod to the classic, slanted-roof ski houses of the '60s. The rustic, woodsy element is the first feature one sees after moving through park's entry arch, setting the creative, freestyle tone of the Stash. About 15 feet tall and 20 feet long, this permanent feature was built 11 years ago by JHMR park staff including Ranyon d'Arge, Tim Ramirez, John Goggin, and Remi Milosky. Made of trees, lumber, and screws, the A-frame is inspected, stained, and sanded each fall. In the winter, it gets daily maintenance as well as cat work each night. The A-frame is built for everyone—kids like to go under and through, and pros can go up and over.
CHRISTMAS TREE HIP 
BIG SKY RESORT, MONT.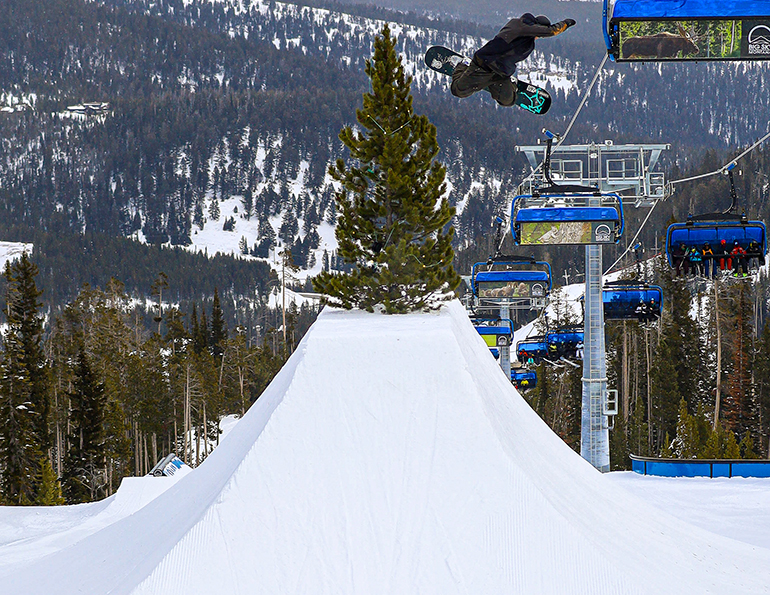 With its terrain park scheduled to open Christmas Day, builders at Big Sky decided to capitalize on the opportunity to build a timely feature. A few trees in the park needed to be removed, so the team of Al Syverson, PJ Markow, Adam Parker, Jack Anderson, and Charlie Raczkowski decided that one would become a Christmas tree placed atop a hip. Riders could "tap it, gap it, or just enjoy it from the lift," said Markow. Solar-powered string lights were even added. The feature had a nine-foot lip, 14-foot side transitions, and a 3 ft. x 40 ft. deck—with an eight-foot tree on top. It took the crew two nights to build, with two cat operators and three hand crew using a laser, chainsaw, SPT launch rods, SPT rakes, and steel shovels.
BUTTER THE SHARKFIN
TELLURIDE, COLO.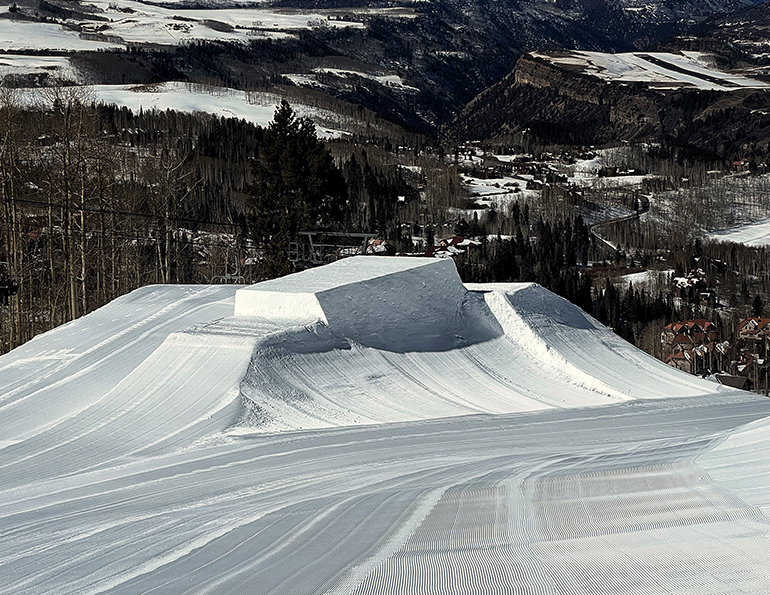 Plans to build a "sharkfin-style" feature grew into the construction of a marquee, multi-hit element in a prime location in Telluride's Upper Hoot Brown advanced park. Riders were able to use the element as a quarterpipe, take it deep to the landing (up to about 85 feet), transfer to the secondary transition, or go straight on/off for a "large butter-pad-style" experience. The feature was 30 feet wide and had an 18-foot-tall transition, a 10-foot-wide deck, and 10 feet from the top to the landing. Its height ranged from five to 15 feet tall, depending on the side. Made entirely of snow in February 2022 by Brandon McFadden, Ian Mitchell, Kevin Young, and the day crew, it took almost four days of cat time in PistenBully Park Pros to build, and three days of hand shaping using Scandinavian Snowtools Jon rakes, an SPT launch rod, and Husqvarna chainsaws.
MILLY TUBES
BRIGHTON RESORT, UTAH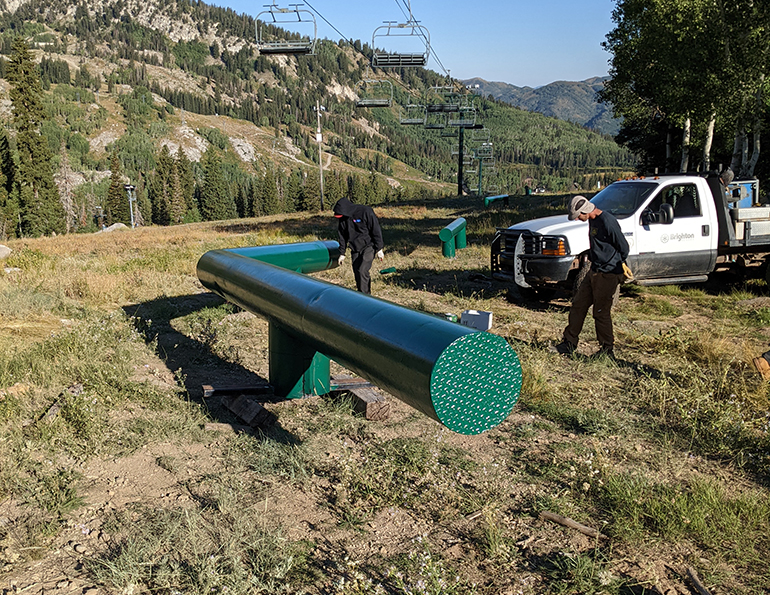 At least 100 hours of grinding, cutting, and welding went into repurposing the towers of the old Milly chair (1974-2007). The first-gen Milly Tubes, built in 2008 by Jared Winkler and Mouse, included a 30-foot down, 25-foot flat, and 27-foot up tube. They were originally stationary, with eight-to-12-foot-tall legs, depending on the feature. More Millys have since been added, and the original tubes have been cut shorter and made movable by adding pick points. Now, using a PistenBully Park Pro, each feature can be set up in just a couple of hours. They are the first features set in the Upper Majestic park each season, usually in a line of three, starting with a down, down-flat-down, and flat. The crew switches the line a few times throughout the season. Built for pros and amateurs alike, the Milly Tubes' popularity has led other parks to name their lift tower features "Millys."
TOMBSTONE
THE SUMMIT AT SNOQUALMIE, WASH.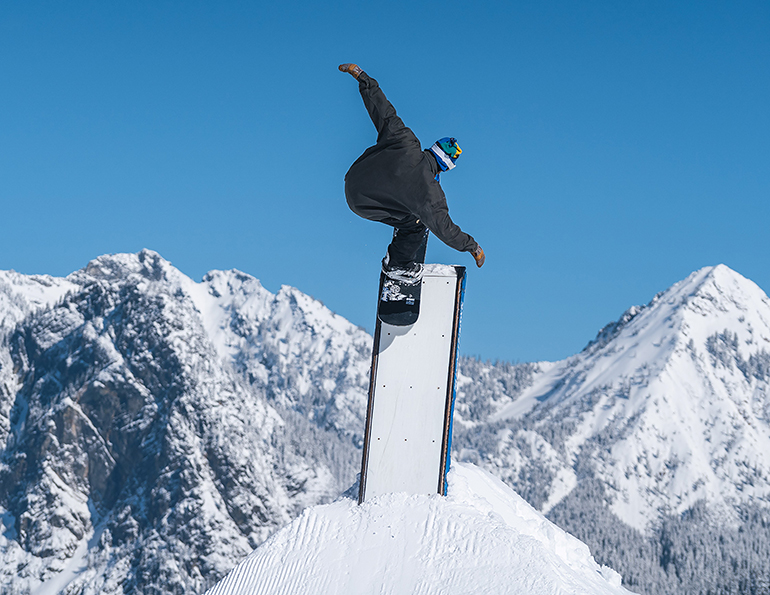 Inspired by skatepark-like features, the crew at The Summit at Snoqualmie designed the Tombstone—a box set nearly vertical in a snow-cano. The 10-foot-long, two-foot-wide box was fabricated using steel tube for the frame, wood, and HPDE. The feature took four hand crew and one snowcat operator in a PistenBully Park Pro to set in February 2022. First, the crew dug a "massive hole" in the volcano base. The box was then hoisted by hand into near-vertical position, with about a third of its length buried below snow. Once in place, locals spent weeks using it for stalls, hand plants, and transfers. The feature was mainly geared toward higher-level riders, but mid-level folks had fun hitting its lower half. As the final feature in Central Park's upper jib zone, it had a scenic, photo-friendly backdrop to boot.
EVENTS
METHODOLOGY
TROLLHAUGEN, WIS.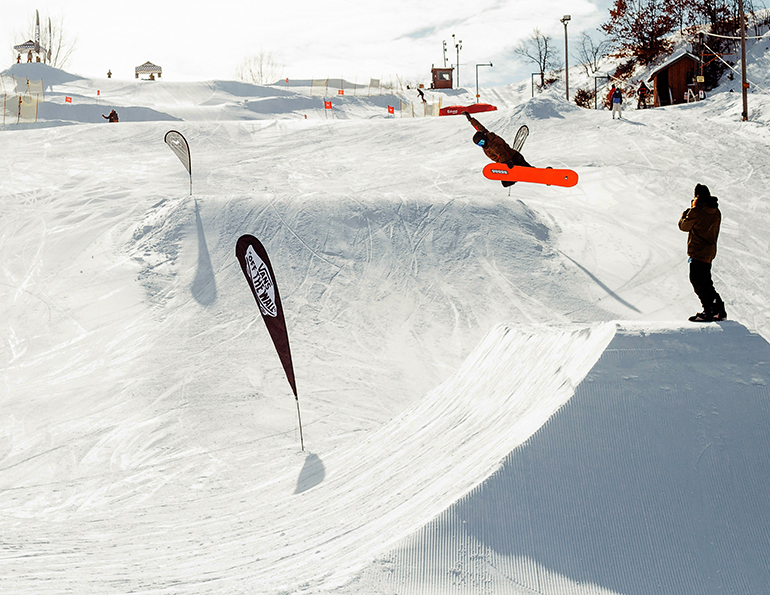 Pat Moore and Effective Edge have been putting on Methodology for a few years, and this time they took it to the Midwest for a rope-tow version of the banked slalom race and method boosting event. Held Feb. 13, 2022, the event drew 165 snowboarders ages 6-60 to Trollhaugen. The banked slalom utilized berms, rollers, and snow sculptures to make for a challenging yet approachable course. At the end, racers boosted their best method off a 30-foot spine—the higher the judges scored the method, the more seconds were taken off the race time. The build took a week, first pushing snow with a PistenBully 400, and then six diggers fine-tuned each berm by hand. The spine was carved using tranny shovels, chalk lines, and chainsaws. The event raised $10,000 for local non-profit Osceola Skatepark to build a free concrete skatepark for the Trollhaugen community.
BIG AIR SHOW
BLUE MOUNTAIN, ONTARIO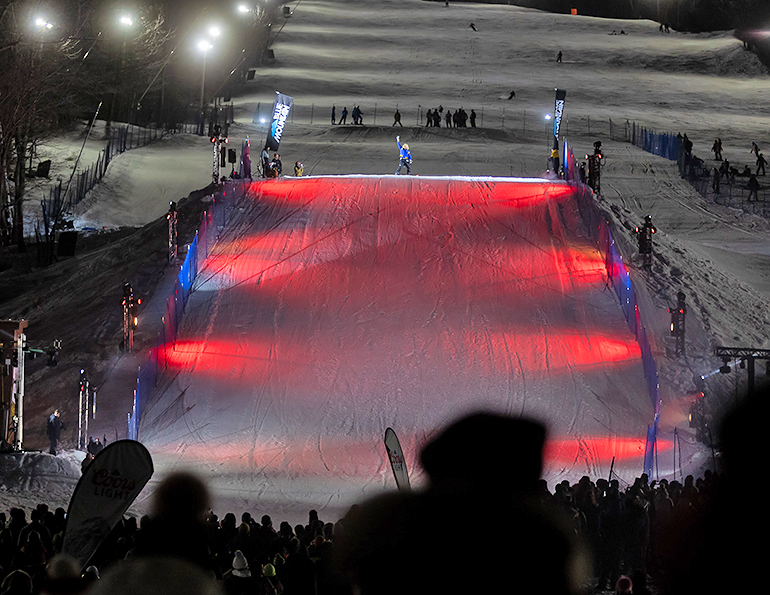 During March break in Ontario, Blue Mountain hosted a nightly "Big Air Show" to entertain the crowd. Hosted by Summer Watersports, the centerpiece of the event was a 50-foot jump at the base of the mountain, animated by extensive lighting and music. Adding comic relief was "Jerry," a character played by Taylor Nullmeyer who unsuccessfully tried his hand at ski ballet, biathlon, and big air. Crowds of up to 4,500 people cheered Jerry on as some of Ontario's best athletes went big off the jump. Blue ramped up snowmaking in the area two weeks prior to the event to ensure there was enough snow to harvest for the jump. Lucas Oulette of Arena Snowparks led the build, which took three days for Oulette and one digger to build using a Prinoth cat. 
PIPELINES
MOUNTAIN HIGH, CALIF.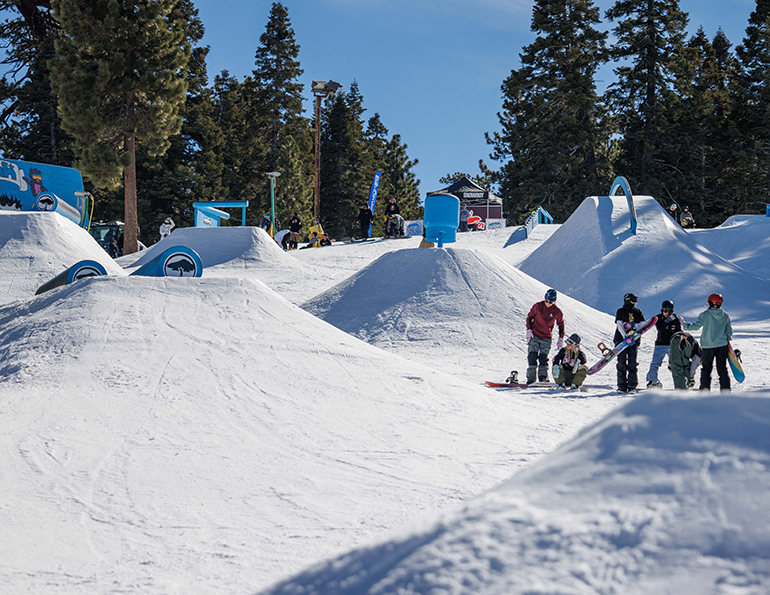 Pipelines was put on in late January 2022 as a tribute to the surfing and snowboarding culture in SoCal. Named after the trail it was built on and the round tubes used for many of the features, the park was designed by X-Games gold medalist Jesse Paul, Snowboy Productions' Krush Kulesza, and Mountain High's head park groomer, Scott Speers. The goal was to create a "surf-style" setup with transitions on almost every feature, with rails as the coping of the transitions. The centerpiece of the build was a 50-foot-long rainbow rail built as a spine with 15-foot transitions at the tallest point of the rainbow. The entire build took four days with one Prinoth Bison X snowcat and four hand-crew. Six additional hand crew members maintained the setup throughout the three-day, invite-only photo/video shoot with riders from SoCal, Utah, and the Midwest. The setup then opened to the public.
CATTLEMAN'S CUP
MT BULLER, AUSTRALIA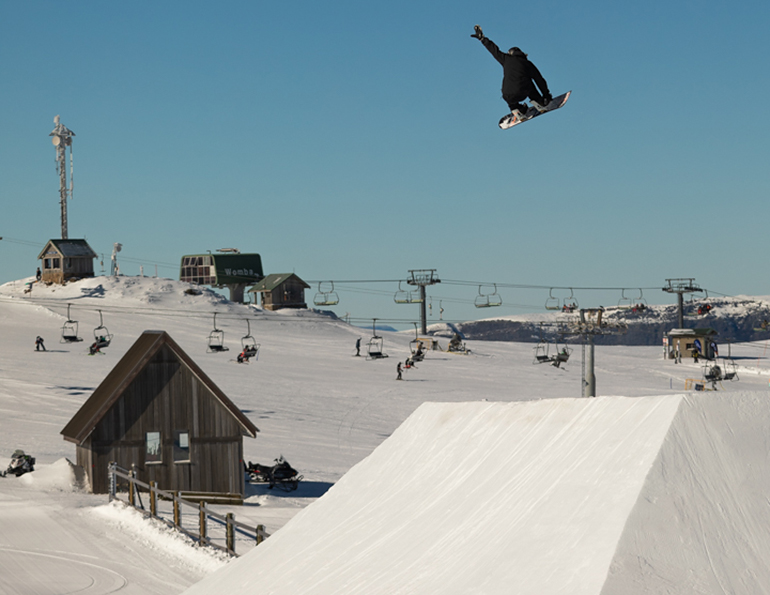 After running for 14 years in Mt Buller Village Square, the Cattleman's Rail Jam moved up to the mountain with a new format and new name, Cattleman's Cup. Pro and amateur snowboarders ages 15-35 competed in the two-day event, July 20 and 21. Day one featured a "hip contest" on a 46-foot-long, 20-foot-tall hip jump. To build it, two cats spent three nights pushing snow, and two diggers spent another night hand-shaping the hip. Day two was a rail jam on a plaza-style set-up with three rails: a 30-foot down, 30-foot kink, and a 16-foot elevated flat with transfer option. It took one night of pushing and two days of hand-shaping to build. Both days also included a "Race Your Mate" dual slalom race. A total of $12,000 in cash and prizes were awarded during the event.
IT CAME FROM THE VILLAGE
SUNSHINE VILLAGE, ALBERTA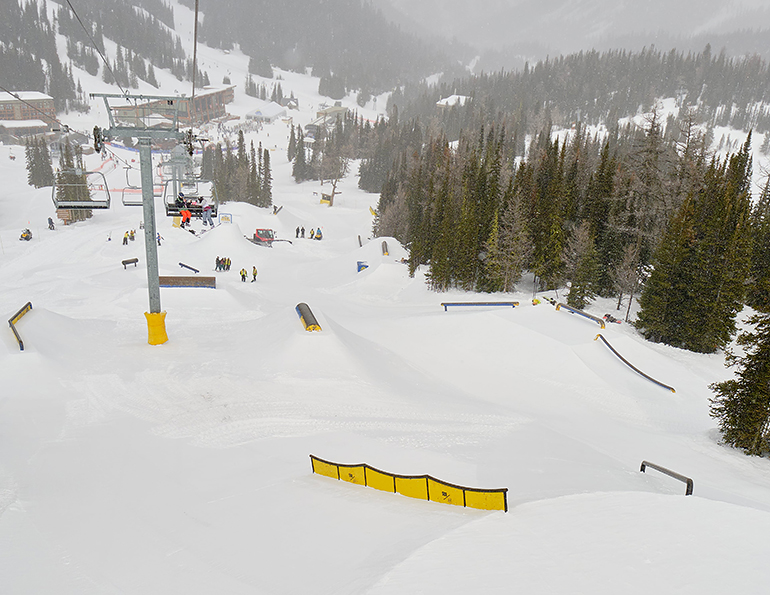 What started as a community-driven event around a group of local riders that go by the name of SRD has grown to attract amateur and pro riders ages 10-40 from all over Canada, the U.S., and Europe. The set-up had 20 different features with transitions everywhere. Building from the top of the slope down, the crew established some of the larger features first, such as the 15-foot-tall sign feature atop a volcano, and then used the snow trimmed away from those larger features to create the smaller ones in between. A variety of rails, tubes, and boxes were set as standalones or combos. The build took four days with two PistenBully Park Pros working about 10 hours per day, along with 5-10 hand crew from both Snowboy Productions and Sunshine Village park crew.
SIDE HIT SÉANCE
SUGARBUSH, VT.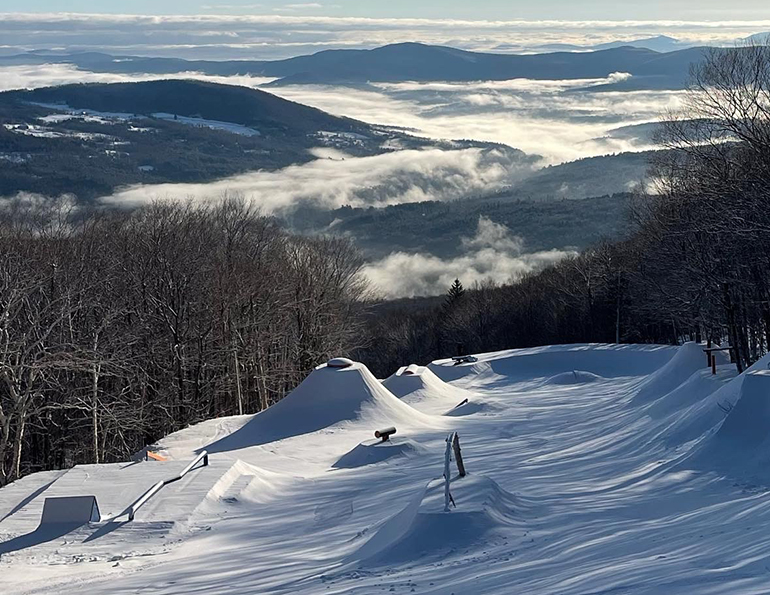 Snowboy Productions and Sugarbush Parks collaborated to put together the Side Hit Séance at Sugarbush, March 19 and 20. The purpose of the event was to "supply the boardsport world with a creative, inclusive, and iconic event for others to follow," according to Sugarbush's Jarrod Seavey. Local amateurs and pros along with members of the Rome SDS team were invited to participate in the event, which, as the name implies, included mostly side-hit oriented features with a mix of snow features, rails, bonks, and lots of transition. The build took four days of nonstop pushing, setting, shaving, and finish work with all-hands-on-deck from both the Snowboy Productions and Sugarbush Parks crews, using a PistenBully 600 and a Prinoth Leitwolf X operated by Tyler Watson and Trevor Borelli choreographed by Snowboy's Krush Kulesza.
X GAMES ASPEN 2022
ASPEN SNOWMASS, COLO.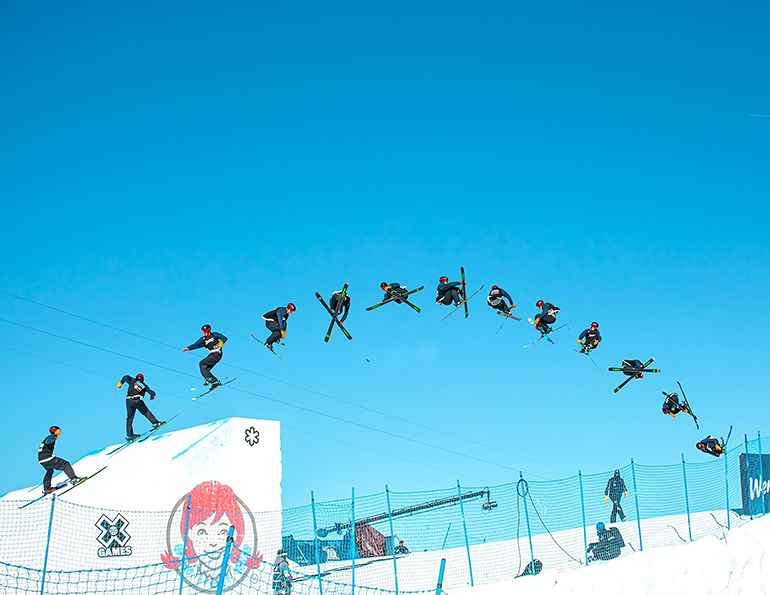 In 2022, Aspen Snowmass and ESPN celebrated their 21st year hosting X Games at Buttermilk ski area. The Winter X Games remains the marquee winter sports event of the season, and one of the most coveted invitations a pro skier or snowboarder can receive. Hundreds of hours of cat time and hand crew hours go into the build each season. This year's final jump on the slopestyle course was roughly 70 feet from lip to knuckle.
SUNRISE SESSION
JAY PEAK, VT.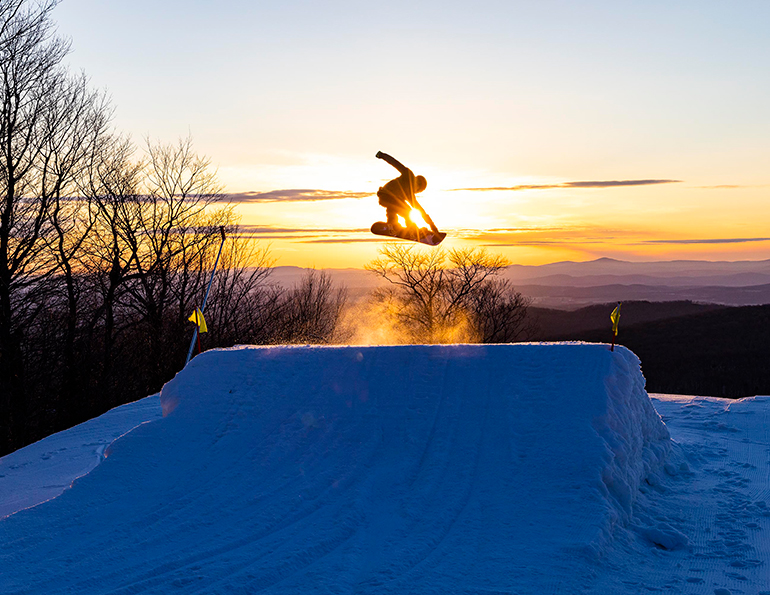 Jay Peak content maestro Andrew Lanoue wanted to capture the first lights cresting over the valley above the new springtime jump in The Rusch terrain park, and feature a handful of local skiers/riders and employees for something different than Jay's traditional park content. "Because this was a photoshoot, everyone was more conscious of adding their flavor and style into tricks that would work well as silhouettes against the rising sun," says Lanoue. The featured feature was a 40-foot tabletop built using snow from a three-jump line during the spring thaw. It was part of a two-night build by terrain park manager Larry Mundhenk and park groomer Kirk Borodaeff, working together using a Prinoth BR350 along with three hand crew. The session was on April 5, 2022, and the tabletop remained open for late season sends as a nod to Jay's dedicated park community.
PARTY IN THE PEACE PARK
KILLINGTON RESORT, VT.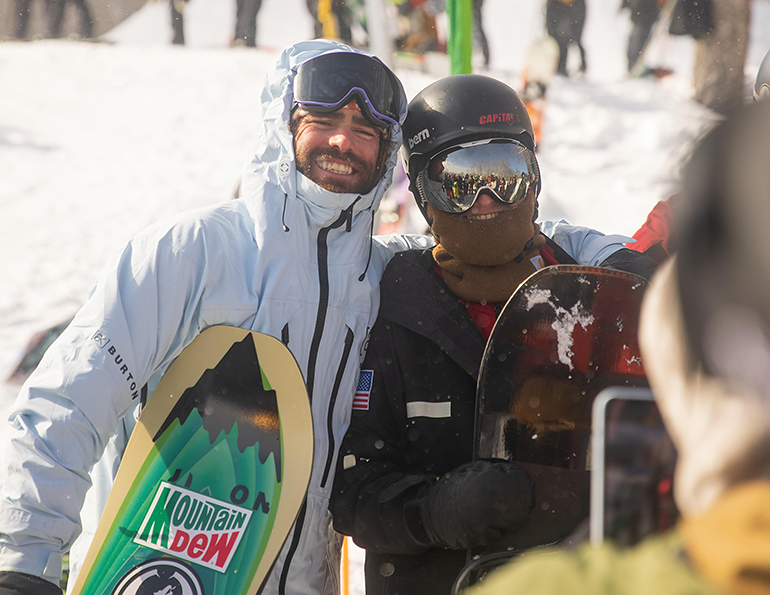 Danny Davis was in Killington in February for an all-out celebration of snowboarding, skiing, and fun in the Woodward Peace Park. Party laps, live music performed in the basket of a snow cat, and free burritos provided by Mountain Dew made for an exciting day for all ages, abilities, skiers and riders alike. The event utilized the entirety of Woodward Peace Park, which "has more flow, transition, room to breathe, and options for creative expression," says Killington's John Everett. The build primarily consisted of features built entirely from snow, with the addition of several jibs throughout the park. Participants got the chance to ride alongside Davis and get a photo with him amid a fun, party atmosphere.
DEW TOUR
COPPER MOUNTAIN, COLO.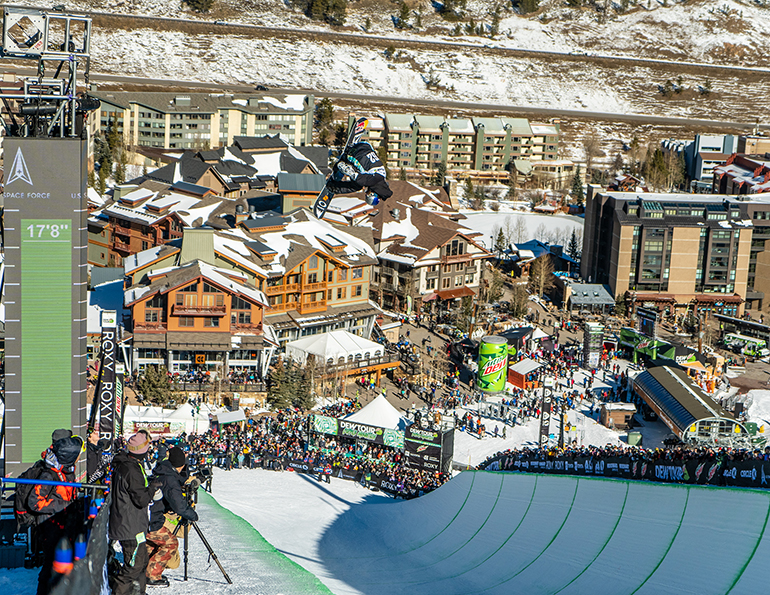 The Dew Tour at Copper Mountain, Dec. 15-19, 2021, had more than 200 athletes representing 17 different countries who competed in men's and women's ski and snowboard superpipe, slopestyle, streetstyle, and adaptive snowboard banked slalom, all broadcast on a variety of digital outlets. Many of the athletes vied for points to earn a spot on the U.S. Olympic Team for the Beijing Games. Building the venues for the event starts as soon as it's cold enough to make snow—and a lot of snow is needed. Piles start to be pushed around a month before the contest. Copper has 17 people on hand crew and 10 cat operators who all contribute, plus four designers/builders from Snow Park Technologies (SPT). Copper runs six PistenBully Park Pro 400s and a couple winch cats, and SPT brings three PB 600s. A Zaugg was used to cut the 525-foot-long, 22-foot superpipe.
THE CRANBERRY JAM
GRANITE PEAK, WIS.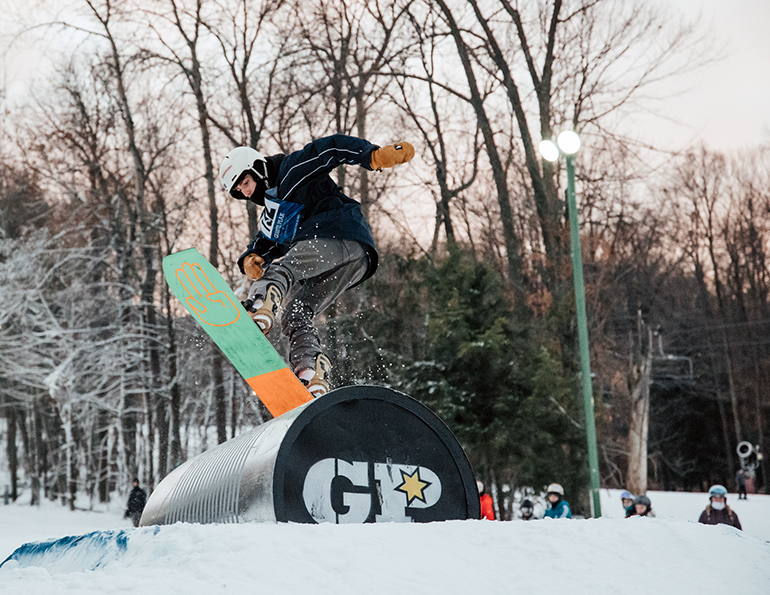 The Cranberry Jam was held the Saturday of Thanksgiving weekend, three days after Granite Peak opened for the winter. About 40 participants ranging from groms as young as six to college-aged kids took part in the event at the bottom of the terrain park. The signature feature of the Turkey Day-themed event was a "Cranberry Sauce Can," built by the resort's fabricator out of a 24-inch tube from a recycled Skullcandy feature and set in the middle of the venue. It was the most popular among competitors, who were awarded with hot turkey legs if they threw down a good trick. The venue took one cat operator using a Prinoth Bison X and four diggers a night to build and was available for the weekend after the event was over. 
TRICK DITCH BANKED SLALOM
ELDORA, COLO.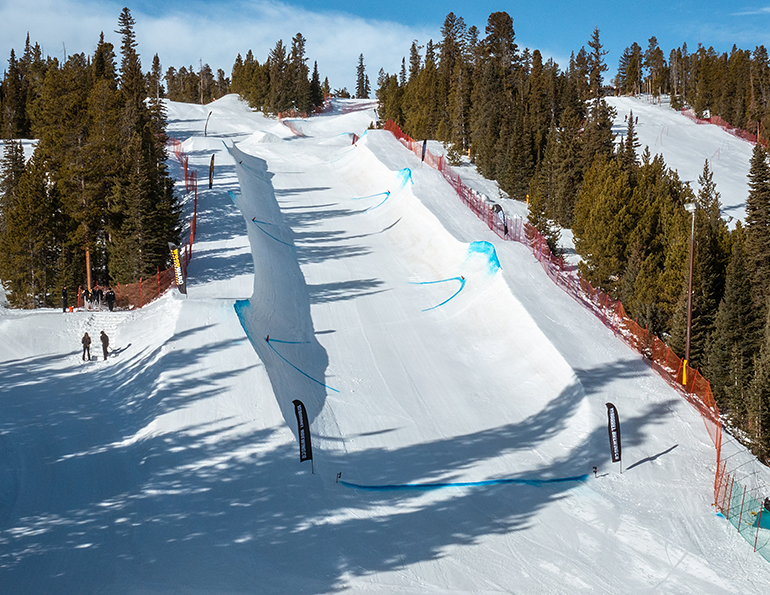 The Trick Ditch Banked Slalom is the signature event at Eldora, drawing U.S. and Canadian snowboard team members—including Taylor Gold, Cody Winters, Arnaud Gaudet, and Chase Blackwell—to compete among the 120 snowboarders ages 18 to 40-plus that came out for the fourth year of the event. The course for the timed race element consisted of four fast, flowy berms, one undercut berm with a euro gap jump option into a wave halfpipe with six turns incorporated into it. For the style portion of the event there was an 80-foot-long modified 18-foot quarterpipe that included a tombstone, hitching post, and wallride. The entire course was built in six days with two operators using PistenBully Park Pros, a PistenBully 400 winch cat, and an 18-foot Zaugg. There were also 10 hand shapers involved, using shovels, rakes, launch rods, and chainsaws. 
THE GAME OF SNOW
BIG SNOW AMERICAN DREAM, N.J.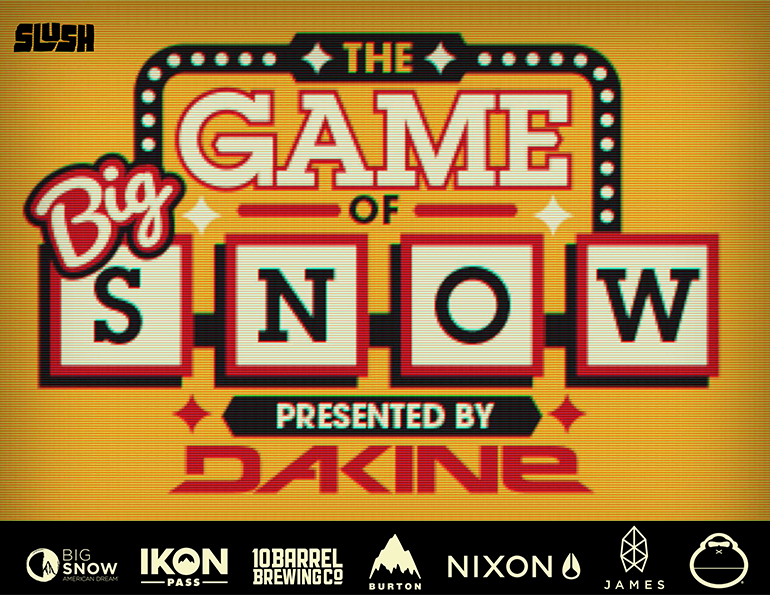 The second annual Game of SNOW was a collaborative concoction between SLUSH Magazine and Big SNOW American Dream indoor ski dome in East Rutherford, N.J. Starting Thursday, Aug. 18, 2022, with outside temps pushing 90 degrees, an invited roster of riders competed for a piece of the $10,000 purse inside the 28-degree Big SNOW on a two-feature setup: a 2-inch x 24-foot down bar, and a 2-inch x 24-foot down flat down, built in-house at Mountain Creek's Jib Lab. Two wildcard invites came out of the jam qualifier on Thursday to enter the first round of elimination brackets with the invitees on Friday. In Saturday's final, Alexis Roland and Luke Winkleman emerged victorious for the women and men, respectively. Learning from year one, the event was moved further up the slope, keeping the park and recreational slope open sans operational interruption. 
KINGS AND QUEENS OF CORBET'S
JACKSON HOLE MOUNTAIN RESORT, WYO.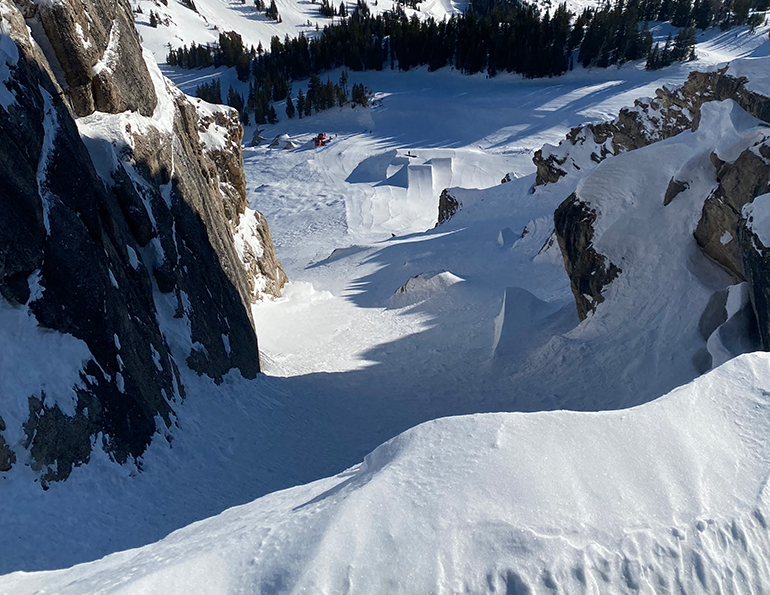 The Kings and Queens of Corbet's is an annual event centered on highlighting the initial drop into Jackson Hole Mountain Resort's famous Corbet's Couloir at the top of Rendezvous Mountain. Top pros and skilled amateurs drop-in at speed and throw huge tricks into the couloir. After landing, they navigate the 40-to 45-degree slope and hit various jumps along the way. It's not your typical build—the park crew harnesses up and uses climbing gear to repel into the couloir and verts on their boots to move around while building with DMOS shovels. It takes about two weeks for three to 10 diggers to build and shape about five upper jumps—which they try to make look like natural terrain with no sharp edges—and shape the top lip of the couloir (which they're roped-in for to prevent a fall) while one cat operator builds the final two booters—a 35-footer and 60-footer in 2022—toward the bottom of the run. The 2022 event had 24 competitors.
THE BOMB HOLE CUP
BRIGHTON RESORT, UTAH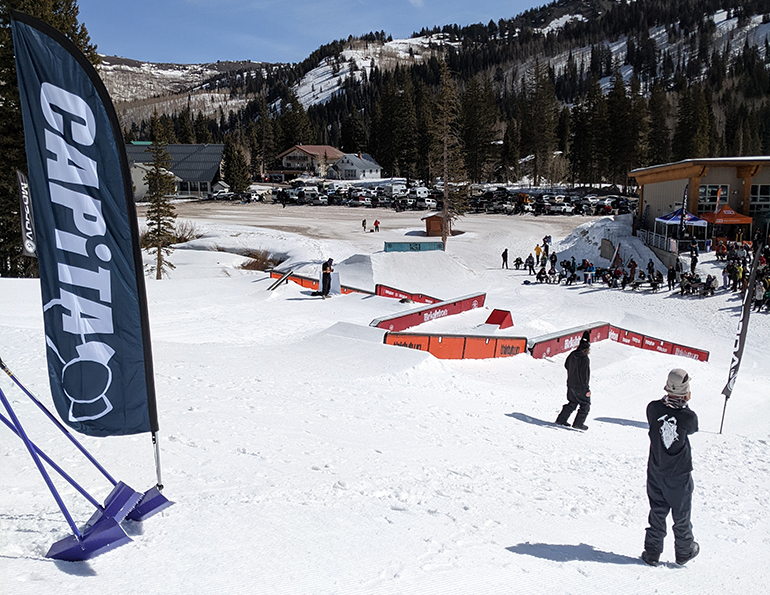 The inaugural Bomb Hole Cup went down on a sunny weekend at Brighton Resort, April 2-3, 2022. Day one's banked slalom drew 200 competitors in five categories: grom, open, pro, vet, and vintage board. The course had six hand-shaped tight berms and two large berms shaped with a cat. Day two featured a jump session—for some spice, the pros had to pull a cab 900 on their first hit off the 40-foot jump—and a rail jam with about 100 total competitors. The rail setup had a pole jam to a jump landing, a down rail, shotgun, down-flat-down-flat-down, a 15-inch-wide flat box (all 20-plus feet long) and an orb. It took roughly 40 cat hours in a PistenBully 600 Park and 40 hours of hand work by 8-10 diggers using pow shovels, rakes, flat-head shovels, and a chainsaw to construct everything.
BANKED SLALOM
BEAVER VALLEY, ONTARIO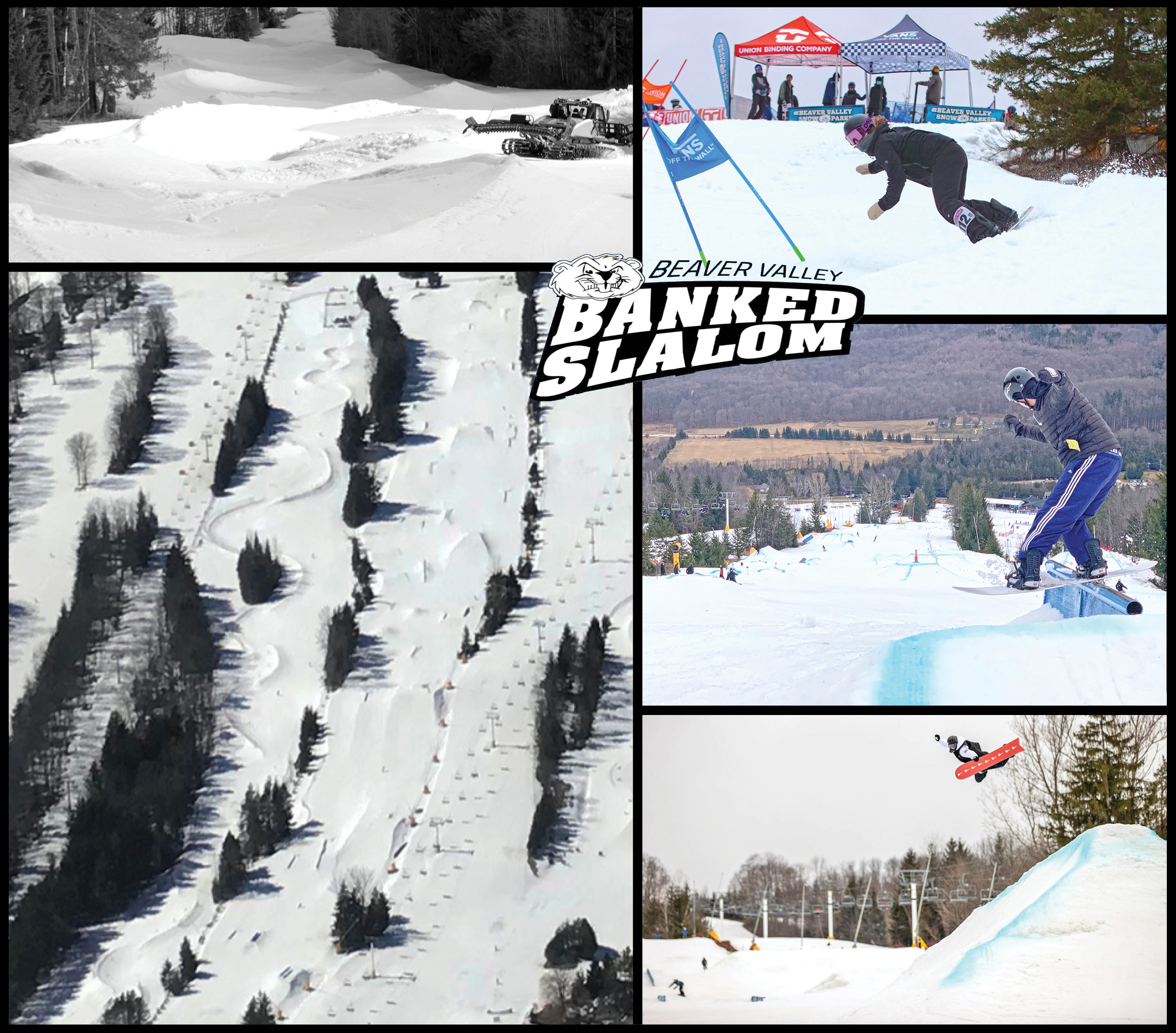 The Beaver Valley Banked Slalom was more than just a banked slalom in 2022. On two adjacent, top-to-bottom runs down the front face of Beaver Valley Ski Club, the crew built a banked slalom next to an extensive custom park. The slalom and park both finished above the base lodge party deck where there was live music and a crowd of spectators. More than 400 riders of all ages took part, including 260 for the banked slalom alone. The park was built for flow and transition riding for all ages and levels, with volcanos, hips, pyramids, skate bowls, butter pads, and a mini-pipe mixed with several rail set ups and a giant hip at the bottom to boost massive methods for the crowd. The build, concepted by park manager Caleb Bosse, took three days with three operators in three Prinoth cats and five diggers. 

BATTLE IN THE BONEYARD
THE SUMMIT AT SNOQUALMIE, WASH.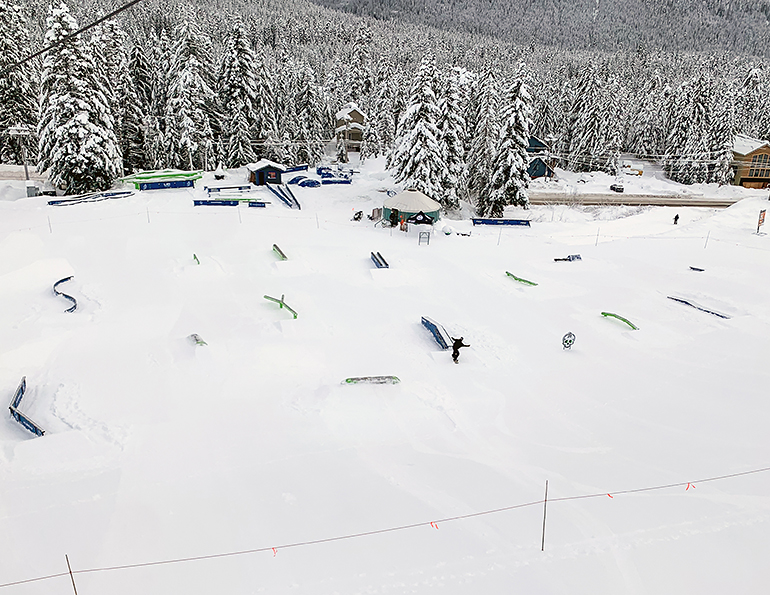 The pre-season Boneyard hike park at The Summit at Snoqualmie's Summit Central area—loaded with various jib features for all levels of park goers—opened Dec. 11, 2021, with the Battle in the Boneyard jam session. The event drew more than 150 skiers and riders for a casual, fun session. Prizes were tossed to participants that did something special or nailed a trick they'd been working on—recognizing accomplishments by pros and intermediates alike. Working with a good shot of early-season snow supplemented with a little snowmaking, the park crew spent eight hours setting jibs with a PistenBully 400 Park Pro. Five diggers put the final touches on the course before opening to the public. The Boneyard continued to operate each weekend until the main terrain parks opened. 
EDITS
DEVOTED TO THE RUSCH
JAY PEAK, VT.
Filmed in Jay Peak's "The Rusch" park during January and February of 2022 and spliced together with older clips from year's past, this edit tells the story of The Rusch's progression as a park and the dedicated people behind it. In particular, it highlights the journey of terrain park manager Larry Mundhenk "from building dirt jumps in Jersey to the driver's seat of a groomer at the northern tip of nowhere" and the story of former park manager Nick Ruschmeyer. Ruschmeyer died in 2020 after a decade-long battle with cancer, but his legacy lives on in The Rusch, the park named in his memory. Filmed and edited by Andrew Lanoue, "Devoted to the Rusch" features riders and crew Ian Major, Dylan McNerny, Gina Basiliere, Katlin Parenteau, Ian Boyle, Courtney Walton, Kelly Benner-Campbell, Dan Hopmans, Casey Pappalardo, Brandon Covert, Jon Trembley, Cooper Bonczar, Ian Hutchings, Calvin Smith, Larry Mundhenk, and Nick Ruschmeyer.
LOWTIDE
TROLLHAUGEN, WIS.
This edit was filmed in November 2021 at Trollhaugen just as Troll lovers were itching for the season to start. In the spirit of "low tide is better than no tide," the Snowboy Productions team trucked in snow from seven different ice arenas within an hour drive of the resort to set up a number of small, movable, skatepark-style features for a three-day event: Lowtide. It was the first event of Snowboy's 25th Anniversary Tour and brought together 30 snowboarders from around the country. Filmed and edited by Dan Pergrin, with additional filming by Blake Geis, featured athletes include Kyle Kennedy, Justus Hines, Alex Kirkland, Nick Fox, Tanner Seymour, Cole Linzmeyer, Mike Skiba, Tony Wagner, Jeffy Gabrick, Laura Rogoski, Kyle Kelley, Garrett McKenzie, Casey Pflipsen, Matt Dunn, Red Troll, Alexis Roland, Matt Boudreaux, Jake Antisdel, Nixon Johnson, Charlie Vandemark, Benny Milam, Louie Arrigoni, and Peter Limberg.
INSTALLING THE MONSTER RAIL
SILVERSTAR SKI RESORT, B.C., CANADA
This edit documents the February 2022 installation of SliverStar Ski Resort's new "Monster Rail"—an 80-foot-long modular rail made of four 20-foot sections—and the first attempts to slide it. It took two hours to set, using a PistenBully Park Pro, four park staff, and hand tools made by Arena Snowparks. Because it is modular and long, to get it straight, park crew had to prop the rail up with shovels, bury the legs with snow, let it set, and then dig out the shovels the next morning. Filmed by terrain park manager Paul Kenward using a GoPro and a Canon EOS R on a gimbal, the edit features the SliverStar park crew, including Rob Winning, Kaiden Anderson Ferland, and Sam Morley.
HIGHLINEZ, EP. 8
MOUNTAIN HIGH, CALIF.
Filmed in late January 2022, this edit is a special edition of Mountain High's Highlinez YouTube series. The episode showcases the Pipelines event produced by Snowboy Productions, and it pays tribute to SoCal's deep culture of surfing and freestyle snowboarding. Shot by Andrew Percival, Thomas Haraden, and Zach Longacre, and edited by Paul Romero, "Highlinez, Ep. 8"—the second episode of the 2021-22 season—features riders Alexis Roland, Anthony Slater, Casey Pflipsen, Christopher Walker, Jared McDaniel, Jed Sky, Jesse Paul, Josh Tranby, Justus Hines, Kyle Kelley, Laura Rogoski, Levi Kaseroff, Melissa Grey, Michael McDaniel, Mike Cook, Mike Gray, Mike Liddle, Mike Skiba, Nick Guin, Nolan Quinn, Savannah Golden, and Sean Monahan.
SIDEHIT SÉANCE
SUGARBUSH, VT.
This edit was filmed at Sugarbush's Mt. Ellen on Witchway, where the first ever Sidehit Séance was built. Invited riders gathered at Sugarbush for the new event, produced by Snowboy Productions in partnership with Rome Snowboards and Monster Energy. The edit provides a glimpse into what went down over three days in Vermont. Filmed and edited by Chris DeJohn, with additional filming by Devin Bernard, Blake Geis, Scott Stankiewicz, TJ Thran, and Urris White, "Sidehit Séance – 2022" features riders Stale Sandbech, Hunter Knoll, Max Lyons, Connor Cavanagh, Seph Niquette, Connor Gross, Skyler Gallardo, Charlotte Flowers, Timmy Sullivan, Len Jorgensen, Jeff Hopkins, J DeForge, Eli Lamm, Ian Keay, Zebadiah Cousins-Joyce, Emma Schacht, Madison Blackley, Kayli Hendricks, Louie Arrigoni, Sean Dillion, Shaun Murphy, Kevin Raksnis, Mike Skiba, Laura Rogoski, Ozzy Henning, Drake Warner, Lucas Magoon, Nate Haust, Ivika Jurgenson, and Casey Savage.
CULTURE SHIFTERS 2022
ASPEN SNOWMASS, COLO.
In April 2022, Snowmass played host for the second time to the Burton Culture Shifters event. The initiative seeks to bring together a crew of African American snowboarders to celebrate and expand the diversity of mountain communities. For the event, Zeb Powell, Selema Masekela, and the Burton team assembled a group of pro athletes, musicians, artists, and cultural icons to share their love for snowboarding and its community. In conjunction with Burton, Andy Curtis and Joel Lee from Aspen Snowmass produced the edit spotlighting the riding, work, and experience of Zeb Powell, Selema Masekela, Rob Roethler, Brolin Mawejje, TJ Mizell, DaShawn Jordan, George Burton Carpenter, Chrissy King, CJ Ozuma, Kenny Stills, 27 Delly, Tweek Tune, and Miranda Writes, among others.
SPRING VIBES
KILLINGTON, VT.
According to Killington's John Everett, Woodward Killington park crew member Tim Stangel "frees the heels and his mind with park laps and spring corn cruisers" on Killington's Bear Mountain in this edit. Filmed by Everett in March 2022 in the Dreammaker and The Stash parks, this edit showcases how Stangel, nicknamed "Brother Nature" by Killington locals, "defies the laws of physics" in the park on his classic telemark skis.
CHECKING IN @ WOODWARD COPPER, WITH HUNTER HENDERSON
COPPER MOUNTAIN, COLO.
This was the first video of Copper Mountain's new series, "Checking In @ Woodward Copper." Filmed at Woodward Copper toward the end of January 2022, the edit spotlights the riding of Hunter Henderson—an up-and-coming slopestyle and big air skier and member of the U.S. Ski Team—hitting a variety of features in Central Park, including large/pro-line jumps and the shotgun rail. It was filmed and edited by Jack Benziger, marketing coordinator for Woodward Copper, who used a Sony Fx3 Sigma 24-70 mm f2.8 and a Glidecam HD2000 to capture the footage.
SADDLEBACK: YEAR II
SADDLEBACK MOUNTAIN, MAINE
This edit highlights the excitement around the rebirth of Saddleback, an independent ski resort in Rangeley, Maine, in its second season (2021-22) of operation after a five-year hiatus. It is also an homage to a series produced by an earlier park crew in the mountain's past life called "Attention to Detail," and the enthusiasm and passion for the mountain and its parks that series captured. Filmed and edited by Nick Rogers, with additional filming by Ben Rogers, Ryan Coyne, and Mike Schneider, and special contributions from Paul Friedman and Spencer Mendell of Maine Mountain Media, the edit declares that "Saddleback is back!" Featured riders and skiers include: Nick Rogers, Andrew Roy, Ben Rogers, Brycen Fountaine, Ryan Coyne, Ryan Brueninghaus, Sam Scheff, Geo Menezes, Ian Bohrmann, KJ Bell, Rowan, Jeremiah Scheff, and Adam Tangerine.
THANK YOU, PARK CREW
WOODWARD ELDORA, COLO.
Woodward Eldora's spring edit, filmed in the Sundance terrain park in March 2022, is dedicated to its park crew. It highlights some of the behind the scenes work of the park crew while still showcasing the end product the crew works so hard to put out. Filmed by Jeff Urban, Cullen McHale, and Ryan DeCesari, and edited by Jeff Urban, this edit is all about portraying the stoke and good vibes the terrain park generates and the way the park reinvigorates passion for the crew. It features athletes Remy Stern, Owen Bryles, Connor Flynn, Sam Brown, Ian Osby, Dimitri Moreno, and Mark Belianski.
CREEKENDING
MOUNTAIN CREEK, N.J.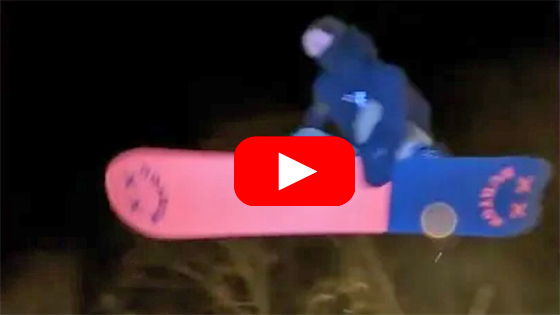 Creekending is a series featuring fast laps, high fives, and more at Mountain Creek, with riding by people who have day jobs and come to the resort as an escape. "It's not about doing the biggest trick," says Mountain Creek's Pat Morgan, "it's more about fun with friends." This edition highlights some evening laps on South Peak, home to Mountain Creek's freestyle terrain. Created and filmed by Ryan Matthes, using a GoPro, the edit features riding from Matt Bothfeld, Michelle Kalinski, Kyle Earl, Ryan Matthes, and Justin Brzostowski.
LOWER HOOTS
TELLURIDE SKI RESORT, COLO.
This edit celebrates the opening of Telluride's Lower Hoots park in January 2022, which consisted of medium sized, 25-45-foot jumps, and intermediate to advanced rail features, such as a DB tail to ball, offset flat to down, street-style rails, a wall ride and Telluride's signature DB rainbow pickaxe. Filmed and edited by Kevin Younger, who shot the build timelapses using a GoPro 10 and GoPro 7, with drone footage by Joe Robertson using a DJI Air 2s, this edit features crewmembers Brandon McFadden, Ian Mitchell, and Kevin Younger.
SUMMIT SESSIONS, SEASON 3, EP.2
THE SUMMIT AT SNOQUALMIE, WASH.
Each season, the crew at The Summit at Snoqualmie produces monthly edits, called "Summit Sessions," highlighting the mountain's flagship Central Park and the riders, many local, who shred it. The videos were filmed and edited by Eythan Frost and Chris Hyunh for the 2021-22 season, and out of all of the edits, episode two just seemed to have it all: "The snow conditions were incredible, temps were cold, the sky was mostly clear for many weeks, and all of the best riders were out throwing down day-after-day," says Summit's Karter Riach. Episode two features a plethora of local and visiting rippers, including: Pat Hoffman, Shane Keller, Phil Hansen, Petey Pierotti, Petrov, Jalen Brandsoy, Brendan Sullivan, Matteo Sultane, Derek Bird, and Austin Buza.
MCINTYRE PARKS CREW
MCINTYRE SKI AREA, N.H.
This edit showcases the work of the McIntyre Parks crew and a new event called Grip N' Rip, hosted to celebrate the ski area's new partnership with Tow Pro. All season, the park crew set challenging, creative features, welcomed all ages and abilities, and worked with tough and changing conditions daily. Filmed and edited by Karlos Jeri, this video features park and ops team members Jeff Alberts, Khristopher Boris, Jimmy Nelson, and Anthony Adkins.
CREWS
TAKE THE RAKE
TROLLHAUGEN, WIS.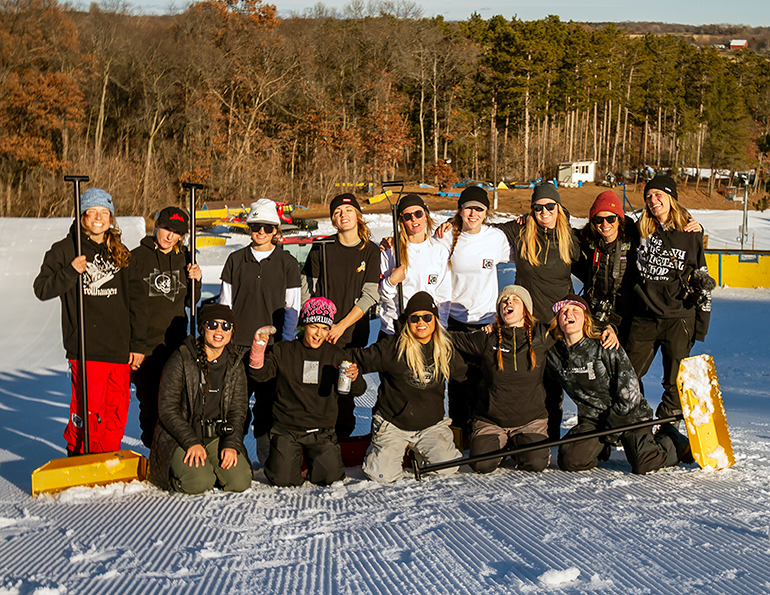 These are the women of Take the Rake (TTR), the first ever entirely female build crew for a ski area terrain park. Included in the crew is: Haley Boucot, Jess Goucher, Abby Lewis, Emily O'Connor, Hannah Peterson, Laura Rogoski, Natawnie Spellacy, Anny Vongsavanh, Egan Wint, Chloe Butel, and Harmonee Johnson. Most of them had never met before TTR, and most had never had the chance to work alongside more than one woman in their career. These 11 ladies designed and built a park that "guests talked about for the rest of the season, full of creativity, heart, and pure skill. This group of women is one of the hardest working groups of park builders to ever grace the planet," says Trollhaugen's Marsha Hovey, who conceived the idea for TTR.
MCINTYRE PARKS
MCINTYRE SKI AREA, N.H.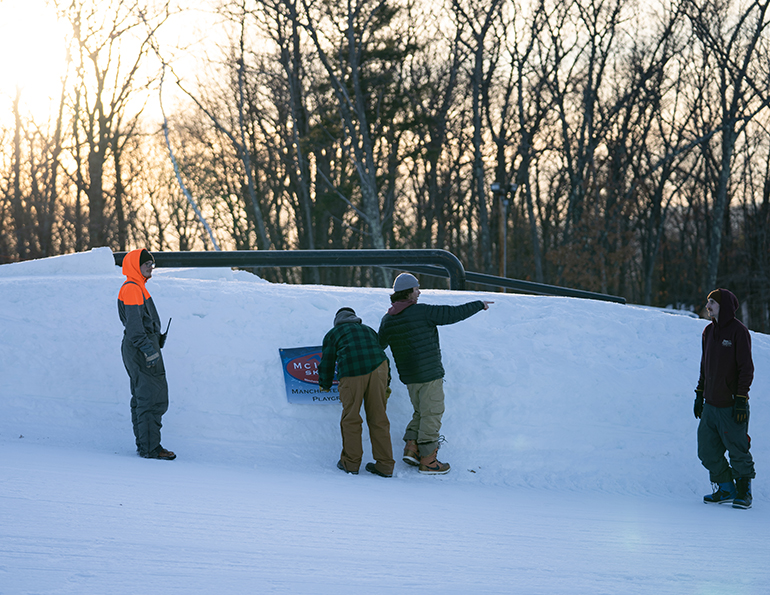 McIntyre Ski Area is a small, urban ski area located in Manchester, N.H. It has a seasoned terrain park crew with a passion for creative and inspiring terrain parks that cater to all ages and abilities. The crew lives by the motto, "It's not about the altitude, it's about the attitude," and they bring big energy to this small ski area. All season, they set challenging, creative, and inviting features, and work with tough and changing conditions daily. The crew includes: Luke Boutin, terrain park leader and snowmaker; Jeff Alberts, terrain park crew and snowmaker; Khristopher Boris, terrain park crew, graffiti artist, and photographer; Jimmy Nelson, groomer and snowmaker; and Anthony Adkins, terrain park crew, and snowmaker.
'BUSH PARKS
SUGARBUSH RESORT, VT.
From working in the metal shop in the fall to putting features away in the spring, the Sugarbush Parks crew prides itself on its hard work, teamwork, and inclusivity: "There is no battle between skiing and snowboarding, beginner and advanced riding, or crew vs. crew at Bush Parks," says crewmember Jarrod Seavey. With several employees of color and women on staff, the Bush crew is also proud of its diverse and welcoming community. "Our staff loves their community, and Sugarbush is a place to call home." The crew—Trevor Borelli, Tyler Watson, Phillip James, Sean Dillon, Jarrod Seavey, Jackson Krushenick, Urris White, Tyler Thran, Robbie Gilbertson, Taidgh Denis George, Erik Roomet, Lacey Zeranski, Mitch Harpin, Liam Devereux, and Aaron Kalat aka War Dog—can be seen here, working on the first build of 2021-22 in a video filmed and edited by Aaron Kalat.
THE PINE KNOB DIGGERS
PINE KNOB SKI RESORT, MICH.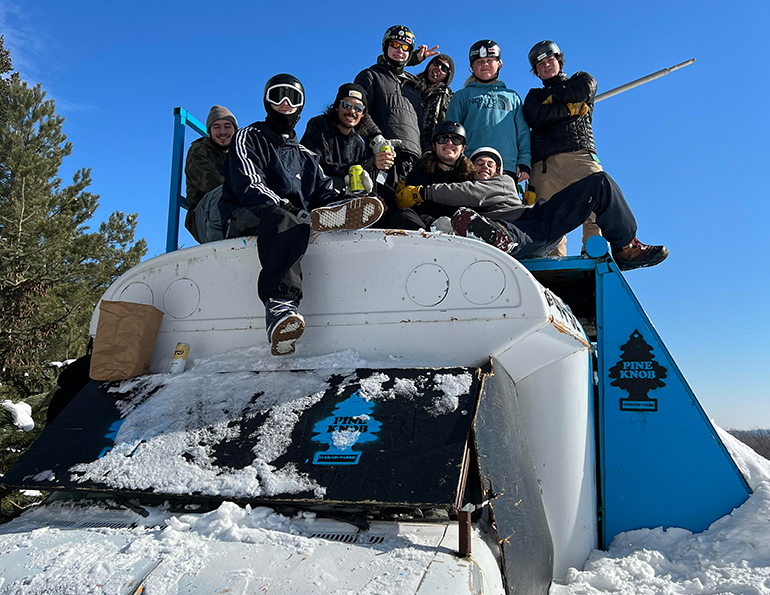 Seen here hanging out on a Sunday in late February on top of the Bus—a digger-shack-cum-wall-ride—are nearly all of the Pine Knob diggers from the 2021-22 season. "While nearly all of us are at the hill every day at various times, Sundays are days we all try and get together for just a day of relaxing and riding with all the homies," says crewmember Matt Dunn. The crew is dedicated to the same goal: having fun, "and building and meticulously sculpting terrain parks is what fun happens to be for us." They operate without a schedule or set hours, instead collaborating and communicating to keep Pine Knob's parks in tip-top shape. The crew includes: Jake Dengate, Luke Petty, Nate Taylor, Braeden Mclean, Oliver Dixon, Carter Chapman, Matt Dunn (park manager), Lane Garris, Parker Gannon, Pearce Gossett (not pictured), and Collin Gallagher (not pictured).
THE SNOWMASS CREW
ASPEN SNOWMASS, COLO.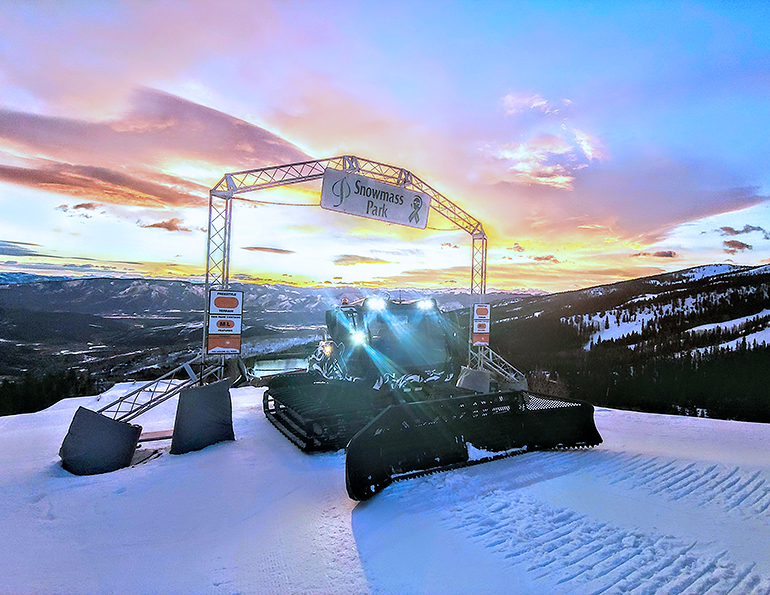 "Our multi-talented crew can always be relied on to put forth their best work, whether it's building creative new features in the public parks, sharing compelling content from both sides of the lens, or jumping in to maintain our legacy of best in the business event production at X Games, Grand Prix, or the FIS World Championships," says Aspen Snowmass's Tyler Lindsay. This snap was captured by park groomer Scott Mackie at sunset during one of his spring grooming shifts. The rest of the Snowmass park grooming staff includes Mark Pinter, Dominic DiGiovanni, Brian Kiss, Alex Eppler, along with hand crew Dave Bennett, Zach Apke, Mason Tuttle, Cole Bagby, Travis Foki, Charleton Tuttle, Henry Morris, and James Harvey.
WOODWARD KILLINGTON CREW
KILLINGTON, VT.
This photo shows part of Woodward Killington's park crew—(from left to right) Ian, Erin, Ryan, Jon, Jake, Anthony, and Mel—wrapping up their rake run through Red's Backyard. The Woodward Killington park crew consists of 15 hand crew and six machine operators that build and maintain nearly 200 features each season throughout 10 parks at two mountains (Killington and Pico). There aren't many park crews that work year-round, but the team at Woodward Killington "stays on that grind." The park season at Killington can start as early as Halloween and last into early May, and most of the crew spends their summer building and maintaining trails on the mountain for the Killington Bike Park. All park features are fabricated in-house, and "through diligent maintenance, this crew keeps every feature and every park dialed, day in and day out, regardless of the weather and conditions." 
THE WOODWARD COPPER CREW
COPPER MOUNTAIN, COLO.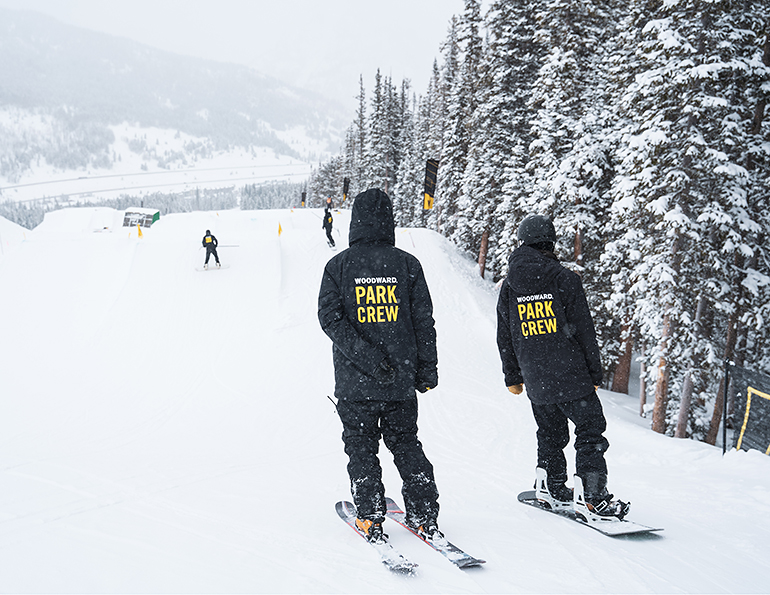 The Woodward Copper park crew consists of nine cat operators, 17 hand crew, and four individuals in leadership roles. This coming season, more than two-thirds of the crew will be returning. With a fleet of around 250 features, Copper's crew maintains offerings for everyone from never-ever skiers and snowboarders to top pro riders. In addition to maintaining up to 10 parks during the season, the crew also designs and builds competition courses regularly, including for Dew Tour, Grand Prix, Rev Tour, USASA Nationals, and more. "When most would ask themselves if a task was possible, the crew at Copper will ask themselves what will be the most fun and then they make it happen," says Copper's Loryn Roberson. Longtime crew members include Noah Schwander, Chase Davis, Phil Pereira, Jake Halvorsen, Steve Nicosia, Josh Probst, Chase Hodges, Art Lehmann, Will Crysler, Jay Scott, Conan Bradley, and Peter Schnarsky, among others.
THE BIG SKY CREW
BIG SKY RESORT, MONT.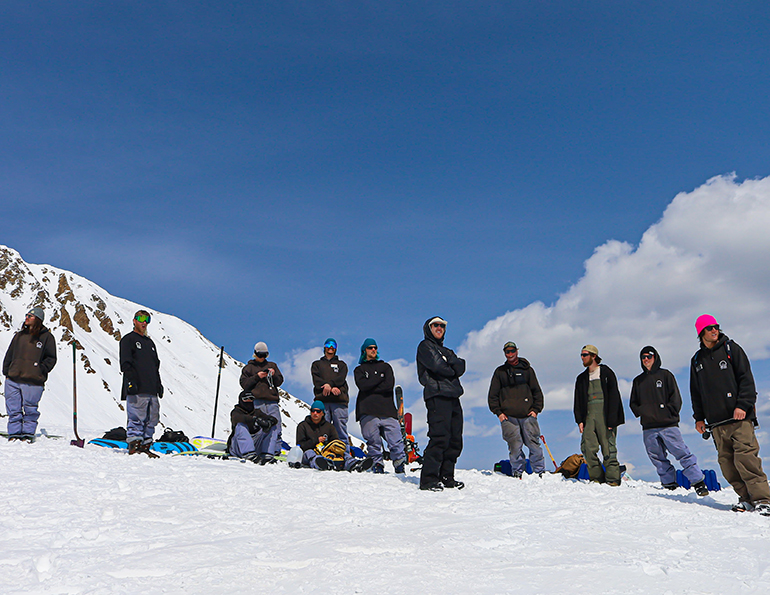 "Our crew is full of young, passionate park riders who are all on the same page to make super awesome parks and put Big Sky on the map," says crewmember Jack Anderson. Big Sky has a total of six parks that the crew maintains all winter. The parks progress in size—two small parks, two medium parks, a large park, and a bike trail that they maintain as a medium to large park run. Seen here, the crew stands off to the side of a large jump it built by hand outside the park, higher up on the mountain for a special video shoot after the mountain closed. Proud of their work, the crew stuck around to watch the athletes hit the jump. Crew members include Sean McIntosh, Dalton Dennis, Brennan Anderson, Nate Lacombe, Charlie Raczkowski, Max Merritt, Adam Parker, Patrick Conroy, Matt Rolfson, Jake Amesbury, Mike Kenny, and PJ Markow.
THE BRIGHTON DIGGERS
BRIGHTON RESORT, UTAH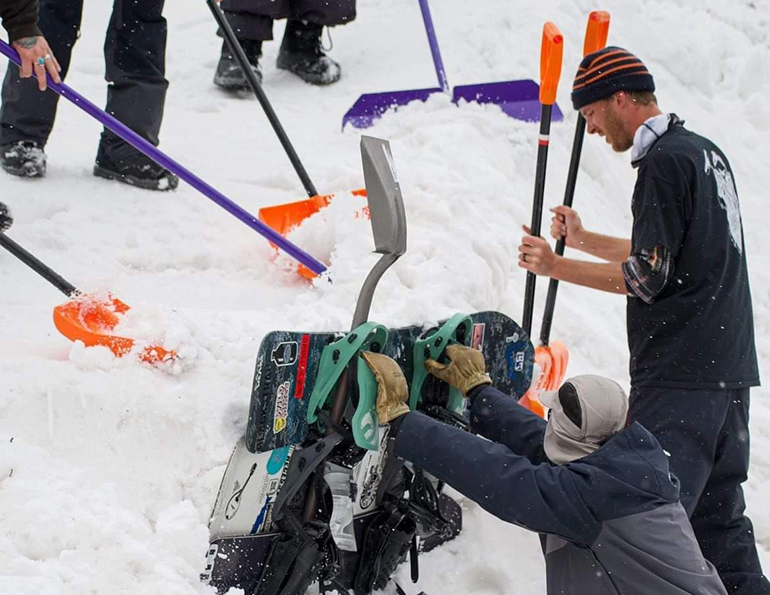 The Brighton diggers build, design, and maintain four parks, with approximately 50-80 features that must be raked, inspected, and tested multiple times a day, from 9 a.m. - 9 p.m. The crew takes pride in providing a consistent and quality product throughout the parks. Every feature take-off is diligently raked and reshaped each night after the public leaves and before cat operators begin. "Our night shift are the unsung heroes of our crew," says crewmember Thomas Graham. The diggers pride themselves on their camaraderie, compassion, and collaboration. "Every crew member has a valued independent mindset and feels ownership in what we build," said Graham. The crew includes 12 diggers led by Treyson Allen and three main cat operators.
THE SUMMIT AT SNOQUALMIE DIGGERS
THE SUMMIT AT SNOQUALMIE, WASH.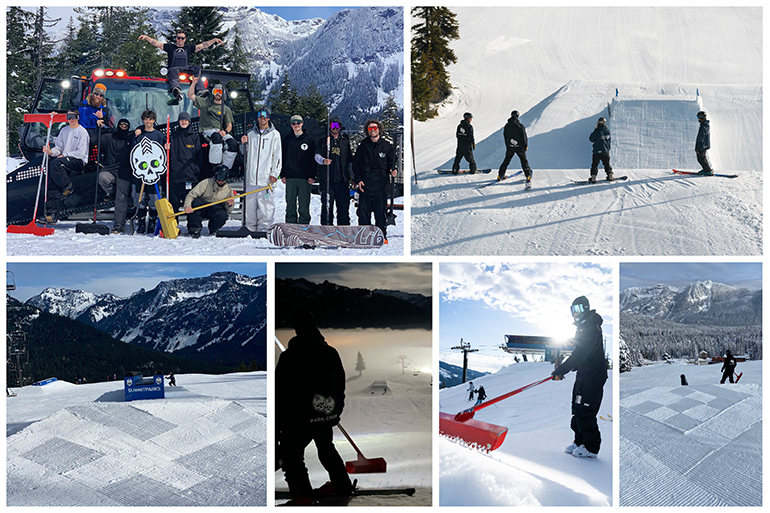 "Diggers by day, artists by night!" The Summit at Snoqualmie park crew take pride in their work and love putting their signature on features. The spork art the crew created last winter was a unique touch that guests were able to enjoy as they rode up the lift first thing in the morning or any time after a jib feature received maintenance. "When you're in charge of maintaining features for 13 hours a day, letting creativity flow makes it that much more interesting and engaging—just one of the many things that set this crew apart from the rest," says The Summit at Snoqualmie's Karter Riach. Led by terrain park manager Jeff Cragin and lead operator and fabricator Jarod Shultz, the crew includes Garrett Hemmer, David Norris, Ben Baird, John Dewitt, Tom Snobl, Connor Quinn, Colin Brown, Trevor Howard, Brad K., Johnny H., Ian Stucky, Fedya N., Will Kiker, Alex Solomon, Reece Munro, Eben Stucky, and Caleb Snobl.