Summer tourism in mountain resorts has been going gangbusters for the past decade. But to truly understand the scope of the change and its potential to continue into the future, you have to step back and take a longer look. Much longer.

Consider how the winter resort business began in North America. There were really two models: 1. resorts that sprang up at or near existing towns (Aspen, Breckenridge, Stowe), and 2. purpose-built resorts that were developed from whole cloth, out of nothing but wilderness (Vail, Big Sky, Killington).

The resorts and towns in these two groups have typically gone through evolutions that look a lot like the chart below (see chart 1). Ski areas morphed into ski resorts, offering a combination of lodging and other amenities, and then to winter resorts, adding more non-ski-related amenities (spas, fitness centers, music venues, skating, dogsledding, tubing hills, sleigh rides, and shopping). And these vastly expanded facilities, first created as part of the winter/ski product, resulted in a more attractive and very affordable summer vacation product.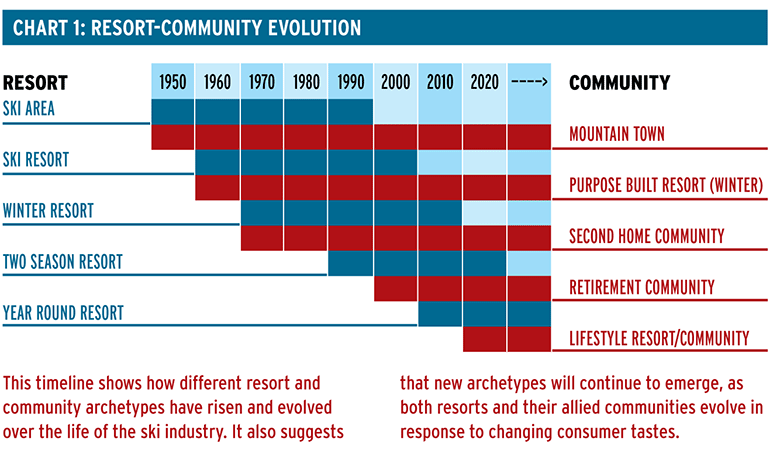 As resorts went through this metamorphosis, their communities evolved, too. Once-sleepy mountain towns gradually grew into year-round resort destinations, attracting visitors with an ever-growing range of activities and special events. Remote ski areas that added a bed base often found second-home communities springing up around the resort core; these have often transformed into more complete communities as well. The most evolved of these are now full-blown lifestyle communities.

Not all resorts have followed this pattern, but you get the idea. Mountain towns and mountain resorts have expanded tremendously since the industry's formative years in the 1950s and '60s. And they will continue to grow as their popularity expands to an ever-widening audience.

The Summer Swell
Denver-based DestiMetrics has charted lodging occupancy and revenues across 19 western resort communities and 290 properties for more than a decade, and this data set reveals a remarkable story. Inntopia has tracked similar data in the East, and the story is much the same.

After the economy peaked in 2008, mountain destination visits dropped year-round (see chart 2). But summer fell less, rebounded more quickly, and rose much higher than before the Great Recession—up nearly 45 percent in visitor volume by 2016, and up more than 95 percent in revenue. In contrast, winter lodging revenues didn't recover to 2007-08 levels until 2014-15, and occupancy rates until 2015-16.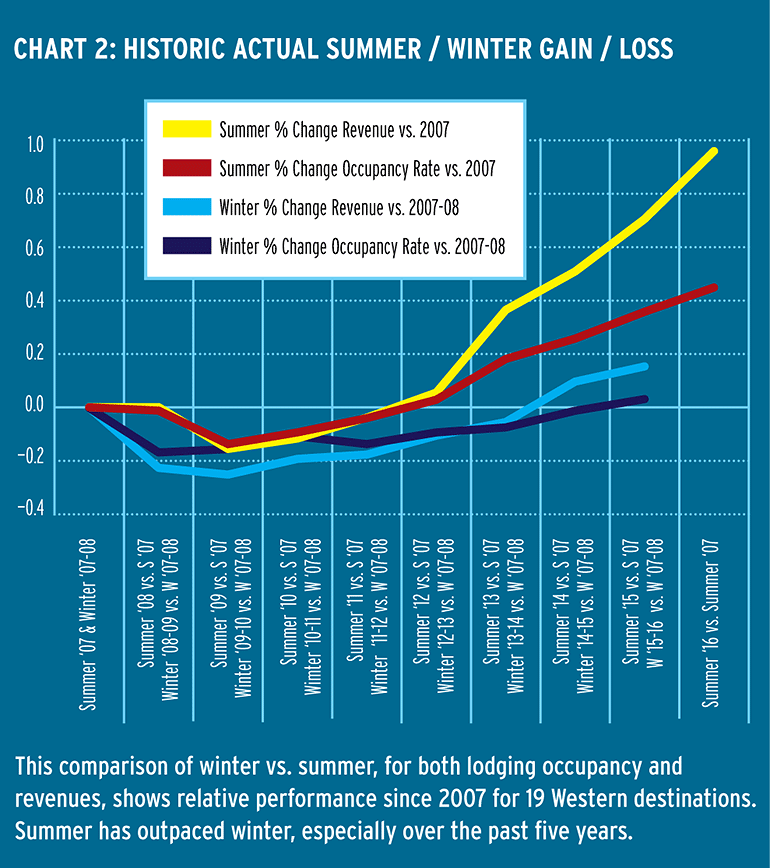 Visits have soared despite summer rates rising more than 30 percent, while winter rates increased around 10 percent over the post-crash period.

The huge percentage differences between summer and winter must be kept in perspective, though. While visitation is within 92 percent of winter, room rates are only 57 percent of winter, and overall revenue is just 52 percent of winter. Underutilized lodging and services, first created for winter, have resulted in much lower summer rates that ultimately attract budget conscious families.

Summer visitors are much different than winter visitors, for several reasons. The average income tends to be lower, for one, as the difference between winter and summer room rates would suggest. For another, they often have more time on their hands—more people are traveling midweek in summer than in winter.

Also, summer visitors often take part in a greater variety of activities across a wider geographic area, whereas winter visitors are there primarily to ski and ride, regardless of the length of stay. In most instances, though, during the summer months, there isn't any single attraction with that same type of draw. So, resorts must combine events, festivals, competitions and other attractions to try and keep summer guests onsite.

This can lead to peaks and valleys in visitation (see chart 3). Major events and weekends lead to peaks, connected by lower-volume valleys midweek. That's quite different from the typical western destination resort in winter, when the valleys are less deep.

But resorts are beginning to figure out how to fill those valleys. Think, for a moment, about how vacationers decide where to go. In most marketing areas, there is a "magnet" that serves as the core draw. This might be something as diverse as a lake and its related beach, boating, and fishing activities; a cultural center featuring the arts; or a mountain biking mecca. The magnet serves as the greatest single attraction, luring guests to the resort, often for multiple nights, while other activities that serve all members of a family or group add to the region's overall appeal. The summer magnets are often less powerful than skiing and riding are in winter, but still serve to anchor their locales' galaxy of activities and attractions.

The more "sticky" the magnet, the longer guests stay. Many resorts have found that it takes a combination of several events and activities to secure a two- or three-day summer visit. For example, pairing a music festival with a wine tasting or an art show, along with a variety of activities such as mountain biking, aerial adventures, and hiking can provide the activity line-up and offerings that summer visitors are seeking. It really does take a village. Or a community.

The Fall Is Rising
One outcome from the development of summer facilities and activities is that mountain resorts have been extending their resort activities into September and October. This has helped create a true multi-season business (see chart 3) with late spring being the only remaining "down" season.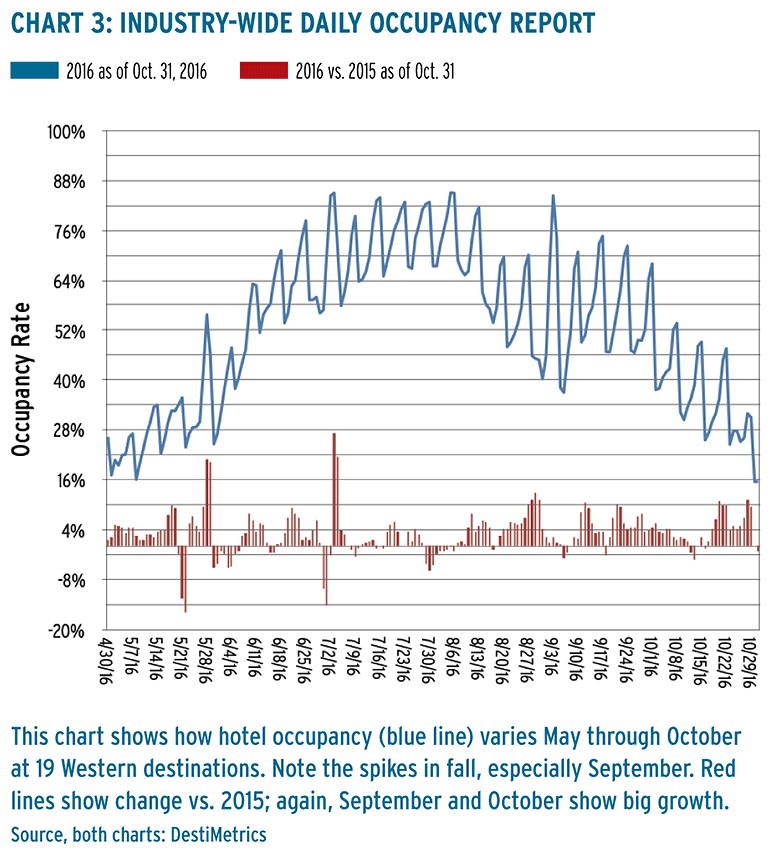 Some broad travel trends have also fueled this tremendous growth of summer and fall visitation in mountain destinations. One is what we can collectively call integrated or blended activities: "bleisure" and "framily" travel and events. The continuing growth of health and wellness is another positive force. Both of these have had encouraging effects on winter business, too, but the potential audiences are simply much greater in summer and fall.

Note, too, that the growth in mountain resort visitation, as demonstrated in lodging visits, probably understates the story. Lodging visits have recovered—or in the case of summer, exploded—even as Airbnb and similar innovations have spawned a growing rent-by-owner market that has taken its share of the pie, but defies quantification. Overall resort visits have likely increased even more than the lodging totals themselves.

Another important trend: destination resorts now see more visits from Millennials than Boomers. This is a reminder that steps taken to attract summer visitors must suit the audience. The evolution that began decades ago hasn't hit some plateau or ceiling; the summer market—as is true of winter as well—will continue to evolve.

So, while it is currently both successful and popular to lure Millennials with a range of events, festivals, adventure races and other sports events, it's important to remain flexible and pursue new activities and events as they crop up. And crop up they will.

If there's one more-or-less constant, it's that lifestyle and avocations trump age. Millennials are, indeed, replacing Boomers in the mountains. But if you provide activities for an active lifestyle, you will attract a diverse age range of like-minded individuals.

There's a second near-constant, too, come to think of it: there are lots of opportunities for winter resorts to tap into the summer market, and to keep summer revenues rising, for years—if not decades—to come.