September 2006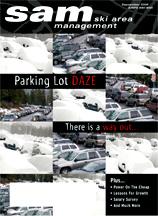 Thoughts from Chairman Bill

New NSAA chairman bill Jensen speaks to SAM about the state of the industry and his vision for the future.



2006-2007 Media Directory

The annual roundup of special winter sports sections in major metropolitan newspapers and industry-specific magazines across North America.


To combat global warming and pollution, many winter resorts are turning to renewable energy. See what the wind, sun and water can do for you.
READ MORE



Who's Trying Now?

Conversion and retention are the buzzwords of the industry. While the overall needle hasn't moved much, here are some bright spots.


It's the first place our guests come to when they visit and the last place they see-our parking lots. How can we make them more user-friendly?
READ MORE



What's New

Ziprider cable rescue device, V-Kool heat-reflecting film, Keuka footwear, Techstar Plastics cart, Flexmeter wrist guard, Snow Tiger ski wagon, Milestone rock pavers, ColorID passholder, TAG Heuer timer, Rotella motor oil, SkiData ticket reader, CR-TEC electric valve operators, 3M locating/marking system, HID Powerlight flashlight.



The Sin of Wages

The NSAA recently released its Wage and Salary Survey. We review how the industry fares compared to the rest of the workforce at large.



Construction Site

See what resorts were up to this past building season.



SAM Idea Files

A tricked-out ATV, maze lines and floor tracks are some of the great ideas from creatie ski resorts.



Speak-Out

Thoughts on a Summer Day-by Jarrod Moss. Taking Safety to the Next Level-A SAM editorial. Growth Initiative Ills Start at the Top-Pete Robertson.



Industry Reports

ASC Reviews Options for Steamboat... Wolf Creek Decision Upheld... Minturn Resort Gets Nod... A New Major Resort for B.C.?... Killington Loses Partner... Obituaries... People... Supplier People... Supplier News.


SAM goes undercover.
READ MORE



Time To Train

Effectively training rental shop staff is key to a safe and successful business.



'Round the Clock

Some visitors can't get enough corduroy. Is non-stop grooming the wave of the future?



Getting Together

When most of the business is shrunk down to four short months, communication between departments is crucial. Here's how some area keep the lines open.



Is Your Boss a Bully?

There's plenty of them, you can't change them, but you can learn to work with them



Recruiting for Diversity

Jiminy Peak and Ski Butternut have found some great employees by working with a local group that promotes diversity.



An Unlikely Slope

An enterprising Dutch investor turned a hilly pasture into a thriving snow business. Here's how.