The future is uncertain at the moment. So we're huddling, virtually, to discuss the current situation and how best to proceed with fellow industry members. While we are all quarantined and working from home we can still keep our communication lines open and work on sharing solutions.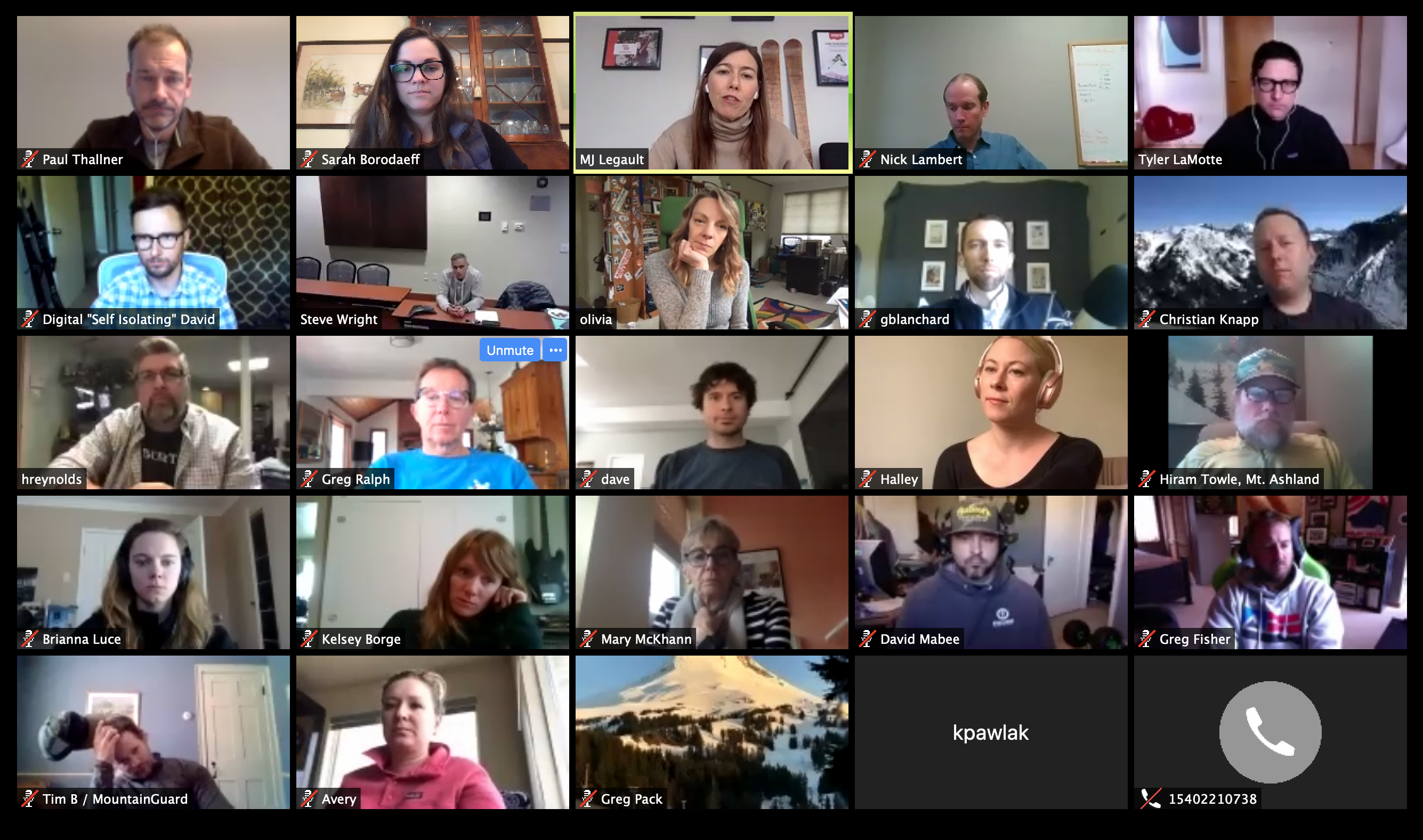 SAM Huddle Schedule:
This schedule will be updated as new huddles are planned. Huddles will begin to take place approximately every other week this summer and fall. We will reassess timing once winter operations begin in November.
SAM Snowsports & Rental Huddle, September 14 at 4 p.m. Eastern.
It has never been more important for close coordination between the rental department and snowsports school. Both face issues of social distancing and face covering while performing personal services, sometimes in very close proximity to guests. With so many touchpoints, how can areas maximize capacity, avoid bottlenecks, and provide a memorably good experience given all the constraints? How much volume can resorts maintain while meeting all COVID-19 safety guidelines? How do we prepare staff to execute and manage all this?
To answer these questions, our co-host Nick Herrin, CEO of PSIA / AASI and a panel of snowsports and rental innovators will explore the options. The panel represents several regions and resorts small and large. Join us for an engaging and inspiring discussion. This huddle will be a great time to revisit snowsports school and rental operations and see how resorts are evaluating products and procedures as the season nears.
Nick Herrin, CEO PISA / AASI
Rachael Milner, Snow Sport School, Kindy & Host Director, Cardrona Alpine Resort / Treble Cone, NZ
Mat Joyce, director of retail, rental, & commercial, Squaw Valley Alpine Meadows, Calif.
Elianne Furtney, Managing director Ski & Snowboard Schools Squaw Valley | Alpine Meadows
Burt Skall, Director of Snowsports, Taos, NM
Simon Page, Director of guest experience at Les Sommets Group, Canada
Richard Wren, Childrens/Snowsport Director, Boyne Highlands Resort, MI
Thom Norten, Ski and Snowboard School Director, Wachusett Mountain, MA
Ryan Eittreim, Wintersteiger
To participate, email huddle@saminfo.com. These Huddles are for members of the mountain resort industry, please be sure to include your resort/industry affiliation with your request to join. Already receiving the invites? You'll be on the list to receive them moving forward for as long as we host the Huddles! If you have not received the Zoom link, please check your spam and/or email Sarah W. directly.
In the meantime, listen into the previous huddles on SAM's podcast channel, PodSAM. Plus, check out the huddles we hosted for our sister publication, Adventure Park Insider.
Snowsports School and Rental, the Huddle podcast, is available now!
For more Huddle podcasts, click here.
Downloadable Resources:
Snowsports & Rental Huddle:
Slides from Rachel, Cardrona and Treblecone, New Zealand
"Lessons from Down Under" Huddle:
Video of Bridget Legnavsky speaking to customers.
NZSki Ltd (Mt. Hutt, The Remarkables, Coronet Peak) Video
Paul Anderson's slides (NZSki Ltd)
Insight Collective Presentation from "Buckle Up" Part 2
Jay Peak EverClean Team Messaging
Ski Areas Association of New Zealand Alert Level 2 Operations Guide
Download the signage examples from operations that have reopened for skiing and riding:
New Zealand Business Toolkit Posters
Download the signage examples from mountain bike operations:
Highlands Mountain Bike Park, NH
Watch the video from the reopening of Disney Shanghai
Download the COVID-19 People Recovery Playbook from High Peaks Group
Download the COVID-19 Response Deck from Origin Marketing + Communications
SAM is providing frequent updates, guidance, and ways to connect about the effects of the coronavirus pandemic. Visit our Coronavirus Update page for more resources and special reports. For email updates, sign up to receive Headline News, and, if possible, help support the voice of the mountain industry, SAM Magazine, with a subscription or gift subscription for someone in need. Together, #WeGotThis.