The future is uncertain at the moment. So we're huddling, virtually, to discuss the current situation and how best to proceed with fellow industry members. While we are all quarantined and working from home we can still keep our communication lines open and work on sharing solutions.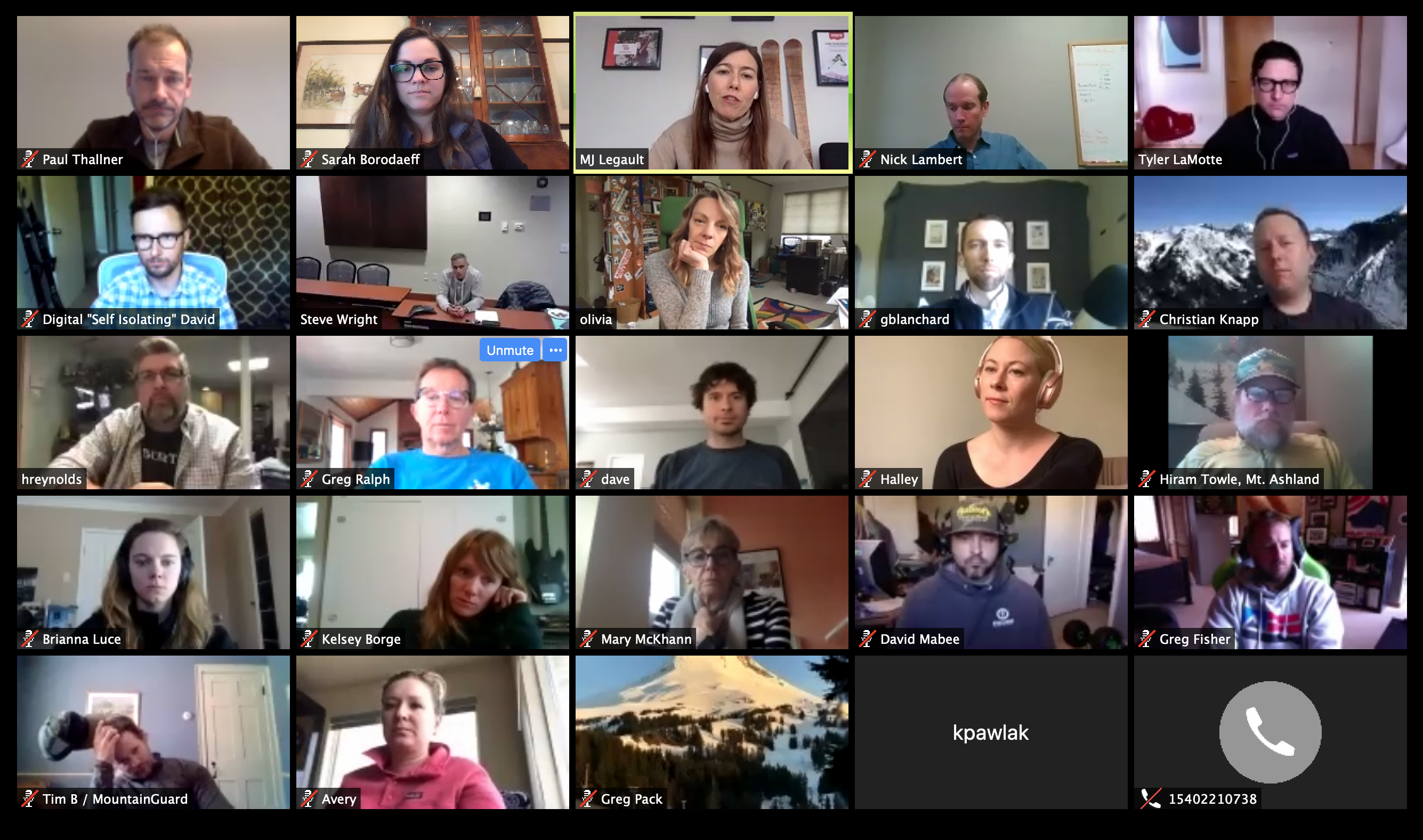 SAM Huddle Schedule:
This schedule will be updated as new huddles are planned. Huddles will begin to take place every other week starting in July, and for as long as it makes sense.
"Buckle Up" for this two-part SAM Huddle
When planning for this winter season, there are essentially two viewpoints resorts need to look from: the inside view of resort operations, and the outside view of the travel consumer. Experts will explore each viewpoint, and provide actionable solutions during this special two-part SAM Huddle called "Buckle Up."
To best prepare for these Huddles, we want to know what you want to know. Read the descriptions for Part 1 and Part 2 below, and send us questions you'd like our experts to tackle. Email questions and send requests to participate to: huddle@saminfo.com.
Buckle Up, Part 2 - August 3 at 2 p.m. EDT
Consumers: Adapting to Evolving Trends and Behavior
Yes, we are learning from our summer business and the Southern Hemisphere's winter experience, and we will apply some of these lessons to this coming winter. But what lessons about travel and consumer behavior will translate to winter, and what new challenges will the winter bring? Where does the consumer stand now, and how will attitudes and preferences evolve?

This think tank discussion will consider the impact of, among other considerations:

• Business forecasting: A look at winter 2020-21 scenarios and how to track them.
• Balancing demand and supply: How pent-up demand can save your resort—or not.
• Managing customer behavior: Rallying your community around distancing policies and mask requirements.
• Transportation: Fly/drive considerations that will require shifts in strategies.
• Local community sentiment: How it impacts your resort's performance.

Our panel of experts—members of the Insights Collective—will share data, perspectives, and advice on winter business. Insights Collective is a recently convened resource center and think tank, initiated by a small group of industry veterans and colleagues collaborating to provide information, insights, and actionable recommendations to decision-makers.

Ralf Garrison, Principal & Founder, The Advisory Group
Jesse True, True Mountain Consulting
Chris Cares, Managing Dir., RRC & Associates
Tom Foley, SVP Business Process & Analytics, Inntopia
Carl Ribaudo, President & Chief Strategist, SMG Consulting
Susan Rubin-Stewart, Travel Industry & Call Center Strategist, SRS Consulting
Barb Taylor-Carpender, Owner, Taylored Alliances
Jane Babilon – leisure travel specialist
Brian London, President & CEO, London Tourism Publications
Buckle Up, Part 1 - July 27 at 2 p.m. EDT
Operations: Practical Solutions for a Strange Winter Ahead
Listen to the recorded podcast of this Huddle at PodSAM.
How will winter operations change between now and when the snow flies? While much is still unknown, the picture is clear enough to begin formulating operational plans. This Huddle, led by experts from SE Group and Bull Stockwell Allen, will provide actionable ideas and help operating teams find solutions that work. We will look at what to focus on first (then second, then third). We will examine the pinch points in F&B, rental, and other indoor spaces, and propose solutions to help you and your team prepare your property and processes for this season. We will outline a planning process that you can use at your resort to identify additional procedures and services that need to change—and how to change them. And finally, we will look at how to best communicate all the changes to your guests.
Panelists:
Claire Humber, Director of Resort Planning, SE Group
John Ashworth, Principal, Bull Stockwell Allen
Regina Connell, Director of Collaboratory, Bull Stockwell Allen
Eric Lipton, COO, Snow Operating
Simon Page, Director of Guest Experience, Sommet Saint -Sauveur
Mike Unruh Sr. VP of Mountain Operations, Boyne Resorts
Brad Keen, President and General Manager, Boyne Highlands Resort & Sr. VP of Food and Beverage, Boyne Resorts
JJ Toland, Director of Communications and Event, Jay Peak Resort
To participate, email huddle@saminfo.com. These Huddles are for members of the mountain resort industry, please be sure to include your resort/industry affiliation with your request to join. Already receiving the invites? You'll be on the list to receive them moving forward for as long as we host the Huddles! If you have not received the Zoom link, please check your spam and/or email Sarah W. directly.
In the meantime, listen into the previous huddles on SAM's podcast channel, PodSAM. Plus, check out the huddles we hosted for our sister publication, Adventure Park Insider.
For more Huddle podcasts, click here.
Downloadable Resources:
Insight Collective Presentation from "Buckle Up" Part 2
Jay Peak EverClean Team Messaging
Ski Areas Association of New Zealand Alert Level 2 Operations Guide
Download the signage examples from operations that have reopened for skiing and riding:
New Zealand Business Toolkit Posters
Download the signage examples from mountain bike operations:
Highlands Mountain Bike Park, NH
Watch the video from the reopening of Disney Shanghai
Download the COVID-19 People Recovery Playbook from High Peaks Group
Download the COVID-19 Response Deck from Origin Marketing + Communications
SAM is providing frequent updates, guidance, and ways to connect about the effects of the coronavirus pandemic. Visit our Coronavirus Update page for more resources and special reports. For email updates, sign up to receive Headline News, and, if possible, help support the voice of the mountain industry, SAM Magazine, with a subscription or gift subscription for someone in need. Together, #WeGotThis.