The future is uncertain at the moment.

So we're huddling, virtually, to discuss the current situation and how best to proceed with fellow industry members. Our goal for the Huddles is to keep our communication lines open and work on sharing solutions.


SAM Small Area Huddle, October 12 at 2 p.m. Eastern
To participate, register in advance for this meeting, here. This is new, so thank you for adjusting to the new Huddle process. Now you can register for the event and Zoom will send you a personal link once confirmed.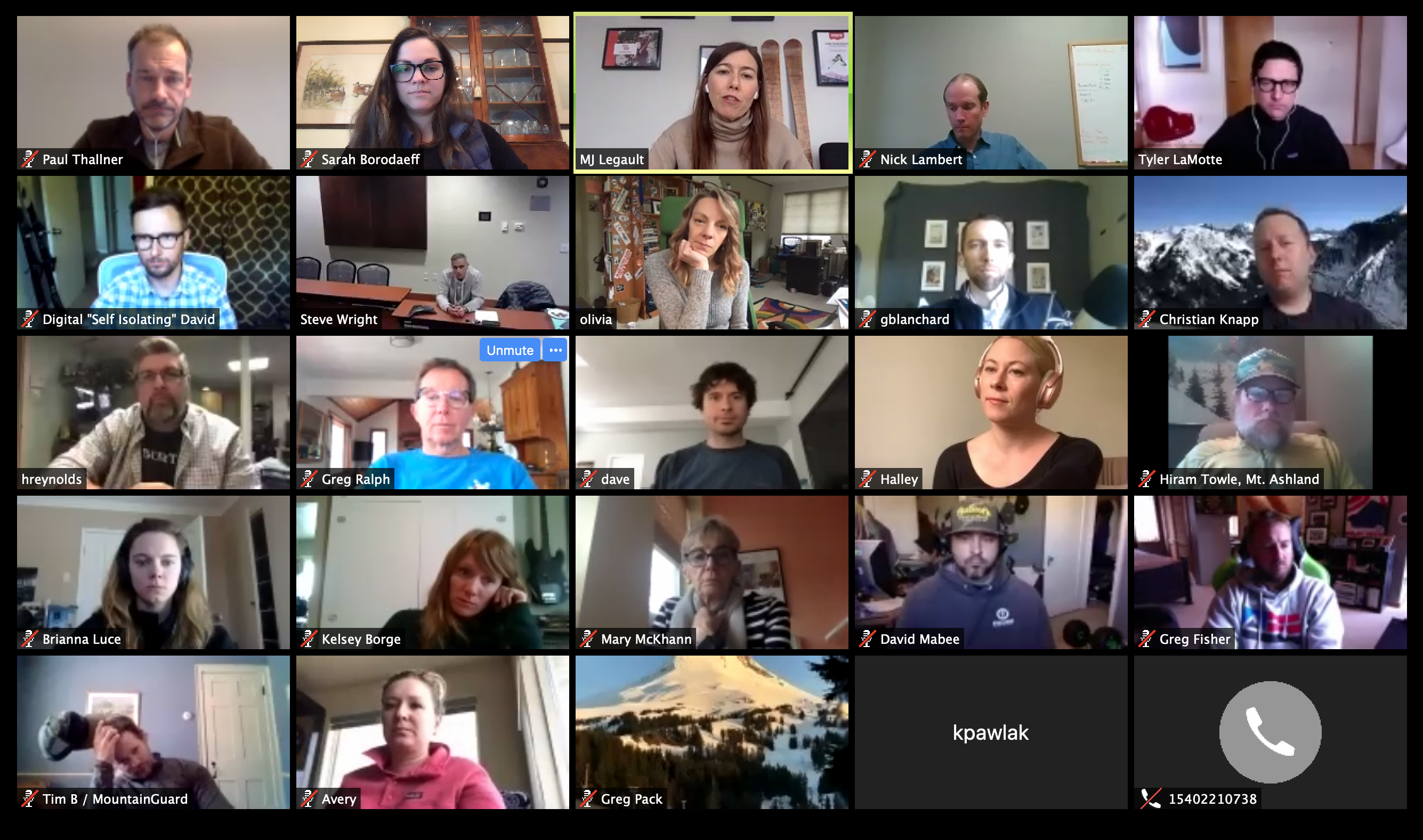 Smaller, local ski areas are vital to our industry. They also might be the most vulnerable this winter, with limited facilities and resources with which to address the challenges this winter will present. But, if predictions are correct, an expanded drive market could flood these areas with greater demand. Our panel for this Huddle will include "big" mountains with "small" facilities and "small" mountains with "big" facilities and mom-and-pop areas, too. These areas have traditionally offered less frills and more skiing and riding. Many have one lodge to provide F&B, rental, and ski school services. How can these areas—from the mountains of the West to the 250-vertical hills in the East and Midwest—provide the thrills and fun of downhilling and an escape from COVID stress? Join us for what is sure to be a robust exploration.
PANELISTS:
Scott Brandi, President, SANY (Ski Areas of NY)
Lindsay DesLauriers, VP/COO, Bolton Valley, VT
Ben Doornbos, GM, Nub's Nob Ski Area, MI
Aaron Maddox, Operations Manager, Snowy Range Ski & Recreation Area, WY
Robert McClendon, Ski Area Manager, Tahoe Donner Ski Area, CA

To receive announcements about upcoming Huddles, subscribe to SAM or sign up for Headline News.
Haven't see the announcements? Please check your spam and/or email Sarah W. directly to inquire.
In the meantime, listen into the previous huddles on SAM's podcast channel, PodSAM. Plus, check out the huddles we hosted for our sister publication, Adventure Park Insider.
Snowsports School and Rental, the Huddle podcast, is available now!
For more Huddle podcasts, click here.
Downloadable Resources:
Snowsports & Rental Huddle:
Slides from Rachel, Cardrona and Treblecone, New Zealand
"Lessons from Down Under" Huddle:
Video of Bridget Legnavsky speaking to customers.
NZSki Ltd (Mt. Hutt, The Remarkables, Coronet Peak) Video
Paul Anderson's slides (NZSki Ltd)
Insight Collective Presentation from "Buckle Up" Part 2
Jay Peak EverClean Team Messaging
Ski Areas Association of New Zealand Alert Level 2 Operations Guide
Download the signage examples from operations that have reopened for skiing and riding:
New Zealand Business Toolkit Posters
Download the signage examples from mountain bike operations:
Highlands Mountain Bike Park, NH
Watch the video from the reopening of Disney Shanghai
Download the COVID-19 People Recovery Playbook from High Peaks Group
Download the COVID-19 Response Deck from Origin Marketing + Communications
SAM is providing frequent updates, guidance, and ways to connect about the effects of the coronavirus pandemic. Visit our Coronavirus Update page for more resources and special reports. For email updates, sign up to receive Headline News, and, if possible, help support the voice of the mountain industry, SAM Magazine, with a subscription or gift subscription for someone in need. Together, #WeGotThis.