"I just wanted to thank you for all that you have done this summer/fall to foster such vibrant and helpful collaboration between industry leaders. It is truly inspiring to be on a call knowing that our smallest mountains and largest resorts are wrestling with the same issues and working together to solve them." – Tom Butler, Sugarloaf
The future is uncertain at the moment

. So we're huddling, virtually, with fellow industry members to discuss the current situation and how best to proceed. Our goal for the Huddles is to keep our communication lines open and work on sharing solutions.
NEW Huddle on January 4, 2021 at 2 p.m. EST.

REGISTER NOW
New Year, New Huddle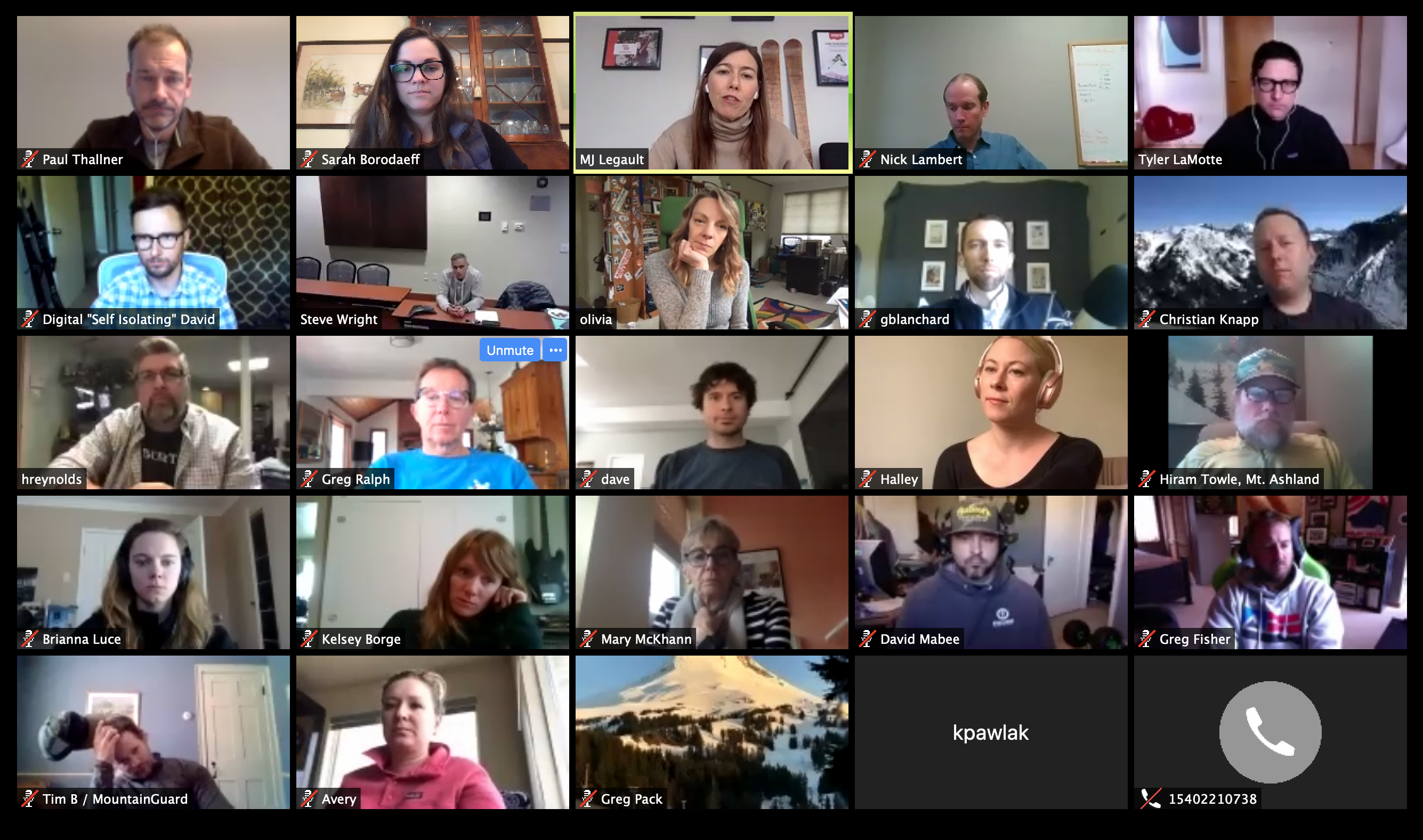 Holiday hits and misses; Help from new stimulus bill
As we move past the holidays, it's time to ask: what is the state of business at this stage of the pandemic? We will focus on two key issues: How well did our Covid mitigation plans work, and who will benefit from the latest Covid relief bill passed by Congress? We are assembling a diverse panel of leaders from resorts large and small to share their Christmas week hits and misses, along with Rep. Josh Gottheimer, co-chair of the bipartisan Problem Solvers Caucus and co-author of the new Covid relief bill.
We are thankful to have Rep. Gottheimer join the Huddle so he can address several provisions in the Covid bill that impact ski area operators and their employees, from details concerning PPP loans for seasonal businesses to tax credits to offset the cost of PPE and other Covid mitigations for employees.
Our resort panelists will review how their various Covid protocols—and overall business—held up over the holidays. It's been a whirlwind and full of ups and downs, from financial wins to PR nightmares. We'll share success stories to help all thrive to the fullest extent possible in this unprecedented season.
Panelists:
U.S. Representative Josh Gottheimer
Joe Hession, President, Snow Operating
Dan Fuller, President, Bristol Mountain, N.Y.
Kevin Nichol, President, Ontario Snowsports Association
Brent Tregaskis, President, Eldora Mountain Resort, Colo.
Chris MacInnes, President, Crystal Mountain Resort, Mich.
Bob Petitt, GM, Bridger Bowl, Mont.
Dave Tragethon, VP, Marketing & Communications, Mt Hood Meadows. OR

To receive announcements about upcoming Huddles, subscribe to SAM or sign up for Headline News.
Haven't seen the announcements? Please check your spam and/or email Sarah W. directly to inquire.
In the meantime, listen to the previous Huddles on SAM's podcast channel, PodSAM. Plus, check out the Huddles we've hosted for our sister publication, Adventure Park Insider.
For more Huddle podcasts, click here.
Downloadable Resources:
Realit Check Huddles:
Video from Bolton Valley's President, Lindsay DesLaurier
Snowsports & Rental Huddle:
Slides from Rachel, Cardrona and Treblecone, New Zealand
"Lessons from Down Under" Huddle:
Video of Bridget Legnavsky speaking to customers.
NZSki Ltd (Mt. Hutt, The Remarkables, Coronet Peak) Video
Paul Anderson's slides (NZSki Ltd)
Insight Collective Presentation from "Buckle Up" Part 2
Jay Peak EverClean Team Messaging
Ski Areas Association of New Zealand Alert Level 2 Operations Guide
Download the signage examples from operations that have reopened for skiing and riding:
New Zealand Business Toolkit Posters
Download the signage examples from mountain bike operations:
Highlands Mountain Bike Park, NH
Watch the video from the reopening of Disney Shanghai
Download the COVID-19 People Recovery Playbook from High Peaks Group
Download the COVID-19 Response Deck from Origin Marketing + Communications
SAM is providing frequent updates, guidance, and ways to connect about the effects of the coronavirus pandemic. Visit our Coronavirus Update page for more resources and special reports. For email updates, sign up to receive Headline News, and, if possible, help support the voice of the mountain industry, SAM Magazine, with a subscription or gift subscription for someone in need. Together, #WeGotThis.