The future is uncertain at the moment.

So we're huddling, virtually, with fellow industry members to discuss the current situation and how best to proceed. Our goal for the Huddles is to keep our communication lines open and work on sharing solutions.


Reality Check: Opening 2020 (A two-part Huddle)
To participate, register in advance for this meeting, here.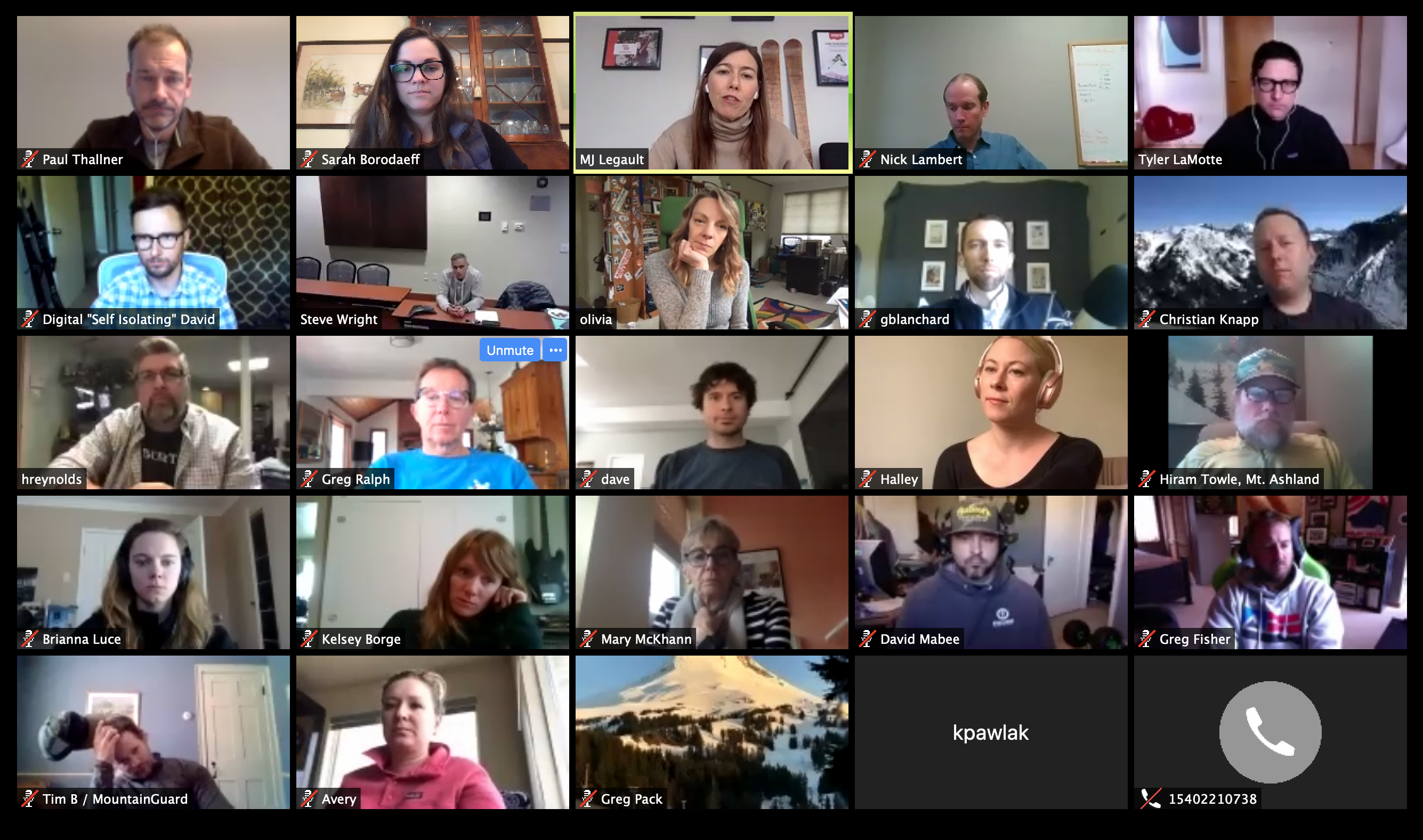 Now that we are on the cusp of opening (some resorts are already open), our biggest challenges lay ahead. With COVID cases rising in all 50 states, resorts could be facing new restrictions to limit the spread of the coronavirus. Will we see more interstate travel bans and quarantine requirements, as well as tighter restrictions on group sizes and the capacity limits for indoor spaces?
Please join us for a special two-part Huddle series as we do a temp check on our current realities to make sure we are ready for whatever comes next. We have gathered diverse panels that will share insights, and have collected intel that will help you make decisions.
Reality Check, Part 2 (Monday, Nov. 23, 2 p.m. EST)
The second Huddle in this series will address how to conduct your business during the rising wave of COVID and tightening restrictions. How can you best manage and communicate with your staff and guests with so much uncertainty and changing regulations? A combination of operators and subject experts will discuss how to reassure staff about their job security and health, and how to inform guests about changes to your operating plan aimed at protecting their health and safety. Finally, we will share a consumer sentiment and perception report done the last two weeks that will look at how these might be changing around winter activities as COVID surges. The more you know, the more you can prepare..
PANELISTS:
Blaise Carrig, longtime ski resort leader
Col. (U.S. Army Ret.) John Vermeesch, JAV Leadership Solutions
Paul Thallner, High Peaks Group CEO and Summit Series leader
Regina Connell, Advisor, Bull Stockwell Allen
Karl Kapuscinski, President and CEO, Mt. High, Calif.
Hiram Towle, General Manager, Mt. Ashland, Ore.
Tyler Fairbank, President / CEO, The Fairbank Group

Reality Check, Part 1 (Monday, Nov. 16, 2 p.m. EST)
In this first Huddle, we will talk with operators who have already opened. We will examine how the latest pivots in regulations have impacted changes to opening plans, or not, and how customers are adjusting to new protocols such as no bags in the lodge and limited or no indoor space. We will discuss what increased restrictions might look like for resorts. And, we will look at how to weigh priorities if worst-case scenarios come to pass. Finally, we will report on the state of the pandemic and its likely course over the next eight weeks based on the perspective of President-elect Biden's health advisory team.
PANELISTS:
Bill Jensen, longtime ski resort leader
Jody Churich, VP & GM, Keystone Resort, Colo.
Joe Hession, President & CEO, Snow Operating
Joe Yasis, GM, Wild Mountain, Minn.
Moira McCarthy, Healthline
Kelly Pawlak, President & CEO, NSAA
John Melcher, COO, Crystal Mountain, Mich.
David Norden, CEO, Taos, NM
When we started the Huddle back in March, our goal was to enable our community to share challenges and solutions. Since then, we have seen a free flow of ideas, information, and collaboration. That's as important as ever as we prepare to welcome guests during this current and most dramatic wave of COVID.
To receive announcements about upcoming Huddles, subscribe to SAM or sign up for Headline News.
Haven't seen the announcements? Please check your spam and/or email Sarah W. directly to inquire.
In the meantime, listen to the previous Huddles on SAM's podcast channel, PodSAM. Plus, check out the Huddles we've hosted for our sister publication, Adventure Park Insider.
Small Areas Huddle podcast is available now!
For more Huddle podcasts, click here.
Downloadable Resources:
Realit Check Huddles:
Video from Bolton Valley's President, Lindsay DesLaurier
Snowsports & Rental Huddle:
Slides from Rachel, Cardrona and Treblecone, New Zealand
"Lessons from Down Under" Huddle:
Video of Bridget Legnavsky speaking to customers.
NZSki Ltd (Mt. Hutt, The Remarkables, Coronet Peak) Video
Paul Anderson's slides (NZSki Ltd)
Insight Collective Presentation from "Buckle Up" Part 2
Jay Peak EverClean Team Messaging
Ski Areas Association of New Zealand Alert Level 2 Operations Guide
Download the signage examples from operations that have reopened for skiing and riding:
New Zealand Business Toolkit Posters
Download the signage examples from mountain bike operations:
Highlands Mountain Bike Park, NH
Watch the video from the reopening of Disney Shanghai
Download the COVID-19 People Recovery Playbook from High Peaks Group
Download the COVID-19 Response Deck from Origin Marketing + Communications
SAM is providing frequent updates, guidance, and ways to connect about the effects of the coronavirus pandemic. Visit our Coronavirus Update page for more resources and special reports. For email updates, sign up to receive Headline News, and, if possible, help support the voice of the mountain industry, SAM Magazine, with a subscription or gift subscription for someone in need. Together, #WeGotThis.