SAM Magazine—Vadito, N.M., May 18, 2022—The largest recorded fire in New Mexico history is threatening two prominent ski resorts and potentially a third.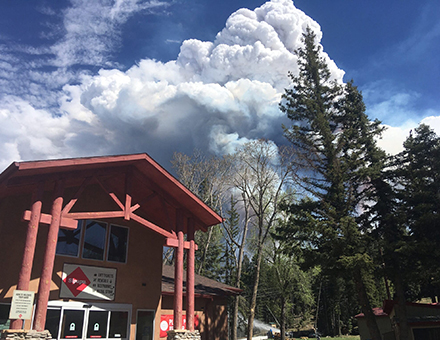 Sipapu and Angel Fire are implementing action plans to mitigate imminent danger from the merged Calf Canyon and Hermit Peaks fires, while Taos Ski Valley is monitoring fire activity. At Sipapu, snowmaking equipment has been fired up and evacuation orders are in effect, as the more than 300,000-acre fire continues to grow. 
The fire, which has been burning since April 19, 2022, continues to spread due to high winds and drought conditions in the region. Currently, nearly 2,000 firefighters are assigned to the blaze. 
Sipapu
"Go" status is in effect at Sipapu, meaning that evacuations at the property are mandatory and N.M. Highway 518 is closed heading east from mile marker 57 in nearby Rock Wall. According to Sipapu's website, snowmaking equipment has been deployed to protect structures and lifts around the property and firefighters are onsite working to defend the site from the encroaching fire. 
In anticipation of an electricity blackout, Sipapu shut down its computer servers. The resort team has removed 126 chairs from the main lift, which is turning using auxiliary power to prevent its haul rope from heating in one area and snapping. Snow guns are running to saturate critical areas with water, insurance teams are standing by with fire retardant to protect structures, and snowcats have been moved to a school parking lot several miles away for safety. 
"As one of the largest employers in southern Taos County, northwest San Miguel and eastern Rio Arriba counties, we are absolutely committed to protecting Sipapu and its place in this community," said the resort in a May 17 blog post. "Our community has been devastated, and our employees have been displaced, with many under evacuation orders or the threat of evacuation. They are worried about their homes, their pets, and their livelihoods."
For those eager to help, the resort suggested donating to the community fund All Together NM and provided a list of needed supplies for evacuees and first responders on its website.
The fire continues to spread, and although Highway 518 serves as a ready-made fire break, winds in excess of 20 mph could drive the blaze toward Angel Fire and beyond.
Angel Fire
Angel Fire is currently at "Set" status, meaning evacuation is not imminent, but residents should be preparing to go at a moment's notice. As the Hermits Peak/Calf Canyon Fire continues to spread, firefighting crews are actively planning for flames. According to the latest incident report, crews have been deployed to cut fireline toward Angel Fire and cool hot spots around the fire's perimeter, still several miles south of the resort. 
In a May 13 tweet, Angel Fire said "We are delaying the opening of our summer season 'til May 27th or until we get more info about the current fire situation. We are grateful for the fire crews & first responders that are protecting our community. Our goal is to assist them & to keep members & guests safe."
We are delaying the opening of our summer season til May 27th or until we get more info about the current fire situation. We are grateful for the fire crews & first responders that are protecting our community. Our goal is to assist them & to keep members & guests safe. More soon pic.twitter.com/lUVwMJlFiq

— Angel Fire Resort (@AngelFireResort) May 13, 2022
Taos
Taos Ski Valley and many of its neighboring communities have not been assigned an evacuation status and a rather in the official "Planning" stage, which identifies evacuation areas for planning purposes only. Taos staff is on alert, but not actively pursuing any mitigation efforts at this time. Weather in the area seems somewhat favorable as far as fire danger goes, although winds are expected to pick back up on Thursday, as according to the National Weather Service. 
On April 26, the Village of Taos Ski Valley held a review of the community's fire evacuation plan and preparedness at its regular meeting. In the review, the Firewise Community board of directors brought concerns that some residents might not be able to receive the message should the area go under an evacuation notice. Discussions are underway and will be reported on at the June 6 meeting, according to Taos News.
Feeling The Burn
The industry is still feeling the effects of last year's fire season: Sierra-at-Tahoe, Calif., was forced to delay its opening until April 2022 after the Caldor Fire ripped through the region last fall. 
While no resort operator wants to experience a disaster like these, John Paul Bradley, Sipapu general manager, told the Taos News' Geoffrey Plant, "We've been preparing for wildfire for years and years, it's our routine."
In the article, Bradley "acknowledged that downstream users of the Rio Pueblo (from which Sipapu diverts water) might not be pleased to hear that the State Engineer's Office had given him the OK to pump water out of the river in excess of the resort's annual water right for this purpose."
Water to fight the Hermit Peaks/ Calf Canyon Fire is scooped by air tankers and helicopters from Lake Isabel, near Las Vegas, but weather conditions like recent high winds have often kept aircraft grounded in the region.
Special report compiled by Michael Chait.