SAM Magazine—Hunter, N.Y., Sept. 6, 2022—Vail Resorts, in partnership with SAM magazine and Ski NY-Ski PA, has invited pro skier Drew Petersen to share the story of his mental health journey on Sept. 19 at 4 p.m. EDT during the Ski NY-Ski PA Expo at Hunter Mountain, N.Y.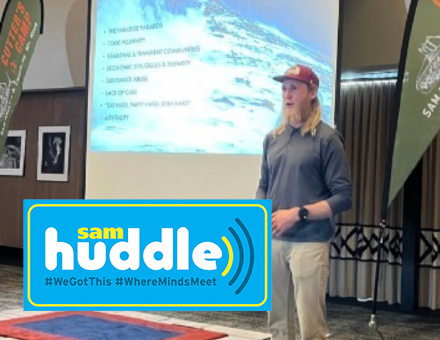 The session will also be broadcast on Zoom as part of a special SAM Huddle.
Peterson will share his story of personal despair and life-threatening accidents in the mountains and how he found fortitude and actualization in healing, personal growth, and creating opportunity out of hardship. His film "Ups and Downs" has given voice to the importance of mental health in our mountain communities. After watching the film together, Peterson will share why and how to foster a culture that prioritizes mental health. He will talk about his personal transformation and turning negative situations into positive opportunities and how showing up as our truest selves leads to our greatest success. 
"Thank you to Vail Resorts and Ski NY president Scott Brandi for coming together to make this possible," said SAMpublisher Olivia Rowan. "When Drew spoke at Cutter's Camp this past spring, you could hear a pin drop in the room. Everyone connected with his powerful story. He understands that while there is beauty and adventure in our mountain playgrounds, many working in these communities are experiencing a breaking point with mental health, especially during the busy winter season. I hope resort staff take the time to join this important conversation."
Attendees of the Ski NY-Ski PA Expo at Hunter can join the live session in-person, Sept. 19 at 4 p.m. EDT. Or, join the conversation virtually on the SAM Huddle platform by registering here: https://www.saminfo.com/events-saminfo/the-huddle