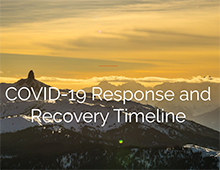 SAM is providing frequent updates, guidance, and ways to connect about the effects of the coronavirus pandemic. Visit our Coronavirus Update page for more resources and special reports. For email updates, sign up to receive Headline News, and, if possible, help support the voice of the mountain industry, SAM Magazine, with a subscription or gift subscription for someone in need. Together, #WeGotThis.
On last week's Marketing and Communication Huddle, Origin Design + Communications principal MJ Legault, shared a presentation on COVID-19 response and recovery. It's an in-depth look at what steps resorts can take during COVID-19 from a communication and timing standpoint and then what steps to take post COVID-19.
The presentation breaks down the key categories of consumers, the key actions to take and channels to focus on. Check out the full deck here and be sure to read part two on "Brand Recovery" coming out in the May issue of SAM. Don't have a subscription, sign up here.