SAM Magazine—Boulder, Colo., Aug. 4, 2020—In a measure of pent-up demand, more than three-quarters of mountain visitors are eager to travel once conditions are safe again, according to a recent Mountain Traveler Sentiment Survey conducted in July by RRC Associates. The survey was one of several data sources highlighted by members of the Insights Collective pandemic think tank in the SAM "Buckle Up" Huddle on Aug. 3.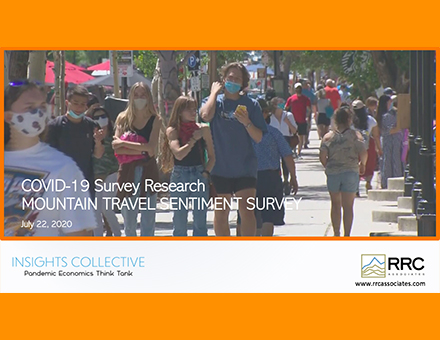 In a sign of optimism, more than half of mountain travelers expect no change in their ski travel plans for the coming winter. Another 30 percent say they are unsure about their plans, making them a key target for information about safety steps resorts are taking to protect the health of guests.
The survey suggested that mountain travelers are a resilient and pragmatic lot. Compared to the broader public, as measured by Destination Analysts research data, the RRC survey shows mountain travelers are more likely to feel safe during dispersed outdoor recreation, taking a road trip, and staying in a vacation rental. Less than five percent of mountain travelers claim they have little or no interest in travel once it becomes safe again.
Mountain travelers are nonetheless cautious about COVID-19. Their biggest concerns about traveling focus on coronavirus hotspots and social distancing. The safety of air travel tops the list of concerns. Travelers are least worried about their finances.
Of those who plan to travel, many—63 percent—plan to stick with familiar locations, and revisit a resort they have visited before. Barely one in eight are willing to explore a new destination, while nearly a quarter are unsure about doing so. This uncertainty reinforces the need for winter resorts to reassure potential guests and communicate the health and safety steps resorts and their wider communities are taking.
Click through for more on the two-part "Buckle Up" Huddle series, including supportive documents and podcasts of both sessions, and informaton on the Insights Collective.