SAM Magazine—Londonderry, Vt., Jan. 7, 2022—Magic Mountain, Vt., was not able to open today as planned after a member of its ski patrol tested positive for Covid yesterday, leaving the ski area with too few patrollers to safely operate.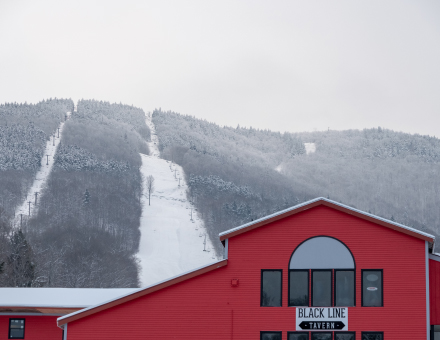 The news was shared last night in an online "Alpine Update" from Magic Mountain president Geoff Hatheway, with news that was "a bit mixed as Covid plays an increasing role in our day-to-day operations," wrote Hatheway.
Hatheway began with the good news that Magic's primary chairlift would operate this weekend after it passed state inspection and load testing. Then came the bad news.
"Now, the harsh reality of Covid on a small ski area. We just learned tonight of another case in ski patrol that effects our ability to operate at a safe level for tomorrow (Friday). So unfortunately, we cannot open Friday with less than minimum required patrol. We do have enough patrollers for the weekend scheduled at this time."
It's not just ski patrol that's been hit with Covid, though. Food and beverage staff has been hit particularly hard. Hatheway said Magic has one kitchen area that serves all its F&B outlets, so if kitchen staff get infected, it can—and has—spread easily, and ultimately shut the kitchen down. With many kitchen staff currently out, F&B offerings this weekend will be limited to grilling on the deck and some takeout offerings for lunch. The Tavern will be open for drinks, but no dinner until next Thursday. The retail store won't open this weekend. 
"This is especially hard on a small business as we must do our best to take care of our smaller staff as best we can and protect others," he wrote.
In a phone call with SAM today, Hatheway elaborated on that. "It's challenging for small areas that don't have any redundancies for parts of the business" like food and beverage. For example, he said, Magic doesn't have a summit lodge with a kitchen and kitchen staff that could be moved in the event of an outbreak to the base lodge kitchen.
Covid testing has been a major challenge, too, but it's something he and his team have committed to making available. Hatheway said this week he and his wife traveled to multiple towns in southern Vermont to purchase testing kits so they could have them for staff. They each buy the maximum number allowed at each pharmacy—from two to six kits—and bring them to the mountain. 
Hatheway and Magic communicate about these challenges regularly, which has earned the trust of the ski area's followers. Transparency in challenging times helps to manage guest expectations. Clear and honest communication was a primary point of discussion in Wednesday's SAM Huddle, "Gut Check: Is this season going as planned?"