SAM Magazine—Cambridge, Vt., Jan. 7, 2022—While many resorts grappled with the impacts of the Omicron surge over the holiday season, which left operators with already-reduced workforces even shorter staffed, visitors still flocked to the mountains in earnest to participate in their favorite winter activities.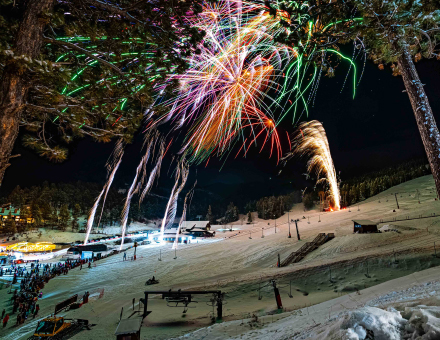 Angel Fire Fireworks 2022Extreme weather brought additional operational challenges on both coasts, with many western resorts temporarily closing due to too much snow and several eastern resorts shutting down due to a lack of it.
East
The season has been slow to start at most eastern resorts. Mild weather and few solid snowmaking windows meant limited terrain was on offer over the holiday. Larger resorts in Vermont, New Hampshire, and Maine were able to open bread and butter trails before Christmas, but lacked the natural snow needed to get into glades and the cold temperatures necessary to expand terrain.
Nonetheless, as Covid surged across the country, visitors showed up to ski areas over the holiday, eager to recreate in an outdoor setting. "The busy holiday week once again proved that people were looking for opportunities to enjoy themselves in an outdoor environment, where they could have fun and spend time with family," observed Ski New Hampshire president Jessyca Keeler. 
"Despite the continuing daily challenges of the current operating environment, we're seeing performance numbers beyond our expectations across almost all of our profit centers," said Jay Peak, Vt., communications director JJ Toland. "We can't compare this past holiday frame with last season's because we burned last year's balance sheet. But if we remember right, we're somewhere around 187.2 percent ahead of last year, north of 40 percent ahead of budgeted revenue for this season." Pent up demand from the U.S. market more than compensated for the loss of Canadian guests, who historically account for 50 percent of the ski area's business, he added.
Pats Peak, N.H., also reported a sizable gain over last year despite two days of inclement weather this holiday period. GM Kris Blomback said the ski area had record lift ticket and season pass sales over the holiday, which he credited to lifted capacity restrictions.
Still, he said, "[the impact of Covid] continues to be like a heavy, wet wool blanket, and just adds a layer of complexity that causes you to constantly reinvent how you do a first-class ski experience."
Covid spikes at several ski areas lead to operational disruptions and changes: Wintergreen, Va., opened for the holiday with scaled back food and beverage operations because of an employee outbreak; Killington, Vt., reinstated its mask policy in the middle of the holiday week after cases at the resort shot up; Crotched, N.H., made it through the holiday, but staffing shortages exacerbated by the pandemic saw the ski area heading into the new year with a shortened five-day-a-week schedule. 
As ski areas grapple with community circulation of Covid, there is a renewed emphasis on retaining staff and keeping everyone healthy. "What we're focusing on most right now is the health and overall well-being of our employees," said Jay Peak's Toland. "We're in the process of recalibrating some of our operating procedures to ensure our employees get the time off they need, and have the resources and protections they need to feel safe in the current environment."
While Covid created hurdles for many, inclement weather was the more significant holiday challenge for some of the East's ski areas. "Omicron didn't have an impact on the Christmas week, weather did for our members," explained Ski Areas of New York president Scott Brandi. Resorts like Kissing Bridge, Mount Peter, and Thunder Ridge closed several days over the holiday period due to mild temperatures. All have reopened now that snowmaking has resumed. 
Even with closures, "regional destination areas were packed," said Brandi, "and the day areas did very well too, considering the warm weather and limited open terrain."
Although storms last weekend dropped as much as a foot of snow on southern resorts, warm weather impacted holiday operations in the Mid-Atlantic and Southeast. Pennsylvania resorts like Liberty Mountain opened for the holiday week, only to shut down temporarily due to lack of snow. Massanutten, Va., also closed unexpectedly from Dec. 30 to Jan. 2 due to lack of snow. 
Massanutten marketing manager Megan Mowbray reported a 50 percent drop in terrain compared to this time last year. "Record warmth and lack of snow were the overwhelming contributors to the decline in visitation and revenue," said Mowbray. "On the bright side, the Massanutten indoor water park had a great week," she added, and the resort saw record golf rounds and revenue for the holiday period. 
Midwest
The Midwest saw a mixed bag of holiday weather, ranging from extremely cold to warm and misty, but overall reports seem optimistic. Granite Peak, Wis., was pleased to wrap its snowmaking season nearly a month early this year thanks to good snowmaking weather and some natural snow. 
Greg Fisher, Granite Peak general manager, said his focus this year was on maximizing terrain as a means of spreading guests out. Visitation was flat this season year-over-year, but revenue was up due to pricing adjustments and better yield management and margins. These adjustments are panning out well, said Fisher: "Season pass visitation was up due to new products and validity at night. Ticketed day traffic was also up, but our night traffic was down slightly. Food and beverage had a killer week due to more capacity in our buildings and new menus and offerings."
Lutsen Mountains, Minn., reported 56 inches in December, twice its historical average for the month. Meanwhile, Wild Mountain, Minn., adjusted its hours due to weather, closing early some nights for extreme cold and shutting doors intermittently for rain and lack of snow. Marquette Mountain, Mich., was able to open lifts on Dec. 10 before experiencing fickle weather, but recent snow has it leveling back out now. 
West
Snowy weather patterns in the West have been relentless, dropping record snows on many parts of the region. In order to operate, resorts were calling "all hands on deck" to dig out from heavy storms, putting stress on an already-reduced workforce. 
Access to western mountains proved challenging, especially around Lake Tahoe, where a record-breaking 17 feet of snow fell in December. Most of that snow came down during a multi-day storm that began just before Christmas Eve. The event closed Interstate 80 for three days, leaving Tahoe resort employees unable to get to work. Many areas were able to open Christmas Day, but closed throughout the week as the storm intensified. 
Homewood, Palisades Tahoe, Northstar, Heavenly, Boreal, and Kirkwood all closed down at points over the holiday due to the storm, with avalanche danger, power outages, and high winds compounding the situation. 
Some Tahoe ski areas are still digging out parts of their operation, but reported a restored sense of normalcy this first week of Jan. And, of course, all that snow is ultimately good news. 
According to executive director of marketing and sales Jon Slaughter, Sugar Bowl, Calif., which was forced to close Christmas afternoon through Dec. 27 due to the storm, is using excitement around the snowfall to drive February ticket sales, with the release of a deep post-holiday 96-hour sale. 
"The timing could not have been better with all the snow falling and excitement building in the market," said Slaughter. "Releasing tickets monthly vs. the entire season at once has some significant advantages, allowing us to react more real-time to how the season is unfolding by adjusting rates, quantities, and the pricing model monthly vs. one and done at the beginning of the season."
Managing day ticket sales remains a key strategy for Sugar Bowl as it tackles staffing shortages. Other adaptive measures include migrating staff from rentals into lifts and limiting hotel hours to weekends, said Slaughter.
The strain of staff shortages was felt at Alta, Utah, over the holiday. The ski area canceled its annual holiday Torchlight Parade due to lack of staff. Utah enjoyed a snowy Christmas though. Alta reported 143.5 inches in December, half of which fell during the holiday week. 
For many western resorts, like Jackson Hole Mountain Resort, Wyo., the start of the season was a bit of a nail biter. "Going into the holiday period, we were a little worried but cautiously optimistic. We experienced an unseasonably warm and dry period, which left both our natural and man-made snow depths very thin," said Jackson Hole CFO Matt McCreedy in a recent message to resort staff. "Looking back 20 years at snow depth levels on December 14, the Rendezvous plot was the third-lowest. Additionally, snowmaking hours heading into the holiday period were 32 percent below our historical average, due to such warm weather." 
McCreedy noted that things turned around in the two weeks on either side of Christmas. "Fortunately, snow began falling on December 17 and didn't let up through January 2. Over that 17-day period, we had over 69 inches fall in Rendezvous Bowl. Literally, as the guests began to arrive, we continued to open more terrain, culminating with the Hobacks opening on Sunday, January 2."
Nearby Snow King Mountain, Wyo., felt a similar crunch going into the holidays this season, reporting a jump from nearly no snow on Dec. 20 to almost fully operational on Dec. 27, when the ski area debuted the new Snow King gondola. 
Canada
Western Canada reaped the benefits of frequent and impactful snowstorms this holiday season. However, CEO and president of the Canada West Ski Areas Association Christopher Nicolson said the snow was bittersweet. "Unfortunately, an untimely period of cold weather coincided with the holidays in many regions," said Nicolson. "There was also disruption to some key highway routes. This resulted in lower than hoped visitation over the past two weeks, but strong demand for outdoor activity provides optimism for robust bookings through the rest of the season." 
Nicolson also noted that operations are being adjusted to support preventative safety and health measures for resort teams, as well as guests. 
With Covid cases surging, resorts across Canada entered the holiday week facing restrictions, like limited out-of-province travel and capacities cut in half. Blue Mountain, Ontario, took the opportunity to use social media to promote compliance with a witty campaign aimed to clarify the ever-evolving Covid rules.
In Quebec, resorts felt the seriousness of the holiday surge. President of the Quebec Ski Areas Association Yves Juneau reported a dismal New Year holiday, as a result of a strict 10:00 p.m. curfew that began Dec. 30. This, combined with a ban on indoor dining and capacity restrictions in lodges reduced revenue streams across the province. 
There is good news pertaining to visitation, however. Juneau reported an increase of as much as 35 percent in season pass sales over last year, and domestic passholders brought high traffic to Quebec ski areas despite the decrease in destination guests. 
Across North America, the holiday period was one in which extreme weather, surging Covid cases, and staffing shortages all played starring roles in resort operations. If the solid visitation numbers at many areas are anything to go by, the public appetite for winter sports remains strong. Although, with operational disruptions likely to persist in the coming weeks, that demand is apt to be both an opportunity and a challenge heading into MLK weekend. 
Report compiled by Mike Chait.