Through the success of Lumina Night Walks, mountain resort and outdoor activity operators have successfully created multimedia experiences that appeal to a larger demographic, thereby increasing and diversifying attendance. These magical, immersive attractions also allow them to leverage existing infrastructure to create an entertainment offering that extends operations into the evening and throughout the seasons, bridges weather uncertainty, and boosts revenues.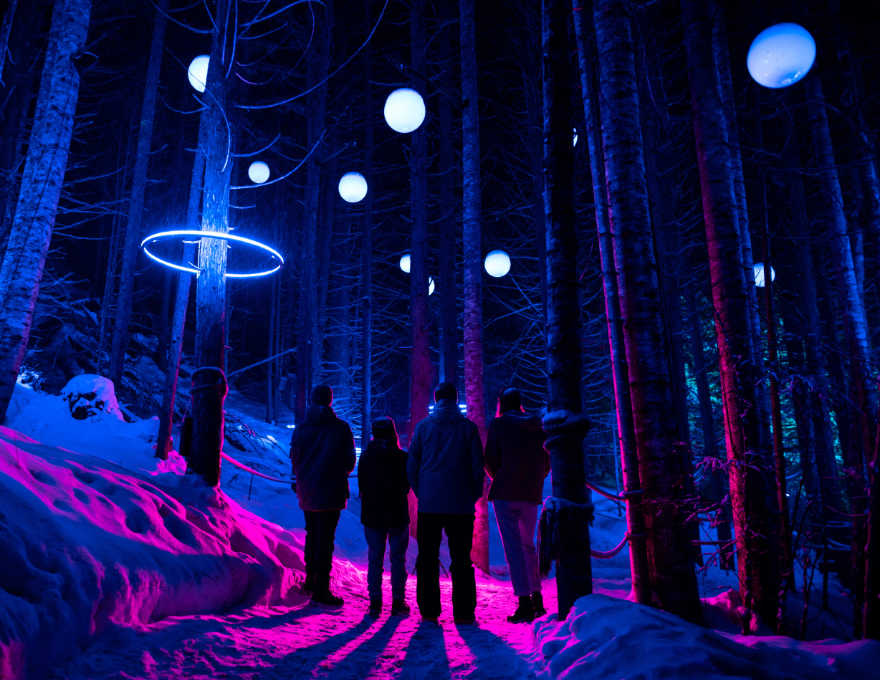 Vallea Lumina in the winter
The hills are alive all year around Cougar Mountain, one of the many majestic peaks surrounding Whistler Village in British Columbia, Canada, home to one of the largest ski resorts in North America. At dusk, when the slopes once were sleepy, a long-lost trail lights up the summit. After reaching a ranger's basecamp, visitors embark on a twilight expedition, following in the footsteps of two bygone hikers. Along the way, cryptic radio signals, stardust and sparks containing secret messages, and the chorus of an enchanting campfire song lead the impromptu search parties toward a mysterious valley. 
Opened in 2018, Vallea Lumina takes visitors on a magical journey inspired by vintage mystery tales along a mile-long pathway through an old growth forest. Created by Montreal-based multimedia studio Moment Factory and presented by Whistler tour operator The Adventure Group (TAG), the immersive experience was crafted to highlight the landscape's natural beauty with seamlessly integrated video projections, lighting, special effects, and storytelling. After a successful summer season, at the request of TAG, the enchanted night walk was adapted to run through the winter season.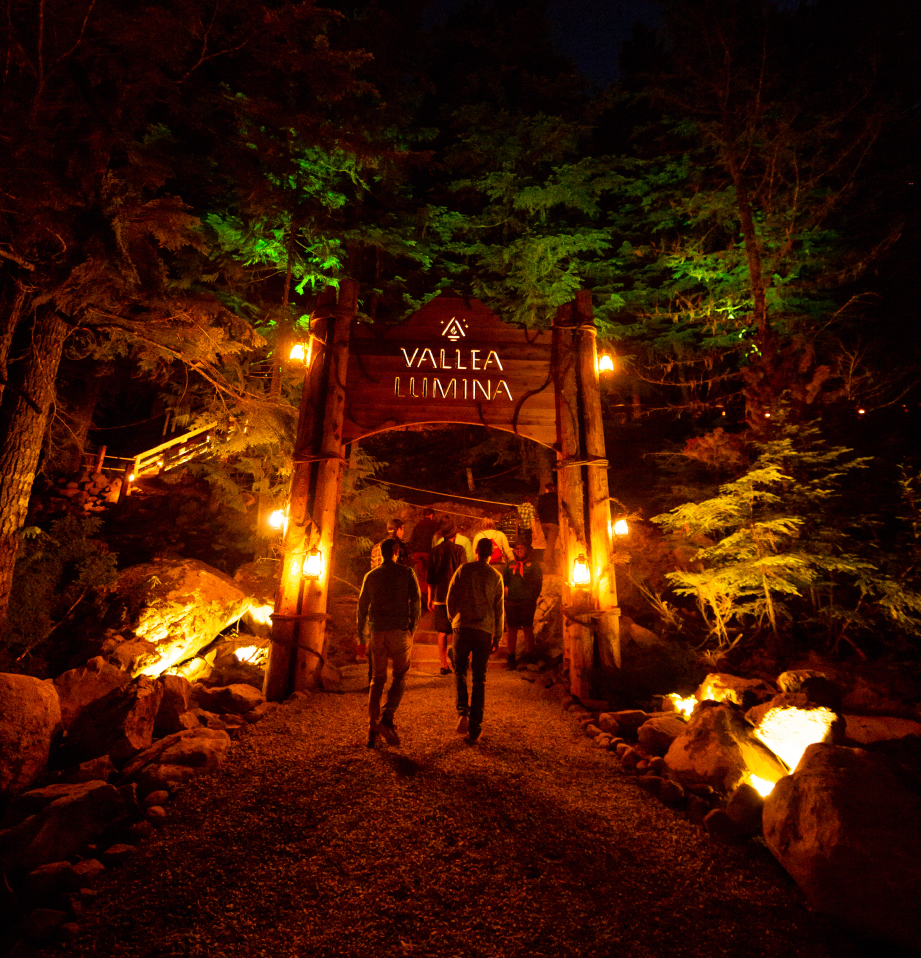 "The rationale behind it was simple: We wanted to diversify our portfolio," says TAG chief executive officer Jim Bailey. "We have this beautiful landscape around us that we wanted to utilize to its fullest." 
Part of Moment Factory's award-winning Lumina Enchanted Night Walk series, Vallea Lumina adds a unique outdoor evening activity for all ages to TAG's portfolio and attracts crowds to Cougar Mountain during off-seasons and off-hours. 
In addition to increasing visitation, the experience has led to greater awareness of other activities, such as zip-lining and rafting. "Importantly, it's helped us upsell activities beyond Lumina," says Bailey. "It's impacted our business in so many great ways."
Lumina Enchanted Night Walks - Safe and Innovative Entertainment from Moment Factory on Vimeo.
More Than an Attraction: A Unique Way to Share Local Culture and Support Placemaking Strategies
Since 2014, Moment Factory has created and produced 16 unique night walk experiences, with two more slated to open over the next year. Inspired by the natural features of the site and local history and folklore, each immersive journey tells a story and allows visitors to discover at their own pace. Original soundtracks and innovative multimedia features are used to amplify the beauty, wonder, and mystery of nature, many of which were developed in Moment Factory's very own Forest Lab, a creative research and innovation playground.
"Our hope is that these revenue-generating experiences would not only be a great entertainment offering and create meaningful and memorable moments, but they would also be solutions to increasing a site's visitorship or support a destination's placement strategies," says Manon McHugh, Moment Factory Director of Business Development and Marketing.
The Lumina Night Walks have indeed bolstered tourism to a variety of sites, from mountain resorts, ski areas, parks and zoos, by attracting a different profile of visitors from their usual clientele and offering them an emotional experience. As such, by strengthening the connection between visitors and their site, these nighttime experiences can constitute an appealing solution for operators seeking to support their placemaking strategies.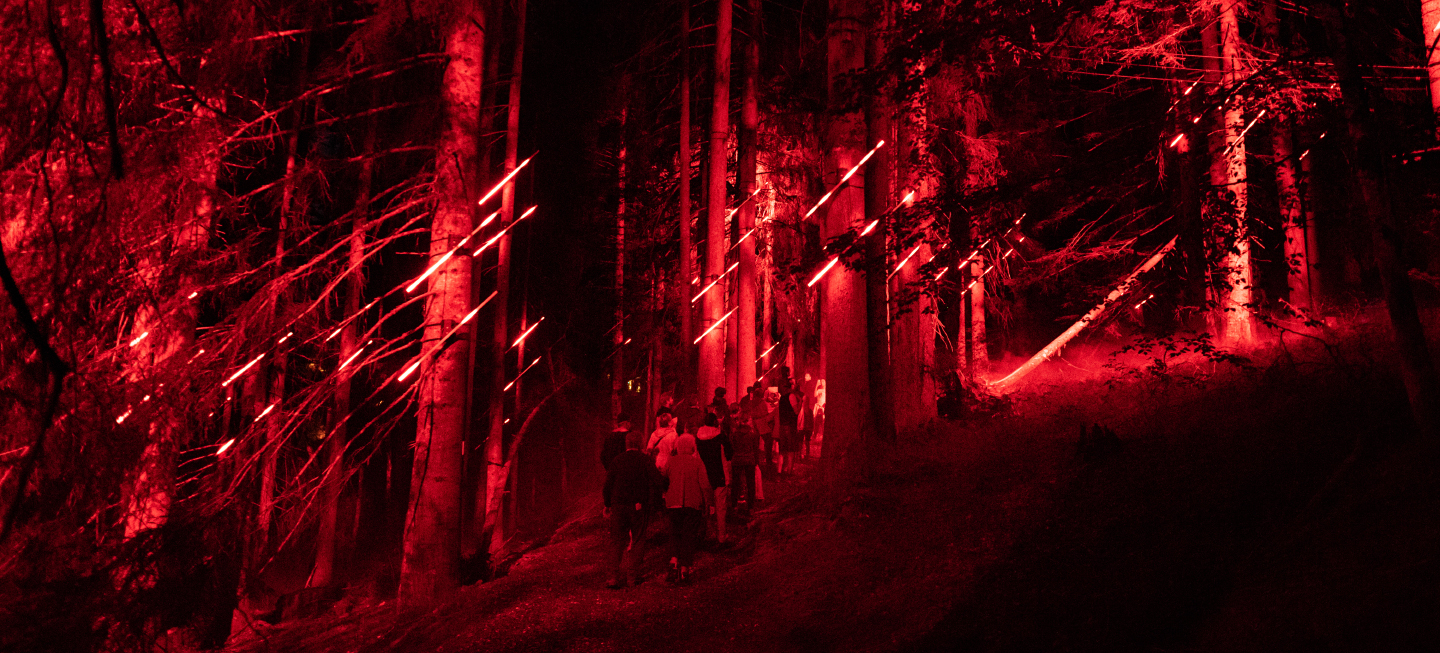 Alta Lumina in the French Alps
Inspiring New Audiences to Rediscover the Outdoors
In the heart of the French Alps, Alta Lumina is the 12th Lumina Night Walk and first experience of its kind in Europe. It invites guests to journey beyond the mountains at Les Gets, a world-renowned ski resort that connects slopes across the France-Switzerland border. All year long, Alta Lumina invites guests to set off in pursuit of a musician who spreads whimsical melodies as he travels by hot air balloon. The captivating story unwinds along a journey in the forest, twisting in the details of the village's musical history.  
Beyond expanding the resort's offering, one of the key motivations behind the project for Les Gets was to attract new visitors to the area. "The goal was to talk to different audiences, new audiences, and people who don't know the resort," says Benjamin Mugnier, Les Gets Sales and Marketing Director. "But also," he adds, "we wanted to talk to our regular visitors and impress them." 
Within six months of its opening in July 2020, Mugnier states that more than 60 percent of visitors came to the region specifically to experience Alta Lumina, affirming the new experience's ability to draw an out-of-town crowd. "The restaurants and also the hotels are directly benefiting from the activity," says Mugnier. A survey hosted by Les Gets showed that more than 40 percent of visitors dined in local restaurants while in town, and 15-20 percent stayed overnight in hotels, spurring some establishments to reopen and hire staff to meet the demand.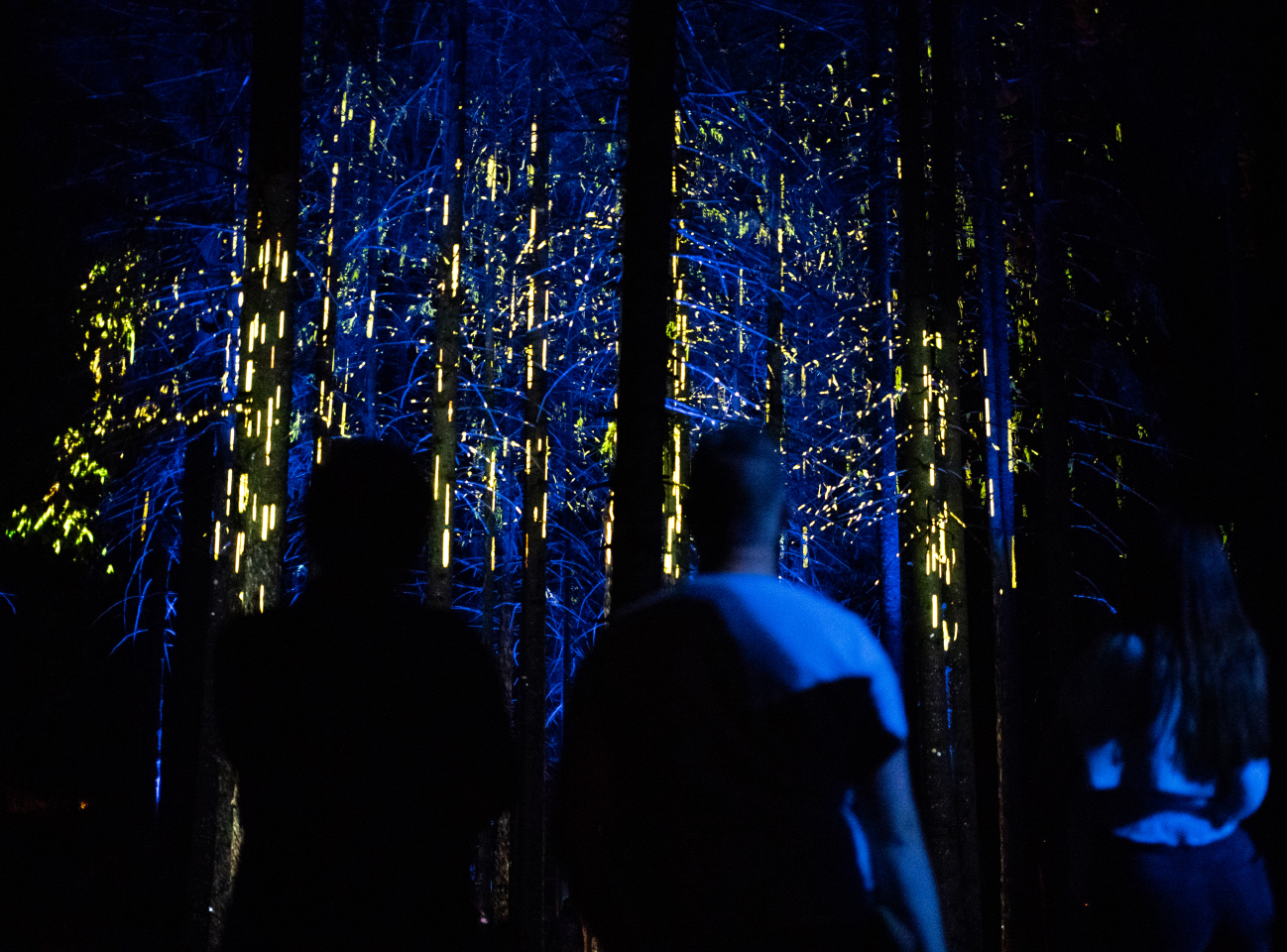 "When our visitors come to Alta Lumina, they're like 'wow!' They've never experienced something like this before," says Mugnier. This "wow factor" goes an especially long way with younger visitors who in the past would typically stay in town in the evening. With Instagram- and TikTok-worthy vistas and multimedia effects, these experiences offer unique appeal to generations that have grown up on social media and encourage them to gather and connect with nature on and off screen. 
Inspiring younger audiences is at the heart of Les Gets' and TAG's long-term growth strategies. "Being here, witnessing our guests, and seeing the expressions on their faces—the best way to describe the experience of Lumina is elation and emotion," says Bailey.  
Taking Collective Wonder to New Heights
In Alberta, Canada, the recently opened Nightrise experience takes the Lumina concept to new heights in partnership with Banff Gondola by Pursuit—a sightseeing attraction near the town of Banff that includes a gondola ride to a summit building with observation decks, a 2 km boardwalk, and more.
Tailored to complement the built and natural features of Sulphur Mountain, this signature experience centers on the gondola and gives guests the opportunity to explore at their pace the summit building's levels, both indoors and on outdoor observation decks. Moment Factory's team worked closely with members of the Stoney Nakoda Nation to create an experience that celebrates their unique connection to the traditional lands of Treaty 7 Territory. Through this collaboration with Elders, musicians and language experts to create the storytelling and music of Nightrise, the immersive nighttime installation allows visitors to see the Canadian Rockies like never before. 
Nightrise also draws from the storytelling approach of the Lumina Enchanted Night Walk series and Moment Factory's outdoor digital art installations such as North Forest Lights and Light Cycles to offer an experience optimized for Banff Gondola's unique environment and needs. Central to every concept is the recognition that people crave opportunities to gather, share stories, and create meaningful memories and connections. 
As these experiences attest, at the end of the day, wonder is an emotion best enjoyed with others. 
This article was sponsored by: