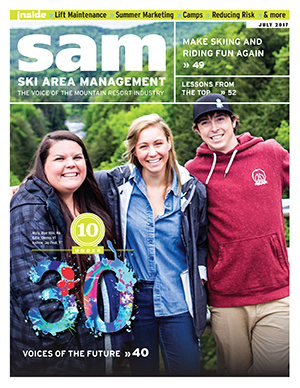 This year's 10 are an impressive bunch. From Alberta to Massachusetts, nominations poured in from operations big and small; from urban ski hills with 300 feet of vertical to mega resorts with more than a million annual skier visits. Many of this year's group received multiple nominations, one from people who work at competing or neighboring mountains

The accomplishments of the industry's twenty-somethings never cease to surprise. Their dedication has received the attention of resort higher-ups—nominations mostly came from directors, GMs, vice presidents, even owners.
On the flip side, many of this year's candidates were quick to acknowledge their managers, who they say have given them the tools and resources to grow their industry know-how, whether in the form of added responsibility or by identifying them as a successor.
And that's a good thing. Millennials and Gen-Xers will inherit the ongoing issues of conversion and climate change, the challenge of upgrading infrastructure and lifts, and of shifting into multi-season operations. For these younger generations, these challenges are all they've known. Who is better able to understand the issues faced by the next generation of customers than their peers on the business side of the resort game?
Subscribers can read their full profiles in the SAM Digital Archives.
JASON BOYD




Senior Vice President of Operations, Peak Resorts


Age:

29

KATIE BRINTON




Ski School Supervisor and Instructor, Okemo Mountain Resort, Vt.


Age:

27

SHELBIE EBERT


Guest Services Supervisor, Steamboat, Colo.
Age:

28

JACK FAGONE




Marketing Director, Attitash and Wildcat, N.H.


Age:

28

CORINTHIAN JONES




Rental Shop Director, Ski China Peak, Calif.


Age:

28

ANDREW LANOUE


Interactive Marketing Coordinator, Jay Peak, Vt.
Age:

28

ALISON RIGSBY


Reservation Manager, Taos, N.M.
Age:

28

MOLLY ROSS




Business Manager, Blue Hills Ski Area, Mass.


Age:

24

PATRICK TORSELL


Director of Marketing, IT, and Slope Maintenance, Ski Cooper, Colo.
Age:

28

ANYA WHITICAR


Guest Services Manager, Lake Louise, Alberta
Age:

27