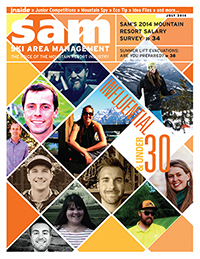 Do what you love and you'll never work a day in your life, right? It's a credo brought to life every year with SAM's young guns, 10 (or, in this case, 11) individuals under 30 who are making a difference with their passion, smarts and dedication.
This year's class is no exception. From a director of food and beverage who manages a full plate with aplomb, to a passionate marketer who chased her love of skiing, analytics, and ice all the way to Alaska, this year's young guns all share a clear vision of what success looks like and how to get there. All while squeezing in a few runs every powder day they can. The focus on creating top-notch experiences, for fellow employees as well as for guests, is paramount with every individual featured here. It's an important evolution in the industry, and one that will help ensure mountain resorts are places people continue to consider when planning their weekends and weeks off. What would really be a game changer, though, would be granting the young guns the super powers they'd most wish to possess. With controlling the weather and teleportation the most popular choices, they could well be running half the mountain resorts in North America in no time.
Explore the hall of fame of past honorees, some of whom you might recognize as current leaders in the industry!
Subscribers can read their full profiles in the SAM Digital Archives.
Lauren Everest


Public Relations Supervisor, Whistler Blackcomb, B.C.


Age:

28

Tess hobbs


Marketing & Communications Manager,

Woodward Tahoe and
Boreal Mountain, Calif.
Age:

28

Tyler hollingsworth


Resort Services Manager,

Telluride Ski Resort, Colo.


Age:

29

erica kelleher


Interactive Marketing Manager,

Crested Butte Mountain Resort, Colo.


Age:

27

erik kerr


Web and Art Director,

Red Mountain, B.C.


Age:

28

Dallas leonard


Employee Housing Manager,

Copper Mountain Resort, Colo.


Age:

28

Tommy long
Snowmaking Manager, Pajarito Mountain Ski Area, N.M.
Age: 28

jessica pezak


Director of Marketing,

Alyeska Resort & The Hotel Alyeska, Alaska


Age:

29

jordan spear


Manager, Ticket Sales, Season's Pass,

Pico Sports Center & Ambassadors,

Killington & Pico Ski Resorts, Vt.


Age:

26

timothy stone


Ski School Director,

Mountain Creek, N.J.


Age:

25
Adam thatcher


Director, Food and Beverage,

Squaw Valley/Alpine Meadows, Calif.


Age:

29