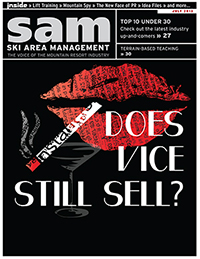 It was hard to tell during the Great Recession (those years were, after all, ironically good snow years), but as you read this year's 10 Under 30 interviews, I think you will agree with me: the days of taking the public's interest for granted are done.

This generation of future leaders, forged by some of the toughest years the industry had faced, is astonishingly focused on the guest experience. Optimizing those prime few seconds of interaction when a guest loads the chair. Making Patrol about more than policing. Knowing how the entire operation works, not just one part. Understanding how people communicate and how to create communities. The outlook and mindset of this group represents a significant shift in our industry. Climate change, recession, endless entertainment options, energy efficiency and the obesity crisis have shaped the tone of their early careers. And they don't take these challenges lightly. For all the hardships recent years have brought, the bright side is a generation of leaders genuinely motivated to re-imagine the mountain resort experience. And that signals a lot of good things to come.
Explore the hall of fame of past honorees, some of whom you might recognize as current leaders in the industry!
Subscribers can read their full profiles in the SAM Digital Archives.
casey bingham


General Manager (former),

Highlands of Olympia, Wisc.


Age:

25

Kalen boland
Bike/Ski/Base Area Manager and Marketing Specialist, Angel Fire Resort, N.M.
Age: 29

Mike Crowe


Brand & Content Marketing Supervisor,

Whistler Blackcomb, B.C.


Age:

26

douglas fichera




Snowmaking Shift Supervisor, Sugarbush, Vt.; Head of Snowmaking, Black Mountain, N.H.


Age:

21

david glissman




Manager of Finance, Copper Mtn., Colo.


Age:

29

maggie griffin


Lift Supervisor,

Steamboat Ski Resort

, Colo.


Age:

28

steven hemphill




Communications Manager, Sierra-at-Tahoe, Calif.


Age:

26

SCOTT MCCUNE




Park Manager, Nordic Mountain/Blackjack Resort/Little Switzerland, Wisc.


Age:

26

jason perlmutter




Asst. Patrol Manager, Mount Snow, Vt.


Age:

26

brian tekulve




Snowsports Director,

Mt. Ashland, Ore.


Age:

28