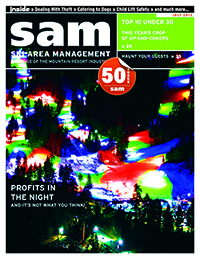 About six years ago, leaders across the industry looked around and asked themselves, "where are the future leaders who will take over for us when we want to retire?" A good deal of anxiety followed, as upper management didn't see an obvious line of succession.

To help clarify the outlook, SAM profiled a "Top 10 under 30" of likely candidates. And truthfully, it was not easy to find 10 young guns that top managers felt were up to the task.

But that was then. Over the past several years, hundreds of younger employees have stepped forward and into positions of greater and greater responsibility. As with leaders before them, they saw a challenge, and they determined how to meet it. It turns out that there were lots of people willing and able to pick up the mantle of leadership. All they needed was a chance to show their stuff.

That's how it looks to us, anyway, based on what we've learned in researching articles such as this one.

As with last year's under-30 profiles, we have presented only a portion of the story here—there's just too much to say. And speaking of volume, we once again gave our 10 a very small, yet surprisingly difficult, challenge: to capture their life's story in six words. You can see these bios here, but we invite you to go online and read their full stories, and then vote for the 6-word bio you like the most.

And please, tell us about your own future leaders. It's a great way to recognize and inspire them and to reassure current leaders that the industry will be in good hands.
Explore the hall of fame of past honorees, some of whom you might recognize as current leaders in the industry!
Subscribers can read their full profiles in the SAM Digital Archives.
gregg blanchard


Founder,

Slopefillers.com, and

Director of Communications,
Ryan Solutions
Age:

29

Jesse Cleveland


Snowboard Supervisor,

Liberty Mountain Resort, Pa.
Age:

29

Jeff cullinane


Financial Analyst,

Intrawest, Colo.
Age:

25

JAred emerson


Jack Of All Trades,

Saddleback Ski Area, Maine


Age:

28

eric hassel


Base Area Operations Manager,

Durango Mountain Resort, Colo.
Age:

28

kyle martola


Park Manager,

Sunburst Ski Area, Wisc.
Age:

23

laura parquette


Senior Communication Manager,

Keystone, Colo.
Age:

26

alex savitsky


Mountain Operations Manager,

Tahoe Donner, Calif.
Age:

27

julian tyo


Lift Supervisor,

Sun Valley, Idaho
Age:

28

SOLVEIG VICK


Ski Patrol Director,

Lutsen Mountains, Minn.
Age:

27