The future is uncertain at the moment. So we're huddling, virtually, to discuss the current situation and how best to proceed with fellow industry members. While we are all quarantined and working from home we can still keep our communication lines open and work on sharing solutions.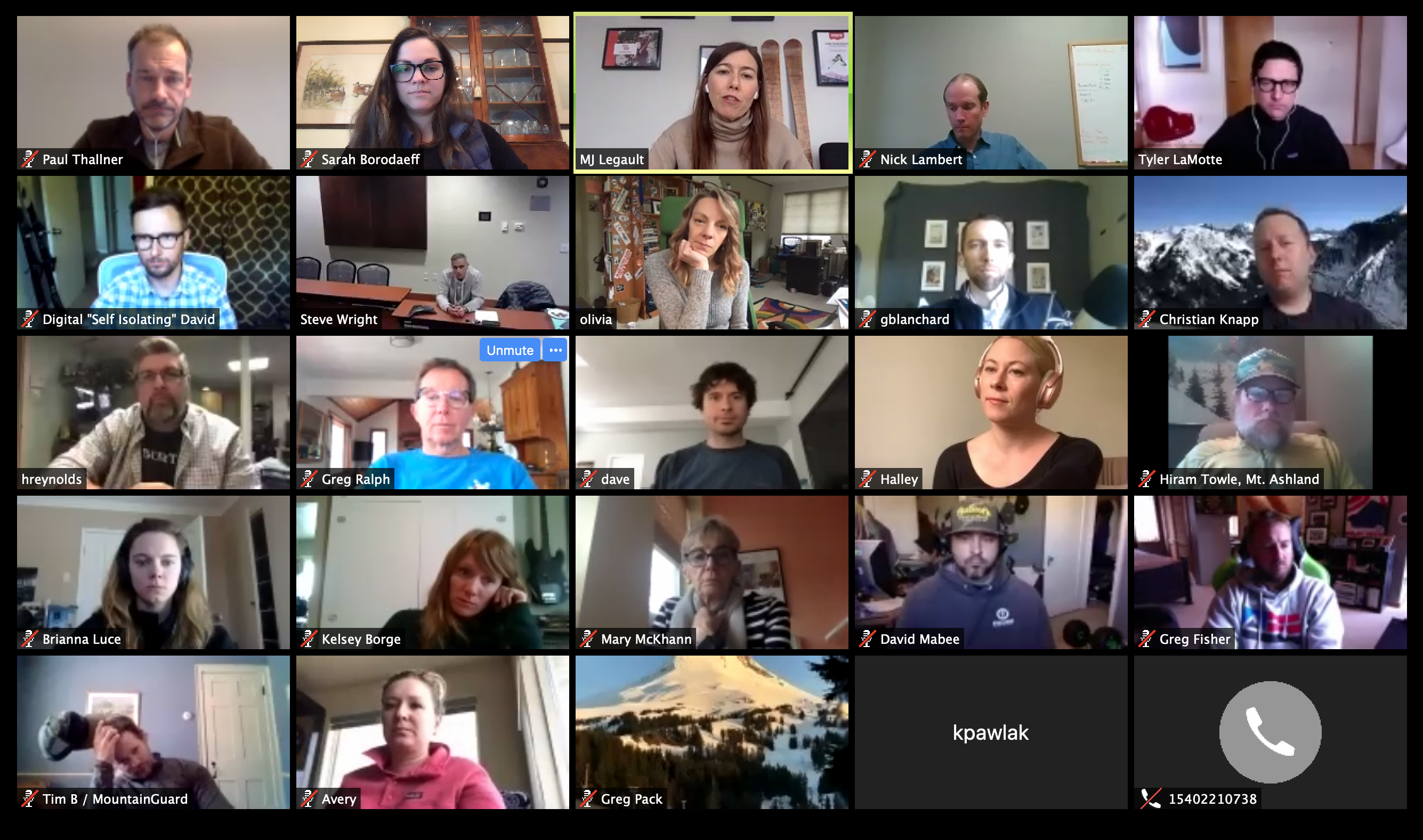 SAM Huddle Schedule:
This schedule will be updated as new huddles are planned. Huddles will begin to take place approximately every other week this summer and fall. We will reassess timing once winter operations begin in November.
Save the Date! Our next Huddle is August 24 at 5 p.m. EDT
Lessons from Down Under
Join us August 24th for a Huddle you don't want to miss. We are talking with operators from Australia and New Zealand about everything from rental and ski school to capacity, food and beverage, patrol, and much more. There is much we can learn from how they navigated their ski season the past couple of months.
To participate, email huddle@saminfo.com. These Huddles are for members of the mountain resort industry, please be sure to include your resort/industry affiliation with your request to join. Already receiving the invites? You'll be on the list to receive them moving forward for as long as we host the Huddles! If you have not received the Zoom link, please check your spam and/or email Sarah W. directly.
In the meantime, listen into the previous huddles on SAM's podcast channel, PodSAM. Plus, check out the huddles we hosted for our sister publication, Adventure Park Insider.
For more Huddle podcasts, click here.
Downloadable Resources:
Insight Collective Presentation from "Buckle Up" Part 2
Jay Peak EverClean Team Messaging
Ski Areas Association of New Zealand Alert Level 2 Operations Guide
Download the signage examples from operations that have reopened for skiing and riding:
New Zealand Business Toolkit Posters
Download the signage examples from mountain bike operations:
Highlands Mountain Bike Park, NH
Watch the video from the reopening of Disney Shanghai
Download the COVID-19 People Recovery Playbook from High Peaks Group
Download the COVID-19 Response Deck from Origin Marketing + Communications
SAM is providing frequent updates, guidance, and ways to connect about the effects of the coronavirus pandemic. Visit our Coronavirus Update page for more resources and special reports. For email updates, sign up to receive Headline News, and, if possible, help support the voice of the mountain industry, SAM Magazine, with a subscription or gift subscription for someone in need. Together, #WeGotThis.