The Treehouse Kid's Adventure Center in the base village at Snowmass, Colo., was "planted" to serve the ski community. Originally established as a hub for winter guests and a small day camp program, it's evolved into a bustling year-round daycare and activity center serving Roaring Fork Valley locals and tourists alike.
The facility was built in 2007—the first building in Snowmass's new base area. It's 25,000-square-feet and came with a $17 million price tag, funded by the Chicago-based Crown family, owner/operator of the Aspen Skiing Company and its Aspen, Snowmass, Aspen Highlands, and Buttermilk mountains. Not literally a tree, it's named for the many concrete domes within the building that were transformed into "trees" using real wood from different places around the world. Nature is a theme throughout the center.
But it's not all about being the biggest or fanciest—kids don't care about that. What matters is that, since the Treehouse was built, the building and the programming have evolved in many meaningful directions.

Wee Ones in Winter
Sue Way, director of children's programming for Aspen Skiing Company (SkiCo), says the Treehouse is part of a trend in the ski resort industry, combining childcare, ski school programs, and rentals under one roof. "The center is truly unique and geared towards the child," says Way. "Families return year after year because their child feels welcomed by an incredible team of workers that enjoy sharing their passion of nature and skiing."
On the first floor, the Snow Cubs daycare caters to children ages eight weeks to four years. Snow Cubs is a top-notch, fully licensed childcare center with five age-specific rooms named after animals found in the mountain environment: Trout, Beaver, Bear, Butterfly, and Fox. Staff consisting of nurses, teachers, ski pros, and doting grandmothers are required to take classes in developmentally appropriate child care, safe sleep practices, social emotional health and development, and first aid. The daycare center sees around 6,500 kids per year and caters to employees, locals, long-term tourists, and drop-in guests, says Way.
The Treehouse's second floor opens up to the base village plaza and to Snowmass mountain. The space hosts a ticket window, rentals, and ski supplies for kids 12 and under, and is also open for instructors to come inside throughout the day for snacks or hot chocolate, while the kitchen staff whips up a hearty lunch for employees and kids daily.
Way calls the Treehouse model "progressive." The facility is licensed by the state of Colorado, which dictates what ages can be grouped together. If a child starts with the center at age 1, each year for four years he or she can return to a totally different room and environment. Camp activities are also outlined by age group, so a returning child is able to repeat the activities they like and also try new adventures.
The room for the youngest children is set in the back, where kids feel cocooned and out of the way from the hustle and bustle typical at a busy ski resort. By the time children reach the program for 7-17 year olds, they meet outside amidst the buzz of gondolas, chairlifts, and excited tourists. Each division with the Treehouse is suited for that child's age and emotional maturity, so kids are ready to move up and out when the time is right.
Most of the instructors have one or more PSIA/AASI certifications in alpine, snowboard, children's specialist, or adaptive, and the Treehouse support staff is knowledgeable in child development. For example, when the kids need a break, a puppet theater is put on by one of the guest services employees, who happens to have a pretty good singing voice. All of these professionals utilize the environmental space outside with the physical space inside to help balance a child's day. In the end, this combination helps Snowmass put out a valuable, consistent, and professional product.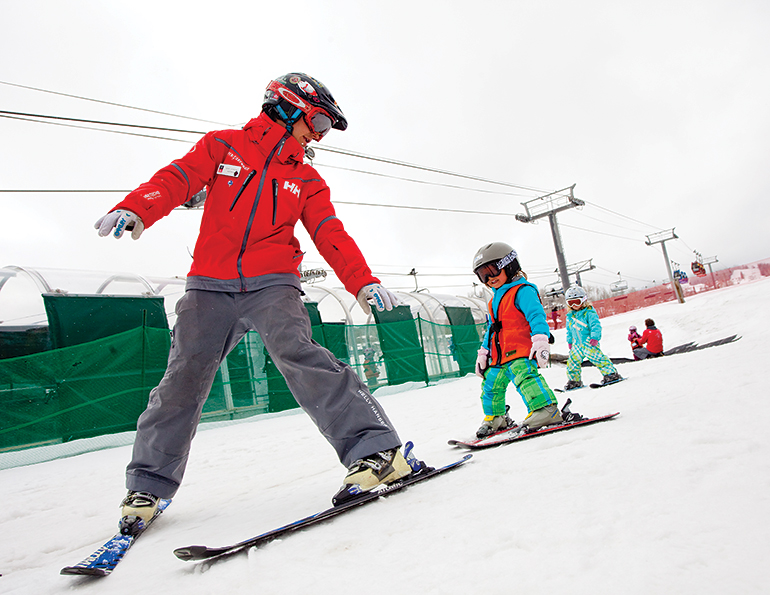 Most instructors have one or more PSIA/AASI certifications.

Shifting into Summer
When spring rolls around, the winter team begins to convert the space, and from June through August, Camp Aspen Snowmass (CAS) gets going. CAS began in 1990 as a humble day care and camp, offering simple crafts and a few hikes on Snowmass's Fanny Hill. By 2018, CAS was utilizing all of Snowmass and the Roaring Fork Valley, and eclipsed $1 million in gross revenue.
Camp Aspen Snowmass finds a way to incorporate all aspects of the mountain, and a host of options are available for kids to get outside. Way says the most popular programs include mountain boarding, fishing a fully stocked mountain pond, hiking, a bounce house, and paintball.
Since 1996, Rocket Camp has been an option. For two or three days, kids ages 4-10 build their own Estes Rocket while learning about space—ending with a rocket launch.
CAS also recently added programming that allows kids to access Snowmass's new Lost Forest activities, which include an alpine coaster, zip lines, trails, disc golf, climbing wall, and ropes course. (See "Finding Lost Forest," SAM May 2018, for more.)
"Our goal is to develop new summer programs for kids and adults that can take place on our mountains," says Way.
One of the newest: a three-day teen leadership program that includes an overnight, as well as a two-day mountain skill building program that incorporates hiking, mountaineering, fire building, and nature art.
SkiCo believes in nurturing a child's mind, body, and spirit through nature, adds Way. So, when new activities are developed, CAS works with the community to tap into even more fun stuff that summer offers. Way keeps in mind the wants and the needs of the local guests, remembering the things her own daughter enjoyed doing as a child growing up near Snowmass. One example: exclusive camping on the mountain, giving children time in the woods for an overnight adventure with certified counselors.
Kids "go fishing" in one of the many rooms inside the Treehouse.
CAS maintains a pricing structure that the local community as well as the tourist can afford. The day rate is $148 (ages 1 through teens); an unlimited season pass for the summer starts at $2,199. Camp Validation passes are also available for those who plan to go to CAS multiple times, but not enough to buy a season pass. It provides a 50 percent discount on the day rate—a good deal if used more than six days.

Winter to Summer Crossover
Since 2010, the Elk Camp Gondola—just steps from the Treehouse—has provided easy winter access to expanding trails and features, and allowed the Treehouse to establish a beginner ski zone with Magic Carpets, a beginner chairlift, and tubing. Led by kids ski coordinator and instructor Margo Cuttitta, the ski school incorporated a new skiing technique called "Prop-Based Teaching." Similar to Terrain-Based Learning, the method uses hoses and cones to give children visual aids so they can see where they're supposed to go. This helps facilitate learning and gives instructors another tool to teach new skiers.
In its second summer, the use of the gondola evolved and opened for lift-served mountain biking. Kevin Jordan, coordinator for Snowmass's summer bike program, loves terrain-based options. "Dirt TBL," says Jordan, "allows bikers to think offensively versus relying on primarily defensive movements."

Staffing and Operations
Way strives to provide SkiCo staff opportunities for year-round employment; an estimated 30 percent of the kid's ski school staff make the transition from winter to summer. Most CAS camp counselors, support staff, and assistants already know the mountain lifestyle and understand the company culture, which help ensure things start smoothly and gives Way the time to work through logistics and guest interactions.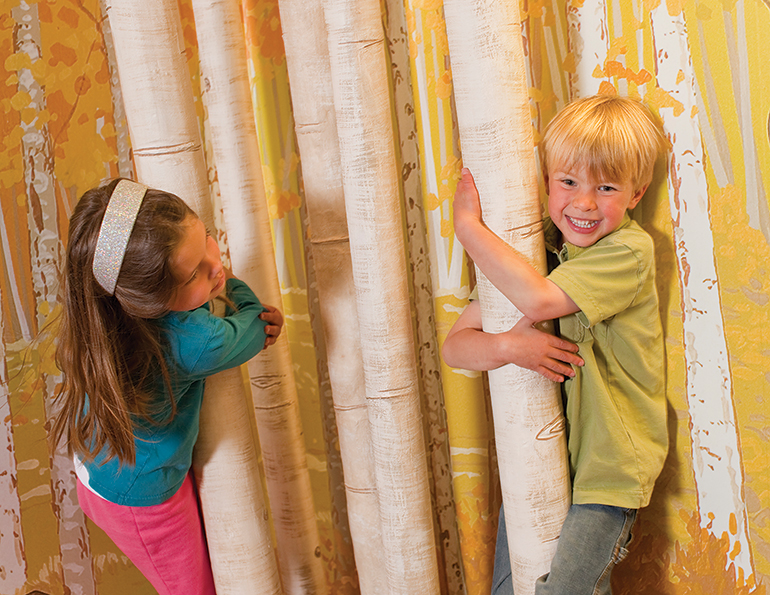 Tree huggers welcome.
Treehouse programming works alongside building operations, utilizing space in conjunction with other departments. "We work together to establish program timeframes and proper inventories, so the camp doesn't impact the general guest experience," says Way. "We also have the CAS staff train with the operations team in order for them to aid in operating the climbing wall and ropes course."
Adding new programs comes with hurdles, and Way makes an effort to establish a good working relationship with other departments. She says a solid communication plan and a solutions-based mentality benefit everyone. "Adjusting to business needs and guest expectations requires flexibility, and when there's a solid, logistical plan in place, work flows," she says.

What's Next?
While kid and family programming grow year-round in Snowmass, enhancing the guest experience will continue to be a priority, continuously measured and analyzed by planning committees and key stakeholders.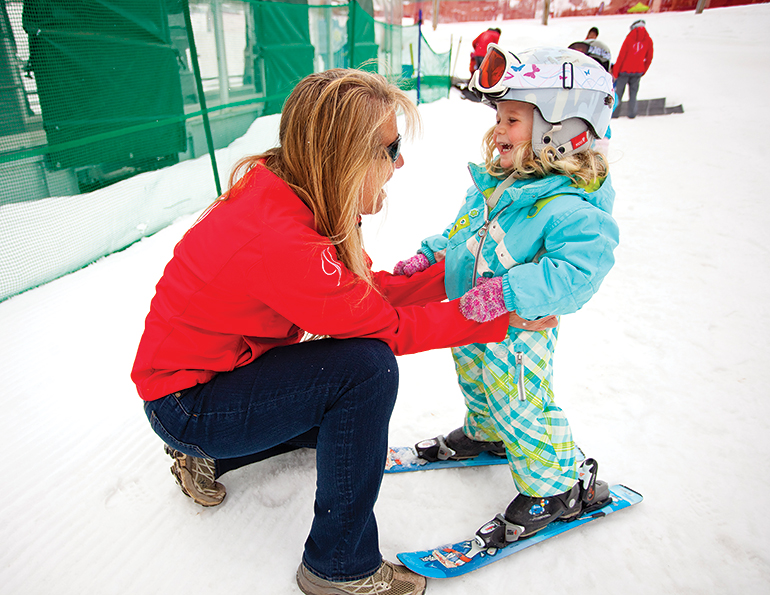 Snowmass strives to offer year-round employment to its children's program staff.
"Our goal is to continue to develop new programs for kids and adults that can take place on our mountains," says Way. "We're proud that our facility is unique and geared towards the child. Parents feel comfortable leaving their most prized possessions with us, knowing that they are safe and going to have an awesome day."