We always remember our first. And as awkward meshed with awesome, confusing morphed with cool, and somewhat fumbling met with fantastic, it stands out as the moment our eyes were opened to a whole new incredible life experience.
Steve Wright, president of Jay Peak, remembers the incredible buzz he felt after his first time as a young man of 16. "I'll never forget the ride home in the car and wondering why the hell I had never done that before."
Euphemisms aside, you know this to be true: that first time ski experience stays put in that happy memory part of our brain. And interestingly enough, most industry long-timer's first time was with the nice, gentle local hill.
SAM asked folks across the industry to share their #MyFirstMountain stories, and the response was overwhelming (you can find many more online at saminfo.com/my-first-mountain). Everyone remembers that first time, down to the tiny details. And even if they haven't been back to the ski areas where they learned—in some cases, those places no longer operate—the memories remain fresh. It really is like tracing back to when you met the love of your life.

Learning, With Benefits
For Wright, his first time was at tiny Boston Hills in Andover, Mass. He'd planned a Canadian ski trip with a group of friends who were all skiers, and wanted to get out on skis before that trip came up. So, they headed to nearby Boston Hills.
"I used my Aunt Jane's ski boots and her original K2 5500s, which were perfect," Wright recalls. "There wasn't much need for turning at BH and the 300 feet of vertical made it seem like your run was over just as it was starting."
As it often does in skiing, a little romance came into play. "There were four of us: myself, Ellen, her boyfriend and his pal. All were expert skiers," he says. "I put my gear on without incident, and that's where the lack of incidents ended. I caused a pile-up exiting the summit chair and the boys sped off, leaving me and Ellen, who felt bad for me. She stayed with me the entire rest of the day, and although she didn't do much to help my skiing improve, we did end up making out, which was nice."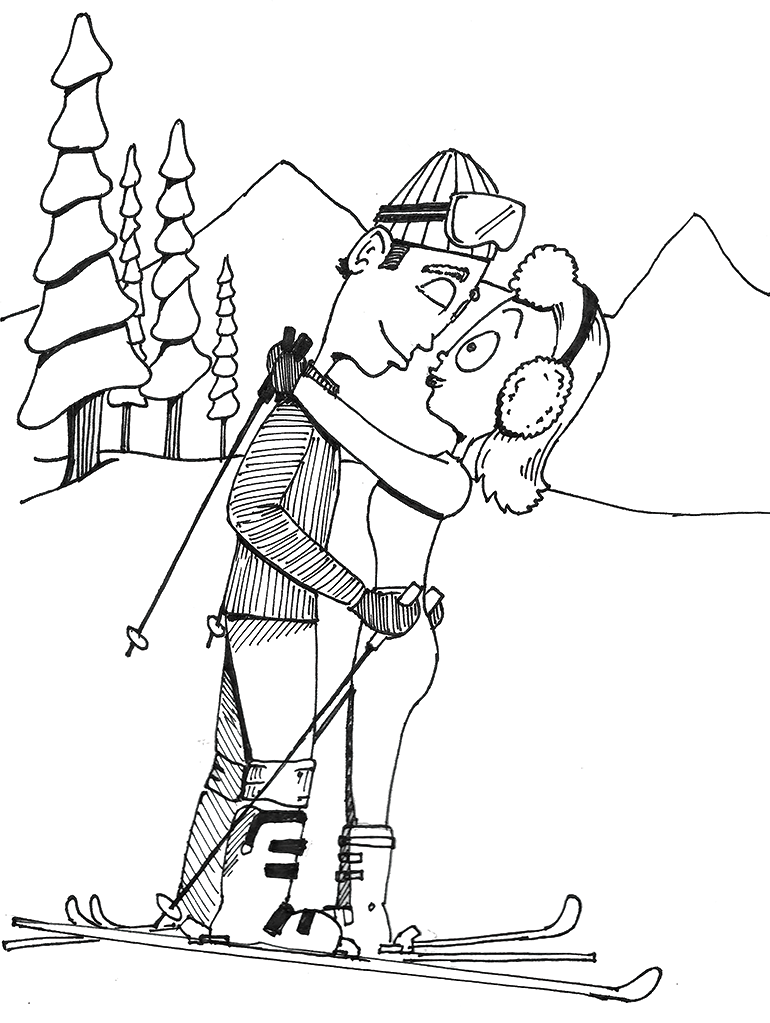 Steve's first turns didn't work out, but other things did.
Ellen went on to marry the boyfriend, and Wright has made a career of helping the rest of the world discover and embrace the sport.
Where the Learn-To Chief Learned
This is not an unusual path. As the longtime executive director of Learn to Ski and Snowboard Month, Mary Jo Tarallo has helped bring, as of this year, more than a million people out to the slopes to discover skiing and riding. When Tarallo was a newbie, her first day on skis came at Oregon Ridge in Hunt Valley, Md., just north of Baltimore.
"It was owned and operated by the Baltimore County Department of Parks and Recreation. It had two chairlifts and one rope tow, and a really nice base lodge with lots of rentals," Tarallo says. "I was 16 years old and in high school when I started. Our moms took a group of us for lessons after school on Wednesdays that our P.E. teacher organized. Her husband owned a sporting goods shop in Towson, Maryland, and I guess he thought that would be a good way to sell some skis."
Oregon Ridge, she says, was little, but felt big. "It had about a 250-foot vertical. Seemed high to us at the time." She went on to join a ski club, and took her first big mountain trip to Winter Park (where she met and skied with Stein Erikson). After that, Oregon Ridge didn't seem all that big. But the impact? Huge. "I remember well how much fun we had sliding down that little hill," she recalls. "We had to start somewhere."

Gone, But Not Forgotten
Friendships, freedom, and proximity helped Windham Mountain, N.Y., president and GM Chip Seamans build his lifetime love for and dedication to skiing at a tiny hill called Apple Hill in Orefield, Pa., where he first learned.
"Apple Hill had two rope tows, a T-bar, and an A-frame lodge with big windows and a circular fireplace," says Seamans. "Great memories of skiing after school and Friday nights. Apple Hill went out of business long ago, but the lodge still stands and is as worn out as the mittens we used on the rope tows."
Those mittens got worn out because Apple Hill was no one-night stand for Seamans. "We were there as often as we could get a ride; usually two or three days a week," he says. "Friday nights were the most fun and would have the biggest crowd of friends. It always felt big and exciting! Riding the T-bar was as much fun as skiing the trails. The 'expert' trail was always bumped up and you knew everyone was watching from the T-bar."
Those days and weekends have stuck with him, despite Apple Hill's demise. "Apple Hill has been closed for a long time," says Seamans. "I feel fortunate to have had that experience so close to home. It hooked me on skiing for life, and also established the foundation for lifetime friendships. My group of high school friends still takes a ski trip together every year, and we laugh about our Apple Hill days."

Something on the Side
Bill Byberg, mountain manager at Devil's Head Resort, Wis., recalls not just the joy he found at his first hill, but also the thrill of sneaking out in the dark for some, ah, extra love.
"It was 1964-65—my very first home 'mountain' was Teeple Hill in Oakland County, Michigan, a very small, state-run recreational park with a few rope tows," says Byberg. "Long gone now. After taking a few runs with skis, I would sneak back onto the hill when the park ranger was not looking with my Snurfer!" Oh, the thrill.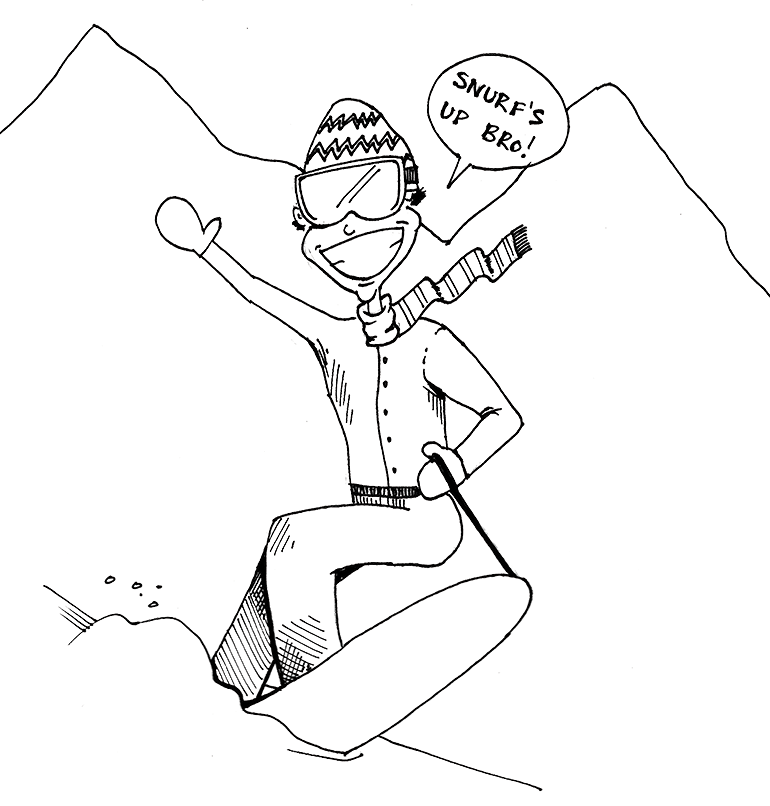 Sneaking a snurf after dark
"Teeple Hill was only about 150 feet of vertical with five slopes," he says, but it was enough to hook him—and his gang—for life. "That was plenty fun for us, and with three rope tows we were able to get in a ton of runs in one day (or until the Ranger caught us on Snurfers and sent us packing)."
And then, he went big(ger). "When I moved on it was basically 'across the street' to Alpine Valley (where Olympians Danny Davis and Kiley Shorr are from). They had a whopping 300 feet of vertical so, we were really livin'," he recalls.

The Magic of Gravity
Nadia Guerriero's ski industry career has moved pretty fast since it began in 2007. » After working her way up to be general manager of Northstar California Resort in 2016—and win a SAMMY Award in 2018—as of May 1, she moves on to become COO of Beaver Creek, Colo. That pace is indicative of her skiing, because since the beginning, she's had the need, the need for speed.
"My first turns on alpine skis were at Eldora Mountain, just outside of Boulder, during a night lesson with my sister," says Guerriero. "I was 10 years old, my sister was eight, and our parents finally agreed to let us ditch our cross country skis. It was cold but we hardly noticed because we were so happy to be going fast and straight downhill. I remember hearing the instructor yelling, 'Turn! Turn!' To this day, I still love to go fast."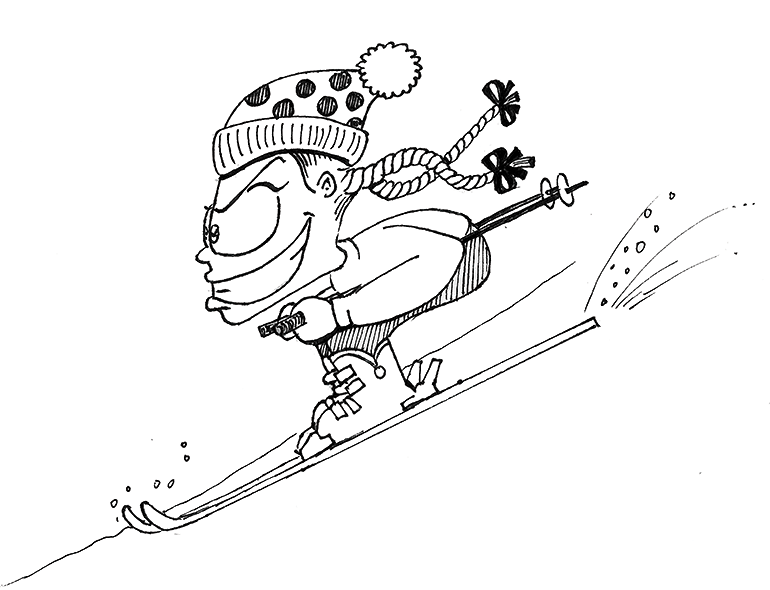 Nadia didn't have time for turns.
That was the start of a great and lifelong love. "As a 10-year-old, Eldora was huge—and not just in size," she says. "The experience I had at Eldora opened up the realm of possibility for me. I loved spending time with my family and friends on a mountain, in the snow. Learning to downhill ski was one of the greatest gifts my parents ever gave me. I am eternally grateful for the experience I had at Eldora in my weekly night lessons and skiing there throughout my childhood."

Smalltime, To Bigtime
Many executives who lead some of the largest companies in the mountain resort industry can trace their snow-sliding beginnings back to smaller hills. Aspen Skiing Company CEO Mike Kaplan is one of them.
"My first ski memory was my mother dropping me at KinderKafig at Taos. I cried until they gave me a PB&J sandwich (still my comfort food)!" recalls Kaplan. "Soon I was skiing weeknights at Wilmot (Wis.) under the lights, snow guns blazing and with big groups of kids from Chicago getting their first ski experience through Blizzard and SnowFlake clubs. Weekends were spent on the road all over Wisconsin, the UP of Michigan and Minnesota, lots of rope tow burns and chili dogs along with hours of playing in the snow."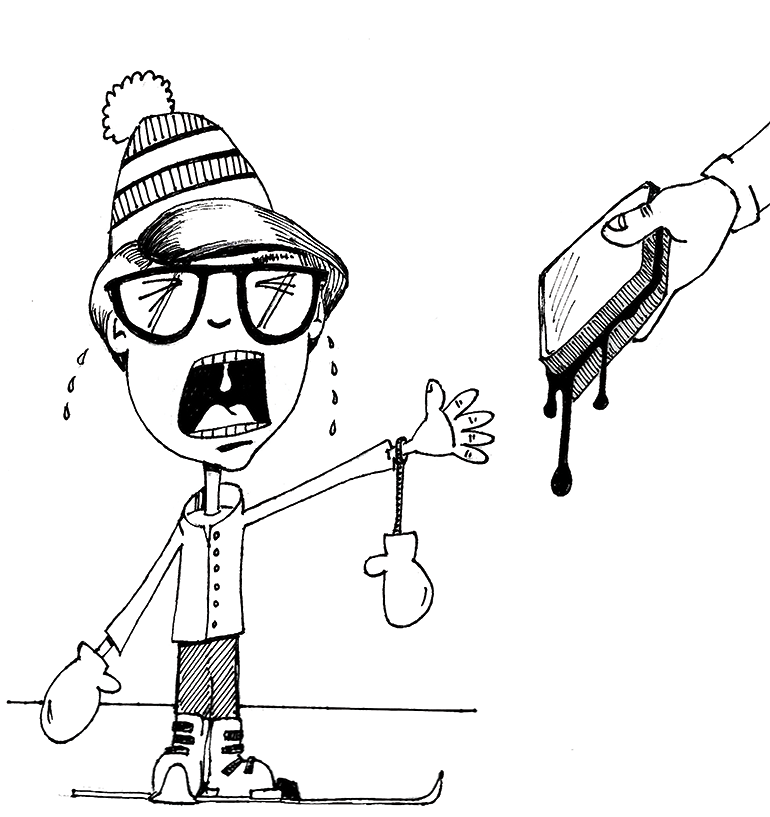 Mike can always be comforted with a PB&J.

Small Mountains, Huge Role
So with all that love sparked from humble beginnings at a hometown hill, do industry executives see the need to support such small hills into the future?
Byberg is all in on that concept, saying the health of small hills is "critically important. Start 'em young and start 'em cheap (a ticket at Teeple Hill was about $2). They'll have a blast and then be in the sport for the rest of their lives."
And while his first hill is long gone, Byberg sees many others that continue to thrive. "There are plenty of small hills still in operation all over the country, still growing skiers every season. They can't all start at a Vail or Aspen, but they will probably end up there eventually."
Wright agrees. "Our industry needs small areas the same way MLB needs independent and unaffiliated baseball teams, playing under questionable lighting with two-for-one hot dogs," he says. "It gives fans the space and the time to fall in love with a sport without the overhead and within some range of affordability. Plus, once they're in love, we can hug and kiss the hell out of them for a lifetime."
"I believe it is imperative for smaller areas to survive and thrive," says Tarallo. "Beginners don't need big mountains. Smaller areas are more affordable and they serve as a bridge between those just starting out and those who go on to be quite proficient."
And we're all in this together, she says. "The industry not only SHOULD but it NEEDS to support smaller ski areas that are breeding grounds for new customers. 'Bling' isn't really necessary when one is just starting to learn."
Seamans points out that no matter a resort's size, all should aim to create a welcoming vibe. "Small local areas are very important to the industry," he acknowledges. "But I think it is also important for those of us who host a lot of first timers to create that fun, warm, and friendly environment found at small ski areas. It's about family, friends, moments, and memories."
And love. The kind of love you can trace back to that very first spark. What's your #MyFirstMountain moment?