SUGARBUSH MEDIA WEEKEND SUGARBUSH, VT., DEC. 15-17, 2019

Members of the media visited Sugarbush Resort to take some runs with resort president Win Smith and hear about Alterra's plans for its latest acquisition. Left: Members of the media on a moonlight run down Sugarbush after dinner at the Allyn's Lodge. Center: Fireside dining at Allyn's Lodge is a cozy experience. Right: Hall of Famer and chief recreational officer John Egan and Win Smith getting ready to take the group out for first tracks. Photos: Barrie Fisher.
ARIVAL EVENT ORLANDO, FLA., OCT. 28-31, 2019

Arival is a conference event dedicated to bringing together the operators and suppliers of "the best part of travel"—in-destination tours, activities, attractions, and events—which it did in Orlando, Fla., this past October. Left: Making connections at the opening night reception were (from left) Nick Thompson, CLIMB Works Design; Dave Meeker, SAM Magazine; and Evan Reece, Liftopia. Center: Nearly 1,200 attendees from around the world gathered to talk best practices and network. Right: Arival's Douglas Quinby, left, leads an entertaining and informative panel discussion with the leaders of reservation technology companies, including (from left) Chris Atkin, Rezdy; Ruzwana Bashir, Peek; Jason Morehouse, Checkfront; and Max Valverde, FareHarbor. Photo courtesy of Arival Event.
IAAPA EXPO ORLANDO, FLA., NOV. 18-22, 2019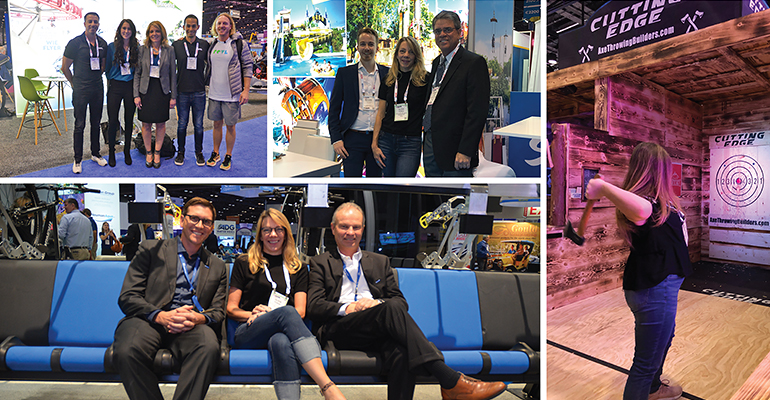 There are always new products and trends to pick up at the International Association of Amusement Parks and Attractions (IAAPA) Expo in Orlando every November. The single biggest trend on the floor was virtual reality experiences, the exact opposite of another growing trend—axe throwing! SAM ran into lots of familiar faces. Top left: Mountain coaster manufacturer Wiegand Sports USA, and the team from Revl, makers of a new video capture system, talk Summer Ops Camp with SAM. Top right: SunKid has several new products aimed at our youngest customers (see p. 38 for one). Pictured is Michael Peintner, SunKid (left); and Bob Dean of Leisure Labs with SAM's Olivia Rowan. Right: An attendee takes a shot at axe throwing. Bottom left: Checking out the 8-seater chair from Doppelmayr USA with Shawn Marquardt (left) and Ted Blazer (right).
BOSTON SKI & SNOWBOARD EXPO BOSTON, MASS., NOV. 14-17, 2019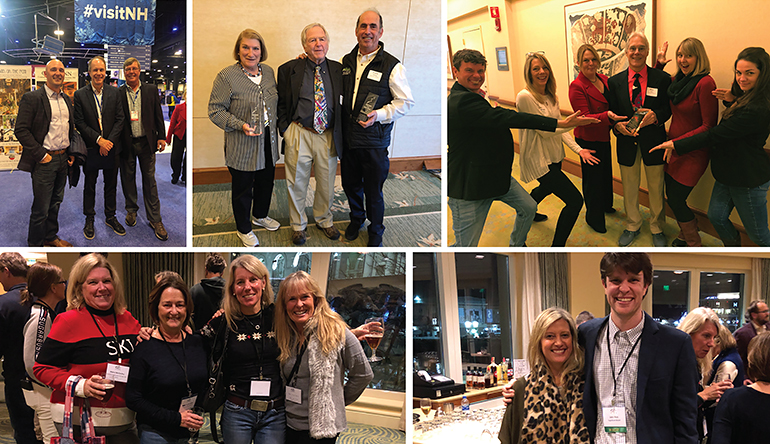 The annual BEWI Boston Ski & Snowboard Expo was bittersweet, as next year's expo will bring many changes, including a move to the Hynes Convention Center and, in bigger news, the sale of the expo to Snowsports Industries America (SIA). Top left: Jay Scambio, Loon, N.H.; Ben Wilcox, Cranmore, N.H.; and Greg Goddard, Gunstock, N.H., catch up before the doors open. Top center: BEWI Award winners Kathe Dillmann (left) and Frank Tansey (right) with host Bernie Weichsel. Top right: The SAM team celebrates editor Rick Kahl's NASJA Carson White Snowsports Achievement Award. Bottom left: Powerhouse quartet of (from left) Moira McCarthy, Iseult Devlin, Candace White, and Pam Fletcher. Bottom right: Kristen Rust of Alterra Mountain Co. welcomes Sugarbush PR guy John Bleh to the family.
COLORADO SKI & SNOWBOARD EXPO DENVER, COLO., OCT. 25-27, 2019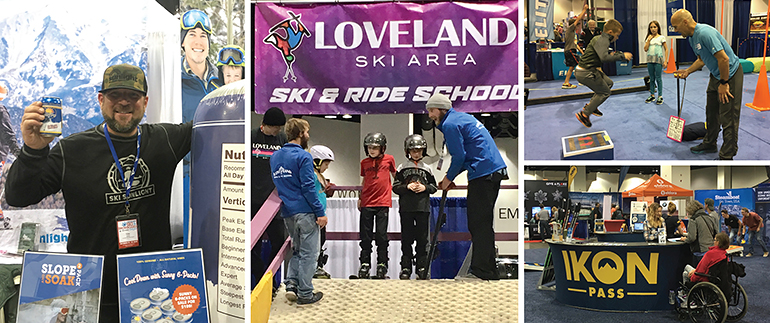 The Colorado Ski & Snowboard Expo got the residents of Colorado excited for winter. Above: Troy Hawks displays Sunlight's newest brand extension, Sunny Pop soda. Center: Loveland's dryland intro to skiing and riding was as popular as ever. Top right: Former World Cup and Olympic downhiller Doug Lewis conducted the Elite Team Challenge. Bottom right: Ikon Pass served as the focal point for several Alterra resorts and partners.
WORLD CUP KILLINGTON, VT., NOV. 30–DEC. 1, 2019

Killington hosted 36,500 screaming fans at the 2019 Women's World Cup event over Thanksgiving weekend. Saturday's giant slalom drew the largest single day crowd in the event's history with 19,500 in attendance. Left: Leitner-Poma's Daren Cole (right) and Rick Spear (center) with guests (from left) Brian Heon, Wildcat GM and Summit Series mentor; Brendan Ryan of Boyne Resorts; and Sharon Walsh, SAM Magazine. Right: (from left) Rob Megnin, recently retired marketing and sales director at Killington; Claire Humber, SE Group; Mike Manley, Leitner-Poma; and Molly Mahar Kerr, Ski Vermont.