MY KINGDOM FOR A MECHANIC
Resorts have confronted succession issues across all manner of ops and service departments in recent years, but the dearth of successors for senior lift mechanics is the most enduring and intractable. At regional technical conferences, in discussions with resorts, and in our SAM classifieds, lift maintenance is a hot button. Several initiatives to address the industry's needs are underway, but it will be years before the shortage of mechanics will disappear.
The most visible effort has been development of the NSAA Lift Maintenance Training Resource Guide, a remarkable achievement in itself (see p. 52 for more). It outlines a process for codifying the existing knowledge base of resorts' lift maintenance teams and training the team members of the future.
Other training programs exist, of course, from the regional lift maintenance conferences to college programs, such as the Colorado Mountain College apprentice program. A group of resorts and the California Ski Industry Association are working to launch a similar program through Lake Tahoe Community College.
John Rice, GM at Sierra-at-Tahoe, is optimistic these efforts—and others—will ultimately succeed in generating a healthy pool of lift mechanics. "By having programs across the country, we expect in a few years we will grow the pool of potential lift mechanics to meet the demand," he says. "Many resorts have their own mentoring programs. The outcome of the efforts of NSAA to publish the Guide, as well as apprentice programs in place, will benefit the entire industry once the program begins to bear fruit."
But training is just part of the challenge. Pay levels are another. SAM has heard countless reports of resorts losing some veteran mechanics—who were earning $16 to $20 an hour—to other industries where pay scales are much higher. The relatively low level of ski-industry pay, coupled with the often high cost of living in resort communities, makes it especially difficult to attract and retain experienced lift mechanics. Industry pay levels are the third rail of resort management; no one dares address the subject publicly. That helps explain why NSAA's annual wage and salary survey "is only available for purchase by a ski area's senior management," according to the Summer issue of NSAA Journal.
Plus, with demand exceeding supply, areas often find themselves competing with other resorts for the most highly trained veterans in the industry. There is widespread agreement that this poaching is not a long-term solution, but also little alternative to it in the short term.
Some observers say that smaller and independent resorts are at a disadvantage, as conglomerates and multi-resort companies can afford to pay more. But the resorts in these groups, especially newly-acquired resorts, find that some mechanics can't meet the more stringent employment and testing requirements of the parent company. Some of these well-trained and highly experienced mechanics are finding their way to independent areas. So, the mechanic shortage cuts several ways.
Few resorts are immune to hiring and retention challenges when it comes to lift maintenance. And that, perhaps, will fuel the educational and apprentice programs needed to fill the demand, and drive more resorts to offer a livable wage.
THE PERVASIVE CONVERSATION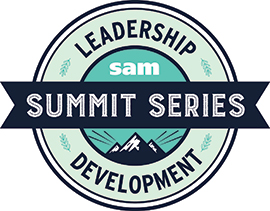 Consolidation is a front-of-mind topic for many in the industry because of its broad impact. It came up on the Summit Series group call about "industry sustainability." The following is an excerpt from that conversation, put in motion by a question from mentee Stephen Remillard of Mammoth Mountain. The mentors fielding the question are: Amy Ohran, president and GM, Boreal Mountain and Soda Springs, Calif.; Brad Wilson, GM, Bogus Basin, Idaho; and Jeff Boliba, VP of Global Resorts, Burton.
Stephen Remillard: Is the consolidation of resorts a sustainable business strategy in the ski industry? We've seen it before with American Skiing Company, Intrawest, etc. What makes what is happening with Alterra and Vail different from those who have tried it before?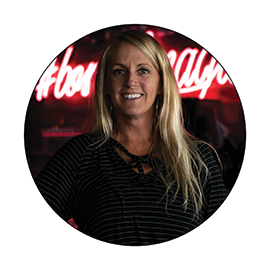 Amy Ohran: While there's so much excitement and a visitation shift is occurring, we're all becoming so aware that this current model will only have long-term success if we balance it and equally invest in strategies to be as customer-centric as possible and to continue to develop.
If you ask almost any committed skier who has a multi-resort pass what they think, you're going to get one of two answers very quickly. They're going to say, "Yeah, I love the pass and the access to the intergalactic amount of resorts." That's quickly gonna be followed by a negative narrative around the experience and the crowding. At the same time, you ask the family that's a potentially new participant to the sport, they're going to say that there's too big of a gap between the experience and the price, and their willingness to pay is often exceeded by experience barriers.
It's really important that we understand that all of us—whether you're a big conglomerate company or you're a community resort like Bogus Basin—have so much more to do to address the gap in the consumer expectation and what we're delivering, and that we have to do it collectively as an industry.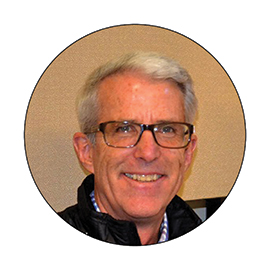 Brad Wilson: I agree completely. Some of the differences between this new iteration and ASC or any of the other ones that attempted this is that, for one, you're seeing way more areas involved. You're also seeing a broader type of ski area involved, not just the destinations, but some of the smaller feeder ski areas, too. Alterra with the Big Bear ski areas, and Vail with the Midwestern ski areas, which was a great move on both of their parts. So there's a little bit wider configuration so they're not 100 percent dependent on destination travel.
I'm looking at the marketing and it gives me the impression that they're really looking at that top one percent [of consumers]. And we all know that that's really not the ski business, and clearly not for a nonprofit local ski area like we are. Fortunately, we feel zero to no effect of the big pass programs because no one's close enough to us. Thank God.
But it's going to be an interesting thing to watch. I do think because [Alterra and Vail] are both large enough and are well positioned in the market that this isn't going to have the same result as you saw from some of the other consolidations.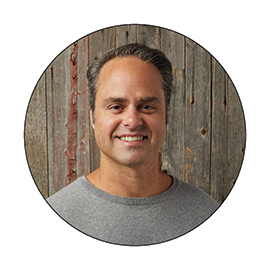 Jeff Boliba: One of the differences you see from the '90s conglomerates is they were heavily leveraged on real estate development. The winning formula now is definitely getting those top-star resorts and aggressively marketing your pass program.
Consolidation has brought customers affordability in season passes and more resorts than ever to choose from. But if you don't have a season pass and you show up to try skiing or snowboarding at a resort and you're paying a day ticket rate, I mean, depending on where you go, that can just be a crusher. I think it's a big barrier to entry for families and new potential participants. So ensuring that we make it easy for new participants to try skiing and snowboarding and remove the friction for them is super important to the future.
For more from the third year of the SAM Summit Series leadership development program, see p. 34.
BIG SNOW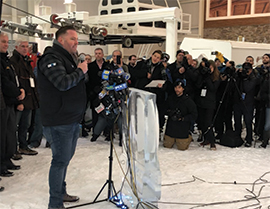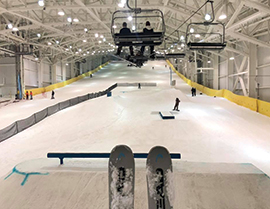 American Dream, the first indoor "ski dome" in the U.S., held its grand opening Dec. 5 at the Meadowlands, N.J. Observations from operators Joe Hession (above, left) and Hugh Reynolds about the first two weeks of operation: value of earned media exposure: $50 million • visitation: 10,000 • beginner/veteran split: 50/50 • skier/snowboarder split: 50/50 • broad ethnic diversity • celebrity guests: local rappers Meek Mill, A Boogie, Lil Uzi, and Lil Dirk, Nina Garcia (ELLE and Project Runway), YouTuber Cameron Dallas • busiest time period: 3 p.m.-closing (10 p.m.) • lots of repeat visitation, even with no multi-visit ticket option (yet) • countless requests for private party/function rental.
SUPPLIER NEWS
PRINOTH has appointed James Egan as sales rep for the U.S. Northeast.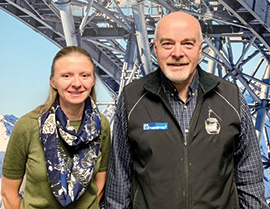 Katharina Schmitz, the future president, and Mark Bee, the current president of Doppelmayr.DOPPELMAYR USA, INC., has named Katharina Schmitz its next president effective March 31, 2020. Schmitz will replace Mark Bee, who retires in March after 30 years in the ropeway industry.
Starting in November 2019, Ropes Courses Incorporated changed its corporate name to RCI ADVENTURE PRODUCTS.
Dan Leever has acquired the assets of digital media publisher SKI RACING MEDIA. Leever will assume strategic and policy-level responsibility, while his associate, Kris Ochs, president of Leever Partners, will take on day-to-day management.
PEOPLE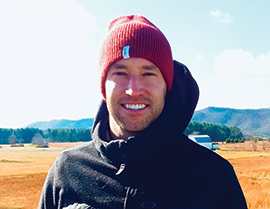 Rick Herlihy, former Summit Series mentee, transitioned to director of sales at Winter Park, Colo.In the West, Brian VandenBroek joined Deer Valley Resort, Utah, as director of finance. … Rick Herlihy has transitioned within Alterra Mountain Company's portfolio of resorts to director of sales at Winter Park, Colo. Previously, he was senior revenue manager at Snowshoe Mountain, W.Va.

In the Midwest, Crystal Mountain, Mich., has named Stephanie Scott vice president of retail and wellness services, and named long-time communications professional Sammie Lukaskiewicz as its public relations director.
In the East, Cranmore Mountain Resort, N.H., made several staffing updates. In resort operations, Tricia Garcia has been promoted to director of base area operations. She brought on Gregg Ludvigson as the new mountain bike and ski rental shop manager. Linda Dean, formerly member services supervisor at the recently shuttered Cranmore Fitness, has transitioned to accounts payable coordinator. Dylan Henry is the new marketing assistant. Meghan Nelson, former events and sales coordinator, was promoted to events manager. Ticket lead Julie Thompson has taken on new responsibilities in group sales. Kristen Barbin, longtime Cranmore Fitness manager, has transitioned to lodging manager and owner liaison for Kearsarge Brook Condominiums at Cranmore. Aimee Morrell stepped up to human resources manager. Valerie Dubie was promoted to HR coordinator. Melissa Gentry was named HR assistant, and Heather Corrigan is the new HR administrator.
At Sugarbush, Vt., the culinary team added Stephane Ohayon as vice president of food and beverage, and Vanessa Davis is now executive chef at Rumble's Bistro & Bar. … Middlebury College named Barney Hodges assistant manager of Rikert Nordic Center at Middlebury's Bread Loaf campus in Ripton, Vt.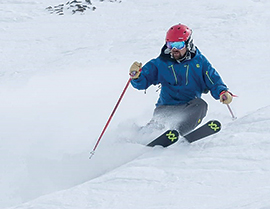 Dan Hogan is the new director of snowsports at Windham, N.Y. Photo courtesy of Grant Nakamura Photography.Dan Hogan has joined the senior leadership team at Windham Mountain, N.Y., as the new director of snowsports. Windham appointed Sean Warman alpine race director.
Vail Resorts made leadership changes at Snow Time resorts in Pennsylvania. Whitetail general manager Brett Cook assumed that same role at Roundtop, and Liberty GM Anne Weimer replaced Cook as GM at Whitetail. Jeff Lifgren assumed the GM role at Liberty.
The Canada West Ski Areas Association board tapped Mark Grabas to serve as a legal counsel on occupational health and safety, claims, human resources, labour relations and employment matters. … Outdoor Industries America (OIA) named Eagle Creek co-founder Steve Barker interim executive director.
Ski Maine executive director Greg Sweetser is retiring in May 2020 after 24 years leading the association that represents 16 alpine and 21 Nordic ski areas in the state.
AWARDS
The annual BEWI luncheon at the Boston Ski and Snowboard Expo honored New England industry veterans Kathe Dillmann of KADI Communications and Frank Tansey of Vertical Challenge for "their lifelong passion for snowsports."

The Colorado Snowsports Hall of Fame inducted the Class of 2019 in October, including Aspen snowboard star Gretchen Bleiler; Aspen ski retailer and entrepreneur Jeff Gorsuch; former Steamboat Resort owner and developer, the late Martin Hart; Jake Hoeschler, the creator of the industry-wide ski shop insurance program; and Steve Raymond, the co-founder of the Adaptive Spirit program, an organization to benefit the U.S. Paralympic Ski Team.
The Hall of Fame's Annual Recognition Awards included longtime Colorado Snowsports Museum and Hall of Fame volunteer Cindy Clement (Lifetime Achievement Award), the Colorado Avalanche Information Center (Top of the Hill Award), U.S. Ski Team star Mikaela Shiffrin (Competitor of the Year Award), the University of Colorado's Mikaela Tommy and the University of Denver's Jett Seymour (Collegiate Skiers of the Year Awards) and Durango's Brittani Coury (Adaptive Athlete of the Year Award).
OBITUARIES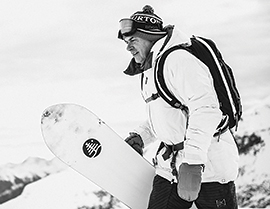 Jake Burton CarpenterJake Burton Carpenter, the pioneer who popularized snowboarding and helped turn it into a sport, a billion-dollar business, and Olympic showpiece, died at 65. Under Carpenter's leadership, Burton was a driving force for the snowboarding lifestyle and culture in addition to being a premier board manufacturer. Carpenter extended the Burton brand into apparel and other gear, and his company became the largest snowboard company in the world.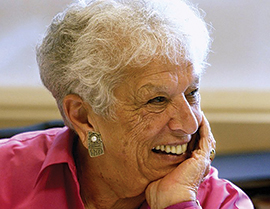 Gert BoyleGert Boyle, matriarch and longtime chairwoman of Columbia Sportswear, died Nov. 3 at the age of 95. When she took control of Columbia in 1970, Boyle became one of the first female leaders in the male-dominated sportswear industry. Boyle and son Tim Boyle turned the company into a global business with nearly $3 billion in annual sales. Fred Coriell, the venerated owner of the Peak Performance Ski Shop in Killington, Vt., died after a battle with cancer. He was 67. Coriell was a ski racing enthusiast and pillar of the Killington community.